Medieval architecture, gargantuan cathedrals and historic abbeys in Deutschland's most cherished wine region are just a few things to be found at these top religious sites in Germany.
History and Architecture in Berlin
1) New Synagogue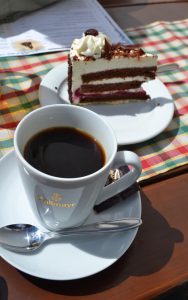 Berlin's New Synagogue was constructed in the 19th century and due to its Moorish style, is best known for resembling the architecture of the Alhambra in Granada, Spain.
A devastating history, the New Synagogue was one of the only buildings to survive the Kristallnacht pogrom of 1938, also known as the Night of Broken Glass. Due to this and other damage that occurred before and after the Second World War, the current building is now a reconstruction containing only parts of the original structure.
Historically, the New Synagogue was built for the developing Jewish population in Berlin and after its construction, was the largest synagogue in Germany. It even hosted public concerts, one in which Albert Einstein attended in 1930.
Today, the Centrum Judaicum Foundation offers groups guided visits of the building's museum, with tours available in German, English, Italian, French and Hebrew.
2) Berlin Cathedral
With an extended history beginning in the 15th century as a Roman Catholic place of worship, Berlin Cathedral's most recent construction ended in 1905 as a main work of Historicist architecture of the German Empire, otherwise known as the Kaiserzeit.
This impressive building houses Berlin's most important Protestant church, features elaborate decorative designs and is one of the city center's major attractions. A high–renaissance baroque monument, Berlin Cathedral was damaged during the Second World War and only reopened in 1993 after restorations.
The dome is without doubt the building's most striking feature, while the cathedral's Hohenzollern Crypt subsequently remains Germany's most significant dynastic sepulcher.
Big City Beauties
3) St. Peter's Church, Munich
Standing tall as the oldest parish church in Munich, St. Peter's Church features 229 steps to the top of its dome with spectacular
panoramic city views and, on a good day, groups can even catch a glimpse of the Alps.
With a small entrance fee on the observation deck, group travelers can also pay an additional fee to use the deck's telescopes for views of Munich's Old Town.
St. Peter's Church was constructed in the 11th century and features various masterpieces, such as five stunning Gothic paintings by Jan Polack, altars by Ignaz Günther and a ceiling fresco by Johann Baptist Zimmermann.
4) Cologne Cathedral, Cologne
A UNESCO World Heritage Site, Cologne Cathedral is a renowned monument of German Catholicism and Gothic architecture. It is the seat of the Archbishop of Cologne and of the administration of the Archdiocese of Cologne.
One of Germany's most visited landmarks, Cologne Cathedral is also the largest Gothic church in Northern Europe, measuring at 515 feet tall. The cathedral underwent construction for more than six centuries, reaching completion in 1880. Its two spires contribute to make it the largest church façade in the world.
A major pilgrimage destination for centuries, Cologne Cathedral's most important artifact is a golden reliquary containing the remains of the biblical Magi.
5) Dresden Frauenkirche, Dresden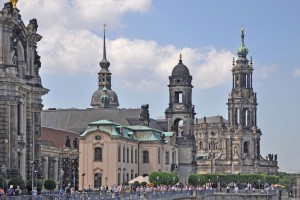 A Lutheran church, Dresden Frauenkirche was originally a Catholic church, turned Protestant during the Reformation and later became a Baroque Lutheran building in the 18th century.
Featuring one of the largest domes in Europe, this Lutheran church holds services and devotions regularly. If groups are lucky, they can even catch an Anglican prayer in English, usually held on the third Sunday of each month at 6 p.m.
A place of music, the church holds approximately 130 concerts and church music events annually. If visiting on a Saturday between Easter and New Year's Eve, groups can drop in and listen to the church's beautiful organ music.
Off the Beaten Path Religious Sites
6) Maulbronn Monastery, Maulbronn
Another UNESCO World Heritage Site, Maulbronn Monastery was founded in 1147 and is considered to be one of the most complete and well preserved medieval monastic complexes north of the Alps.
Enduring several different architectural styles throughout its existence, Maulbronn Monastery's most distinctive architectural structures include oak relief on its high altar, a Gothic choir stall, woodcraft masterpieces and its famous Madonna of Maulbronn, a beloved Madonna with a child figure held in the church's chancel. The monastery is even said to be the site where monks invented Swabian ravioli.
Group travelers can visit the monastery everyday from 9:00 a.m. to 5:00 p.m., and can be expected to spend up to three hours wandering the complex.
7) Cathedral of Trier, Trier
Dating back between 320 to 330 A.D., the Cathedral of Trier is Germany's oldest church. As the largest religious structure in Trier, the cathedral is most notable for its long life span and impressive design.
Containing a significant collection of Christian art in its Trier Cathedral Treasury, the cathedral is also said to have been commissioned by Emperor Constantine the Great and built on top of a palace of his mother, St. Helena.
Undoubtedly the cathedral's most valued treasure, the Seamless Robe of Jesus is kept in an annex chapel and shown to the public on infrequent occasions. It is said to be the robe worn by Jesus shortly before his crucifixion.
8) Eberbach Abbey, Rheingau
One of the most prominent art monuments in Europe, Eberbach Abbey is a former Cistercian monastery exemplifying Romanesque and Gothic architecture.
Eberbach Abbey is also known as the site where scenes from The Name of the Rose were filmed in the winter of 1985, and is the venue for the annual Rheingau Musik Festival.
Located in one of Germany's thirteen wine regions, the monastery offers groups the opportunity to indulge in some of the area's most delectable vinos through various wine-tasting tours and events. Visitors can stroll through the monastery vaults and atmospheric wine cellars for a true Rheingau experience.