Throughout the United States there are a plethora of religious attractions associated with our nation's heritage that are of special interest to faith travelers
From libraries and museums to churches and heritage centers, travelers of faith have many options when it comes to finding meaningful religious attractions. The following are 15 noteworthy places of special interest to faith-based travelers, all of which can be a memorable addition to a group travel itinerary.
Billy Graham Library
Billy Graham's life and mission are nowhere better expressed than at the Billy Graham Library. Styled after a dairy barn and featuring a cross-shaped entrance, it is located on a 20-acre plot near where Graham grew up in Charlotte, N.C. The library is a testament to the evangelistic work of Billy Graham, a man whose desire to preach the Gospel would span over 50 years of ministry and reach more than 215 million people in over 185 countries worldwide.
Visitors to the library can retrace Graham's evangelical journey through multimedia presentations, photos and other memorabilia. They also get an intimate look at Graham's roots by touring the carefully restored home where Graham lived as a boy.
Admission is free and hours of operation are Monday through Saturday, 9:30 a.m.-5:00 p.m. Groups of 15 or more will need a reservation, which can be scheduled by calling 704-401-3270.
Creation Museum
Biblical stories come alive at Creation Museum, a 70,000-square-foot facility featuring an ambitious two-story museum and lush outdoor garden. Located in Petersburg, Ky., the museum is meant to provide a new way of experiencing scriptural history. The area inside the museum is divided into uniquely configured spaces that allow visitors to interact with its 160 exhibits. Visitors will encounter creative representations of the wonders of creation, the tragedy of the fall, the life and mission of Jesus and his promise for the future.
They will feel like they are walking through biblical history as they see murals, animatronic dinosaurs and life-size humans, the two-story dinosaur exhibit, the fossil exhibit, the exotic animal petting zoo, the botanical garden and a mile-long nature trail. The special effects theater, equipped with rumbling seats and mist machines takes visitors on an imaginative journey involving dinosaurs, dragons, the six days of creation and more. Visitors who wish to learn more may attend workshops and specific programs hosted each week.
Groups visiting Creation Museum enjoy special assistance for check-in and discounted rates. A minimum of 15 is required for a group reservation, which must be made two weeks in advance. (888-582-4253, creationmuseum.org)
Ark Encounter
Ark Encounter is a modern engineering marvel as it features a full-size Noah's Ark built according to the dimensions given in the Bible. Spanning 510 feet long, 85 feet wide and 51 feet high, this incredible creation amazes visitors young and old. Ark Encounter opened in 2016 and contains 132 bays, each standing about 18 feet high arranged into three decks. Bays on the first deck contain models of animals believed to be on the ark. The second deck features additional animal models along with dioramas of Noah's workshop. Bays on the third deck contain displays presenting what many believe may have happened inside and outside the ark during the flood. Since its opening, Ark Encounter has attracted around 1 million visitors per year, making it one of the most popular religious attractions in the U.S. (800-721-2298, arkencounter.com/groups/)
Christ Cathedral
The stunning Christ Cathedral in Garden Grove, Calif., blends the innovation and sophistication of contemporary architecture with the magnificence and grandeur of medieval cathedrals. Recognized as an architectural treasure, the cathedral, designed by architect Phillip Johnson and containing 10,000 panes of glass is a beautiful expression of light and space as well as grandeur and intimacy.
Formerly known as the Crystal Cathedral, this church has a storied history and is today home to the Diocese of Orange. The Christ Cathedral is filled with a collection of architecturally significant buildings on a 34-acre campus that includes the Christ Cathedral, Arboretum, Large and Small Galleries, Tower of Hope, Crean Tower, Diocese of Orange Pastoral Center and Cathedral Cultural Center. (christcathedralcalifornia.org/)
Trinity Church
Trinity Church in New York's Lower Manhattan is a parish rooted in the Episcopal tradition with ties to the Anglican Communion. Located amid towering skyscrapers on Broadway at Wall Street, Trinity Church was originally built in 1697 and rebuilt in 1788 after burning down in 1776. Until the 1860s, the 280-foot steeple was the highest point in the city and a landmark for ships at sea. Its graveyard contains the remains of Alexander Hamilton, the first United States Secretary of the Treasury, and Robert Fulton, developer of the steamboat. The Trinity Museum hosts special exhibitions and concerts throughout the year, and displays burial records, maps and other artifacts. (212-602-0800, trinitywallstreet.org)
Pope John Paul II Cultural Center
Originally built to house a Roman Catholic museum and think tank, Pope John Paul II Cultural Center in Washington, D.C. was meant to explore the intersection of faith and culture through museum exhibits, academic discussions, interactive displays and religious attractions. Due to financial woes, the center was put up for sale. In August 2011, Carl Anderson, Supreme Knight of the Knights of Columbus, the world's largest Roman Catholic fraternal service organization, announced plans to purchase the center and turn it into a shrine and museum honoring the life of Pope John Paul II.
The center is open to the public Tuesday through Saturday 10 a.m. to 5 p.m. and Sunday 12 noon to 5 p.m. The shrine holds Mass on Tuesdays and Thursdays. Visitors can see the kneeler where Pope Benedict XVI prayed during his 2008 visit to Washington. (202-635-5400, jp2shrine.org)
Wycliffe Discovery Center
The Wycliffe Discovery Center in Orlando, Fla. is a faith-based organization that offers visitors an opportunity to experience the Bible in a unique way. The center is named after John Wycliffe, the 14th century English scholar who translated the Bible into the common language. Through multimedia presentations, computer games and simulations, and hands-on activities, the discovery center allows visitors to explore the Bible's history, linguistic and cultural issues, and the ongoing work of Bible translation. Lunch and snacks are available in the Karibuni Cafe, and the Village Shop features unique gifts and mission resources. (407-852-3626, wycliffe.org/discoverycenter)
Maltz Museum of Jewish Heritage
Cleveland's Maltz Museum of Jewish Heritage opened in 2005 with the mission of fostering tolerance and understanding by sharing Jewish heritage through an American perspective. Stories of individuals and families both past and present become real through artworks, films, interactive exhibits, oral histories and other artifacts. The building itself is made with golden Jerusalem limestone that was mined and hand-chiseled in southern Israel.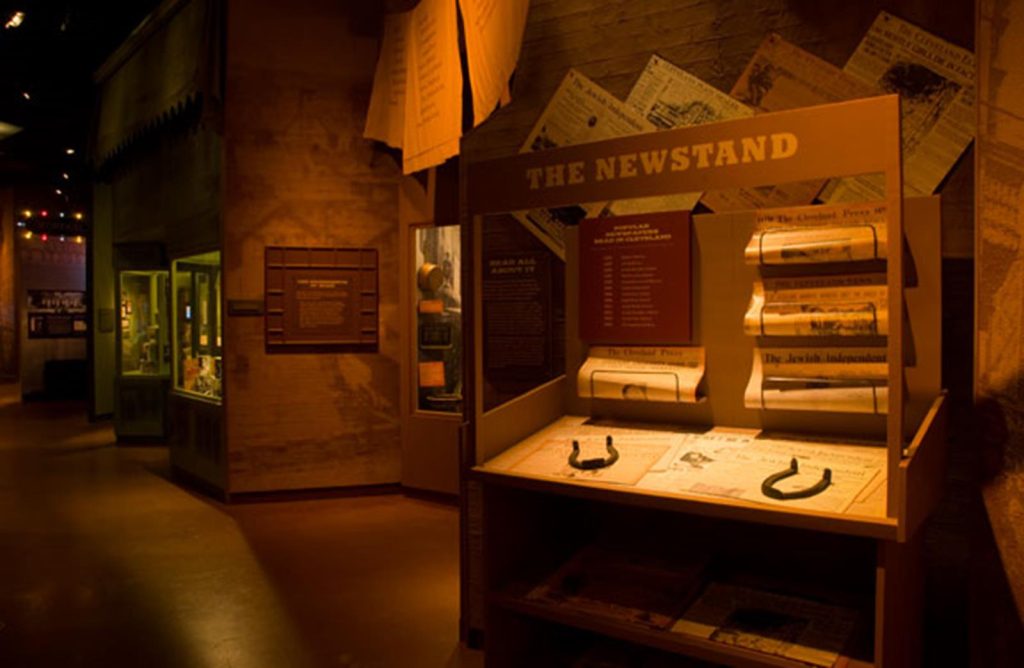 The museum is divided into seven themed areas, each telling a part of the story: from immigration to assimilation, the triumphs and tragedies, and all the culture and religion that came along. Also emphasized are Cleveland's Jewish immigrants and their role in the city's history. (216-593-0575, maltzmuseum.org)
BibleWalk
Affiliated with Diamond Hill Cathedral, BibleWalk in Mansfield, Ohio features life-size figures and scenes from the Bible made out of wax, fiberglass and vinyl. A walk through the museum showcases a wax tableau of The Last Supper along with Jesus and the Children and The Woman at the Well. Along with housing a collection of rare Bibles, religious artifacts and folk art, popular exhibits at the museum are the Christian Art Gallery and The Walk of the Parables featuring 39 original oil paintings by noted religious artist Mark Pedro. To add a slice of entertainment for religious trips, the museum also has dinner shows throughout the year like the King's Christmas Story and The Innkeeper. (1-800-222-0139, biblewalk.us/)
Temple Square
Temple Square in downtown Salt Lake City is the world headquarters of The Church of Jesus Christ of Latter-day Saints and one of Utah's top tourist and religious attractions. Open every day of the year, the square is run in part by hundreds of volunteers and missionaries. Visitors to the 35 acres of Temple Square will find there's not enough time in a day to experience over 15 attractions and special events as they are immersed in Mormon culture and heritage.
The square hosts free guided tours and presentations featuring historic sites, special exhibits, art displays, films, and parks and gardens. Other attractions include the largest genealogy library of its kind in the world and the celebrated Mormon Tabernacle Choir and Orchestra. Restaurants and other catering are available to help make the visit a memorable one. (800- 363-6027, visittemplesquare.com)
Museum of the Bible
Following its debut in November 2017, the Museum of the Bible offers visitors the chance to experience the bible in a whole new way. Located in Washington, D.C., the museum's six floors all contain different exhibits that work to explore the narrative, history, as well as the impact of the Bible. Visitors have the chance to walk on land through the Red Sea, eat biblically inspired food, see fascinating treasures from Vatican and Israel, and discover the influence the Bible has had on American culture. The museum also features a rooftop garden, a ballroom, restaurants and a 500-person amphitheater. (866-430-6682, https://www.museumofthebible.org/)
St. Patrick's Cathedral
St. Patrick's Cathedral, located in New York City, is considered to be one of the most visible symbols of the Catholic Church in the United States and is one of the most celebrated religious attractions. Decorated in the Neo-Gothic style, the cathedral features stained glass windows, 300-foot-tall spires and high quality marble designs.
Built with the intention of replacing a previous cathedral, St. Patrick's Cathedral was erected in 1879 and has since become the seat of the archbishop of the Roman Catholic Archdiocese of New York. The cathedral was also designated as a landmark in 1976. (212-755-4128, https://www.saintpatrickscathedral.org/)
Temple Emanu-El
Temple Emanu-El is the first Reform Jewish congregation in New York and has remained an integral part of the Reform branch of Judaism ever since it was founded in 1845. The congregation originally started with 33 Jewish people, but the community now consists of over 2,250 Jewish households.
In terms of architecture, the temple is a blend of different styles from Romanesque with the lancet windows to Byzantine with the double-domed ceiling. It's size also rivals the largest synagogues in Europe including the Grand Choral Synagogue of St. Petersburg and Moscow Choral Synagogue. It is among the most prominent religious attractions in New York City today, with stunning interior and exterior features. (212-744-1400, https://www.emanuelnyc.org/)
Drala Mountain Center
Located near the Colorado Rockies, the Drala Mountain Center is a Buddhist retreat that sits on nearly 600-acres of grassy fields and native forests. Established by a Tibetan meditation master in 1971, the Drala Mountain Center offers over 100 different programs every year including yoga instruction, mindful living, contemplative arts and leadership training.
Drala is also home to the Great Stupa of Dharmakaya, which is one of the most significant examples of sacred architecture. Said to promote harmony and prosperity, the Great Stupa also features a golden statue of Buddha and symbolic decorations.
Accommodations for guests range from fine lodge rooms with private baths to seasonal tents located on hillsides. Meals are also included with vegetarian options available as well. (888-788-7221, https://www.shambhalamountain.org/)
El Santuario de Chimayó
This 200-year-old Roman Catholic church located near Santa Fe is regarded as one of the most important Catholic pilgrimage centers in the United States. El Santuario de Chimayó has been the destination for a traditional Easter pilgrimage that began when the U.S. soldiers and sailors who fought during the Bataan Death March prayed to Santo Niño for their deliverance.
Every year over 300,000 people come to make pilgrimages as a way of seeking blessings or fulfilling a vow. Visitors also come in hopes of a miraculous cure from the "holy dirt" that is located in a small room on the premise called el pocito.
In 1970, the church was proclaimed a National Historic Landmark. (505-351-9961, https://www.holychimayo.us/)
---
For more religious attractions and travel inspiration be sure to visit our Affinity Travel archive and subscribe for FREE to Leisure Group Travel.