Google any Southern state and you'll discover multiple listings for best barbecue restaurants. With more than 30 years living in the South, our associate publisher has visited many good ones but still has plenty of others yet to enjoy.
Question 100 Southerners about the best barbecue restaurants and you'll probably get 100 answers, each with its own passion. We each have a favorite sauce and a favorite joint, dive, or restaurant to get our smoke.
Heck, we can't even agree how to spell the word —you'll see "bar-becue" and "barbeque," "bar-b-q" and "BBQ," among other variations.One thing we all agree upon: barbecue is not what we do on our backyard grill. That's called grilling. Barbecue comes from pits and cookers fired by hardwoods and cooked slow. Personally, put any meat you choose in the smoker, cook it slowly, serve with good sauce and I'm happy.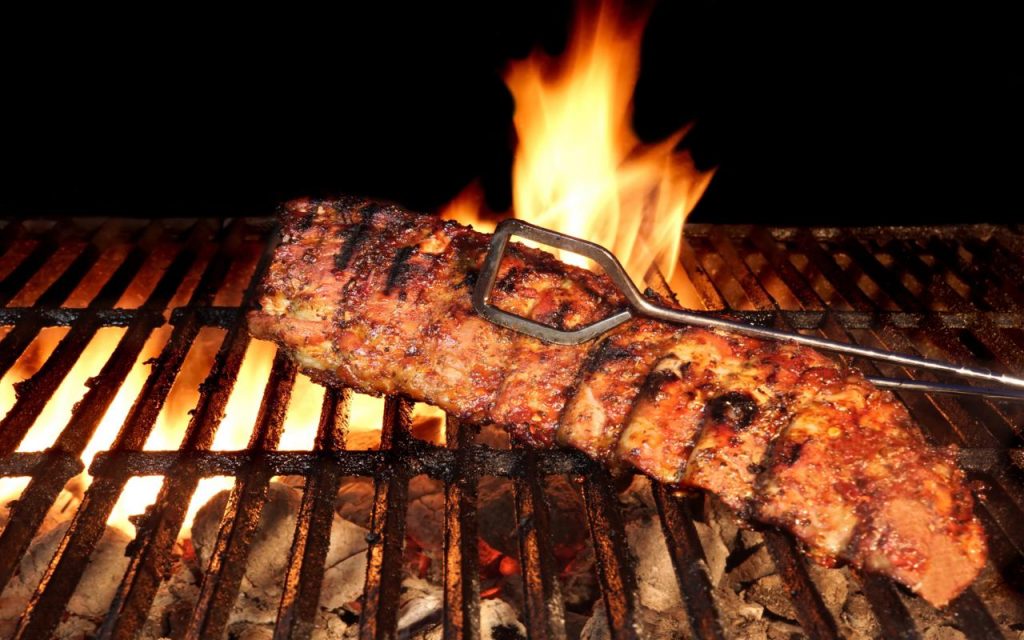 Here are 12 Southern spots, listed in no particular order, where you can find really good barbecue. With hundreds of barbecue restaurants (maybe more) in every Southern state, it's impossible to determine which 13 are the best. Remember, ask 100 of us and you'll get 100 answers.
Lexington BBQ
Lexington, North Carolina
Established in 1962, Lexington BBQ specializes in pork barbecue cooked daily in the traditional pit way over oak or hickory coals. Choose your style – chopped, sliced or coarse. It is served with red slaw. With 15 barbecue restaurants listed on the Visit Lexington website and an annual late October festival so popular that the Amtrak Carolinian makes a once-a-year stop at the old depot, Lexington ranks high on all the Best BBQ City lists, and Lexington BBQ is a favorite. (lexbbq.com)
Buz and Ned's Real Barbeque
Richmond, Virginia
Although Richmond may be one of the best-kept secrets on I-95, Buz and Ned's Real Barbeque has been no secret to city residents since 1992. But the story begins 150 years earlier. Buz was searching for the best barbecue, from Texas beef to North Carolina whole hog, when, in the mountains that join Tennessee, Virginia and North Carolina, he discovered Ned smokin' the best barbecue he'd tasted. Ned's recipe had been handed down for more than 150 years and Buz is keeping the tradition alive. (buzandneds.com)
Dem 2 Brothers & A Grill
Charleston, West Virginia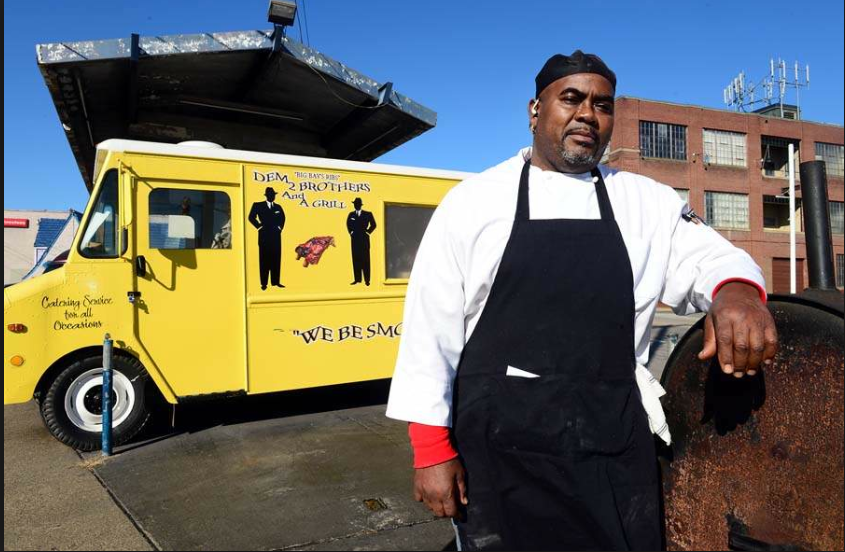 Here's another really cool restaurant name. Chef and owner Adrian "Bay" Wright oversees everything from lighting the oak wood fire to the spicy barbecue sauce. One thing is a little different from other ̓cue restaurants. Here the meats are grilled over oak hardwood for about 2½ hours, not slow cooked. The menu certainly features pork, sausage, chicken and "Big Ray's Ribs," but the addition of some great sides gives your meal a soul food taste.
(dem2brosgrill.com)
Big Bob Gibson Bar-B-Q
Decatur, Alabama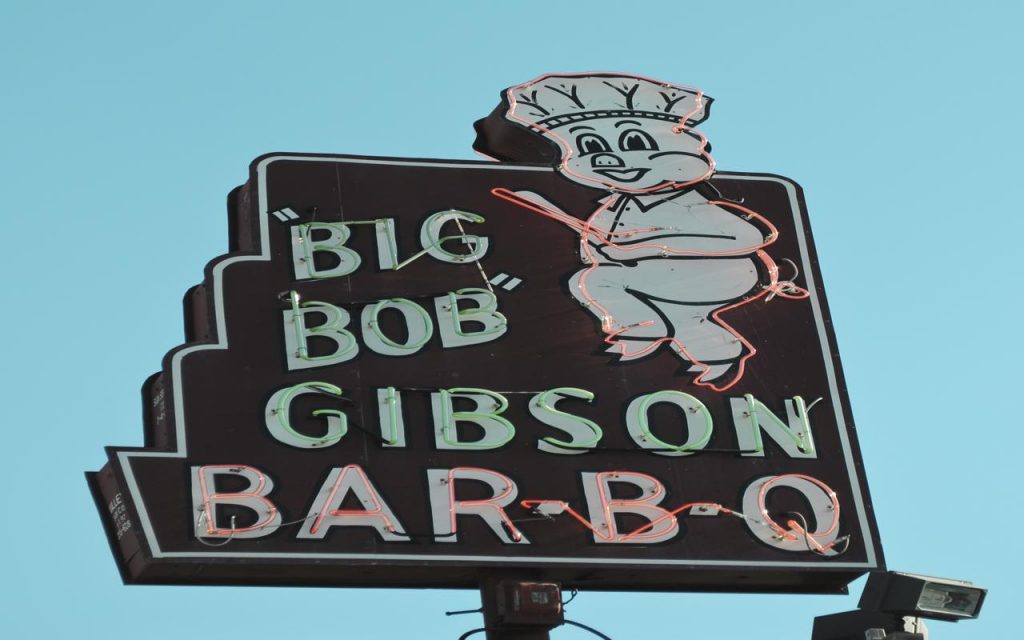 In 1925 Bob Gibson was working on the railroad. Whenever the opportunity presented itself, he served some really good barbecue to friends and neighbors. From the simple beginnings of a hand-dug smoke pit and oak planks nailed to a sycamore tree for a table, Gibson opened the restaurant that's lasted for 75 years. Big Bob Gibson Bar-B-Q is getting considerable notice lately and deservedly so. There have been plenty of awards over the years, but it's the Original White Sauce that guests have been enjoying for more than 90 years, long before Big Bob opened his restaurant. (bigbobgibson.com)
Sweet P's Barbeque & Soul House
Knoxville, Tennessee
You have to love the name. Take a Southern culinary tradition, blend it with a juke joint vibe and keep a family feeling by naming your new restaurant after your daughter (Sweet P). Opened in 2009, Sweet P's is dedicated to the highest quality of meats cooked in the traditional low and slow method. Match your favorite meat with some outstanding sides and you have the makings of a memorable meal. (sweetpbbq.com)
McClard's Bar-B-Q
Hot Springs, Arkansas
So many Southern restaurant and diner stories begin and continue as a family business. In 1928 Alex and Alice McClard operated tourism-related businesses in popular Hot Springs. When a guest failed to pay his lodging bill, he offered a secret recipe for the "world's greatest hot sauce." The rest of the story is history and four generations later the family business is going strong. Try a side of tamales. It's a house specialty. (mcclards.com)
---
---
Scott's Bar-B-Q
Hemingway, South Carolina
Since 1972 Rosie and Ella Scott and now their son Rodney have had a reputation for serving some of the best barbecue in the Carolinas. They've handcrafted their own wood-burning pits and slow cook whole hogs overnight. Plenty of love has gone into the cooking method and downhome sauces, but what makes this restaurant so special is the mom-and-pop feel when you walk in the door. Where's Hemingway? Just an hour drive from Myrtle Beach. (thescottsbbq.com)
The Joint
New Orleans, Louisiana 
New Orleans has a well-deserved reputation as a foodie's dreamland. The city's unique blend of cultures and culinary creativity has produced memorable restaurants. In 2004 along came Jenny and Pete Breen smokin' everything from baby back and pork ribs to pulled pork, chicken and local Cajun sausage. In just 15 years The Joint has won its share of national and local awards and press clippings. That's pretty impressive for someone that in barbecue years is new to the block. (alwayssmokin.com)
Abe's BAR-B-Q
Clarksdale, Mississippi
When traveling the Blues Trail through Mississippi's Delta Region, a Clarksdale stop is sure to be on the itinerary. That's where the story begins. Abe Davis opened in 1924 and his reputation for excellent barbecue spread across Northern Mississippi and the Mid-South. Outgrowing his first location he moved to the corner of U.S. 49 & 61, where legend has it that Robert Johnson sold his soul to the devil and the blues was born. Many wonder if Johnson might have been eating an Abe's barbecue sandwich when he made that devilish deal. The only true legend is that Abe's famous "The Come Back Sauce" will bring you back for more. (Johnson might have been eating an Abe's barbecue sandwich when he made that devilish deal. The only true legend is that Abe's famous "The Come Back Sauce" will bring you back for more. (abesbbq.com)
Old Hickory Bar-B-Que
Owensboro, Kentucky 
Sometimes it seems the Bluegrass State doesn't get the barbecue recognition it deserves. Old Hickory Bar-B-Q puts that thought to rest with six generations still cooking barbecue the way it should be done, the Charles "Pappy" Foreman way. Slow cooking over hickory wood and homemade sauces with distinct flavors, with no compromising or shortcuts, are behind their secrets to good barbecue. In addition to the pork, chicken, beef, ham and turkey staples, try a Kentucky favorite, mutton. (oldhickorybar-b-q.com)
Wiley's Championship BBQ
Savannah, Georgia
The "Championship" moniker in the restaurant's name is well deserved, as Wiley McCrary has been collecting accolades since the day he began as a caterer and champion competitor in 1983 in Atlanta. In 2005 he and wife Janet moved to Savannah and since 2008 his restaurant has graced the Savannah restaurant scene. The meat on the menu is fine-tuned from years of award-winning competition and includes pork, chicken, smoked sausage, beef brisket, St. Louis Cut Ribs and a local favorite, burnt ends. (wileyschampionshipbbq.com)
Nancy's Bar-B-Q
Sarasota, Florida 
So you think Florida isn't Southern enough for incredible barbecue? There are dozens of reasons that just isn't true, but one we believe stands out. What's not to like about a barbecue joint with a tractor in the yard and located in downtown Sarasota? Nancy Krohngold seasons Boston Butt with a 14-ingredient rub and slow roasts for 15 or more hours. The result is a dark, crisp coating with a nice smoked flavor. The menu rounds out with ribs, brisket, chicken, sausage and delicious sides.(nancysbarbq.com)
Give your travelers a true taste of the South by adding a barbecue restaurant meal to your next Southern itinerary.