Shining the spotlight on five executives you should know
In the world of group tourism, a woman behind the wheel, desk, podium or major industry marketing decisions isn't considered a pioneer. She is simply a leader in an industry that recognizes talent over gender and rewards hard work.
In this third annual issue honoring women in the travel business, say hello to Pam Inman, Sara Hamlin, Paula Twidale, Kristin Karst and Liz Bittner—five travel industry leaders who happen to be female. Each has a lot to say about their life's work, who helped them along the way, how they kick back and what is on their radar—it soon may be on yours.
Kristin Karst- Executive Vice President and Co-Owner, AmaWaterways
Kristin Karst completed degrees in Economics of Tourism & Business Management and Master of Business Administration at the University of Dresden, in her hometown of Dresden, Germany. She began her career at American Express before joining Viking River Cruises where Karst developed a passion for immersive vacation experiences. And where she met her husband and business partner, Rudi Schreiner, who, with the late Jimmy Murphy, launched AmaWaterways 16 years ago. In 2019 AmaWaterways will debut three ships, the most in one year since the company's inception.
HEADS UP
The most important thing that has guided me is what I call my "4 P's": passion, partnerships, positive thinking and personal relationships. I believe if you have a passion for your business, invest in strong, long-term, win-win partnerships, approach every challenge with a possible creative solution and make time to develop meaningful personal relationships, you attract and retain like-minded people that are a real pleasure to lead.
BIG THANKS
I owe a great deal to my parents for instilling in me a love of travel. I also can't go without mentioning Rudi and our dear friend, Jimmy Murphy, as well as his son, Gary. Without these three, AmaWaterways would never be where we are now in our evolution.
KICK BACK
I travel a lot, and a glass of champagne as I start a long flight is a wonderful way for me to relax! I also like to stay active to relieve stress and "kick back." I enjoy yoga and believe both physical and mental wellness is very important, even on vacation. This is why I'm so very passionate about our new AmaWaterways Wellness Program.
WHAT'S ON YOUR RADAR?
According to the Global Wellness Summit's 2018 Trends Report, travel destinations that encourage contemplation, community and nature will continue to be highly sought after in the year ahead. We offer all three options with our popular Wellness. Program that will be offered on almost all our ships in 2019.
---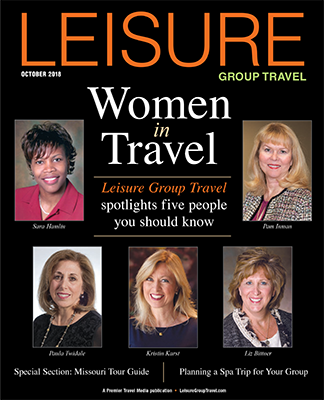 ---
Sara Hamlin – Vice President of Tourism, Greater Birmingham Convention & Visitors Bureau
Sara Hamlin has been in the tourism industry for more than 30 years. She serves as Vice President of Tourism for the Greater Birmingham Convention and Visitors Bureau. Hamlin holds a seat on the American Bus Association Foundation Board of Governors. She also holds a seat on the National Association of Motorcoach Operators and the Alabama Music Hall of Fame. She is involved with the Ontario Motorcoach Association, International Association of Golf Tour Operators, YWCA of Central Alabama and the American Heart Association.
HEADS UP
Hamlin is responsible for promoting and booking motorcoach business, reunions, events, films, international initiatives and implementation of the tourism department's marketing plan and budget for the greater Birmingham-area. She also supervises the operations of three Birmingham area visitor centers and works to cultivate and maintain personal relationships. Sara says that involvement in professional organizations on the local, state, national and international level helps to provide networking opportunities.
BIG THANKS
When asked who has helped her along the way, Hamlin defaults to a line from Alfred Lord Tennyson—"I am a part of all that I have met." So many people have helped her in her career, adding it is impossible to call out just one or two—with the exception of her supportive husband, the Reverend Dr. Christopher M. Hamlin.
KICK BACK
When she is not traveling, Sara likes to kick back with family and friends at home in Birmingham. She and her husband, the Rev. Hamlin, are the parents of two children and two grandchildren.
WHAT'S ON YOUR RADAR?
The U.S. Civil Rights Trail was completed this year. It connects cities across the country including three stops in Birmingham. Working with groups from all over the world to help provide a meaningful experience along the trail is of paramount importance, especially in the kick-off year. Sara also sees continued growth in the use of online resources and the bureau's mobile app, part of the convenient options her Birmingham team provides along with personalized service.
Paula Twidale – Executive Vice President, Collette
Paula Twidale is Executive Vice President of Collete Vacations, a tour company celebrating 100 years in travel. Nominated five times as one of the most powerful women in the industry by Travel Agent Magazine, she was the first female Chairman of the United States Tour Operators Association. Twidale earned a B.A. in Sociology, Certification in Gerontology and completed the Executive Leadership Programs at Harvard Business School. She volunteers for Tourism Cares.
HEADS UP
How a leader handles challenges and how she accomplishes goals is a litmus test of effectiveness. A leader does not succeed on her own merit. Instead, collaboration from the team and the ability to share a common vision leads to the success of the organization. Trust and transparency are the pillars that I use as a foundation to lead.
BIG THANKS
I was fortunate to have worked for a V.P. at Eastern Airlines who believed in my ability, mentored me and gave me the opportunity to shine. A big thank you to Steve Davis! At Collette, I have tried to pay it forward by mentoring others as part of succession planning.
KICK BACK
Since I travel quite a bit, kicking back for me is enjoying my home and family. It is also fun hosting our family from the UK and enjoying the food, culture and beautiful sites throughout New England.
WHAT'S ON YOUR RADAR?
Small group travel is on Collette's radar and mine. It is a fabulous way to immerse yourself into a culture and savor unique experiences on a more intimate level. Think about how much fun it would be to travel with an average of 15 guests to Finland and experience dog sledding or stay in a villa in Italy. These explorations tours are a unique balance of included and free time, where you interact with locals and experience food, sites and activities that would be inaccessible on a large scale.
Liz Bittner – President & CEO, Travel South USA
Liz Bittner is a graduate of Ohio University with a degree in organizational communication, but worked in hotels going through college. After graduation she went from single-hotel sales to regional to international marketing, which eventually landed her in a destination leadership role at Travel South USA. Her accomplishments include committee seats on the U.S. Travel Association's Marketing Committee, Scholarship Award Committee, and Membership Committee plus leadership positions at the National Tour Association and American Bus Association.
HEADS UP
The toughest part of leadership is securing the resources to allow your team to stay focused on the work. The political landscape is very important and quite complex these days. It is easy to get caught in the crossfire, but I try to keep my eye on the ball and walk away from the fringe distractions. I think sometimes we forget that tourism in its truest form is a people business and just being genuine and nice goes a long way.
BIG THANKS
In addition to my mother, who is my hero, I was very lucky to have some amazing mentors. Ron Gibbons, my first boss at Choice Hotels, was a sincere, charming and classy gentleman and adored by everyone. It was Bob Gilbert who pushed me to move to Atlanta where I met my husband and have had a great career. And Mary Wiley, who is one of the smartest women I know. She taught me to ask both "Why?" and "Can that be true?"
KICK BACK
Ha! I have three kids in college, a Yorkie puppy and travel extensively. But when I do kick back, I love to cook and read trashy novels with a glass or two of wine.
WHAT'S ON YOUR RADAR?
I believe the evolution of group travel continues. Figuring out the right combination of technology and high-touch customer service is the next hurdle. Also on my radar: Marketing and selling "experiences over the place" and how to personalize the experience while in a group yet still managing to be a profitable business. Group travel of today won't look the same in five years. People need companionship by nature, so I am optimistic about group travel.
Pam Inman – President, National Tour Association
Pam Inman tops an impressive list of accomplishments from her 30-plus years in the hospitality and trade association industry, including a spot on this year's Women in Travel & Tourism International's Leadership List of Top Women in the Travel Industry. A graduate of Tennessee State University and the Institute for Organizational Management at the University of Notre Dame, Inman is a Certified Association Executive and a Certified Master Hotel Supplier. She recently earned her Certified Tour Professional credentials through NTA.
HEADS UP
I've always found that you have fewer challenges as an association leader when you are respected by your staff, your peers and your members. But respect doesn't come with the title. It comes only after proving that you aren't afraid to do anything yourself that you are asking them to do, and showing them you will listen—and be present—to resolve any concerns.
BIG THANKS
After coming to Washington, D.C., Joe McInerney, former president of the American Hotel & Lodging Association, was an important role model for me. Since coming to NTA, each one of my board chairs has taught me something new that has been important to shaping my leadership skills.
KICK BACK
Golfing with friends takes my mind completely off everything and really keeps me in the moment.
WHAT'S ON YOUR RADAR?
Because the economy is going well, our tour operators are doing well, too. I'm seeing something else that's cool. It's where the trend of authentic experiences in tours converges with a similar effort in philanthropy. I'm on the board of Tourism Cares, and that organization is focused on how the business of tourism affects destinations in many ways—and how tourism can truly benefit the people who live there. So when travelers want to really understand a destination, tour operators and Tourism Cares are both finding ways for them to do it.
by Mary Lu Laffey