The nation's largest cattail marsh is a haven for an ever-changing symphony and ballet of migrating birds.
The prevailing call of the wild, when autumn arrives in Wisconsin, is the mournful honking of Canada geese that blacken the fields of Horicon Marsh, a refuge located one hour northwest of Milwaukee.
The U.S Fish and Wildlife Service describes the area as globally significant because it is home to endangered species and a crucial stop for migrating birds. The nation's largest cattail marsh – about 14 miles long and up to five miles wide – also is among the largest freshwater marshes.
Horicon's northern two-thirds (22,000 acres) are federally protected and only open during daylight. The remaining 11,000 acres is Horicon Marsh State Wildlife Area. Admission is free.
Within the refuge are large nesting areas for redhead ducks and great blue herons. It didn't happen by accident. Refuge work began in 1941 because of the vulnerable ducks; now thousands nest here every year.
Bird watchers have spotted at least 300 birds – egrets and owls to pelicans and bald eagles – that are protected and nourished by Horicon's complex ecosystem. Shorebirds and songbirds make their way here. So do broad-winged hawks and kingfishers. Binoculars capture a fleeting glimpse of the marsh's smaller creatures, but even the naked eye might notice a cluster of cormorants perched on swaying branches.
Horicon Marsh Bird Club memebers count all they see in a designated area from dawn to dusk during the Big Sit, on the second Saturday of October. Visitors are welcome to help.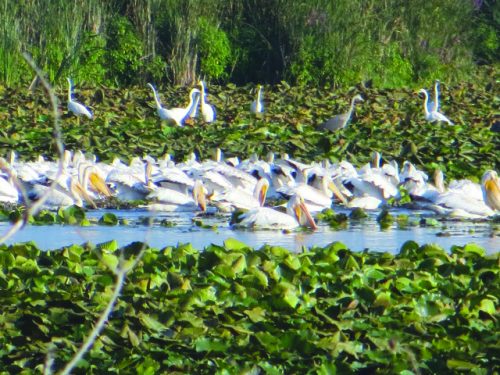 At the annual Horicon Marsh Bird Festival in May, the area's marquee event, expect an array of workshops and field trips. Horicon Marsh Bird Club organizes the two-day festival, and many events are free admission. It is smart to pre-register when fees are involved, particularly sunrise and twilight birding tours and all-day bus-boat outings.
During any time of year, skirt the perimeter of the wetlands by driving or bicycling Horicon Marsh Parkway, a 36-mile loop in Dodge and Fond du Lac counties. Horicon Marsh International Education Center offers interpretive programs, exhibits, a research library, visitor center and panoramic hilltop views.
Serious photographers can reserve time in bird blind, through the Horicon Marsh State Wildlife office. Much remains a mystery to all because much of the refuge is not accessible to motorized vehicles, boats, horses or hikers.
Up-close views are the best, and that requires time on water to find well-camouflaged wildlife in feathered and furry forms. The best way to get acquainted is through Horicon Marsh Boat Tours, which offers one-to-two-hour excursions on pontoon boats for up to 50 people. Guided group canoe or kayak trips of at least two hours are arranged, too.
Tour captains understand the are's rhythms and nuances. Owner Marc Zuelsdorf's first trip into these wetlands happened during childhood, while fishing with his father more than 50 years ago. "It's a surprise every time you're out there," he says of the marsh. If he is the guide, expect nearly nonstop narration about nature's subtleties. You may see beaver lodges, swimming woodchucks or dive-bombing predators in search of fish for supper.
An estimated 200,000 Canada geese are what add dramatic effect to Horicon during autumn, but it is not unusual to spot dozens of other birds during these boat tours, offered May to October.
What is seen will depend on time of day, time of year, type of weather and mood of wildlife. More often than not, guides identify species by what is heard, not seen.
For more about the refuge and tours, visit horiconmarsh.org and horiconmarsh.com