The Itinerary at a Glance
A state abundant in natural beauty and pioneer heritage, Wisconsin is an ideal location for your next group tour. Towns such as Eau Claire and Baraboo combine unique local attractions with big-city amenities, while the Wisconsin Dells and La Crosse offer gorgeous river views. Groups will also enjoy a dive into the state's industrial past, with attractions like the Dahl Auto Museum and Mid-Continent Railway Museum exploring the Badger State's manufacturing and transportation history.
3 Unique Experience on This Trip
[list line="no" style="style1″]
Take in the history of automobiles at Dahl Auto Museum
Enjoy a dinner show at Palace Theater in the Dells
Visit the Mid-Continent Railway Museum
[/list]
Duration: 4 Days
Available: Year-round
This Itinerary is Ideal For: All
Itinerary Details
---
Day 1
Begin your tour by following the internationally recognized migration of waterfowl to Prairie du Chien, which offers river cruises, historic sites, events and unique shopping and dining experiences.  Tour a meticulously restored Victorian country estate at Villa Louis on the banks of the Mississippi River. Drive along the Great River Road, designated as a National Scenic Byway, as you make your way to La Crosse.  Bald eagle sightings are common as you wind your way north with breathtaking views of the river valley and bluffs beyond.  Discover the magnificent Shrine Church, Candle Chapel and paved trails through statues and gardens at the Shrine of Our Lady of Guadalupe –open year-round with a café and gift shop. La Crosse and the region offer stunning landscape with abundant things to do.  Take a stroll down memory lane and immerse yourself in the rich history of the automobile at the Dahl Auto Museum.  The city is alive with shops, restaurants, heritage sites, churches and museums.
Day 2
After you have fully explored the area, head north and west to Tomah to tour The Wisconsin Cranberry Discovery Center, the cranberry marshes experience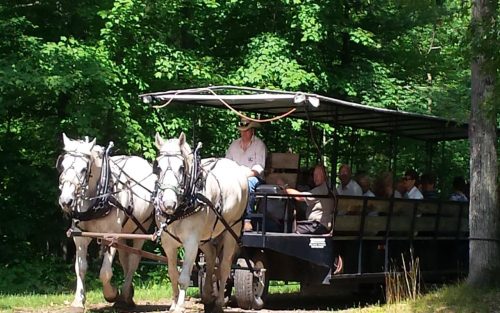 .  Wisconsin's four seasons provide ever-changing scenery delights for your next stop in Cadott at Cabin Ridge for lunch and a delightful ride through the woods on a horse-drawn carriage. Enjoy serene wooded trails lined with delicate spring and summer flowers, glorious autumn colors or sparkling snow-laden trees. Head east to Eau Claire, located where the Eau Claire and Chippewa rivers meet.  A vibrant town, Eau Claire has experienced a renaissance of its historic sites, cultural areas and restaurants.  Visit Carson Park, the historic stadium where Hank Aaron played baseball.  Learn more about the early settlers and logging industry at the Chippewa Valley Museum and Paul Bunyan Logging Camp Museum.
Day 3
Travel down the rolling hills and to the breathtaking bluffs of Baraboo: "Circus City." The fourth Saturday in July, the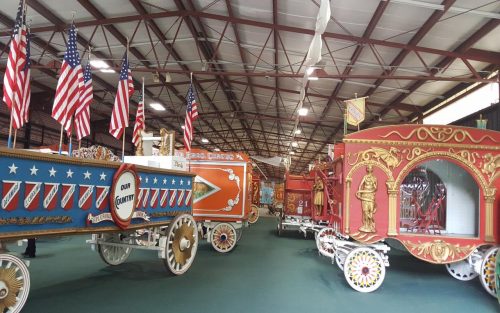 town celebrates circus heritage at the Annual Big Top Parade.  Make a reservation for your spot along the parade route.  If you can't join us for the parade, visit Circus World Museum to enjoy circus acts, amazing animals, exhibits featuring over 100 beautifully restored circus wagons from years gone by and more.   Then travel to the Wisconsin Dells, which offers groups a variety of experiences with and without water.  You can ride a "duck" or take a scenic boat ride.  For a special evening, book a three-course meal and a dinner show at the Palace Theater in the Dells.
Day 4
Start your day off with a lumberjack pancake breakfast at Paul Bunyan's Cook Shanty and Lumberjack Show.  Then depart for an authentic 1894 C&NW depot on a train ride through the countryside.  The Mid-Continent Railway Museum grounds and building house a lovingly restored steam engine, vintage railroad coaches, freight cars and cabooses.  Continue on to the magical and grandiose world of The House on the Rock with its collection of collections.  Your groups will marvel at the complex of unique rooms, breathtaking gardens, streets of yesteryear, the infinity room and the world's largest indoor carousel.