Great trips and majestic views await motorcycle riders
The call of the road may be seasonal in the midwestern United States, but the shorter window for discovery only adds to the anticipation of a great ride. This point of view isn't lost on the tourism offices in North and South Dakota, Wisconsin, Michigan and Minnesota where all have staff that ride.Like Tim Campbell, Northeast Regional manager for Explore Minnesota.
"Northeast Minnesota, often referred to as the Arrowhead, is the most fun area to ride in all of Minnesota," said Campbell. "Winding roads take you along spectacular Lake Superior, and if you jump inland, there are hundreds of miles of winding forest riding. I live here, I work here, and I ride here. Sometimes I feel like I'm paid to be on vacation."
NORTH DAKOTA
"We love to see motorcycle groups in our community," said Sheri Grossman, chief executive officer, BismarckMandan Convention and Visitors Bureau. "We are located along the majestic Missouri River — a perfect place to ride and explore our beautiful landscape. Our downtowns are packed full of local history, fun dining establishments and unique shops easily accessible to groups."
Grossman says the Sakakawea Scenic Byway is north of the capital in the Washburn-Stanton area. Start the 38-mile ride in Bismarck on Highway 1804, named for the year legendary explorers Lewis and Clark headed west. "It's a beautiful ride and one of the longest stretches on the Missouri that is untouched and similar to how it would have been all those 200-plus years ago," said Grossman. "I would tie this ride into connecting with Fort Abraham Lincoln State Park, which is south of Mandan on Highway 1806, named for the year the explorers returned."
Bismarck-Mandan boasts locally owned restaurants and nine breweries, many within walking distance of lodging. noboundariesnd.com
SOUTH DAKOTA
"Rapid City is a great hub-and-spoke destination as we are a central location to everything in the Black Hills," said Lindsey Beasley, director of Tourism Sales for Visit Rapid City. One of those spokes, Iron Mountain Road, leads to Mount Rushmore one of the most popular destinations in the United States. On SD Hwy 87, also known as Needles Highway because of the tall granite peaks nearby, the destination is not the draw; it is the road. Needles moseys through parts of the 71,000-acre Custer State Park, home of one of the nation's largest freeroaming buffalo herds. Custer State Park and South Dakota have been recognized as one of the World's Top 10 Wildlife Destinations. Located 30 miles south of Rapid City, Needles' 14-mile route sashays between granite spires and slices through tunnels as narrow as eight feet.
After a day on the back of a bike, walk around downtown Rapid City to see the sights, dine or shop. visitrapidcity.com
WISCONSIN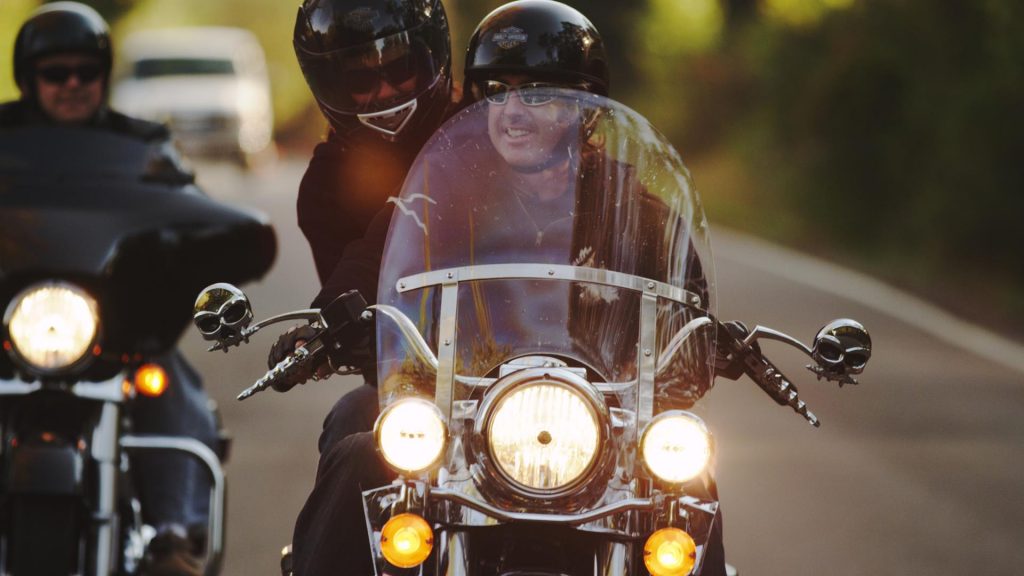 Milwaukee reigns supreme as the heart of motorcycle lore from the not-to-miss Harley-Davidson Museum to the many ride options in and out of town. Schedule time on the Kettle Moraine Scenic Drive though bucolic Kettle Moraine State Forest. Lean into 115 miles of twists and turns  that comprise a ramble through the area formed centuries ago by glaciers muscling their way south. In the forest's North Unit, there are photo opportunities at the 60-foot tall Parnell Tower. In the South Unit at the park's pioneer, experience gemutlichkeit, or the "friendly nature" of Wisconsinites. Follow the green and white "acorn" signs for forest views and impressive stops like the Basilica and National Shrine of Mary at Holy Hill. Dine, take in a show and maybe game at Potawatomi Hotel & Casino. The tribe and casino donate about $1 million each year to local children's charities. travelwisconsin.com
MICHIGAN
Coursing the western edge of Emmet County where it meets the great Lake Michigan, The Tunnel of Trees Scenic Route wends through a mixed forest. Pine and hardwoods hug the sides of the two-lane road while overhead branches meet and intertwine to create a tunnel effect. Bikers slow down in this stretch of M-119 (Lake Shore Drive) between Petoskey/Harbor Springs and Cross Village in respect of Mother Nature and to revel in the sun setting on the lake. In all, there are 137 curves along the 20-mile route. Be prepared to lean into twist backs with romanticized names like Devil's Elbow and Horseshoe Curve. Pull over at M-119 and Stutsmanville Road for a panoramic view of Lake Michigan and a possible photo op. Stop in the town of Good Hart at the Good Hart General Store — maybe for a pot pie or to pass time with the resident hound dog, Maggie. visitmichigan.org
MINNESOTA
The two-lane North Shore Scenic Byway (Hwy. 61) rises from Duluth north toward the Canadian Border. Framed by palisades soaring from Lake Superior on the right and wooded boreal forest and the Sawtooth Mountains to the left, the 145-mile climb creates a ride that only dreams are made of. Iconic stops include Split Rock Lighthouse State Park and Historic Site. The site offers plenty of parking and vistas over the water from 130-foot cliffs. Split Rock was the last lighthouse to communicate with the SS Edmund Fitzgerald on its fatal crossing in November 1975. There is also plenty of other history along the curves that sweep through hamlets and artist colonies, like Grand Marais, where the moose population outnumbers the residents.
Pull over at the awesome Naniboujou Lodge & Restaurant, Grand Marais. Built in the 1930s as a hunting lodge by Babe Ruth, Jack Dempsey and Ring Lardner, the psychedelic designs in the 30-by-80-foot domed dining room uses traditional Cree colors to pay homage to the local Cree nation. Naniboujou is the Cree god of the outdoors. minnesotacvbs.com