How group travel organizers can turn the airlines win/lose into a win-win!
Have you noticed nothing's easy anymore?  I have…especially when it comes making group airline reservations. But when I complain to my wife (who is also my business partner) about it, she just tells me that I'm turning into my father and to "get over it."  So I walk away mumbling to myself, thinking about what a pleasure it used to be doing business with the airlines.  In the "good ol' days" making group reservations was a piece of cake.  Today however, it can be a real headache and occasionally even a migraine when booking group airfare. Let's consider our options so we can make a smart choice.
Getting your group to their vacation destination
OK, you have your group of let's say 30 people.  You have picked the perfect vacation destination for your group and you have the perfect itinerary.  Now all you have to do is to get them there.  Many times group-wise, this can be a challenge.  Let me rephrase that; Most of the time this will be a challenge.  However, do not fear for there is a solution, and a great one at that!
The "Good Ol' Days" of Booking Group Airfares

First, let me give you some insight into how the leisure group travel business used to operate in the "good ol' days' (the 1970's and early 1980's).  Back then the idea of group travel was to book your group from Point A to Point B and everyone would travel together.  Everyone travels in a group right?  The whole group would depart from, and return to one city such as Atlanta, Kansas City, Phoenix, Los Angeles, etc.  The departure city was known as the "Gateway" city.  There are three reasons the group travel organizer (GTO) operated that way:
Back then, most groups were developed locally through their churches, social organizations, friends and family, etc. and most of the tour participants knew one another.
Back then, a GTO would call several airlines and get a competitive rate for their group.  And when I say "call" I mean that literally; no Internet, no websites, no online bookings.  You actually spoke with a real "live" person!  I'm not making this up…it's true.
Back then, most GTOs were usually travel agents.  They would develop their groups, book the group air with their chosen airline and then

hand write

the airline tickets (again…not kidding).  For their efforts, they received a commission from the airline.  Everyone was happy!  Then along came the deregulation of the airline industry, which was the beginning of the end of the "good ol' days."
Airlines are partners in travel no more…
Fast forward to today.  Because of the deregulation over the years, airlines have cut the commissions that they used to pay to the agencies. In addition, most of the airlines got rid of their sales representatives and moved all of their departments into a central booking location or home-based satellite offices, thus ending a beautiful era of personal service built on solid business relationships.  Why have I told you all of this?  Because I want you to understand that the concept of group travel, as it used to be, is dead and gone.
The Internet dilemma
As the current situation stands now with the airlines, it's sort of "them against us."  Depressed?  Don't be…I have a great solution to this dilemma!
The airline situation has been a dilemma for me also.  Besides our incentive travel and conference and meeting planning company, ETC Services, Inc., my wife Anne and I also have our own personal travel club, Friends of Carl and Anne.  Trying to get good air rates for my small groups is an absolute headache.  Why?  Because of the Internet!  All of the airlines now have great websites which any individual can access and get a plethora of "super deals."  Besides the airlines themselves, the public has access to numerous travel websites such as Travelocity.com, Priceline.com, to mention a few, which offer additional options for discount airline travel, hotel accommodations, car rentals, etc.  Even Wal-Mart's Sam's Club has an online travel agency as well as retail agencies in many of their stores.  The end result – all of this online competition lowers the price of airline tickets for individuals.  Not bad for the individuals, a headache for the GTO.
All of the factors I've mentioned exacerbate the problem of trying to get a decent group airfare from the airlines.  Individuals, many times, can actually buy a ticket cheaper than the group airfares I negotiate with the airlines, which makes me (you) look bad.  What to do?
What is the solution for booking group airfares?
Here is the solution to solving the group travel airfares situation; Have your group participants make their own airline reservations!  I know that this may seem like you are not doing your job as a GTO but trust me, you will be doing your participants a favor while taking a load off of your shoulders at the same time.  This is how I operate my Friends of Carl and Anne groups and believe me, it is a win-win proposition for everyone.
The following is the explanation that I have on our website of why I suggest that my Friends of Carl and Anne participants make their own airline reservations:
AIRLINE RESERVATION INFORMATION
WHY? – Some of you may be wondering why the air transportation is not included in our tour.  Here are a few reasons why it is to your advantage to book your own airline reservations…
First of all there are very few "deals" to be had for booking a group with the airlines today (any airlines).   Even if I could get a decent airfare, I would still be forced to "gateway" the group out of one particular city.  This means that you would be forced to travel from your home city to one of the gateway city airports to rendezvous with the group for the international portion of your flight.  Bummer.
There is no "rhyme or reason" to how airlines price their tickets today.  You as individuals, most of the time, can actually get a better airfare than someone (like me) who has a group.  Go figure!
Here are the advantages of making your own airline reservations:
You can choose which airline you want to use (not forced to fly on a particular airline or fly out of a particular city that may actually be inconvenient for you)
You can choose a schedule that fits your travel plans
You can use Frequent Flyer points to purchase your tickets
You can alter your itinerary to go a few days earlier or stay a few days later
You can fly economy class or first/business class if you want, it's up to you
If you are traveling with a few of your friends, it's easier to coordinate your schedules and seating assignments
When it comes to making your own reservations, I suggest booking with one of the online travel companies, like www.travelocity.com, www.Expedia.com, or www.ORBITZ.com. All-in-all, there are definite advantages to booking your own flights.   BUT, if you would like some assistance or advice, or would like for us to schedule your air for you, just let us know and we will be happy to help you.
Which online travel company do I use?
I usually use Frequent Flyer points to purchase our tickets.  When we choose not to use our Frequent Flyer points, I usually start with Travelocity (www.travelocity.com).  The deals vary from day-to-day and company to company so it doesn't hurt to shop and compare.
That's my solution for air reservations
Making your own airline reservations is now the standard operating procedure for my group participants and they all love it.  It's on a rare occasion that someone asks us to make their reservation for them, but when they do, no problem.  We just get online and book the reservation or go to a local agency and have them do the ticketing for us.  Simple.
Here is something else that you should know.  This solution saves you more than just the hassle of booking your group with the airlines, it also saves you from having to pay an immediate deposit of $100 per person (deposits vary from airline to airline but $100 pp is pretty standard) to block the group space.
Think about this; If you have six groups in various stages of operation at an average of 30 pax per group, you could potentially have $18,000 of your hard earned money sitting in some airline's bank account until your groups depart for their trip.  You may have that kind of money laying around, but I don't!
So, here's the win-win for you:
Win #1 – Your trip participants make their own airline reservations.  They book exactly the schedule they want and send you the reservation info.  They're happy, you're happy.
Win #2 – You don't have to pay out any money for deposits, allowing you to keep your money in your bank and additionally, saving you all of the hassle of signing contracts, meeting payment deadlines, dealing with schedule/name changes (your participants do that), etc.  Life is good!
Last Point: Meeting & Greeting your group at the destination
Since your group participants are making their own airline reservations and will be arriving individually and not as a group, the standard "meet the whole group upon arrival at the airport" is no longer feasible.
Basically you have two options on how to handle your meet and greet:
If you personally want to meet your group participants on the 'official" arrival day (Remember, some of the participants may arrive a few days earlier than the majority of the group), either:
Meet them upon their individual arrivals at the airport (I highly suggest this option if possible)
Meet them upon their arrival at the hotel
Regarding Option #1 – I know that meeting your people at the airport on the official arrival date sounds like a long day at the airport but it's usually not, for this reason;   Most airlines will have flights arriving at close proximity to each other at major destinations, so most of your group will probably arrive on two or three incoming flights, usually within a few hours of each other.  Using my Friends of Carl and Anne group to Paris last year as an example, my whole group  (whose maximum size I keep to 30 pax), all arrived on three separate flights within three hours and fifteen minutes.  The actual time would have been less had there not been a forty-five minute delay with one of the flights.
Also, during the waiting time between flight arrivals, this is a great opportunity for you to spend some time with your local DMC representative (who will be at the airport with you greeting your people) going over your program, clarifying any last minute changes and just getting to know them a little better in general.  Remember, a solid way to build your travel business is establishing strong personal relationships with your travel industry partners…this means everyone from the CEO down to hospitality desk hosts.  They are all important to the ultimate  success of your travel programs and ultimately, your travel business.
Option #2 is a little easier but not quite as personal, in my opinion, as meeting your people as they come out of customs at the airport.  When your people exit customs and immediately see a friendly face, they know that you are there for them and that they are in good hands.
However, meeting your people as they arrive at the hotel is still a nice touch and very much appreciated by your participants.  Since you have the flight arrival times of your people, you can estimate their time of arrival at the hotel and can be waiting for them in the lobby to greet them.
Either option you choose is a winner and fulfills that personal, hands-on service that every tour program should have.
To sum it all up, I guess I have finally realized that the Internet is really my friend and not my enemy because it sure saves me a lot of time and outlay of my money to have my group members make their own reservations.  Try my solution with your next group.  I'm sure that you will be happy with the end result!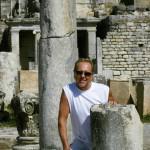 About the Writer – Carl Meadows is a veteran group travel specialist and marketing consultant, teaches
a group travel organizer business course at Denver's Colorado Free University, and writes articles for various travel industry magazines.  Mr. Meadows is also the author of the online travel business course titled How to Organize Group Travel for Fun and Profit (www.carlmeadows.com).