Rail Europe's group department smoothes the way for tour planners looking to glamorize standard itineraries with train segments on scenic rail lines and the latest in high-speed equipment.
Streaking across the countryside like champion marathoners, France's high-speed trains give you a sort of floating sensation. It's like riding a jet of air as your plush carriage whooshes by vineyards, olive groves and velvety green fields. Cows at pasture, rustic stone farmsteads and mountainsides lush with wildflowers, along with villages punctuated by church steeples and the occasional castle ruin, keep you glued to the window. The ride is relaxing and eye-opening at the same time—just how you imagine European train travel should be.
Adding a high-speed rail segment to a group tour of Europe—whether it's a TGV train from Paris to Nice, an AVE run from Madrid to Seville or Eurostar service via the Channel Tunnel—breaks up the days of bus travel and adds a bragging-rights feature that clients will appreciate. Smooth, quiet and ever-so-efficient, this kind of travel is simply not available in the United States. Forget slowdowns, interminable delays and that swaying, clickety-clack over the tracks. In Europe, you cover the miles in style and really MOVE—right around 186 mph on most high-speed routes. Frequent departures, from city center to city center, make it easy to plug a rail trip into an itinerary.
Planners who enhance their Europe tours with a ride or two on the rails start by contacting the group department at the White Plains, New York office of Rail Europe, which represents more than 35 European railroads with almost 300,000 miles of rail lines. Owned by the French National Railroads (SNCF) and Swiss Federal Railways (SBB), Rail Europe, Inc. is the largest North American distributor of European rail products, offering point-to-point tickets and a variety of rail passes. Assisting more than 200,000 travelers a year, the group office consists of 13 personnel, including seven sales consultants, two managers and support staff.
All you need to set the wheels in motion is a group of 10 or more. On a one-to-one basis, Rail Europe's group consultants deal with travel agents, schools, alumni associations, incentive groups, performers and just close-knit groups of family and friends, not to mention major tour operators like Tauck, Insight, Trafalgar and such river cruise companies as Uniworld and Viking, according to Fred Spagnuolo, Rail Europe's director of groups. The group office is not an impersonal call center.
"We offer highly personalized service to our clients," Spagnuolo commented. "Because of the nature of group travel, our clients will work with one of our highly experienced group consultants who will handle their group request from start to finish. We believe in building strong relationships with our clients; in this way we can better serve them and anticipate their needs."
The staff in Rail Europe's group department have worked for tour operators or have experience with itinerary planning, said Spagnuolo, who once worked for Globus. "This allows us to have a unique perspective when arranging rail transportation as we understand the logistics of touring and importance of scheduling within a day's itinerary."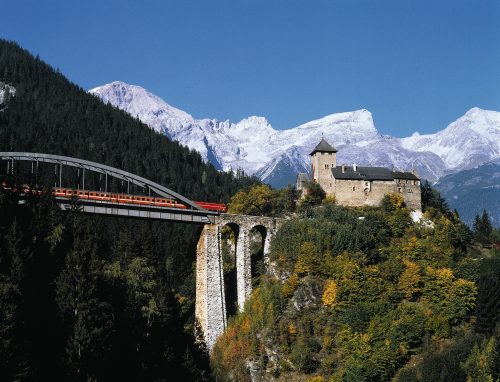 Rail Europe not only can book a block of seats for your tour group (at a discount, of course), but even help charter an entire train. It was on a full charter, in fact, where I caught up with Spagnuolo a few weeks ago. He and I were two of 743 passengers hopping from London's St. Pancras International station to Paris' Gare du Nord on a Eurostar departure reserved exclusively by EF, the Switzerland-based educational tour company, for a contingent of middle school students from Mexico. We chatted about groups during the two-hour-and-15-minute trip, which included about 20 minutes barreling through the Channel Tunnel, nicknamed the Chunnel.
High-speed trains, connecting the large population centers, have the most sex appeal, but other types of service provide just as much in the way of comfort and scenery. Perhaps your group's experience will be an eye-popper like that offered by the Glacier Express or another classic rail journey in the Swiss Alps.
"Today's travelers are looking for authentic experiences, and rail travel certainly answers that call," Spagnuolo observed. "This allows our clients to travel like the locals and embrace the culture around them….Traveling by train in Europe is a highlight of the trip, not just a mode of transportation."
Besides booking train tickets, Rail Europe's group department offers other travel services, which comes as a surprise to some tour planners.
"They say, 'Oh, I didn't know you could that,'" Spagnuolo remarked. "It's our job to educate them about what we can do for them."
Among those extra services are booking museum passes, metro cards and hop-on, hop-off city bus tours. Luggage handling, onboard catering, and airport or hotel transfers by coach or mini-van also can be arranged.
Though train seats do not open for sale until a few months before departure, tour operators seeking to block space should request it from Rail Europe as soon as they know their dates, Spagnuolo said. Their information immediately is loaded into the system and will be ready and waiting once the seats open for sale. Eurostar seats become available 160 days prior; for other trains it's 60 to 90 days. Since payment is not required until 35 days prior to departure, there is no risk in reserving space far in advance, Spagnuolo said.
On our recent Eurostar journey everyone got a sack lunch, and students were split up between cars in three classes of service—Business Premier (premium first class), Standard Premier (first) and Standard Class (second). Normally, however, a warm, three-course meal is served in business, while first-class passengers get a cold meal and second-class customers have access to snacks in the bar car (as do all passengers).
Eurostar business and first-class cars feature three seats across, with a pull-down table or seats facing each other (called Clubs 2s and Club 4s) with a table in between. As on most other European trains, high-speed and otherwise, expect comfortable chairs with head, arm and foot rests. Being free to walk around—or just knowing that you can—is another highlight of train travel. You're less confined to your seat than would be the case on a bus or plane. It all seems so civilized.
Eurostar International, owned by British, French and Belgian railway companies, plans to have a fleet of 14 refurbished e300 trains and 10 brand new e320s ready by 2015. Moreover, it will introduce London-Amsterdam service in 2016, with two e320s daily making the four-hour trip with stops in Brussels, Antwerp, Rotterdam and Schipol Airport. Now the tunnel trains connect London with just Paris, Brussels (two hours) and Lille, France (one hour and 20 minutes). Traveling at speeds up to 200 mph, the new e320s will have a capacity of 900 passengers (compared to the current 750). The London-Paris jaunt will be trimmed to two hours, Brussels to 1.5 hours. (Until Eurostar began service in 1994, the London-Paris trip, with a ferry link, took more than nine hours.)
The tunnel linking Great Britain with continental Europe is actually three interconnected tunnels—one rail track for each direction (northbound and southbound) and one service tunnel. Its length is 31 miles, of which 23 are underwater. The average depth is 150 feet under the seabed. You're usually halfway through the tunnel before you know it.
Whether traveling underwater or through majestic mountain passes, clients booked on European trains can expect a carefree ride and the latest innovations in rail transportation. All aboard for the Old World!
For help with arranging train travel in Europe, call Rail Europe's group department at 800-462-2577, email groups@raileurope.com or submit a group request using the website, www.raileurope.com/group-travel/group-travel.html.