Fayetteville, North Carolina's culinary scene brings together a wide range of flavors from all over the world. Groups traveling to the area have no shortage of great cuisine to enjoy.
When you think international cuisine in America, there are certain areas that come to mind: New York City, Chicago, San Francisco, Fayetteville. Before you question the last region, hear me out. Fayetteville, North Carolina may not seem like the typical place to find a lot of international restaurants, but this city will leave you pleasantly surprised.
The International Culinary Trail offers a wonderfully diverse selection of eateries; any serious foodie would be impressed by the assortment. Tour groups in Fayetteville have their pick of highly ranked establishments, dishing out delectable entrees sure to leave everyone satisfied. There are many options from which to choose, but here's a list of the top international restaurants for groups, just to get you started.
Sherefe
Sherefe, pronounced "sherefay," is known for its fresh, Mediterranean-style food. The restaurant name means "Cheers" in Turkish, and you will find some traditional Turkish items on the menu, along with many other dishes from that part of the world. The restaurant features three dining rooms and three private rooms, giving groups plenty of room no matter their size. Every month, the owner has a cooking—or more appropriately an eating—class, where groups can learn about fresh, real food and how it's prepared.
Sushi Court
For those who love Japanese cuisine, Sushi Court is the place to go. This family- owned and -operated establishment serves authentic Japanese dishes and experiences. Groups can choose from a range of fresh sushi rolls, delicious hibachi, katsu, udon and much more. Sushi Court also offers group discounts, even more reason to roll over to this Fayetteville restaurant.
Huske Hardware House Restaurant and Brewery
If you fancy tastes from across the pond, this gastropub is the perfect spot to grab some bangers & mash, shepherd's pie and classic fish and chips. Huske Hardware House specializes in traditional UK fare, all washed down with handcrafted ales and lagers. For those who prefer American pub food, fear not, there's plenty of that available on the menu, too.
Max and Moritz German Bakery and Restaurant
For traditional German fare, head to Max and Moritz any time of day. This quaint eatery has wonderful, mouth-watering food and a great atmosphere. They offer favorites like fresh broetchen for breakfast, schnitzel or bratwurst for lunch or dinner, and Black Forest cake for a sweet end to the meal.
Fred Chason's Grandson's Restaurant
The name may be long, but the food is simple and straightforward. You'll enjoy plates of delicious Southern comfort food, savory barbecue, and decadent desserts. The restaurant, designed with barn-like décor, is a welcoming setting perfect for any group looking for a great meal at a reasonable price. You can grab as much food as you like from the buffet, or order a la carte. The choice is up to you.
---
---
Luigi's Restaurant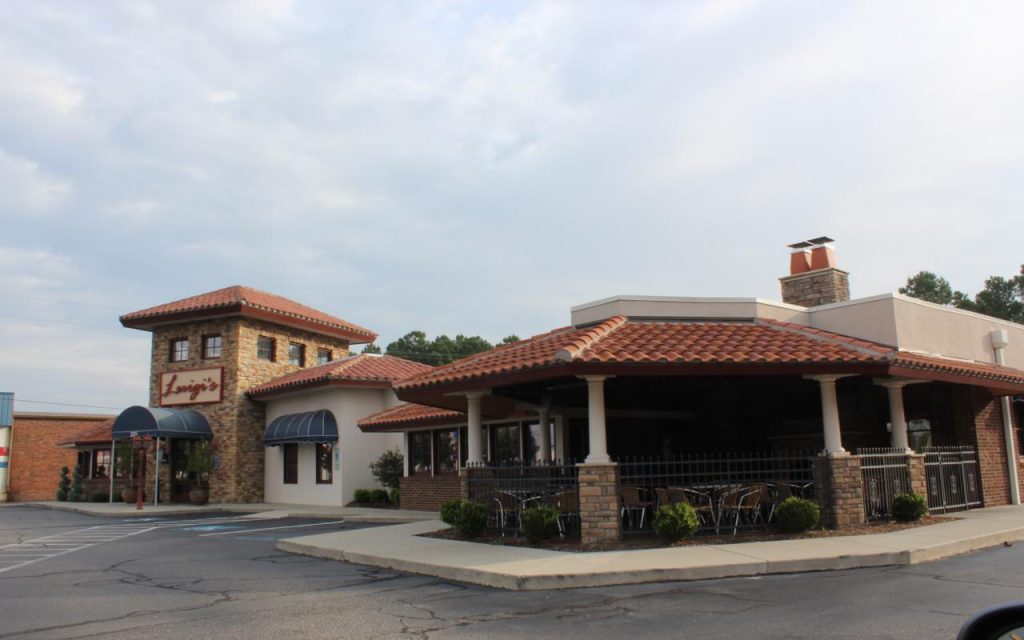 Treat your group's taste buds to the flavors of Italy at Luigi's, a staple in the community since 1982. The restaurant is a gathering place for families, friends, office events and casual dinners. It features classic dishes such as zucchini fritti, veal marsala, chicken parmigiana and penne alla vodka. The restaurant has plenty of space and can accommodate groups of all sizes in the main dining room or out on the patio.
Thai Pepper Restaurant
Fayetteville's oldest Thai restaurant, Thai Pepper has built its reputation on creating signature dishes like Tom Yum Soup, vegetable spring rolls, coconut milk rice pudding and Pud Thai. Groups can dine in at lunch or dinner, and enjoy a buffet of tasty Thai delicacies.
Hilltop House Restaurant
For a lovely evening of fine dining, take your group to Hilltop House. With cuisine described as new Southern with French influences, Hilltop uses only the best and freshest ingredients for its dishes. Start off with a plate of North Carolina cheeses or crab crostini's, and enjoy an herb crusted salmon or braised short ribs for the main course. Hilltop is the perfect spot to wine and dine your group.
Chris's Steak & Seafood House
This legendary restaurant opened over 50 years ago, and has been serving the highest quality meats and seafood ever since. As the name suggests, Chris's is known for its prime steaks and fresh seafood, but you can also enjoy juicy pork chops, flavorful chicken, delicious salads and share-worthy appetizers. Chris's can accommodate groups in its private dining areas, perfect for an intimate dinner.
As you can see, Fayetteville holds its own when it comes to international cuisine. No matter which of these—or the many other restaurants—groups decide to try, they will be pleasantly surprised by the diversity, freshness and quality of the dishes they taste. A journey through Fayetteville's culinary scene takes groups all around the globe with just a few bites.