Fanning out from the historic town of Durango, groups can savor Western ambiance, sample Native American heritage and marvel at the incomparable majesty of the San Juan Mountains of Southwest Colorado.
Groups venturing to the mountains of Southwest Colorado will strike it rich in the old stomping grounds of early miners. They may not find a vein of gold or silver, but they will come away with a mother lode of golden memories from this picture-postcard kingdom.
History fans will discover ancient cliff dwellings and revel in Old West lore, while a variety of activities awaits outdoor lovers amid alpine forests backed by soaring peaks. Stunning red mesas and deserts add to the scenic overload. There's a captivating vista around every turn.
The San Juan Mountains are the largest and most rugged collection of mountain peaks in Colorado with 13 above 14,000 feet. Geologically younger than the rest of the Rockies, they present a more jagged appearance than other ranges. Looping through the region is the 232-mile San Juan Skyway, one of the most beautiful drives in America. A car rental advertisement described it as a place where "the road touches the sky." The All-America Road travels over four mountain passes and through two national forests, the Uncompahgre and San Juan, encompassing several different climate zones.
Durango, Colorado
The town of Durango (pop. 17,000) makes a good base camp for exploring the area. Durango emerged as a transportation center during the gold and silver booms of the 1880s, and many of its downtown buildings date from that period.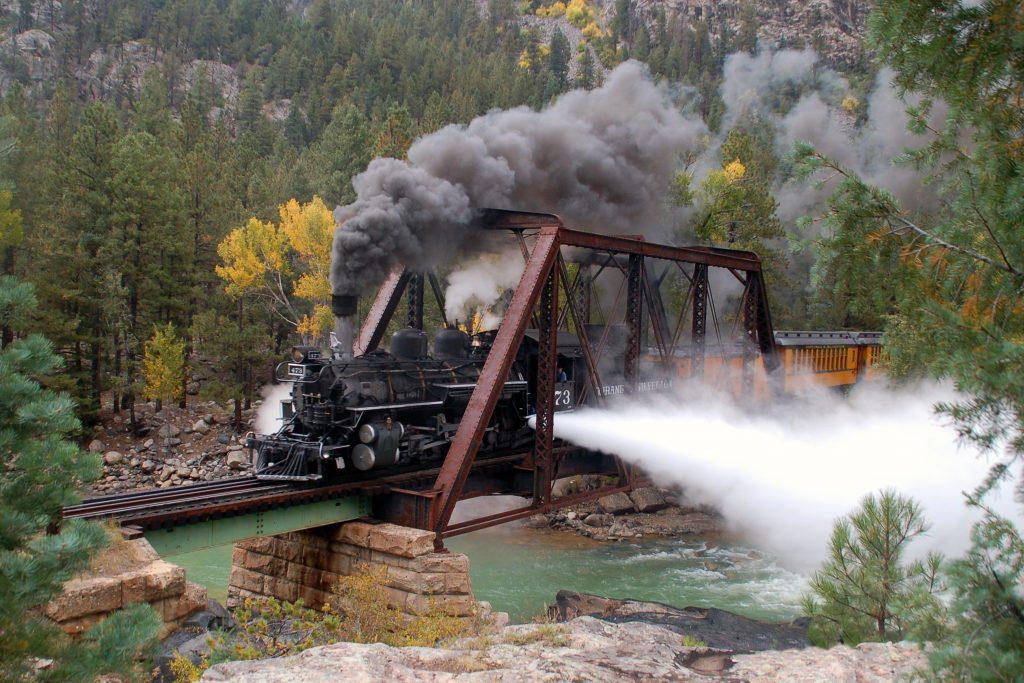 Just as Durango started as a railroad town, its chief claim to tourist fame is one of the country's premier excursion trains—the Durango & Silverton Narrow Gauge Railroad. The train actually started in 1882, serving prospectors eager to cash in on mineral deposits unearthed in the San Juan Mountains. The steam-powered, coal-fired, 1920s-era locomotives pull six gold-colored Victorian coaches through the remote wilderness of San Juan National Forest, following the course of the Animas River through granite-faced canyons. The train hugs the cliffsides as high as 350 feet above the water. Along the 45-mile route between Durango and Silverton are majestic peaks in all directions. In September aspen trees paint the mountainsides a brilliant yellow. Some of the vintage cars are open-air.
Silverton, Colorado
Silverton, once a boomtown full of bordellos and saloons, today lures tourists with shops and galleries in false-fronted buildings that recall the Wild West. Both Silverton and Durango have railroad museums at the stations. Passengers on the nine-hour round-trip excursion get 2¼ hours to mosey around Silverton before reboarding the train headed back to Durango. Or they can ride one-way (3½ hours) and return by bus on the San Juan Skyway. For a peek into a real gold mine, your group can hop on an electric train at Silverton's Old Hundred Gold Mine and pan for gold afterwards.
In Durango the best place to get a handle on area history is the Animas Museum, operated by the La Plata County Historical Society. The 1904 stone building, once a schoolhouse, has a turn-of-the-20th-century classroom and an 1870s log cabin.
Shoppers gravitate to downtown's Main Avenue. Along the stretch from the Durango & Silverton depot to 10th Street, you'll find everything from Western wear and imported gifts to kitchen wares and T-shirts. More than a dozen art galleries in Durango feature a range of works, from home furnishings, jewelry, photography and Western art to museum-quality Indian paintings, pottery, baskets and weavings. The non-profit Durango Arts Center mounts monthly fine arts exhibits in its galleries.
You'll notice that Durango, as home to the 4,500-student Fort Lewis College, has a youthful feel. Known as Colorado's "campus in the sky," the college sits atop a mesa, its red-roofed buildings surrounded by cliffs and mountains. The Fort Lewis College Art Gallery and Community Concert Hall bolster the town's cultural offerings.
For old-fashioned evening entertainment in Durango, consider the Durango Melodrama and Vaudeville at the Henry Strater Theater in the historic Strater Hotel on Main Avenue. Or stop by the hotel's Diamond Belle Saloon, famous for its ragtime piano players, waitresses dressed as saloon girls and gilt-and-mahogany bar. Another evening option: Bar D Chuckwagon's Western stage show and supper, nine miles north of Durango. Guests dine on rib-eye steaks and barbecue beef and chicken with all the fixin's followed by songs, stories and corny comedy from the Bar D Wranglers. Also at Bar D are a Western town with shops and a miniature train.
Hay wagon tours of the James Ranch, in the Animas River Valley 10 miles north of Durango, give an overview of this organic farming operation. Included are visits to the vegetable and flower garden, dairy and artisan cheese making facilities, and lush pastures where beef and dairy cattle graze along with wild deer and elk.
Several ranches and outfitters in the area offer horseback trail rides. Other recreational activities include mountain and road biking, kayaking, hiking and rock climbing. Durango Mountain Resort, 25 miles north of Durango, is a big-time ski destination. Companies like Outlaw Tours and AAM's Mild to Wild Rafting & Jeep Tours feature whitewater rafting adventures and trips into the mountains to visit ghost towns, mining camps and waterfalls.
The state-of-the-art Southern Ute Cultural Center and Museum in Ignacio, 25 miles southeast of Durango, showcases Colorado's longest continuous residents—the Southern Ute Indian tribe. Next door, the 140-room Sky Ute Casino Resort offers slots, table games and a bingo hall, along with four dining options, a bowling center, mini-golf and a "lazy river" pool. Other facilities include a fitness center/gymnasium and arena for rodeos and other equestrian events.
Native American culture also is preserved at Mesa Verde National Park, 35 miles from Durango and one of Southwest Colorado's must-sees. Its ancient cliff dwellings, built into sheltered alcoves of sandstone canyon walls, werehome to the Ancestral Puebloans between 600 and 1300 A.D. Spruce Tree House, one of the largest and best preserved of the 600 dwellings that remain, can be reached via a short paved trail. Others are accessible only by ladder on ranger-led tours. Mesa Top Loop Road provides views of about 40 cliff dwellings from canyon-rim lookouts.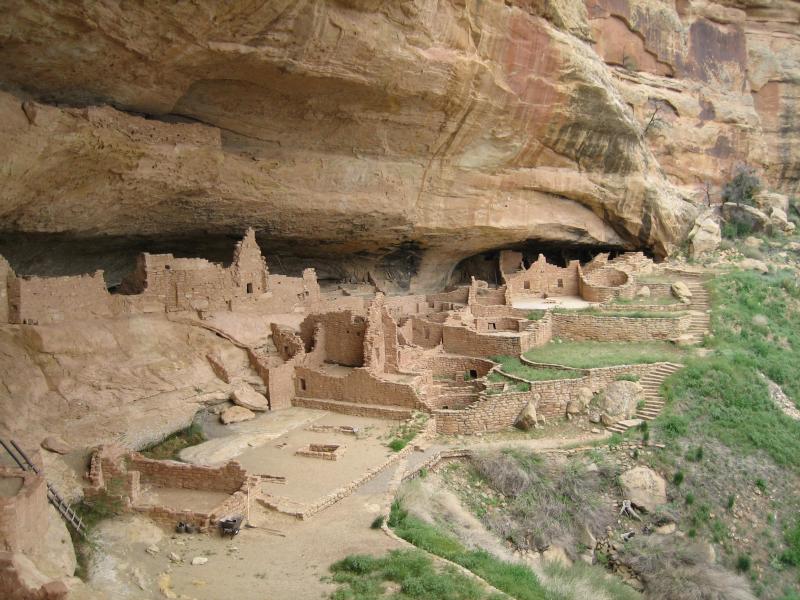 Another popular excursion from Durango goes to the quaint Victorian town of Ouray, the northern terminus of the Million Dollar Highway, a scenically spectacular section of the San Juan Skyway that starts in Silverton. Cut from nearly vertical cliffs, the highway includes many overlooks. Ouray is known for its hot springs pool, waterfalls and stunning views. Nearby, the posh ski town of Telluride draws visitors year-round with its festivals, restaurants and boutiques.
With Durango as the hub of the spoke, colorful slices of Western history and some of America's most spellbinding scenery lie within easy reach. Throw in Native American heritage and a wide range of outdoor activities, and you've got the elements for a perfect itinerary in the San Juan Mountains of Southwest Colorado.