Empowering female-focused journeys cater to the interests of women travelers, providing immersive experiences and opportunities for learning, bonding and transformational change
There's a special kind of magic in women-only group tours. While these trips offer a wide array of options for women to travel the world, the inherent benefits are far greater. These purpose-driven journeys provide opportunities for women to form an inspirational sisterhood while traveling, interact with women from around the globe, and find kinship through shared experiences. On a deeper level, these tours give women the opportunity to reconnect with themselves and discover their unique physical and inner strengths.
Women are a powerful force in the travel world – and in consumer markets as a whole. According to Catalyst, women were responsible for an estimated $31.8 trillion in consumer spending globally and $6.4 trillion in the United States in 2019. The majority of leisure travelers are women, and multiple sources reveal that women make 70-85% of all travel decisions as well.
Given recent cultural and societal changes and women's strong interest in travel, female-centric travel is experiencing significant growth. A 2019-20 Travel Trends Survey conducted by Internova Travel Group (formerly Travel Leaders Group) found women's only travel was one of the top five specialty travel trends along with active/adventure travel.
Solo Traveler's late 2020 survey results based on a sample with 83% female respondents showed 53% of all solo travelers are likely to take escorted tours post-pandemic. JourneyWoman's 2021 research also found that post-pandemic, women are more likely to travel for longer periods of time and choose to travel with a group or tour. Tour operators surveyed for this story are reporting huge growth in interest in women-only group travel in 2021 and Google searches for women-only travel are skyrocketing.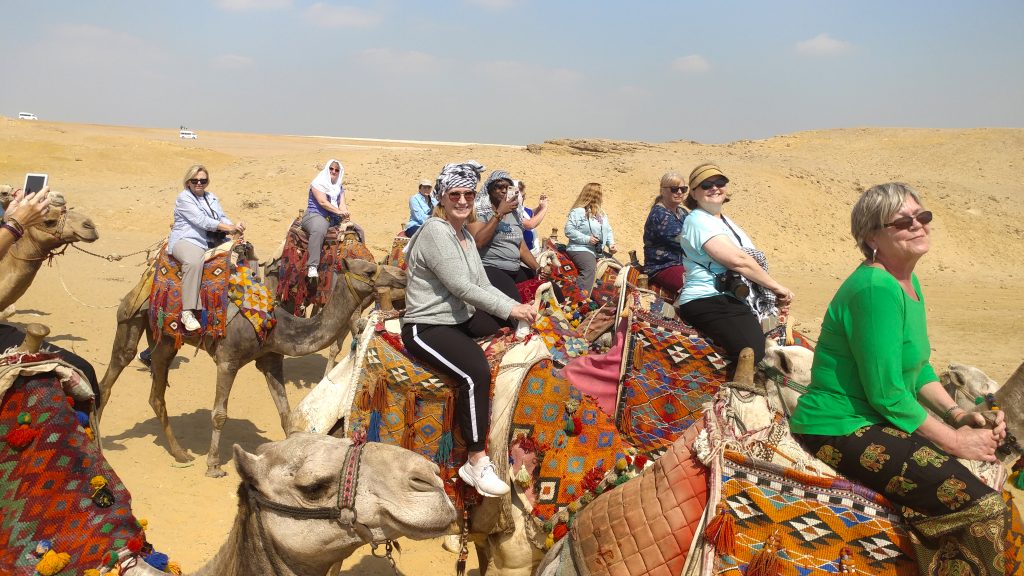 Women-only trips in Egypt feature memorable experiences including visiting ancient archeological wonders and riding a camel across the sands. Photo courtesy of Women Traveling Together
THE RISE OF WOMEN'S GROUP TRAVEL
Women-only travel isn't a one-dimensional market sector – it's comprised of multiple specialized niches. Although female-centric travel has become mainstream, that wasn't always the case. It took years for women-only group travel to develop a league of its own.
When Susan Eckert started AdventureWomen in 1982, adventure travel was in its early days and women-focused group travel was relatively non-existent. Eckert used her life savings to launch AdventureWomen's rugged adventure trips for women seeking exhilarating outdoor experiences. Wild Women Expeditions began in 1991 with small group all-women canoe trips in Ontario, Canada. "From the very start the company grew like wildfire!" said Jennifer Haddow, Founder & Owner of Wild Women Expeditions. These companies offer adventure-seeking women opportunities to travel in a supportive all-female environment, connect with other like-minded women and learn new skills.
Additional trailblazing female entrepreneurs entered the market in the 90's, focusing on travel experiences outside of strenuous adventure tours. Debra Asberry, founder & president of Women Traveling Together, built her company solely to serve the travel needs of unaccompanied women seeking reliable female travel companions, offering a way to travel solo together and explore the globe. "If a women wanted to travel at that time, her most obvious choice was to join a tour that catered to couples and families as a single traveler, in a single room – or plan her own trip and go alone," said Asberry. The company now offers more than 100 small-group tours during normal years to destinations worldwide.
Phyllis Stoller started as a women-only tour operator during the same decade. "My catharsis to start my company was 5 ½ weeks of vacation as a corporate banker, unable to get friends to travel," said Stoller. As a result of this inspiration and entrepreneurial savvy, The Women's Travel Group was born. In addition to scheduled small group female-only departures, The Women's Travel Group also arranges private group tours for women as well.
These firms and others formed the cornerstones of the women-only group travel movement. Over the years, a growing number of tour operators have launched collections of immersive women-focused group tours, including Insight Vacations, Intrepid Travel, REI Adventures, Damesly, MT Sobek, Wild Terrains, and WanderTours. In addition, some companies have initiated one or two women-focused trips a year focused on a single destination, such as Global Heart Journeys' Women's Journey to Kenya.
Insight Vacations launched its Wander Women tours created by all female teams and featuring women in key roles, and their first trips sold out. These empowering trips include special experiences highlighting local women's achievements and inspiring female entrepreneurs. "Our Wander Women itineraries are selling very well and we expect to see women-only group travel grow significantly with Insight Vacations," commented President, Guy Young.
Intrepid Travel's Women's Expeditions began in 2018 and proved to be the most popular group of trips in Intrepid's more than thirty year history, visiting destinations including Iran, Morocco, and Jordan. "In just a few months, the demand for the tours was so high that we increased the number of departures by 800%," said Matt Berna, Intrepid Travel's Managing Director of North America.
As interest in women's travel expanded, properties began catering to women-only groups with destination-based trips. For more than 15 years, C Lazy U Ranch has been offering female-led retreats on topics such as wellness, leadership, and personal growth. The ranch has seen massive demand for these programs with phenomenal repeat guest rates.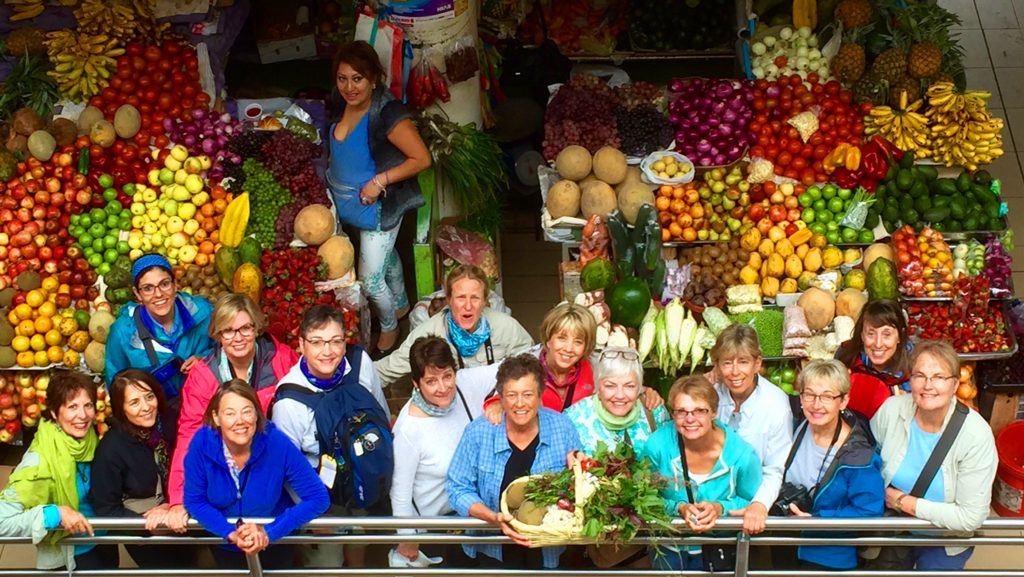 Adventurous women enjoy the vibrant colors of a market in Cuenca, Ecuador. Photo courtesy of AdventureWomen
NUMEROUS FACTORS FUELING GROWTH
Multiple dynamics have played into this surging demand for women's group travel. "The biggest driver behind women-only travel is the financial independence achieved by women over the last several decades," said Women Travel Together's Debra Asberry. "Solo female travel has also become far more socially acceptable than it was 25 years ago when I started Women Traveling Together," Asberry added.
AdventureWomen's President, Heather Heverling also finds the increase in solo travel is helping drive demand. "We see a rise in solo travel – nearly 70% of travelers who join AdventureWomen trips are solo," said Heverling. "There is also a growing interest in multi-generational travel, as women are traveling with their daughters, granddaughters, aunts and cousins," Heverling added. Tour operators outside the women-only sphere have also noted this trend.
The global pandemic has also generated a stronger interest in seizing opportunities to travel and living life to the fullest. "In 2021, we're seeing a massive growth in interest in our women-only tours," said Wild Women Expeditions' Jennifer Haddow. "I think that the pandemic was a wake-up call on so many levels and women are telling us they don't want to put off those big bucket list adventure travel dreams any longer." Pandemic-related concerns may also make women more likely to take group tours to provide peace of mind and eliminate travel planning stresses.
Wellness and demographic trends are contributing to growth as well, as physically fit women ages 75-80+ are traveling quite frequently. "More women are single, living longer and are healthier, and want to learn and connect with the world," said The Women's Travel Group's Phyllis Stoller. "Connecting with the world has become more significant as we hear about female leaders in our own and other countries," Stoller noted. Since safety is a key factor for women, it can also be an important driver for traveling on female-only tours – particularly to more exotic destinations.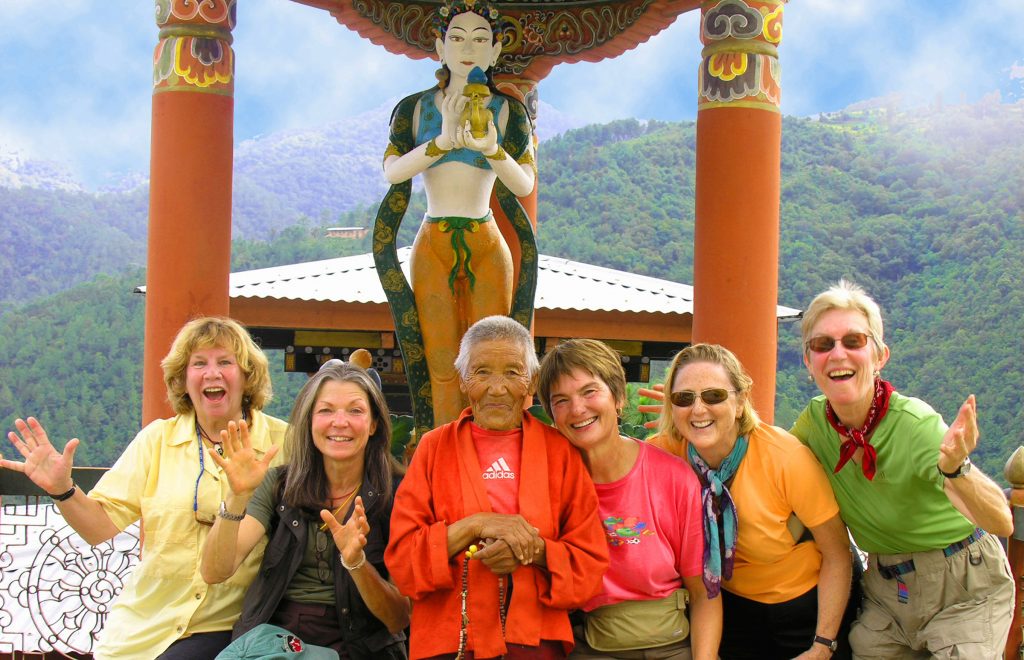 Travelers connect on an immersive women-only cultural and humanitarian adventure vacation in Bhutan. Photo courtesy of AdventureWomen
POWERFUL BENEFITS ARE KEY
While societal shifts and increases in female solo travel are contributing to surging demand, there's another significant factor at play. Women-only group travel is addictive. A number of the women-only tour operators surveyed have high repeat guest rates of 70% or more. Emerging from the pandemic, Women Traveling Together's frequent travelers are now taking 3-6 trips per year.
Friendships form quickly on women-only group trips. Women feel a strong sense of community, camaraderie and support while traveling with other like-minded women on female-led tours. When no men or children are along, gender and family roles are eliminated and women travel differently. The deeply immersive experiences shared as sisters provide a powerful way to connect and find kinship. On women-only group tours, guests have opportunities to bond and honestly share female insights and experiences. Guests develop lasting relationships with fellow tour members and with local women around the globe.
"Women have been waiting a long time for this kind of meaningful 'woman to woman' immersion," said Linda Higdon, President of Global Heart Journeys, Inc. and Tour Host, Women's Journey to Kenya. "The traveler and the local women are encouraged to be authentic guides and teachers to one another beyond labels or inequities," Higdon added. As one guest said, "these trips keep on giving long after you return home through new friendships."
In some destinations, guests on women-only trips may have access to female-only spaces, culturally-sensitive experiences, and communities that would be off-limits on mixed gender departures. They can have more genuine interactions and delve into provocative female-focused topics, providing a deeper understanding of women's lives and roles in these countries. Women's priorities on these trips may also be more purpose-driven, focusing on how travel can be a potent force for good. Female-centric travel can also increase women's employment opportunities and help redefine roles in local economies.
The benefits of spending time on a women-only group tour can be deeply personal as well. Guests have described these trips as inspirational, transformative, and life-changing. Traveling in a supportive all-female community and learning new skills boosts confidence, self-awareness, and inner strength. In making time for themselves while traveling, women also have the opportunity to reflect on their lives and what they want to build going forward. Guests come away feeling stronger, empowered and more resilient.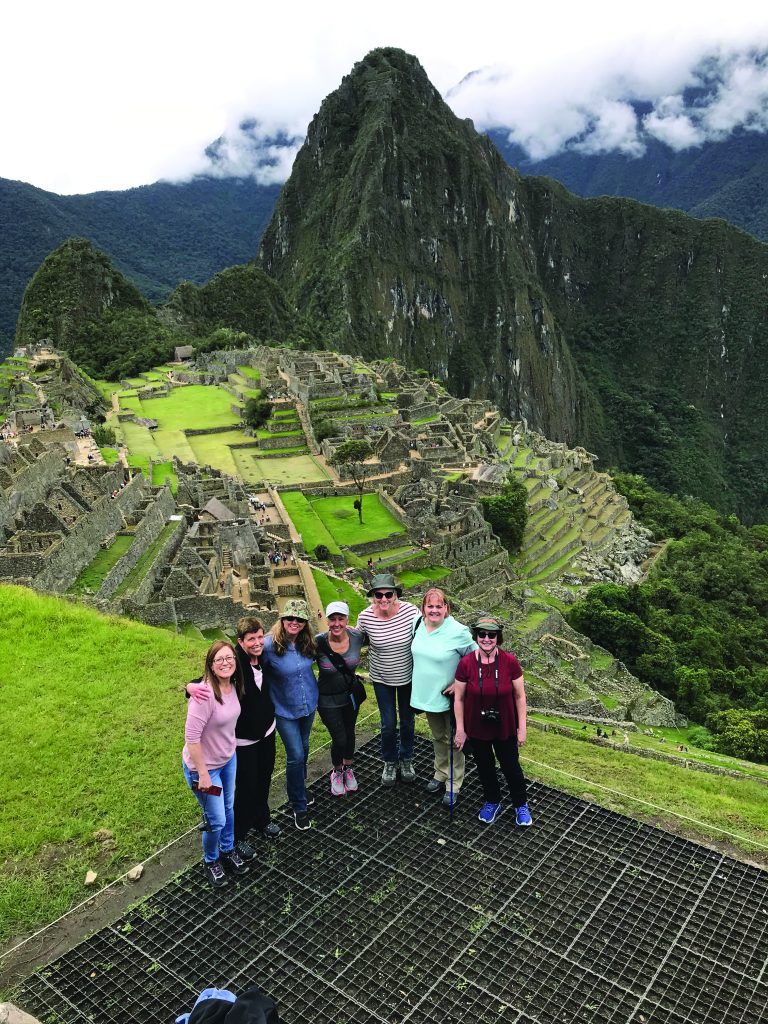 Exploring spectacular Machu Picchu and the Sacred Valley are key highlights of exciting women-only trips to Peru. Photo courtesy of Women Traveling Together
A BRIGHT FUTURE AHEAD
Travel providers surveyed for this story unanimously forecast phenomenal growth for women-only group travel. Companies project wider product and destination options including expedition travel, more intimate cultural connections, and expanding leadership roles for women. A greater emphasis on purpose-driven travel and giving back to local communities is foreseen as well.
As demand continues to increase, tour operators that have traditionally catered to couples and families are spotting the segment's potential and launching new offerings. "The travel industry is just waking up to the needs of women traveling unaccompanied and the diversity represented in women-only travel," said Debra Asberry, who will be the Chair of the National Tour Association's Board of Directors next year. "There is a tsunami of growth still to come in this market niche."
---
By Nancy Schretter
Header Photo Courtesy of Wild Women Expeditions