Watching Major League Baseball players in action could be a highlight of your next tour of the East Coast, but even if you don't include game tickets, you can still give your travelers the big-league experience. Try arranging a ballpark tour, visit to the team store or meal at a stadium restaurant that's open year-round. On hour-long tours, fans and non-fans alike enjoy going behind the scenes with peeks into the dugouts, clubhouses, press box and luxury suites.
1. Oriole Park at Camden Yards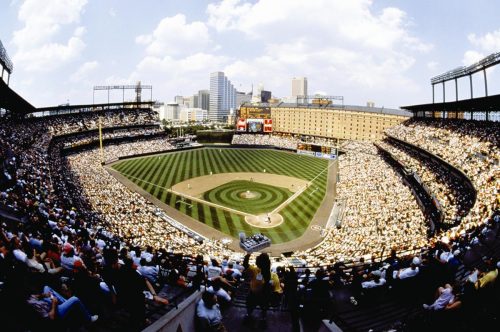 Baltimore
Debuting in 1992, this architectural gem of green steel and red brick inspired a generation of ballparks built with a retro look. The outfield area artfully incorporates the historic B&0 warehouse, the longest building on the East Coast. Food options include Boog's BBQ, where former Orioles All-Star first baseman Boog Powell may be seen serving up his barbecue beef, pork and turkey. Open year-round is Dempsey's Brew Pub and Restaurant, named for Orioles Hall of Fame catcher Rick Dempsey. The Babe Ruth Birthplace Museum is two blocks away, and the shops and tourist attractions of the Inner Harbor are a 12-minute walk. Private ballpark tours can be scheduled throughout the year. (baltimore.orioles.mlb.com)
2. Fenway Park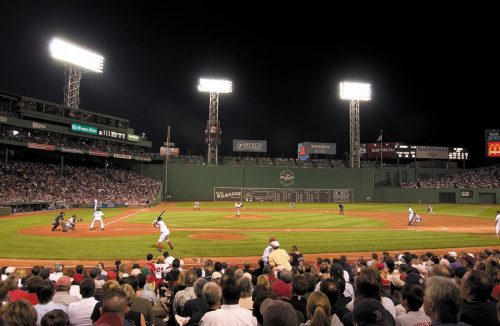 Boston
Just as much a Boston landmark as Fanueil Hall and Paul Revere's house, the oldest operating ballpark in Major League Baseball looks much as it did opening day in 1912. Sacred ground to Boston Red Sox fans, the classic park is best known for its 37-foot-high left field wall, the Green Monster. Sit atop the fabled wall, view the manual scoreboard, and hears tales of Red Sox greats like Ted Williams and Carl Yastremski on daily tours, offered year-round. Besides the usual ballpark fare, fan can get a lobster roll or New Enland clam chowder. Live music, souvenir tables and food carts create a carnival atmosphere on Yawkey Way, a public street that's closed to traffic on game days. (boston.redsox.mlb.com)
3. Yankee Stadium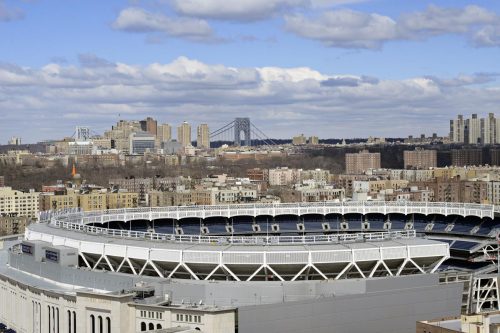 New York
One of the most expansive stadiums ever built, the "new" Yankee Stadium replaced the "old" home of the Bronx Bombers in 2009. Despite the loss of some history with demlition of the original, the team's storied past lives on through exhibits in the New York Yankee Museum and in center field's Monument Park, a shrine to greats like Babe Ruth, Joe DiMaggio and Mickey Mantle. Design elements borrowed from the old "House That Ruth Built," such as the imposing arched windows, have been incorporated into the new.
Among the new food choices this year are the "G.O.A.T. (Greatest of All Time) Burger" – which includes crispy bacon, pastrami and American cheese piled high – and the "Double-Double," a double cheeseburger with a pair of grilled cheese sandwiches for buns. Also new is The Big Cheese Grilled Cheese Stand, with four different sandwiches made with artisan cheeses. Tours for groups of 15-35 can be scheduled year-round, with lunch or dinner at the stadium's Hard Rock Cafe part of the package. (newyork.yankees.mlb.com)
4. Citizens Bank Park
Philadelphia
This amenity-laden park, with the larges video scoreboard in the National League and the city skyline as a backdrop, ranks as among the best in America. Opened in 2004, Citizens Bank Park gets high marks for its food and often places first in vegetarian ballpark fare. New taste options this year include Chick-fil-A chicken sandwiches and Andrew Zimmern's Korean Fried Pork Belly Sandwich, created by the host of Travel Channel's Bizarre Foods for Harry the K'S, an outfield sit-down restaurant named for late Hall of Fame broadcaster Harry Kalas. For true Philadelphia flavors, try a cheesesteak or hoagie. Ashburn Alley, named for Phillies legend Richie Ashburn, is a festive outfield entertainment area that includes the Phillies All-Star Walk, Memory Lane and Phillies Wall of Fame. The 35-by-50-foot Liberty Bell in right-center field rings after every Phillies home run. Tours are available most days (expect Sundays) Year-round. (philadelphia.phillies.mlb.com)
5. Citi Field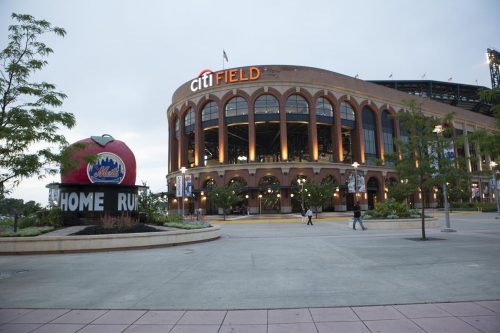 New York
Dark blue exposed steel and dark green seats accent state-of-the-art Citi Field, built in 2009 to replace 45-year-old Shea Stadium as home to the New York Mets. The classic design features a facade of red brick, granite and cast stone that mirrors Ebbets Field in Brooklyn, with the front entrance featuring a rotunda named after Brooklyn Dodgers legend Jackie Robinson. Citi Field, located in Queens, is nationally known as one of the best ballparks in the country for food. Celebrity chef Danny Meyer has played a big part in upping the quality, serving barbecue, burgers and tacos at his Blue Smoke, Shake Shack and El Verano Taqueria. When a Mets player hits a home run, a giant apple with a Mets logo lights up and rises from center field. Grouptours include the Mets Hall of Fame and Musuem. (newyork.mets.mlb.com)
6. PNC Park
Pittsburgh
With sweeping views of the Allegheny riverfront and downtown skyline, the Pittsburgh Pirates' classic-style PNC Park opened in 2001 as one of the most beautiful and smallest parks in the majors. On game days Roberto Clemente Bridge is closed to vehicular traffic and fans are met with a dynamic retail and sports pavilion beyond right field. PNC food choices include Primanti Bros. sandwiches and a barbecue spot run by former player Manny Sanguillen. This year Riverwalk Grill's crazy offering is the Cracker Jack and Mac Dog, a hot dog in naan bread with macaroni and cheese, salted caramel sauce, deep-fried pickled jalapenos and a sprinkling of Cracker Jack popcorn for crunch. Groups of 25 or more can book a ballpark tour, with or without lunch, for weekdays and select Saturdays from early April to early October. (pittsburgh.pirates.mlb.com)