Architect created masterful houses and structures, many which can be visited including two sites in the recent UNESCO's World Heritage Frank Lloyd Wright Serial Inscription
Few have made an impact on American architecture like the legendary Frank Lloyd Wright, who designed more than 1,000 structures with a distinct style focusing on organic architecture living in harmony with the environment.
Today, visitors can tour many of Wright's creations thanks to the Frank Lloyd Wright Trust, whose mission is to engage, educate and inspire the public through the interpretation of Wright's design legacy. The Trust features 50 employees and 650 volunteers who serve an audience of 150,000 site visitors and 1 million virtual visitors from around the world each year. The Trust offers five tours in the Chicago area where guests can get an up-close view of Wright's masterful creations. Here are those tours:
Frank Lloyd Wright Home and Studio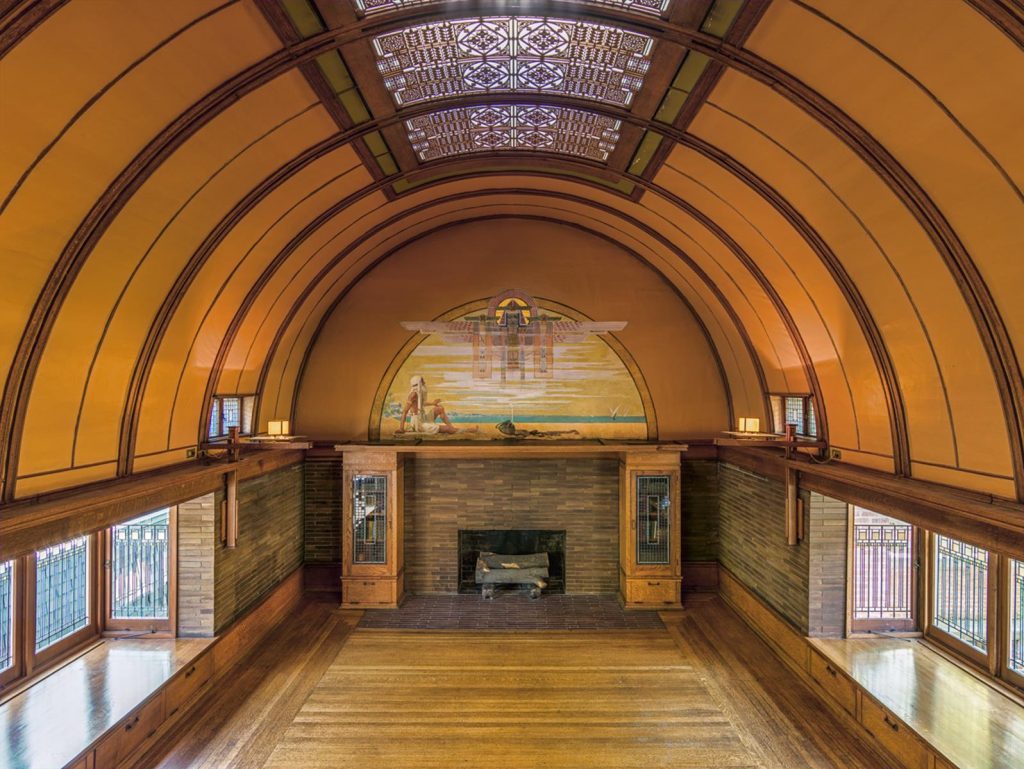 Frank Lloyd Wright's exceptional home (built in 1889) and studio (1898) complex served as his private residence and workplace from 1889 to 1909—the first 20 years of his professional career. Wright used his home as an architectural laboratory, experimenting with design concepts that contain the seeds of his architectural philosophy. Here, Wright conceived the Prairie style of architecture, testing ideas that found their fullest expression in many of the homes he designed for clients. Wright added the studio in 1898 and it was there he designed more than 140 structures, including such famous buildings as the Robie House, Larkin Building and Unity Temple. The building has been restored to its 1909 appearance, the last year Wright lived and worked on the property. Guided museum tours and self-guided walking tours of the Frank Lloyd Wright Historic District are offered daily.
[optin-monster-shortcode id="ncqo5wjjohzq4qjsh4gl"]
Unity Temple
Unity Temple (built between 1905 and 1908) is Wright's only surviving public building from his Prairie period. Limited by a modest budget and an urban site (it is located a short walk from Wright's studio), Wright created a bold design and used unconventional materials to produce one of his most significant accomplishments. Unity Temple was declared a National Historic Landmark in 1970. Wright designed two separate skylit spaces, one for worship (Unity Temple) and one for the congregation's social gatherings (Unity House), connected by a low, central entry foyer. Unity Temple is part of UNESCO's World Heritage Frank Lloyd Wright Serial Inscription. Guided and self-guided tours are offered Monday through Saturday.
Frederick C. Robie House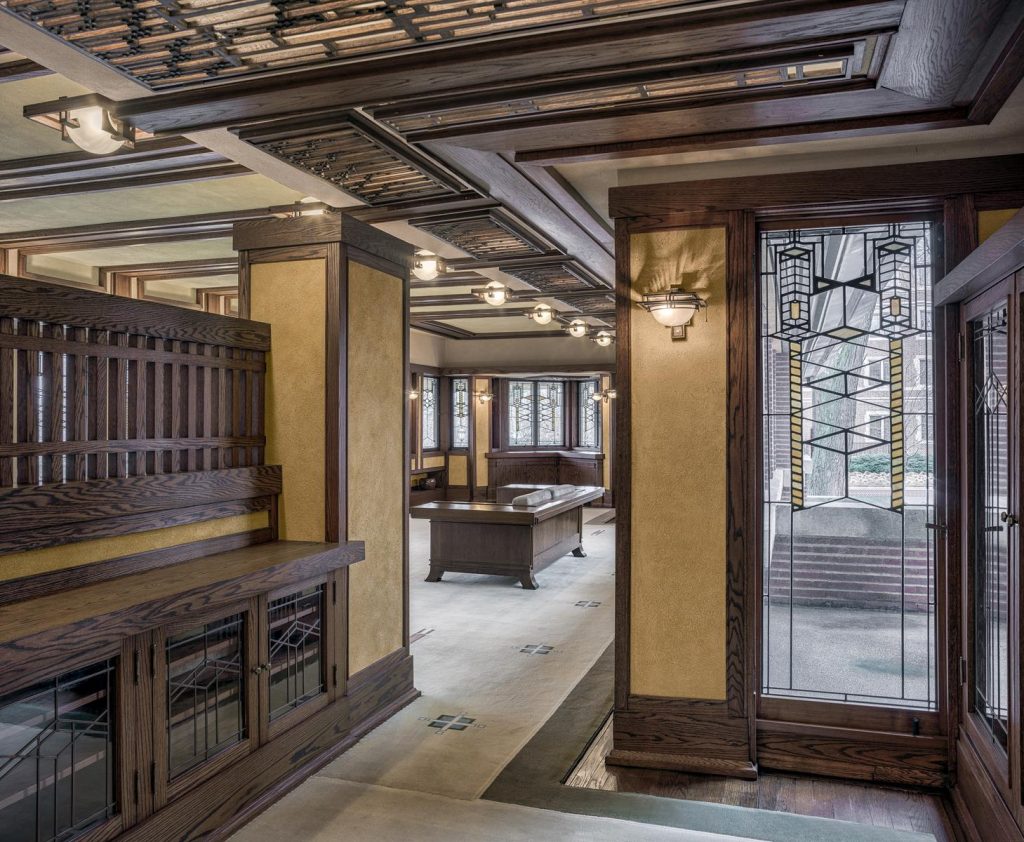 The Robie House on the University of Chicago campus is considered one of the most important buildings in the history of American architecture. It was created by Wright for his client Frederick C. Robie, a forward-thinking businessman. With its bold horizontal lines, stretches of leaded glass windows and an open floor plan, the Robie House inspired an architectural revolution. Designed in Wright's Oak Park studio in 1908 and completed in 1910, the building is both a masterpiece of the Prairie style and renowned as a forerunner of modernism in architecture.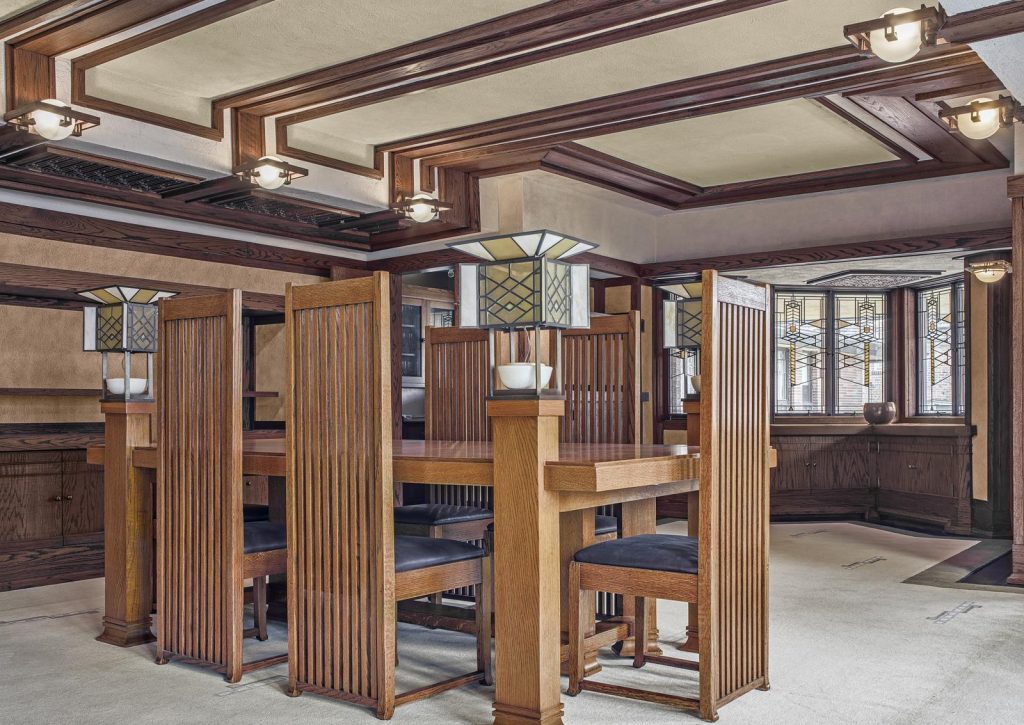 The Robie House was designated by the American Institute of Architects as one of the 10 most significant structures of the 20th century. A major renovation of the interior was recently completed and the house is part of UNESCO's World Heritage Frank Lloyd Wright Serial Inscription. The guided museum tour Robie House: A Modern Home, is offered Thursday through Monday, 10 a.m. to 3 p.m.
The Rookery Building/ The Rookery Light Court
Set in the heart of Chicago's financial district, Daniel Burnham and John Root's Rookery Building is a Chicago landmark, containing a luminous central light court remodeling by Wright. The Rookery Building stands as a testimony to the resilience and creative spirit of late 19th-century Chicago following the rebirth of the city after the Great Fire of 1871. Designed by Burnham and Root in 1885 and completed in 1888, the 11-story Rookery was the tallest building in the world at the time of its completion and was one of the most expensive and largest commercial buildings in Chicago. In 1905, Wright was commissioned to update the interior design and plan of the light court and lobbies. Wright's remodeling was sensitive to Root's original design, enhancing the light-filled lobbies and central court. In 1970, The Rookery was placed on the National Register of Historic Places and in 1972 was designated as an official Chicago landmark. Guided tours of the Rookery Light Court are offered Monday through Friday.
Emil Bach House
The intimately scaled Bach House (built in 1915) adopts the vocabulary of the Prairie house, but looks toward future stylistic directions in Wright's work. This house was built for Emil Bach, president of Chicago's Bach Brick Co. Described as "semi-cubist," its compact plan is a modification of Wright's "fireproof house," which was published in 1907 in Ladies Home Journal. On the main floor, the living room and dining area project out from a central fireplace. An enclosed kitchen completes the encircling rooms and dining, seating, bookcases and storage are all efficiently integrated into one harmonious plan. Wright used only one color throughout the house, uniting his exterior and interior palette. The Bach House was designated a Chicago landmark in 1977 and was placed on the U.S. Register of Historic Places in 1979. It was meticulously restored to its original appearance in 2013.  Guided museum tours are offered Tuesday and Wednesday, May through September.