The National Baseball Hall of Fame and Museum, which just reopened after being closed since mid-March, pays tribute to the greatest names in the game.
Because of the nasty virus afflicting our country and the world, this may not be the year for someone to take you out to the ballgame and buy you some peanuts and Crackerjack. But you can still indulge in the lore of America's National Pastime by visiting the premier shrine to baseball's history and its greatest players.
For diehard fans of the sport, the National Baseball Hall of Fame and Museum in Cooperstown, New York, has long been a bucket-list destination. The very word "Cooperstown" is practically synonymous with this place of pilgrimage. And in a crazy year like 2020, just the idea of traveling to an idyllic little town away from the crowds is comforting in itself.
From artifacts and videos, to stats, facts and plaques, there is so much to absorb at the museum that you can't take it all in on one visit, so you have to make a game plan of what you want to see. The average visit is two hours.
In response to the coronavirus pandemic, the Hall of Fame has put in place enhanced health and safety procedures. Physical distancing is being observed and face masks required. Single-use masks are available for those who do not have one. Each guest receives a rubber-tipped stylus to use when interacting with push-buttons and touch-screens. There are more than 25 hand-sanitizing stations throughout the museum. To alleviate congestion, timed-admission tickets, available for purchase online, are issued on a first-come, first-served basis.
Normally, you would start your Hall of Fame visit in the Grandstand Theater with the action-packed orientation movie Generations of the Game, but the theater is closed for the time being.
New to the Hall of Fame upon its reopening is "Starting Nine: The Must-See Artifacts from Your Team." A lineup card, available at the Hall of Fame or at "Starting Nine's" mobile website, identifies nine pieces on display within the museum for each of the 30 Major League Baseball teams.
Fans also can individualize their visit in "The Locker Room," which has clubhouse exhibits on each team. Featured are bats, balls, jerseys, video highlights and other memorabilia representing current players and recent events in team history. The Chicago Cubs locker room, for example, displays the second-base bag from game 7 of the 2016 World Series.
Baseball Cards Galore
Anyone who has ever collected baseball cards, including those of us baby boomers who used to put them in our bicycle spokes, will recall pleasant childhood memories in the new permanent exhibit, "Shoebox Treasures." Housed in an attic-like third-floor room, it explores the history of trading cards—they once were sold with chewing tobacco before they got kid-friendly and came with candy and bubble gum. On display in "The Cards Your Mother Threw Away" are vertical files featuring more than 2,000 cards, which represent a mere one percent of the Hall of Fame's collection. One station lets visitors pose for their own baseball card photo and email themselves a series of 2½-by-3½-inch cards. There's even a bicycle wheel with cards attached to the spokes by clothespins.
The "Holy Grails" section features 10 baseball cards that are among the rarest and most sought-after in the industry's 140-year history. They include Honus Wagner's famed T206 card from 1909, Babe Ruth's 1916 Red Sox rookie card and a 1952 Topps Mickey Mantle rookie card.
Baseball and Entertainment
The Hall of Fame also chronicles ballpark entertainment over the years. As you learn in the mascots exhibit, the Padres' San Diego Chicken ("Poultry in Motion") and Philadelphia's Phillie Phanatic paved the way for sports' now-widespread use of these fuzzy costumed characters when they first went on the field in 1974.
If you want to hear six renditions of singers belting out "Take Me Out to the Ballgame," press a button to hear people like Chicago Cubs broadcaster doing it in 1988 or pop star Carly Simon in 1994. Also featured is the Neil Diamond hit "Sweet Caroline," which has been sung in the middle of the eighth inning at every Boston Red Sox home game since 2002.
Cinema buffs will be drawn to "Baseball at the Movies," an area featuring props, posters and video clips of baseball-themed Hollywood films like Field of Dreams (1989), A League of Their Own (1992) and The Pride of the Yankees (1942, starring Gary Cooper as Lou Gehrig). A panel lists all 216 baseball movies produced since Thomas Edison's The Ball Game in 1898.
With the press of a button, visitors can view "Who's on First?," the classic Abbott and Costello comedy sketch from the 1945 movie The Naughty Nineties. Perfected by the team of Bud Abbott and Lou Costello in the late 1930s, the routine was voted best comedy sketch of the 20th century by Time magazine.
The Most Popular Exhibit Areas
Perhaps the museum's most popular play-by-play videos are the ones showing memorable moments in the sport. Selections include the Pete Rose hit that moved him past Ty Cobb for most hits in a career (September 11, 1985) and Derek Jeter's last game (September 28, 2014). Rose's feat is also recognized in Hank Aaron Gallery of Records' "One for the Books" exhibit, which honors all-time leaders in categories like home runs, hits, strikeouts and RBIs. The same gallery's "Autumn Glory" exhibit presents championship rings and other World Series artifacts, plus video clips from memorable post-season games.
As the recognition of Rose exemplifies, even names attached to controversy and bad behavior (Rose is banned for life from Major League baseball as punishment for betting on games) have a place in the Cooperstown galleries, even though they are not Hall of Fame inductees. Part of the game's history is the scandal surrounding performance-enhancing drugs, and one exhibit spotlights Sammy Sosa, Mark McGwire and others who admitted to or were under suspicion of using banned substances. The 1998 slugfest between Sosa and McGwire is profiled in the exhibit "Great American Home Run Chase," a contest won by McGwire. A video shows McGwire hitting his 70th and final home run of the season, a record broken three years later by Barry Bonds, another player who got caught up in the steroids mess. Museum-goers can register their opinion on whether PEDs should be legal.
Sosa, from the Dominican Republic, is also featured in the bilingual "Viva Baseball" exhibit, which looks at baseball in Spanish-speaking places like Venezuela, Mexico and Puerto Rico, and celebrates stars who have brought a Latin flair to the game in the U.S. Visitors can listen to former players like Rod Carew and Vladimir Guerrero answer the question "What is special about baseball in your country?"
"Pride & Passion: The African-American Baseball Experience" is dedicated to the Negro Leagues and pioneering black teams from earlier eras, while "Diamond Dreams: Women in Baseball" provides another perspective. "Sacred Ground" looks at classic ballparks of yesteryear, including Chicago's Comiskey Park, Brooklyn's Ebbets Field and Upper Manhattan's Polo Grounds. And don't miss exhibits focusing on two legends of the game—Ruth and Aaron.
The Hall of Fame's Plaque Gallery is the heart and soul of America's shrine to baseball's immortals. Affixed to the oak-paneled walls are plaques bearing bronze-relief likenesses not only of players but managers, executives and umpires as well. Of the fewer than 20,000 men who have ever played Major League baseball, a mere 235 have been inducted since 1936. Plaques in the Rotunda include the first group of inductees from 1936—Ruth, Wagner, Christy Mathewson and Ty Cobb.. (The building itself opened in 1938 and was dedicated in 1939, the supposed centennial of the sport.) Side-by-side statues of Ruth and Ted Williams provide a good photo op in the Rotunda.
Souvenirs for the Baseball Fan
Visitors will want to save time for the Hall of Fame's store, where merchandise ranges from bobblehead figures and team pennants to autographed baseballs and cards costing hundreds of dollars. T-shirts picture greats like Jackie Robinson, Stan Musial, Ron Santo, Johnny Bench and Ken Griffey Jr., while team-logo T-shirts list the names of Hall of Fame members on the back. Or how about a pair of George Brett or Ryne Sandburg socks? There are decks of playing cards for every team, a board game called MLB-opoly, and team activity books with games, puzzles and stickers. Hall of Fame Christmas ornaments and snow globes are available, too, as is a selection of bats. A sign cautions, "Please Don't Swing Bats in Store."
Stores on Main Street, just steps from the Hall of Fame, also are packed with baseball souvenirs and nostalgic displays of their own. They sell caps, jerseys, cards, signed photos and balls, mascot figures, ballpark jigsaw puzzles, you name it. At Mickey's Place you can pick up T-shirts bearing the names of minor league teams like the Montgomery Biscuits, Akron Rubber Ducks, Brooklyn Cyclones and Fort Wayne Tin Caps. A bottle of New York Yankees nail polish comes with matching team decals. Fans willing to spend $65-$86 can get an Aloha shirt featuring their favorite team.
Seventh Inning Stretch, a store housed in a former movie theater, offers grab bags filled with mystery baseball cards (100 for $4.95, 500 for $19.95). Cooperstown Bat Co. and Where It All Began Bat Co. will engrave your name on a bat. Other stores include Baseballism, Safe at Home and Ballpark Collectibles. Above one storefront is the Baseball Town Motel.
For the ladies, downtown has home decor, craft and clothing shops. They are listed in the "Ladies Guide to Cooperstown" brochure published by the local chamber of commerce.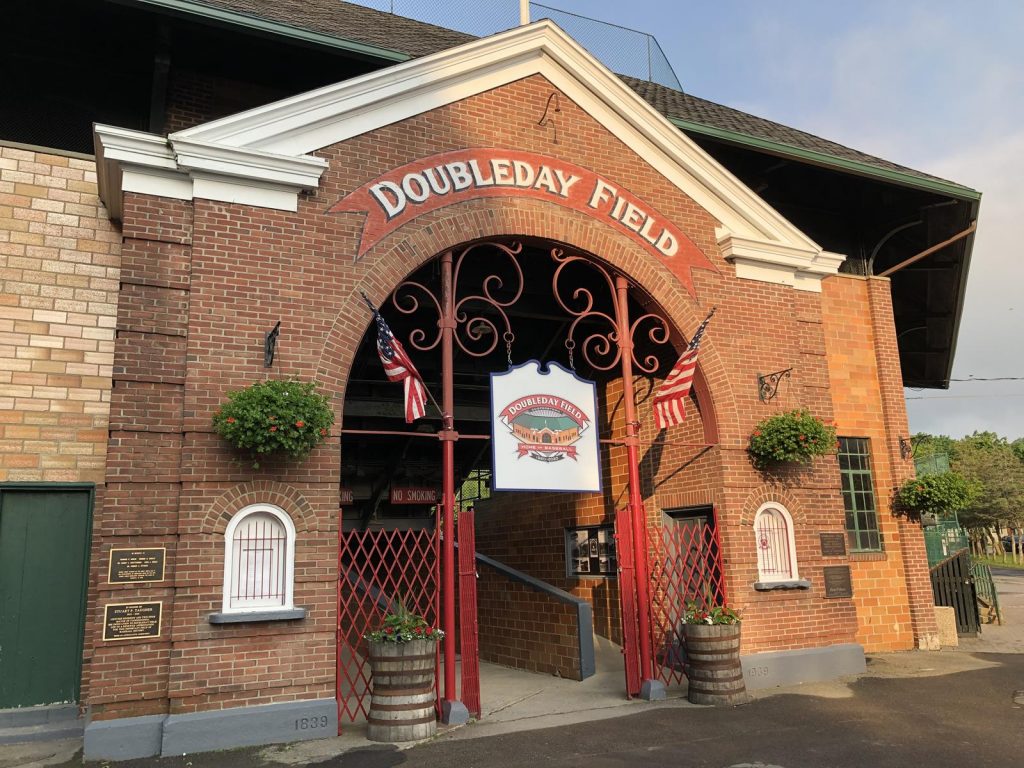 Just off Main Street and two blocks from the Hall of Fame is Doubleday Field, a 9,791-seat baseball stadium built in 1920 and named for Abner Doubleday, the man who, according to folklore, invented the game in Cooperstown in 1839. The town's Clark family, heirs to the Singer Sewing Machine fortune, picked up on this myth and founded the Hall of Fame. Their foundation still plays a big role in the life of the community, and Jane Forbes Clark is chairman of the non-profit National Baseball Hall of Fame and Museum.
For more information on the Hall of Fame, log on to www.baseballhall.org. For tourism information on Cooperstown, visit www.thisiscooperstown.com.
---
By Randy Mink, Senior Editor