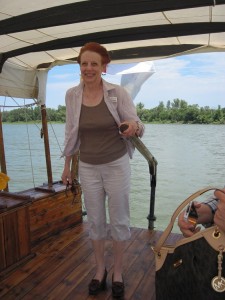 In 2003 we had commissioned a special 4-part series on the Lewis & Clark Trail in Leisure Group Travel and were looking for tour operators who were packaging trips around this monumental 4-year anniversary. From first glance at Shebby Lee's itineraries, it was apparent that this lady knew her stuff. The Lewis & Clark Trail tours that she created had more depth and perspective than anything else on the market. To this day, Shebby's tours are the work of a master builder. As she celebrates 4 decades at the helm of her self-titled business, Shebby Lee Tours, we caught up with her for this edition of Take 5.
37 years is a great run for any business, congratulations to you. How did this all start?
A local sightseeing company was expanding to include step-on guides and I answered their newspaper ad.  A couple dozen other people also answered the ad, but only a few stuck it out, and I actually ended up writing the tour guide manual because I was the only one who knew history. I soon moved on to start my own sightseeing company, and gradually expanded to provide receptive services and retail tours in the entire Western United States.
You pride yourself on having award-winning historians on-board your Western tours. What do they bring to the table?
Our tour directors are trained to provide the insights to the sights: Who lived here first?  Why did they disappear?  Is the wildlife of this area endangered?  Why is Lake Powell so low?  They also encourage enlightening discussions among participants so that everyone comes away from their travel experience with a deeper appreciation of what they have just seen and explored.
I see you have an active following on Facebook. How have you used social media to grow your business?
Actually, I believe Facebook is overrated.  You can amass as big a fan base as you are willing to pay for, but the rules have changed and only 1-2% of those fans ever see your posts. Now you have to pay to get your message out to fans you have already paid for!  We have had much more success reaching our specific client base through our history websites (which are linked to the tour website), with our monthly e-newsletter and my travel blog, Trail Talk.
Have you seen a difference in the type of or travelers taking your tours?
Because of our focus on specialized cultural history tours, our travelers have always been younger and more culturally aware than the usual group tour demographic.  We still get our share of seniors, but the common denominator is a desire to learn more about where they are traveling and those who came before.  We've had tour participants from 12 to 92 on the same excursion.  The appeal of our tours is that everyone learns that history is only stories – through the experiences and interpretation which we provide, they realize that they love it.
What is the significance of partnerships in your business, and how do you see that evolving in the future?
We're all in this together.  We must act as partners in our efforts to provide the best experience possible for our clients or we will fail.  I thank my stars every day for the wonderful relationships I've been able to develop with suppliers, DMOs and other tour operators throughout the country
As far as the future, I wish I had a crystal ball.  My company is experiencing one of the best years we've had in a long time.  And yet there are worrisome political developments in this increasingly smaller world of ours that could pull the rug out from under us again.  The only occupation I know of that is more of a gamble than tourism is farming, which is also affected by circumstances beyond their control.
Connect!
Shebby Lee
Email: shebby@shebbyleetours.com
Websites: Shebby Lee Tours
Facebook: /ShebbyLeeTours
Have something interesting to say? We are actively seeking interview candidates for future installments of Take 5. Drop us an 

email

 and tell us your story!