New York CityPASS smoothes the way into popular Manhattan attractions.
Along with the unlimited-ride subway pass that I bought from a machine my first night in New York City, I made sure I didn't leave my hotel without another pass: New York CityPASS.
I was never sure if I liked CityPASS best for the savings it afforded or the way it let me breeze past the other tourists in line at the attractions that accept it for admission.
New York CityPASS is a booklet of six tickets sold for a set price ($116 for adults, $92 children). Each ticket is for a designated attraction or a choice between two attractions. All are big-time attractions that usually top visitors' checklists. I used only five of the six tickets but still ended up saving money over the cost of individual admissions. (Using all six tickets saves you about 40 percent.)
In addition to tickets for the American Museum of Natural History, Metropolitan Museum of Art and Empire State Building, the pass includes three option tickets. One gives you a choice between the 9/11 Memorial & Museum or Intrepid Sea, Air & Space Museum. Another can be used for either Top of the Rock observation deck at Rockefeller Center or the Guggenheim Museum. And there's one for either the Statue of Liberty/Ellis Island ferry or a sailing with Circle Line Sightseeing Cruises.
New York CityPASS has a validity period of nine days; I used mine in five. I just love exploring New York and can easily spend 16 hours out and about, making use of every minute. Happily, several CityPASS attractions in New York are open late.
On my first night in town—after arriving on Amtrak at 6:15, checking into Midtown's Kimberly Hotel and having a quick dinner—I still had time to go up to the open-air terraces of the Top of the Rock, which was just a short walk from the hotel. Top of the Rock stays open until midnight, with the last ticket sold at 11 p.m. I visited on a clear fall night, perfect for views of the lit-up skyline (though a daytime visit would have afforded great panoramas of Central Park). Top of the Rock occupies the top three floors (68, 69 and 70) of the Comcast Building (formerly GE Building) in Rockefeller Center.
To fill time another night, I visited the open-air observatory of the Empire State Building, which is open until 2 a.m. It was just a short walk from Madison Square Garden and adjacent Hotel Pennsylvania, where I stayed my second night. The lines weren't bad at 10 p.m. and the special line I entered (for CityPASS holders) let me get to the top even faster.
The 911 Memorial & Museum is another CityPASS attraction that keeps late hours. On Friday and Saturday it stays open until 9 p.m. (as does the Metropolitan Museum of Art), other days until 8. I visited the 911 Museum (the outdoor memorial is free-admission) around noon, and, even though I got in the quick CityPASS line, the galleries inside were jam-packed with middle-of-the-day visitors. Despite the jostling, the story told of that horrible September day in 2001 is fascinating, and I spent more than two hours reliving it through video, audio and artifacts from the attacks on the World Trade Center and Pentagon.
A good rule of thumb for avoiding the biggest crowds at any attraction: plan your visit just when the attraction opens or go later in the day. The Metropolitan Museum of Art also is open until 9 p.m. Friday and Saturday.
The Statue of Liberty is a wildly popular attraction, and the lines at the Battery Park ferry terminal usually are long, but the CityPASS really moved us along and we were cruising New York Harbor in no time. (I had wanted to get to the ferry building for the first departure, but dawdled too much and ended up settling for a mid-morning trip.) After the ferry leaves passengers at Liberty Island, it continues to its next-door neighbor, Ellis Island. I spent more than two hours prowling exhibits and watching the moving film at the Ellis Island Museum of Immigration, which chronicles the inspiring saga of hopeful newcomers arriving in a strange land in the late 1800s and early 20th century.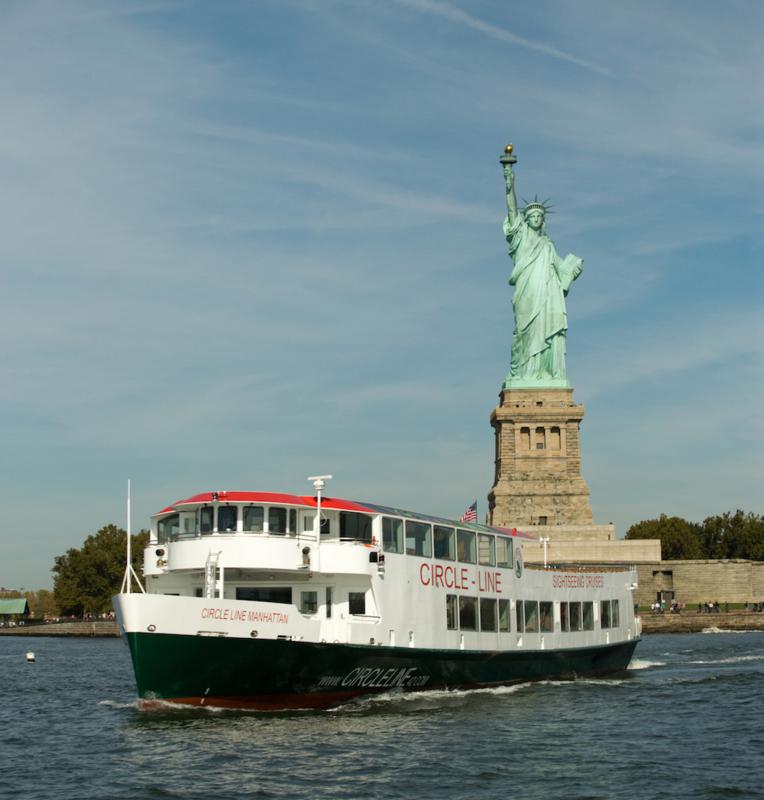 The New York CityPASS contains coupons for other deals and discounts. Bloomingdale's and Macy's department stores, for example, offer 15 percent savings coupons. The gift shops and souvenir stands at cooperating attractions give discounts on purchases over a certain amount. CityPASS holders get breaks on guided tours of Rockefeller Center and the 911 Museum.
CityPASS booklets also are available for Atlanta, Boston, Chicago, Dallas, Houston, Philadelphia, San Francisco, Seattle, Southern California, Tampa Bay and Toronto.
For more information, visit www.citypass.com. There are no group discounts, but tour organizers can go to www.citypass.com/ny-groups for group information.
By Randy Mink