Rome has a wide variety of beautiful and historic sites ideal for any travel group. From its impressive architecture to the splendor of its scenery, the Eternal City offers a lifetime of memories. Below is a just a sampling.
Walking the streets of Rome is an experience in itself. Near the Colosseum there are people dressed in costumes of the Roman gladiators and for a few euros, tourists can take pictures with them. There are also living statues—people dressed and painted to look like statues. When they stand next to a real statue, it can be difficult to tell them apart.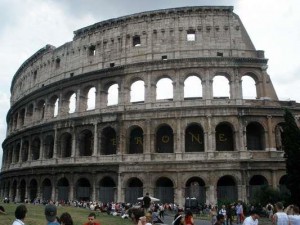 The Colosseum is notorious for its gory gladiator fights, which were viewed by spectators in ancient times. Tourists can take pictures with costumed Roman gladiators for a small fee.
En route to the Spanish Steps are salespeople handing out roses. I did not take them at first, thinking they would cost money. The sales people insisted and handed me six roses, then informed me that they cost two euros each. I kept one rose and handed back the rest. The Spanish Steps connects Trinita dei Monti, a French church, to the Piazza di Spagna. Near the square is a large shopping area with smart boutiques.
The Roman Forum, a rectangular plaza not far from the Colosseum, features the Arch of Titus and Temple of Saturn. It was where commerce was conducted in ancient Rome.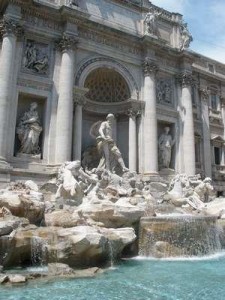 Toss a coin intoRome's most famous fountain, the Trevi Fountain, and according to legend, you will be sure to return to the Eternal City. I enjoyed visiting the city so much that I tossed in several coins. The Trevi Fountain is an architectural wonder full of small details. With its columns, statues and streaming water, it serves as a perfect backdrop for picture-taking tourists in one of Europe's most visited cities.