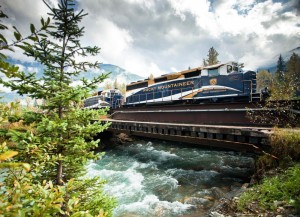 A Rocky Mountaineer rail journey creates lasting memories for all types of groups.
Whether it's a family reunion, a group vacation, a pre- or post-conference tour or a corporate retreat, a group event onboard the Rocky Mountaineer is truly a one-of-a-kind experience.
Memorable Celebrations
Gather your family together for a one of-a-kind getaway to celebrate a significant milestone, family reunion or special occasion onboard the Rocky Mountaineer.
With today's hectic schedules, internet and smart phones getting in the way, grandparents, parents, grandkids and extended family members are looking for ways to get away from it all, unplug from the grid and spend some quality time together. In fact, multi-generational travel has become one of the fastest growing trends of the travel industry. With two relaxing, uninterrupted days onboard the Rocky Mountaineer, everyone will get a chance to catch up and spend some time reconnecting with loved ones and creating lasting memories as they travel through some of the most stunning scenery in the world.
Onboard, families will enjoy outstanding Western Canadian cuisine, award-winning BC wines, and front-row views of Western Canada and the Canadian Rockies. In addition, Rocky Mountaineer Hosts provide fascinating storytelling, historical perspectives and exemplary, tailored service.
Groups can choose to travel in either GoldLeaf or SilverLeaf Service and can rent the entire coach or just a section. For those looking for something a bit more exclusive, a parlor car equipped with LCD screens, large dining tables, a hosted bar and lounge-style seating is also available. To make the trip even more inspiring, Rocky Mountaineer specialists can customize an onboard event with a cocktail reception, such as a wedding. What a unique way to say "I do"!
Meetings on the Move
Rocky Mountaineer offers an alternative to the traditional conference center and its "travelling boardrooms" are proof. The uniquely Canadian rail journey offers a fully-customizable experience for incentive programs to combine business with pleasure onboard.
Traveling in either GoldLeaf or SilverLeaf Service, corporate guests will experience unparalleled views of the stunning scenery and exclusive use of parlor cars, equipped with LCD screens and boardroom tables—everything they need to conduct successful business meetings or team-building sessions. Customized onboard options include cocktail receptions, head rests with company logos and more.
Customized Itineraries
To add to your groups' onboard experience, excursions and activities in destinations such as Vancouver and Whistler, BC or Jasper and Banff, AB can also be arranged.
From legendary mountain resorts and elegant cosmopolitan hotels to outdoor activities, welcome receptions, and sightseeing tours including Glacier helicopter tours in Banff National Park and Columbia Icefield excursions, the options are endless.
Rocky Mountaineer Group Sales Consultants are experts in planning customized itineraries and offer the best in personalized service and seamless planning to ensure a quality experience from beginning to end.
Special Group Offer
Right now, Rocky Mountaineer is offering planners the opportunity to take advantage of a special offer for an add-on of choice when booking 11 adults or more on a qualifying 2012 package. Choose from two complimentary group tour packages-based on availability, or a complimentary dinner, a free night stay, a Vancouver Adventure Tour, a Whistler Sea to Sky Climb tour or an onboard credit for the entire group. The special offer is available on new bookings made by Oct. 3, 2012 for travel between April and October 2012 on vacations packages of four nights or more with components taken from the 2012 brochure. All guests must be booked on the same itinerary, including complementary services. Other restrictions may apply.
For more information on this offer and other group options, contact Rocky Mountaineer's Group Sales Consultants directly at groups@rockymountaineer.com.
About Rocky Mountaineer
Considered by many to be the very best way to experience Western Canada and the Canadian Rocky Mountains, the award-winning Rocky Mountaineer carries you in the lap of luxury on a relaxing journey of superior service and jaw-dropping scenery through the renowned landscapes of British Columbia and the famous Rocky Mountains of Canada.
Rocky Mountaineer travels through some of the most beautiful landscapes in the world including the Canadian Rocky Mountains, a recognized UNESCO World Heritage Site and home of the destination resort towns of Jasper and Banff, Alberta. Traveling by daylight, it follows four distinct routes through British Columbia and Alberta, offering firsthand views of the brilliant landscapes and ensuring none of the sights are missed. From craggy mountain cliffs and snow-capped peaks to dry, desert-like hills and pristine, glacial-fed lakes, the backdrop for this train trip is constantly changing and incredibly breathtaking, no matter which route you travel on.
On Rocky Mountaineer's flagship route, First Passage to the West, guests are swept off to a land of yesteryear, where the sights include a glimpse into the historical adventures of the railway, including the trials and tribulations of those who worked so hard to build it. This is the only passenger train that travels along this route offering first-hand views of significant landmarks such as the Spiral Tunnels, an engineering masterpiece, or Craigellachie, the site where the last spike was driven in Canada's transcontinental rail line.
On Rocky Mountaineer's GoldLeaf Service, guests simply sit back, relax and enjoy exceptional service and panoramic views from the glass domes of the famed two-story GoldLeaf coaches. Onboard Hosts tend to your every need in making this seamless travel experience most enjoyable. In the private dining room, guests enjoy outstanding three-course, à la carte meals, made with the finest and freshest ingredients indigenous to the regions passing by your window. Delicious selections of Wild BC salmon, Triple "A" Alberta beef and locally sourced vegetables are created by talented, world-renowned onboard chefs. Award-winning wines from British Columbia's Okanagan Valley complement the gourmet Western Canadian culinary experience.
Spending two glorious days on the train, you are bound to connect with other travelers along the route, creating lasting friendships and memories as you experience the amazing journey together. Interactions with Onboard Hosts are easy and friendly as they come through the coach sharing fascinating tales of the passing regions, pointing out photo opportunities, wildlife and delivering refreshments.
The tracks the train travels on were laid over 100 years ago, following riverways for the majority of the journey. It is not uncommon to spot a bald eagle or osprey swooping down into the river to catch a salmon or nesting in a tree alongside the tracks. The engineer and staff at the front of the train will call back on radio to alert passengers of upcoming animal spotting. A common call, "Bear on the left, bear on the left!" has guests scrambling for their cameras and darting to the opposite side of the car. There is also a good chance you will spot elk, deer, mountain goats, moose and more!
There is no limit to the amazing scenery and wildlife you will encounter on Rocky Mountaineer's rail journeys. The memories you create while in Western Canada will last a lifetime and the photos you take will capture this amazing experience to share with all. A journey onboard Rocky Mountaineer is truly the best way to see British Columbia and the Canadian Rockies.
Please contact the Rocky Mountaineer Group Sales team today, groups@rockymountaineer.com or 1-866-899-9679.