Rocky Mountaineer trains through Western Canada and the American Southwest dazzle passengers with postcard-worthy views through glass dome coaches and luxury amenities.
Whether it's a family reunion, a group vacation, a pre or post-conference tour or a corporate retreat, rail trips through Western Canada and the American Southwest onboard Rocky Mountaineer trains are truly epic.
As multi-generational travel continues to grow, families are spending more time with loved ones in unique ways. The same can be said for companies that have moved tedious board meetings outside the office for unparalleled work experiences. Train travel has been reinvented providing unmatched opportunities in how people travel for business and leisure.
Consider traveling Rocky Mountaineer trains on your next group trip through the magnificent Canadian Rockies and the sun-soaked American Southwest. For more group travel options, download the current issue of Leisure Group Travel.
4 Unforgettable Rocky Mountaineer Train Routes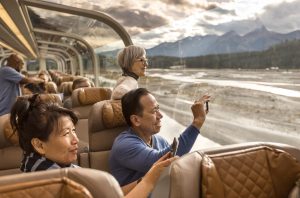 Rocky Mountaineer features four stunning train routes that wind through the rugged terrain of Western Canada and the Canadian Rockies, scenic lush valleys, contrasting landscapes and natural wonders of Canada and America.
It's not uncommon to spot a bald eagle or osprey swooping into the river for a salmon or nesting in trees along side the tracks. The engineer and staff at the front of the train will call back on the radio to alert passengers of upcoming wildlife spotting.
A common call, "Bear on the left, bear on the left!" has guests scrambling for their cameras and darting to the opposite side of the car. There is also a good chance you will spot elk, deer, mountain goats, moose and more.
All trips include outstanding service by professional and friendly hosts and culinary teams serving gourmet cuisine and signature beverages. Trips run during daylight hours to maximize photo opportunities and sightseeing with overnight hotel accommodations to rest up.
The First Passage to the West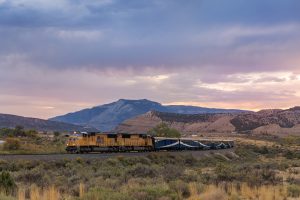 This legendary rail route begins at the Rocky Mountaineer station in breathtaking coastal Vancouver, British Columbia in Western Canada. This flagship route takes groups from Vancouver to Kamloops surrounded by towering snow-capped mountains juxtaposed by sparkling ocean waters. Travel along the mighty Fraser River and the rushing waters of Hell's Gate eastward through the Shuswap region.
While traveling over 100-year-old tracks, guests can get a glimpse into the historical adventures of the railway, including the trials and tribulations of those who worked so hard to build it. This is the only passenger train that travels along this route offering first-hand views of signature landmarks such as the Spiral Tunnels, an engineering masterpiece, or Craigellachie, the site where the last spike was driven in Canada's transcontinental rail line.
Journey Through the Clouds
Only accessible by train, this unique rail route takes passengers along the Fraser River through Fraser Valley and Hell's Gate and past the monumental Pyramid Falls. This adventure features stunning views of the highest peak in the Canadian Rockies, Mount Robson.
Travel through the desert landscape and enjoy a three-course lunch on the way to the quaint town of Kamloops. Day two consists of more delicious food and mesmerizing views of the Canadian Rockies in Jasper National Park before landing in the charming village of Jasper.
Rainforest to Gold Rush
As you leave Vancouver, wind along Horseshoe Bay to the majestic fjords of Howe Sound. Enjoy the wilderness through Squamish and into the soaring Coastal Mountains before arriving in beautiful Whistler waiting to be explored.
Absorb the gold rush history as this historic journey travels through gold-speckled canyons that once drew thousands of prospectors hoping to strike it rich. This excursion continues on to rustic Quesnel before ending in Jasper, Northern BC.
Rockies to the Red Rocks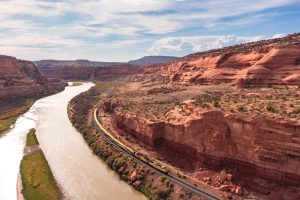 This excursion takes groups on a two-day adventure through the American Southwest, beginning in brilliant Moab, Utah. Witness the impressive views of Mount Garfield and Ruby Canyon on your way to the beautiful resort town of Glenwood Springs.
Day two takes travelers east to Denver, Colorado replete with extraordinary desertscapes. Marvel at the Colorado River, rugged painted canyons and snow-capped peaks of the Colorado Rockies. Cross the Continental Divide through the incredible feet of engineering known as the Moffat Tunnel to arrive in the "Mile High City" of Denver.
Epic Rocky Mountaineer Train Packages
Carefully curated packages are offered for all four majestic rail routes through Western Canada and the American Southwest. It's easy to plan the perfect Rocky Mountaineer journey for your group with many suitable options.
Three trip packages include Short Journeys, Rockies Highlights and Circle Journeys that range in duration from two days to 12 nights with hotel stays at midpoint destinations in Kamloops, Quesnel, Whistler and Glenwood Springs.
Short Journeys are the perfect way to soak up the scenery of Western Canada and the American Southwest in a quick 2-3 days
Rockies Highlights lets you choose between adventures in Western Canada and the Canadian Rockies, or discover the American Southwest with add-ons for iconic site exploration
Circle Journeys provide extensive 12-day train trips combining two of the four phenomenal rail routes for a full-circle adventure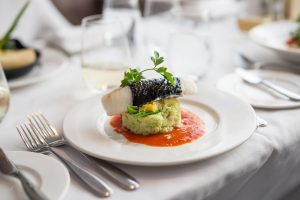 Gourmet meals are provided with exceptional host and culinary services. Rocky Mountaineer has partnerships with top-rated hotels in Canada and the U.S.
Canada accommodations include locations in Banff, Jasper, Calgary, Lake Louise, Vancouver, Whistler, Quesnel, and Kamloops and the surrounding area.
U.S. accommodations include locations in Denver, Moab, Las Vegas, Bryce Canyon, Salt Lake City and Glenwood Springs.
All packages travel in both directions and offer add-ons for Canadian and U.S. routes. For example, a sightseeing transfer add-on allows passengers to take guided sightseeing detours between destinations. Discover the towering peaks of the Canadian and Colorado Rockies, the lush fjords of Howe Sound, the Red Rocks of Moab in Utah and more ruggedly beautiful wilderness in between.
2 Exceptional Levels of Service
Rocky Mountaineer trains offer two levels of dedicated service with outstanding hospitality, jaw-dropping scenery and educational storytelling.
SilverLeaf
Single-level dome coach
Oversized glass-dome windows with spectacular views
Regionally-inspired cuisine
Comfortable reclining chairs
In-seat host services
Gourmet sweet and savory snacks
Alcoholic and non-alcoholic beverages
Outdoor viewing area
Luggage handling/hotel delivery service
GoldLeaf
Bi-level dome coach with seating above and dining below
Full glass-dome windows with panoramic views
Gourmet a 'la carte meals
Comfortable reclining chairs
In-seat host services with a full culinary team
Gourmet sweet and savory snacks
Signature cocktails; premium alcoholic and non-alcoholic beverages
Large, exclusive outdoor viewing platform
Luggage handling/hotel delivery service

Group Travel Benefits
Travel groups who board Rocky Mountaineer trains have advantages like railcar buyout for exclusive group use and pre-confirmed departures. Groups of 15 passengers can have a 16th member travel for free! There is no deposit required to hold your space until 150 days prior to traveling.  Use the exclusive group offer code CAD500 for additional savings on travel packages lasting six or more days.
Contact Rocky Mountaineer
Rocky Mountaineer Group Sales Consultants are experts in planning customized itineraries and offer the best in personalized service and seamless planning to ensure a quality experience from beginning to end.
Relax uninterrupted for days onboard a Rocky Mountaineer train. Reconnect and create lasting memories while traveling through some of the most iconic and magnificent landscapes in the world.
Please contact the Rocky Mountaineer Group Sales team today, groups@rockymountaineer.com or call 1-866-899-9679.
Don't forget to subscribe to Leisure Group Travel and stay up to date on more unique group adventures.