"The doors of this library are open now and all are welcome.  The judgment of history is left to you, the people." – Ronald Reagan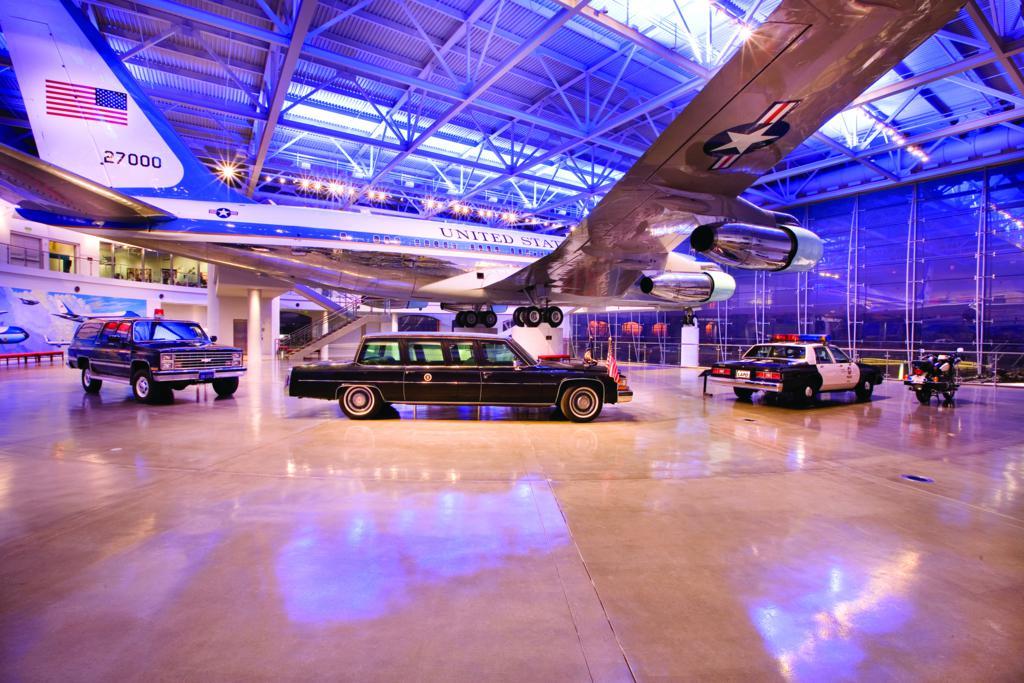 Where else in California can visitors walk onboard an actual Air Force One aircraft that flew seven U.S. presidents, touch an authentic piece of the Berlin Wall, or lay a hand on a real steel beam recovered from the World Trade Center after 9-11?
Visitors will not just learn about the history of the American Presidency, but will immerse themselves in Ronald Reagan's path to the White House.  Starting back in his days as a sports radio announcer to his years as a Warner Brothers movie actor and then the host of GE Theater, visitors step into his shoes, through the use of Green Screen technology, and call a Cubs game, introduce a GE Theater, and even act in a movie!  Follow President Reagan to the White House and deliver the Presidential Inauguration through the use of a teleprompter.  Travel the world on diplomatic missions on board Air Force One.  Explore the White House Oval Office and the White House East Wing.
Visitors may also enjoy the Library's outdoor grounds, where you can stroll through a replica of the White House Rose Garden or the White House West Lawn.  Numerous picnic benches across the property encourage guests to eat outside enjoying the gorgeous vistas.  For those who want to eat indoors, the Reagan Library is also home to two restaurants, Reagan's Country Café and The Ronald Reagan Pub.  Group tours are encouraged to call ahead and reserve seating.
From Air Force One to historic photos and video to interactive games to exquisite landscaped grounds, the Reagan Library is truly one of the most unique and beautiful travel destinations in southern California.  The Library is sure to be a fun, entertaining and educational experience for everyone, of every age, in your tour group.
Open seven days a week, the Reagan Library is only closed on Thanksgiving Day, Christmas Day and New Year's Day.
Special Exhibits:
The Reagan Library features many world-class traveling exhibits.  It is always best to go on the Library's website or to call to see what exhibits may be open for touring during your visit.
Abraham Lincoln
The Reagan Library houses a special exhibit exploring the life of Abraham Lincoln, commemorating the Civil War, and marking the 150th anniversary of the Emancipation Proclamation.  Highlights of this fascinating and educational exhibit include Abraham Lincoln's earliest childhood writings, his stovepipe hat, pocket watch and eyeglasses, as well as the 13th Amendment, signed by Congress and President Lincoln.  The exhibit will also include the blood autopsy letter from the night of Abraham Lincoln's assassination, his death mask, and the syringe used during his autopsy by Dr. Stone.
Spy: The Secret World of Espionage
This spectacular exhibit is an unprecedented exhibition created through a collaboration between the Central Intelligence Agency, the Federal Bureau of Investigation, the National Reconnaissance Office, the Foreign Excellent Trenchcoat Society, and BASE Exhibitions. Visitors to the Reagan Library will explore nearly 300 documents and spy gadgets, many of which have never before been seen – or even known.  SPY parts the veil, inviting visitors into a secret world of patriots, spies, moles, traitors, and spycatchers: a world with heroes and villains, whose actions helped shape the world we live in today.  In addition, SPY features numerous interactive that offer thrilling on-the-spot training to future spies of all ages, including interactive in secret writing, disguise, voice changing, and a laser maze.
An American Christmas
This breathtaking exhibit is an annual tradition at the Reagan Library.  Our winter wonderland includes 25 trees decorated to reflect the American history from 1700 to 2010 and beyond.  Each tree becomes its own piece of history and art through the use of lights, ornaments and era-specific decorations.  A collection of beautiful hand-crafted Menorahs are also on display.  Each Menorah was a gift given to President Reagan while he was in the White House.
Visiting the Reagan Library
With over 100,000 square feet of exhibit space, it is recommended that you plan for at least a half-day visit to the Reagan Library.  The Library is wheelchair accessible.  Audio wands (in English, Spanish and Hearing Impaired) are available for a separate charge.  For a complete list of Museum admission pricing and exhibits, please visit www.reaganlibrary.com.