Colorful murals, sculptures dedicated to ice cream and more things to do in Iowa for your group at these Instagram-worthy spots
Iowa brings to mind picturesque rolling landscapes with abundant stretches of cornfields, towering silos and bright red barns looming in the wide-open plains. The Hawkeye State is one of the best places to capture Mother Nature's natural beauty. But there are also wonderfully weird and unusual hidden gems offering unique photo opportunities that will accentuate your memories. The perfect snapshot location can make even the most memorable trips epic, so visit these accommodating places in Iowa on your next group excursion.
Des Moines, Iowa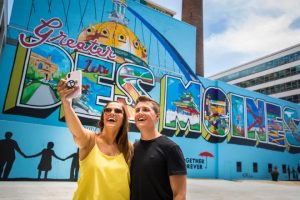 Murals are sprinkled all throughout Iowa. The Des Moines murals mesmerize visitors with eye-catching designs that climb building facades, sneak around parked cars and soar above pedestrians. The otherwise hard industrial landscape is softened with larger-than-life murals of vivid imagery depicting Des Moines' artistic culture. Local artists create colorful
masterpieces turning the cityscape into a welcoming metropolis brimming with photo opportunities. Have your camera handy on your next trip to Des Moines.
Burlington, Iowa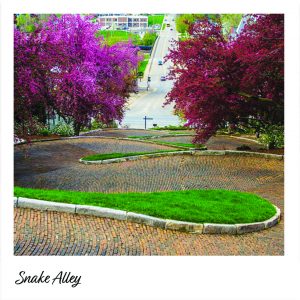 The Burlington business district was built in a natural amphitheater surrounded by hills.
With all commerce situated in this valley, transportation was extremely difficult for the residents living on the steep hills surrounding the downtown. Burlington citizens realized that a new and improved form of road system was needed for travel to and from the residential area and the business district. Thus, Snake Alley was constructed in 1894. It was devised by three Germans who replicated the vineyard paths in France and Germany.
With its many twists and turns, Ripley's Believe It, Or Not! named Snake Alley unbelievably crooked and one of the most unbelievable, curious spots in America. Visitors are encouraged to travel to this Burlington landmark by foot, bicycle or motorized vehicle.
Le Mars, Iowa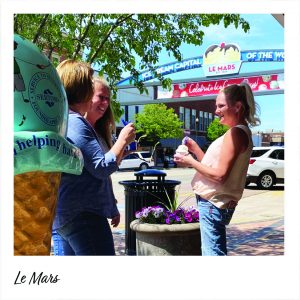 Le Mars is known as the Ice Cream Capital of the World as it is home to Wells Blue Bunny. Not only can you enjoy your favorite Blue Bunny flavors of ice cream, but you can also pose with 55 six-foot-tall ice cream sculptures throughout downtown. Each sculpture is painted by a Midwest artist. Be sure to grab a map of all the ice cream sculpture locations so you don't miss out on your favorite one!
Walcott, Iowa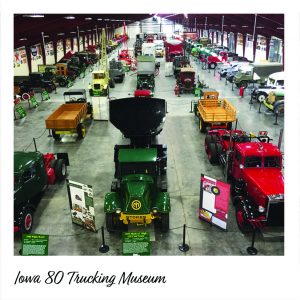 Every group tour needs to make a rest stop every once in a while, to fill travelers' bellies and allow time to move around a bit. You've never seen a truck stop like the World's Largest Truck Stop, on I-80 just outside of the Quad Cities. It's part convenience store, gas station, restaurant and more – and even has its own dentist office and barbershop. On the same property is the Iowa 80 Trucking Museum. See trucking treasures dating back to 1910, with nearly 100 vehicles on display, antique gas pumps, vintage signs and more.
Dubuque, Iowa
When you get to the top of the Fenelon Place Elevator in Dubuque, you'll be able to
see three states, including Iowa, Illinois and Wisconsin. Which makes the trip to the shortest and steepest scenic railway in the world a must-see. The historic cable car runs 296 feet in length and rises 189 feet from Fourth Street to Fenelon Place. This unique attraction is open April-November each year.
Fort Dodge, Iowa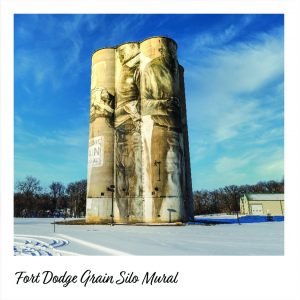 Iowa's largest mural stands 110 feet tall on the side of a Fort Dodge grain silo and spans the circumference of three silos. The Fort Dodge Grain Silo Mural was created to depict residents who are part of the community's industrial and cultural fabric. Tying these portraits together are pieces of Fort Dodge-made pottery showcased at the Fort Museum and Frontier Village.
Pella, Iowa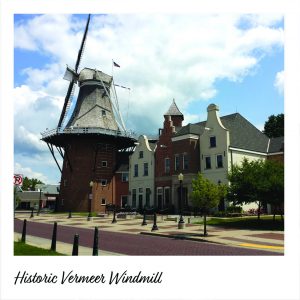 Iowa is home to several beautiful, historic windmills. One of the tallest working windmills in North America can be found in Pella: the Vermeer Windmill. Originally built in the Netherlands, the mill was de-assembled, shipped to Iowa and re-assembled in Pella in 2002. When you visit the Vermeer Windmill, you'll tour five floors, from the base of the
mill where grain would have been brought in, to the top floor where grain is milled. Take in the giant blades and the superb view of Pella from the deck.
Adair County, Iowa
Each year, the Freedom Rock, north of Greenfield in rural Iowa, is repainted with a new homage to the brave women and men who fought and are still fighting for America's freedom. Artist Ray "Bubba" Sorensen II was inspired at 19-years-old to craft a 60-ton granite boulder into a patriotic heartfelt memorial, the first of many.
With the help of generous donations, Sorensen paints new "thank you" tributes throughout Iowa on Freedom Rocks in each of the 99 counties as well as in other participating states. Visit www.thefreedomrock.com for a complete list of all 99 locations throughout Iowa, a printable Freedom Rock checklist and a locations map. Add the Freedom Rocks to your photo-op bucket list for a patriotic complement to your pictures.
Explore our selection of Group-friendly Itineraries across the globe.