Competent local guides can turn a drab city tour into a memorable experience. But finding and vetting local guides is a pain point most organizers deal with like a trip to the dentist. What if you could hand-select local guides based on their knowledge base, languages spoken and past customer reviews? What if this service were available in 1,200 destinations worldwide?
On a group trip to St. Petersburg, Russia, Paul Melhus befriended a local guide. Inquisitive as to how they found work, the interaction inspired the creation of Tours By Locals. Learn how this company helps travelers connect with experienced local guides in this edition of Take 5.
What were you doing before starting Tours by Locals?
We've been in various technology-related businesses, and have always had a passion for travel in our down time. The most significant business prior to Tours By Locals was an educational software company providing software for schools; we left that business around the year 2000. We reinvented ourselves because at that time it was all "gold rush" days for the internet and lots of companies were coming and going. And, of course, the great thing about the internet is that it tells you when you've got a terrible idea quite quickly. We went through various iterations and then in 2008 launched the first version of ToursByLocals.
Isn't starting a business in the teeth of a recession risky?
In retrospect it actually was really good timing because ToursByLocals is that kind of chicken-and-egg story. If you have no guides on your website, why would travelers come? And for the guides, if you have no travelers, why bother signing up?
When we reached out to guides, all we were asking them was to risk a few hours of their time to create a profile, and because of the economic situation, they had very little work, so why not, you know?
From 2008 to 2010 we built the content, and then the world started to heal and we started to invest money in marketing, and we were able to go to the market with a critical mass of guides and locations on our website.
How has business been at ToursByLocals?
Things have been going well. We've been growing at 40 or 50 percent a year, and we've now sent over 700,000 people on tours with our guides. Our mission is to provide private tour guides everywhere people travel. We're a fair ways towards that goal.
Where do you find new guides?
We have a team of recruiters and they all have HR backgrounds. Some of it depends on the area. If it's one where we already have guides working, then we'll often ask for referrals if we feel like we need more. If it's a new area, we are grinding through the internet, making phone calls to the concierge at a hotel, that sort of thing, looking for leads we can interview.
We get a lot of people applying on the website now because the company is starting to become known. We have guides in about 1,200 locations right now in 159 countries, so our coverage is pretty extensive. But I think, you know, there are still thousands more where we could be. We want to be everywhere people travel.
How do you vet local guides in all these places?
The very first thing we do, to ensure our travelers' safety, is conduct a background check using Reuters World-Check service. This service continues to provide screening once a guide gets into our database. We ask for and check all references, then the guides go through an interview process with our recruiters to ensure they're a good fit. Assuming they pass all of that, we have an on-boarding team that gets them up to speed using the website and creating their content.
How many guides would you have in an area like Rome or in Washington D.C.?
Rome is our number one destination—we have 32 guides—and for Washington D.C. we have 12. We try to not flood our site with too many options, but provide a generous mix of expertise, personalities and skills.
Who uses your service?
Our market is primarily independent travelers; people that like to be involved in all parts of the travel process themselves, from the dreaming stage, to the planning stage, the booking, the experiencing, and then the sharing afterwards.
Our customers are people that want to be involved in all parts of that process – people who like a customized travel experience, as opposed to somebody who says, "I just wanna go on a Collette tour."
We've been focused on these independent travelers who want to book their own flights, their hotels, and then the experiences that they are going to have when they are in the destination.
Like this interview? Check out the Traveling Tribes podcast on Leisure Group Travel, or anywhere you enjoy listening to podcasts.

Isn't it difficult to find and convert digital traffic?
We have a tool that we use. It's pay-per-click on a search engine. So we spend a lot of money on Google every month buying terms like "Rome private tour" or "London tour," that kind of thing. We also get over half our traffic from organic search.
Independent travelers make extensive use of the internet to do their research, and in the process they're seeing our name when they're looking for tours and activities.
Do you work with travel agents and tour operators?
We do, and they provide a significant source of our business. It's pretty easy for an agency that's doing even as little as one sale per month to get to 10 percent commission. Our message to agents is that this is something that is a point of differentiation for you; travelers frequently cite their ToursByLocals tour as the highlight of their vacation. Anybody can sell a Grayline bus tour, but we can provide a customized experience that is tailored to the needs of your clients.
Will your guides have a type of sample itinerary that they can produce for guests coming in with different places to see and things to do?
Exactly. When you go to the website, you'll see various tour offerings that are related to the expertise of the guides. Maybe if you go to St Petersburg, we have people who are art historians and they would focus on giving tours of the Hermitage. And then there are other people who are driver guides who would give you the city overview, but maybe not in depth in any particular area. People can purchase any of the tours they see, or they can send a message to any guide requesting a customized itinerary.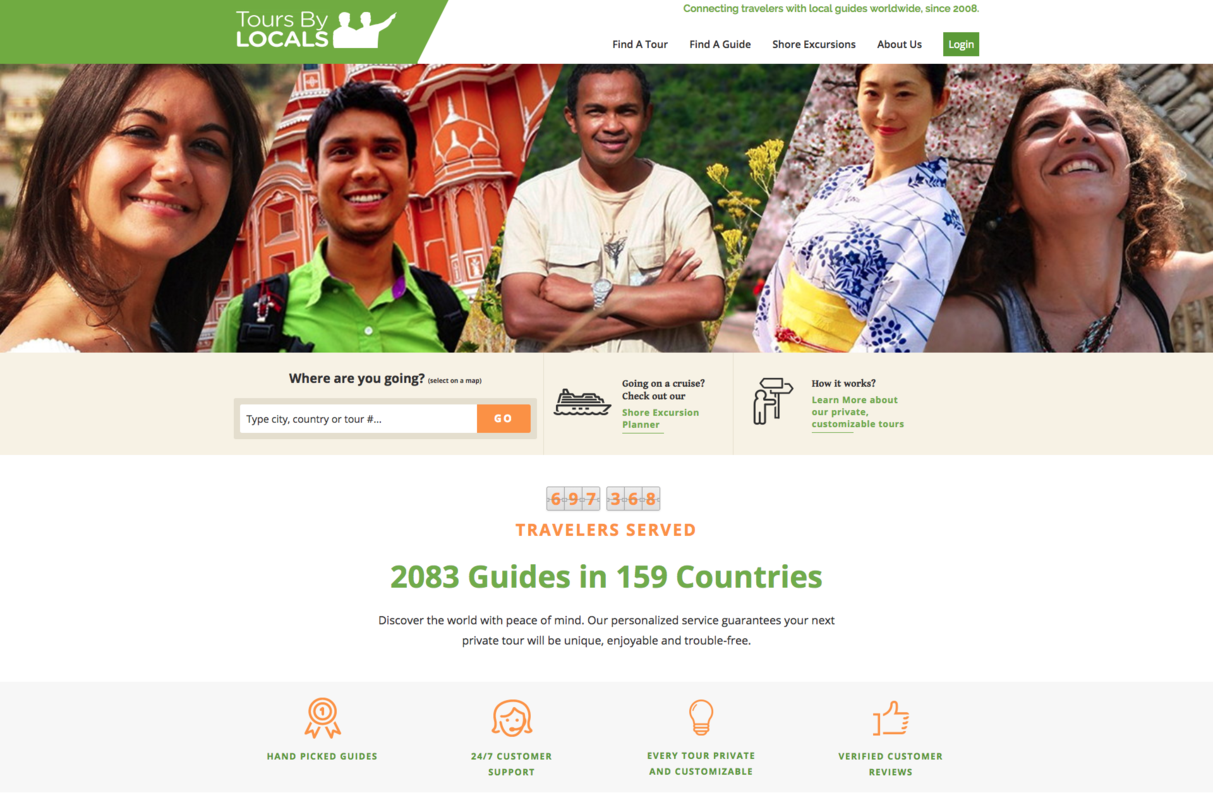 In this day of do-it-yourself, "My cellphone is my best friend that will guide me everywhere I need to go," how do you make an argument for bringing a local guide on board?
We say that you can't really say that you've experienced the place unless you've met a local and had some interactions with the local people. You certainly can walk around with a cell phone, or a guide book, and get lots of information about the kind of things that you're seeing, but it's not as rich an experience as you would when you meet up with a local guide. Because we're not just looking for knowledge when we travel; we're looking to really connect with a place.
There's always something a little bit unexpected, things that don't necessarily show up on any guidebook. Things that you would be hard-pressed to find on your own. Every location has those kinds of hidden back streets and or parts of the park that you just can't find on a guidebook.
And the skill of a really good guide is about intuiting what's going to excite their traveler and putting something unexpected into each one of the tours that they offer so that there's a delight factor. So, you see all the usual things, but you also are going to experience some things that you wouldn't necessarily expect; travelers love that kind of serendipity that can happen with our guides.
If there happens to be a challenge with a guide, do you provide mediation service?
After every tour, our travelers receive an email from our system asking them to rate the tour. If it's three stars or less (out of 5), we're always in contact with the traveler because three stars usually means something could've gone better. We want to find out what that is and see what the issues are.
And definitely, if it's one or two stars, obviously there was something egregious that happened, so we inquire with the guide and the traveler to figure out what that was, and often we'll issue refunds to travelers or a partial refund, depending on what the nature of the issue was.
We look at the feedback that each guide has received and the percentage of feedback because people will review you if you are awesome or if you're really lousy, but if it's like "eh, it was okay," then they don't bother. So unless the guide gets more than 40 percent feedback, then we're considering that maybe this is not the guide for us because they're just average. We're not into average. We're into awesome.
What's your experience with pre-formed groups?
We certainly have lots of companies that are using us. Maybe to in-fill in a case because a lot of them have been running the same tour for years, and they'll have their preferred guides already. But they use us if there is a problem or if somebody retires, or if they're just ready for a fresh perspective.
You mentioned you want to be in more cities, have more guide inventory. How can you make your business better, or what do you see down the road for ToursByLocals?
Well, for sure we've got a lot of work to do to provide private tours everywhere people travel, so, that's going to take us quite a number of years to get there, but in terms of markets we think actually the group market is an area for us to grow into.
We want to make it easy for groups to organize local tours, like school trips, sports groups, convention visitors, and musical groups. They all could potentially make use of one of our local guides to give them a customized tour based on the nature of the group, and we can do that for them.
What makes it worth coming into the office each day?
You know, we've tried to put together this network of really excellent guides everywhere that people travel. And our job is to do good things and provide these exceptional experiences for people. Nobody goes to Europe because they love sitting in a 17-inch-wide chair for 10 hours, or when the lights are turned out in the hotel, the Four Seasons looks pretty much the same as Motel 6.
So we're here to provide the reason why people travel: the experience on the ground, and it's the most rewarding part of the travel experience.
Connect with Tours by Locals:
Email: support@toursbylocals.com
Phone: 1-866-844-6783
Website: www.toursbylocals.com
Facebook: www.facebook.com/ToursByLocals
Twitter: @Tours_By_Locals
Instagram: @ToursByLocals_pics
YouTube: www.youtube.com/ToursByLocals