The New Jersey Cape has several resort cities offering attractions for group travelers. Two of the best are Cape May and Wildwood.
Cape May, with a collection of over 600 restored Victorian buildings, is a National Historic Landmark. The colorful structures have turrets, gingerbread trim, stained-glass windows and wrap-around verandas. Dances, house tours and mystery dinners are among the activities offered during Victorian Week every October.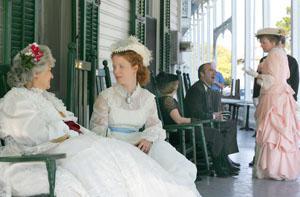 One Victorian building is the Emlen Physick Estate, an 18-room 1879 landmark that houses a museum and the Mid-Atlantic Center for the Arts, an organization dedicated to preserving Cape May's heritage. Visitors can tour the rooms to learn more about wealthy Victorians, Victorian servants and Victorian women. The grounds are also home to the Carriage House Gallery and Twinings Tearoom. The gallery displays temporary exhibits on Victorian history while the tea is served in stalls where the estate horses were kept.
The Cape May Lighthouse, built in 1859, has 199 steps and offers a view of where the Atlantic Ocean and Delaware Bay meet.
The Cape May County Historical Museum, housed in the pre-Revolutionary War John Holmes House, displays artifacts, costumes and furniture from the 17th to the 20th centuries. Special rooms include a Victorian sitting room and an 18th century kitchen and bedroom. There are also marine, toy, medical and military exhibits. Visit the 19th century barn to see carriages, wagons and a stagecoach.
The Cape May County Park and Zoo has a variety of mammals, birds and reptiles. Visitors should see the 57-acre African savanna, Reptile House, aviary and barnyard. The park has picnic areas, grills, baseball fields, a playground and a fishing pond.
The Cape May peninsula is a popular bird-watching spot; over 400 species of migrating birds have been seen there. Places to observe birds and wildlife are the Cape May Bird Observatory, Cape May Migratory Bird Refuge and Higbee Beach Wildlife Management Area.
Wildwood is home to the widest beaches on the New Jersey Cape. The beaches are five miles long. The two-mile Wildwood Boardwalk has three amusement piers containing more rides, from family rides to roller coasters, than Disneyland. The Boardwalk also has restaurants, shops and a carnival-like atmosphere with treats like cotton candy and funnel cakes.
The city is well-known for its motels in the "doo-wop" architectural style. The style, used during the 1950s and '60s, was inspired by the car culture, exotic travels and space age. Doo-wop motels are designed geometrically using glass and steel and display neon colors and signs. Plastic palm trees, kidney-shaped pools and slanted roofs are common sites at doo-wop motels, which often have whimsical names and themes.
For more information, visit capemaymac.org, thejerseycape.net and wildwoodsnj.com.