With nine national parks, more than any other state, California offers a wide variety of outdoor offerings for groups. Joshua Tree and Channel Islands national parks bookend that diversity.
The higher western Mojave Desert portion of Joshua Tree National Park contains the best existing display of Joshua trees in the United States. Legend has it that early Mormons thought the unusual tree's outstretched branches symbolized Joshua leading them to the Promised Land. Early California explorer John Fremont had a different view. He found the tree to be "…the most repulsive tree in the vegetable kingdom."
Regardless of your vision, outdoor adventure beckons where the Colorado and Mojave Deserts meet. From birding and geology to photography and stargazing, there are more than a dozen ways to experience Joshua Tree National Park. Ranger programs are often the best way to begin your visit. Free walks, talks and evening programs share how wildlife, vegetation and humans have adapted and survived in the desert. These behind-the-scenes views begin at the Visitors Center except for the "Keys Ranch Tour," which starts at the ranch gate and requires a pre-purchased ticket.
(nps.gov/jotr/index.htm)
If you're looking for a more adventuresome experience, consider Joshua Tree Excursions in Joshua Tree, California. The concierge- style tour company offers a variety of hiking, backpacking and cliff-hanging tours. The
"Signature Single Day Journey" can be personalized to any group's preference. It includes a private guide, park fees, water and trail snacks. Lunch options are available. Additional offerings add another day or two of hiking with backcountry camping. (joshuatreeexcursions.com)
Desert Adventures' Palm Springs office provides a more relaxing excursion that explores Joshua Tree National Park's unique ecosystem. You'll be traveling by SUV/van with a guide who tells the story of the park. You will enjoy a one-mile guided hike to Hid-den Valley, a spectacular photo opportunity. Water, snack and a picnic lunch are included.(red-jeep.com/jeep-suv-tours/joshua-tree-national-park-tour)
Also operating out of Palm Springs, Big Wheel Tours takes visitors on a jeep exploration of Joshua Tree's high desert portion. On backcountry trail roads, experienced guides accompany groups of five or fewer per two jeeps. There is some hiking required, but it can be adapted to visitors' preferences. Water, snacks and all park entrance fees are included. (bwbtours.com/tours/the-palm-springs-jeep-tours)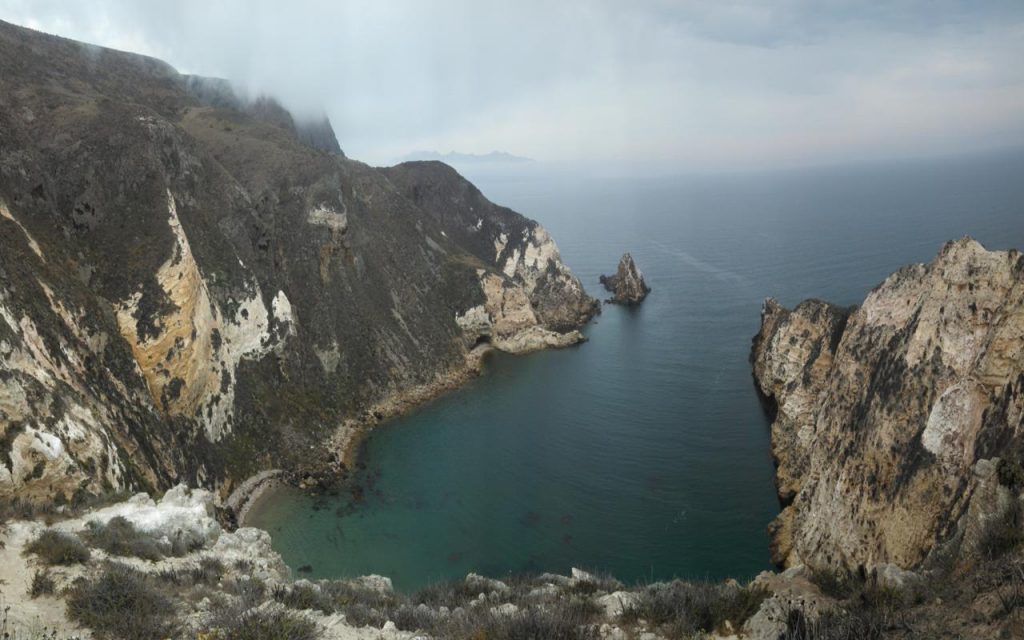 From the deserts of Joshua Tree National Park to Channel Islands National Park in the Pacific Ocean, the diversity of California's national parks is on display. Featuring five of California's eight Channel Islands, the park is the ideal setting for aquatic and camping adventures. Summer and fall are great for kayaking and snorkeling, and summer is the time to see humpback whales in the deep water. Starting in February and continuing through April, the grasslands of Santa Cruz Island in particular are rich with native flowers.
---
---
There are small visitor centers on Anacapa, Santa Cruz and Santa Barbara islands. On the mainland in Ventura, the Robert J. Lagomarsino Visitor Center is the place to begin. Exhibits feature the character of each island in the park and a display of marine aquatic life. The movie Treasure in the Sea is shown throughout the day. A complete listing of events and park ranger programs is on display at nps.gov/chis/index.htm.
Access to the islands is by private boats and Island Packers, the park's concessionaire. Day trips to the islands, along with kayaking, dive, hiking, overnight camping and non-landing sightseeing trips, are available. Seasonal whale-watching cruises and regularly scheduled dinner cruises are other options offered by Island Packers. Note: Due to damage to the Santa Barbara Island landing pier, there are no planned trips to that island for 2017.(islandpackers.com)