Savor fresh fruit and cuddle with baby goats in North Carolina Agritourism experiences while also learning about the state's history.
North Carolina is famous for its breathtaking forestry, world-renowned barbecue and the Great Smoky Mountains. But beyond the state's most sought-after destinations is a series of hidden farmland gems: North Carolina agritourism The state has a long, significant history of growing tobacco, sweet potatoes and cotton, with multiple farms still in operation after generations. For visitors to North Carolina looking to explore the state's agricultural roots, check out some of these destinations and prepare to learn all about life on the farm.
Carrigan Farms
When it comes to the world of agritourism, Carrigan Farms has so much to offer. This fifth-generation family farm is located in Mooresville, about 30 miles outside of Charlotte. Start your visit with a stop at the farming fields, and get up close and personal with Mother Nature. Depending on the season, you and your group can pick strawberries, asparagus, apples or pumpkins.
After harvesting your crops, hop on a tractor-drawn hayride and learn all about photosynthesis and pollination while touring the property. Consider wrapping up your day by cooling off in Carrigan Farms' spring-fed Quarry. Swimming is open to the public during the summer months, and brave souls can even jump into the 30-feet-deep water from surrounding cliffs. Whether visitors want to pick their own berries or take a dive into the Quarry, there's an activity for everyone at Carrigan Farms.
James Creek Cider House
Who said agriculture can't be fun? For those seeking an adult-only North Carolina agritourism excursion, look no further than the James Creek Cider House. Founders David and Ann Marie Thornton first began by planting 60 Southern Heirloom apple trees on their property in Moore County. The two were inspired to grow an orchard of their own after studying in London during college, where hard cider was Ann Marie's drink of choice. Now, the James Creek Cider House offers a variety of beverages available for consumption at their on-site tasting room. For those under the age of 21, the James Creek Cider House farm grows a variety of over 65 apples for a simple, sweet, tree-ripe snack. Consider making the trek to Moore County on your next visit to North Carolina, and sip on some of the state's agricultural heritage.
Paradox Farm Creamery
Paradox Farm Creamery in West End is the result of a conversation between Sue Stovall, her late husband Hunter, and a night of drinking a bit too much wine. Sue and Hunter first began their farm in 2008 when they purchased a small herd of goats and llamas for their West End property. Soon after, Sue and Hunter were inspired to start making cheese, and now have roughly 30 milk-producing goats living on-site. For visitors to the area, consider attending one of Paradox Farm's special events, ranging anywhere from cheese making classes to goat yoga. Get up close and personal with the dairy livestock, and even spend your afternoon cuddling baby goats. For a barnyard adventure and a bite of fresh cheese, head over to Paradox Farm.
Tobacco Farm Life Museum
Start your North Carolina agritourism adventure with a visit to the Tobacco Farm Life Museum in Kenly. Guests can experience the untouched beauty of North Carolina's agricultural past as they walk the grounds of this centuries-old museum which was established in the 1980s by a group of volunteers in the local community who wanted to preserve the area's agricultural history.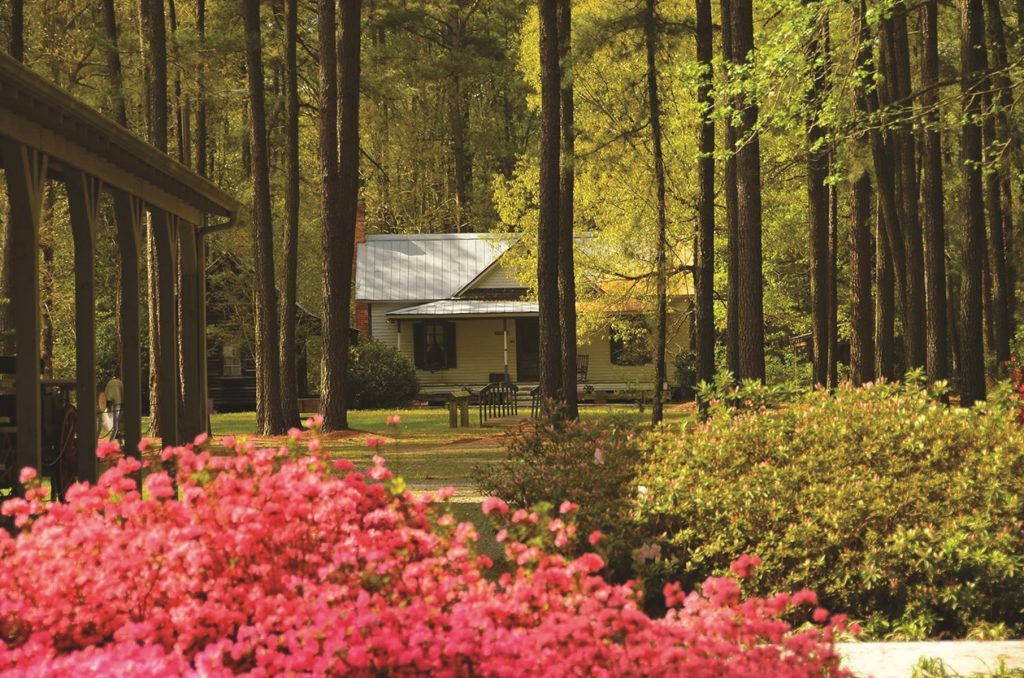 The museum preserves and presents the history of small farming families from 1880-1950, focusing on agriculture, daily life, arts, crafts, and trades of the period. It interprets how the average farmer made a living and spent their time and has several historic buildings on-site including the farmstead of Iredell Brown which is from the early 1900s and includes a house, detached kitchen, smokehouse, milk house, and tobacco barn. The museum is also home to an over 100-year-old one-room schoolhouse. Two reproduction buildings round out the buildings on the grounds: a functioning blacksmith shop and a packhouse. In addition to the buildings on the grounds the museum also includes an exhibit gallery and gift shop.
Lu Mil Vineyards
Located in Elizabethtown, this North Carolina vineyard was named after Lucielle and Miller Taylor, an influential family in agricultural equipment development. Since 2005, Lu Mil Vineyard has been supplying visitors with a variety of wines, jellies, jams and ciders made from the Muscadine grapes grown on-site. Pop into Lu Mil's tasting room for some refreshments, enjoy scenic vineyard views, and even go fishing at the property's pond. For those seeking a longer stay in the beauty of North Carolina's Coastal Plains, consider renting one of Lu Mil's quaint cabins for the night. Rent a bike and spend your afternoon circling the beautiful lakes before stopping by the Barrel Room's Antique Museum, and end your day with a glass of wine in your guest house jacuzzi. Whether you choose to stop by for a quick wine tasting or stay overnight, you're bound to feel refreshed by the peace and quiet of Lu Mil Vineyard.
---
By Amanda Landwehr