Southwest Missouri captivates visitors with idyllic landscapes, first-class attractions and shrines to great Americans from Joplin all the way to Springfield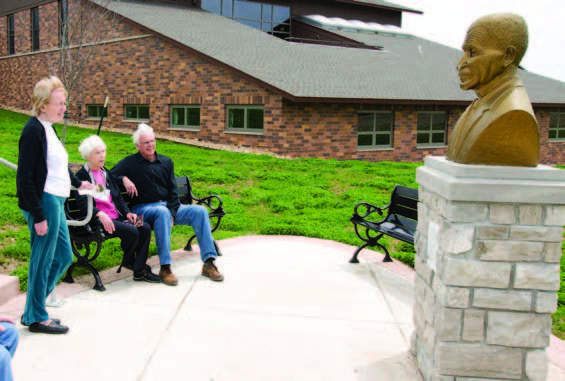 The birthplace of many famous Americans, home to one of the country's most iconic highways, a pinnacle of the Old West and a destination ripe with natural beauty, Southwest Missouri from Joplin east to Springfield, is the perfect place to explore. Consider this region as part of your next group itinerary and read on to see what's in store.
Tracing History in Diamond and Carthage
It seems logical to begin this story with an attraction that combines a famous face with a beautiful place. The George Washington Carver National Monument in Diamond, Missouri, is the childhood home of educator, scientist and humanitarian George Washington Carver. Carver was born into slavery in 1864 on the Moses and Susan Carver farm. Caught in the chaos of the Civil War on the Missouri-Kansas border, he was kidnapped as an infant along with his mother.
He was found in Arkansas years later and returned to the Carvers, orphaned and ill. His poor health spared him from regular chores, allowing him to explore and develop a love for flowers and all things that grew from the earth. Much of what he learned during those years cemented his love of nature and commitment to education.
Today, the Carver Trail leads you through the park's woodlands, streams and a tall prairie grassland restoration that reflects the beauty from Carver's childhood. The Carver statue sits in a natural setting similar to what Carver enjoyed exploring. The Visitor Center is both a museum and an educational center with interactive exhibits on history and science. Allow time for viewing the film. (nps.gov/gwca/index.htm)
Next up is Carthage and a bite to eat at Carthage Deli & Ice Cream, located in the former Bank of Carthage. It has great sandwiches, and if you aren't ready for lunch, at least enjoy an ice cream cone before touring the city. The centerpiece of the dozen Grand Avenue historic homes is Phelps House. Headquarters for the Historical Society, the late-Victorian mansion offers guided tours.
Stations of the Cross, depicted in 13 scenes, represents the final days of Jesus Christ. The statues were created in Vietnam and feature a narrative in both English and Vietnamese. The landscaping further enhances the statues' beauty. Each year Carthage takes on a festival atmosphere as 14,500 residents welcome 80,000 visitors for the annual Marian Days, a festival and pilgrimage that has been bringing Vietnamese Catholics to Carthage since 1978. (visit-carthage.com)
Joplin Pays Tribute to the Past
In Joplin, the crossroads of I-44, I-49 and Historic Route 66, there's no shortage of famous (and infamous) people associated with the area. The notorious Bonnie and Clyde hid out in Joplin, the city where poet and novelist Langston Hughes (a primary contributor to the 1920s Harlem Renaissance) was born.
In addition to George Washington Carver, artist/muralist Thomas Hart Benton, from Neosho, also has roots in the area.
The best place to begin your Joplin visit is the Murals at City Hall. Joplin at the Turn of the Century, 1896-1906 was Thomas Hart Benton's final signed mural and considered by many as his finest. Benton focused on Route 66 and its importance to Joplin's Main Street success. In addition to his masterful creation, the "Evolution of a Mural" display is located on the mezzanine of City Hall. With accompanying documents, it chronicles Benton's thought process.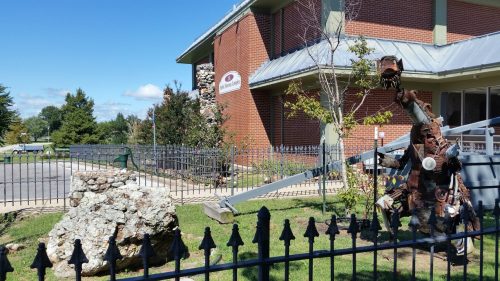 The Joplin Museum Complex combines the Everett J. Ritchie Tri-State Mineral Museum and Doretha B. Hoover Historical Museum. Joplin was a boomtown and the mining center of five counties in Kansas, Oklahoma and Missouri. At one time 50 percent of the nation's zinc and lead were mined from the area. The mineral museum tells the story of Joplin mining and showcases a variety of minerals found
in the area. The historical museum includes Route 66 history, the adventures of Bonnie and Clyde and the quirky National Cookie Cutter Museum.
On May 22, 2011, an EF5 tornado roared through Joplin, claiming 161 lives and leaving a path of destruction. In response to the devastation, thousands of volunteers arrived to rebuild the area and create a memorial honoring those who were lost. To most outside Joplin they are nameless and faceless, but in a special way they are famous to the residents of Joplin.
The TV show Extreme Makeover: Home Edition was in town to restore seven homes near Cunningham Park and took on the task of building a play area and basketball court at the park. Since that initial restoration, another feature, a reflecting pool connected by waterfalls that honors the lives of children lost, has been constructed. The north end of the park features a tribute to volunteers and a stainless-steel sculpture depicting a wristband. Many volunteers wore wristbands during the recovery and for those in the area, it symbolizes hope. The Butterfly Garden and Overlook offers a history of the horrific event and the recovery that followed. It took many dedicated faces to create this beautiful place.
Natural Beauty Abounds in Joplin and Beyond
Southwest Missouri has no shortage of beautiful places. Among the scenic destinations in the Ozarks is Grand Falls, a great photo opportunity. The largest continuously flowing waterfall in Missouri, it cascades 12 feet along a 163-foot ledge. Just a few minutes upstream is Wildcat Glades Conservation & Audubon Center. Along with Shoal Creek, some of the last remaining chert glades combine to make the area a favorite of migratory birds. More than four miles of walking trails wind through the center. Nature exhibits in the visitor center are highlighted by a 1,300-gallon fresh water aquarium with native species. The center has a variety of fun and educational programs tailored for groups. (visitjoplinmo.com)
A 45-minute drive north brings you to the Harry S. Truman Birthplace State Historic Site in Lamar. Truman was born in this small house on May 8, 1884, and in 1885 the family moved to Kansas City. The home and grounds are furnished with items that would be typical in western Missouri at the time of Truman's birth. Take a few minutes at the visitor center where you see the signature of the only Missouri-born president, who signed the guest list when he returned for the 1953 dedication of his birthplace. Lamar, with just over 4,200 residents today, was where Wyatt Earp began his law-enforcement career as the city's constable.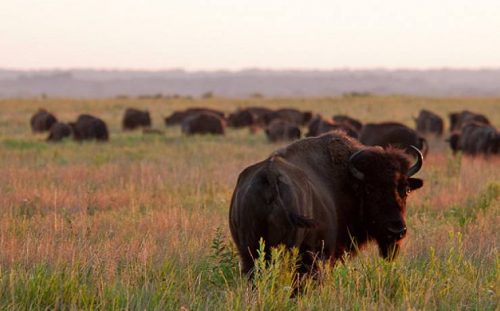 No matter where you're from, you'll enjoy the beauty and solitude of Prairie State Park. Imagine at one time a fourth of Missouri being covered by tall grasses (in ever-changing colors) growing to eight feet. Envision early settlers coming to the area and encountering that land inhabited by bison, elk, prairie chicken, and other native birds and animals. Only 4,000 acres of this scenic wonder remain at Prairie State Park. The elk are gone, but a small bison herd and numerous bird species can be seen from the park's four trails. Before venturing into the prairie grasses, begin at the visitor center for a session that prepares you for your trail walk. (mostateparks.com/park/prairie-state-park)
Springfield Past and Present
Springfield, positioned in the heart of the Ozarks in Southwest Missouri, is the April 30, 1926 birthplace of Historic Route 66. Begin your visit at the Springfield Visitor Center to discover the interesting history behind this historic highway. (springfieldmo.org)
Well before Route 66, Springfield helped give birth to the Wild West as the site of the nation's first recorded shootout. Right in the town square "Wild Bill" Hickok faced off with David Tutt, who had taken a watch as collateral for Hickok's poker game loss. As the story goes, Tutt pranced around town showing off the watch, claiming Hickok did not pay his debts. Tutt fired and missed from 75 yards. Hickok returned fire and killed Tutt. The event made national news.
Your group cannot visit Springfield without spending time at the original (and still biggest) Bass Pro Shops Outdoor World. In addition to all your outdoor recreation needs, from fishing and boating to hunting and camping, the Grandaddy of All Outdoor Stores, as it's often called, features regular fish-feeding shows, the National Archery Hall of Fame, National Rifle Association Sporting Arms Museum, John A. and Genny Morris Conservation Education Center and Hemingway's Blue Water Cafe. The much-anticipated Wonders of Wildlife National Museum & Aquarium, a world-class fish and wildlife attraction, opened in September 2017.
If you'd like more great group travel ideas in Missouri, check out the Missouri Group Tour Guide and be sure to Subscribe to Leisure Group Travel to stay up to date with our latest travel news.