The good life is alive and well at this elegant, European-style refuge in Midtown East
Walking into the lobby of the boutique hotel was a bit like making a grand entrance into an Italian palazzo. Candelabra chandeliers, mirrors trimmed in gold-leaf curlicue, oriental carpets, antique-inspired furniture and marble walls set the tasteful tone, as did the soothing classical music. The size of the space itself was not pretentiously grand, but seeing the potted plants in oversized vases, red marble tables and red velvet chairs, I thought, "I could live with this."
Former President Jimmy Carter, once a frequent guest on his visits to New York City, apparently felt the same way. Next to the front desk is a framed letter from the 39th president thanking the staff at the Kimberly Hotel for their kindnesses. The upscale nest also has received high marks from readers of Conde Nast Traveler, whose 2016 Readers' Choice Awards puts the Kimberly at No. 13 in its list of Top 40 New York City hotels.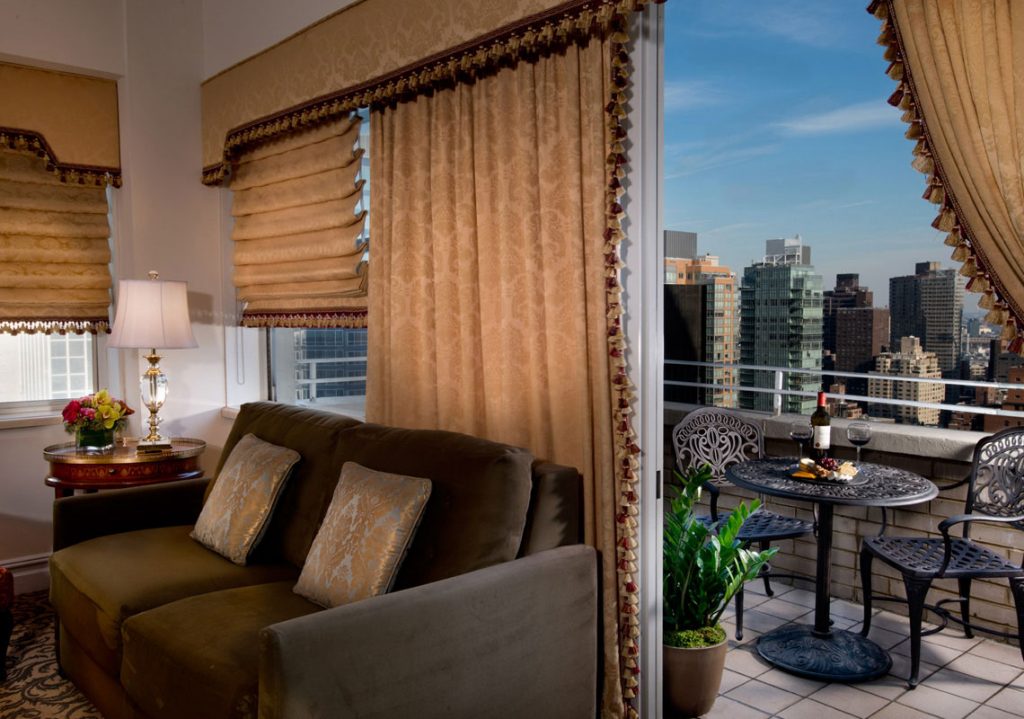 Located on East 50th Street in the heart of Manhattan's fashionable Midtown East neighborhood, a short walk from Fifth Avenue and Rockefeller Center, the 192-room Kimberly is a charming alternative to larger hotels nearby.
My one-bedroom suite on the 18th floor (most rooms are suites) had a carpeted balcony with views of the Chrysler Building, Waldorf-Astoria and Top of the Rock observation deck of the Comcast Building in Rockefeller Center. For 360-degree panoramas of the skyline, go to the penthouse level's Upstairs indoor-outdoor bar and restaurant, a spectacular setting 30 floors above the street. In addition to serving small plates and cocktails at night, Upstairs offers a weekday breakfast buffet and a weekend brunch a la carte menu. Complimentary coffee, tea and pastries are served from 11 a.m.-4 p.m. weekdays. Upstairs is Manhattan's only rooftop bar with retractable all-glass ceiling and walls, ensuring year-round views.
Besides a balcony, a red-and-white marble bar stocked with spirts is another amenity that suite guests enjoy. My wet bar/kitchenette included a mini-refrigerator, microwave oven, dishwasher, coffee maker, toaster and handsome, dark-wood cabinets filled with dishware. Another thoughtful touch: an umbrella in the closet.
In the suite's living area, tassled, brocade drapes, along with ornate, gold-trimmed mirrors and the inlaid wood desk and tables made in Italy, reflected the classic Italian touches found in the lobby. With Frette linens, suede drapes and an electric shoe-shining device, the bedroom was equally plush, and the marble bath was icing on the cake. Each room had a flatscreen TV.
Dining choices in the Kimberly also include Bistango and Empire Steak House, both on the lobby level. Bistango offers a variety of pastas, including fettucine flavored with lobster, cherry tomato Pomodoro and sherry. The antipasti menu features grilled octopus, arancini (rice balls) and brick oven-roasted meatballs with mozzarella, marinara and basil. A lunch favorite is Shrimp Arrabiatta, with spicy tomato sauce over crispy polenta cakes.
The fish tank outside Bistango's entrance intrigues lobby visitors with clownfish, nurse shark and other creatures of the deep. Another lobby crowd-pleaser: the curio cabinet filled with Capodimonte porcelain figurines. (Even more pleasing is the Kimberly staff—from the friendly receptionists  to the bellmen and the concierge. It's the kind of personal attention that we always dream about.)
The Kimberly has a second-floor fitness center, and guests can use the pool and other facilities at any New York Health & Racquet Club in Manhattan. From May through September, hotel guests can take a three-hour sunset or Saturday brunch cruise on the 75-foot Kimberly Yacht, owned by racquet club. For $30 they enjoy a buffet meal accompanied by views of the bridges crossing the East River, skyline of Lower Manhattan and Statue of Liberty.
Smart, sophisticated and fun, the Kimberly Hotel makes a fine luxury choice in a city known for good living. For more information, visit www.kimberlyhotel.com.
By Randy Mink