How did you come into your current position?
I have been with American Trust Bank for just over three years. Previous to coming to the bank and taking on the directorship of AmeriClub, I had worked for a good-sized credit union for 25 years. While there I actually wore a couple of hats. I was the training coordinator for all of the staff and then the last 12 years I directed the travel program at the credit union. As the credit union continued to expand into three different states with 12 branches, it was decided that all of my energy should be spent on training. I enjoyed that, but the part of my job that I really liked was directing the travel club.
It just so happened that the former director of American Trust caught wind that the credit union was discontinuing its club. She encouraged me to apply, and I ended up being selected then to direct AmeriClub.
Bank travel clubs have been popular decades, but were there other credit unions that ran travel programs that you're aware of, or were you unique in that position?
There are some that have travel programs that are quite comprehensive in some of the larger cities. But overall, there are not a lot of them. I would say the biggest difference is the culture. That became a greater reality to me, of course, when I entered the doors of the bank. Although it was interesting, I was familiar with many of the club participants in the bank because they had traveled with me and attended events at the credit union. So I was fortunate in that I knew a number of the travel companies that I now deal with, the bus companies and so forth. But many things were different in the culture between the bank and the credit union. Credit unions are a not-for-profit organization and, of course, banks are not that way.

What about the types of trips? Were they similar in nature to what you were running at the credit union? If not, how did they differ?
I was limited in the number of trips that I could offer at the credit union whereas that is not the case at the bank. And I feel very fortunate, my supervisor gives me a lot of latitude to make the decisions that I feel are best for the club and the members. Whereas when I was at the credit union, I was more limited and had to get the OK from my supervisor on everything I did. So I feel more freedom, but also more responsibility with this particular position now at American Trust. But also the type of trips is very different here. We do more exotic-type trips. For instance, we are doing a trip to Tanzania. We would not have been able to have done that at the credit union. I always had to be a little bit more in tune to trips that were more cost-effective.
Where do you draw the line between trips that you plan on your own and when you seek out a professional tour operator or travel agency?
If I'm doing a shorter trip of just a few days, I can certainly do a lot of the planning myself. But honestly, I find that with all of the details that are involved, I depend upon the travel companies to assist with many of the things that I would have to be doing on my own were I to plan, say, a nine-day trip and make all of the phone calls for all of the components. It would be very difficult for me to do that. Not only do we do trips here in AmeriClub, we also do financial seminars, we offer discount tickets to several local venues that provide musical and dance productions and so forth. So, we're really keeping a lot of balls in the air. For that reason, I like to utilize the services that are available with the professional tour companies, with some customization. Some of the companies are more open to that and other ones have more of a cookie-cutter approach. But companies that are willing to customize trips, I really appreciate that.
How do you come up with ideas for new destinations?
I really appreciate going to Heritage Clubs meetings and their conferences every year. That to me has been a wonderful association because I never had anything like that before. At the credit union, I always felt like I was out on an island by myself. With Heritage Clubs, though, it's almost like a sisterhood, if you will. I can always get in touch with them.
I've scheduled several of our trips after having spoken with other directors. I also always take a look at what our competitors in the area are doing because I never like to duplicate efforts; it doesn't work for any of the group leaders to do that.
What are you working on for the future that you're particularly excited about?
I'm very excited about our Tanzania trip. We're also going to be doing Italy next year and we have a Montana itinerary scheduled. We have Christmas at the Biltmore. I also have a four-day mystery tour. And then in early 2017 I am working on a South America cruise.
You talked earlier about your background in training. How does that help you become a bank travel club director?
Well, for one thing, just knowing that people respond in different ways to training helps in marketing your products in the travel club. We put out a 24-page booklet every two months called The AmeriClub Journal. I have to admit it's kind of a challenge because it is a lot of work. Just as soon as you're finished with one, it's time to start on the next one. But I have seen that people really enjoy getting the printed newsletter. We do make some of the information available on our website and we send out emails, but we still get a better response from people that get the printed version.
I think this ties back into my training background. I write for the journal, trying to give enough information and answering the questions that people might have. I try to get as many things in that I feel people would want to know about. Even doing the travel shows, or the pre-departure shows, I think my training background has really helped.
You opened the travel club up to travelers in their 40s. Are you looking at developing any product that would appeal to them, maybe more so than the traditional senior market?
I always look at those options. I think that as the years go by we're going to see people that are really into the biking and the hiking and want more time on their own. Right now, I have not seen that there's lot of people that will support that in our club. And for that reason, I'm still a little skeptical about it because we have to have the numbers in order to make a trip go. I can see in the future where we'll probably be partnering with other groups to offer things like this. You want to put something out there to keep your club alive. You always want to try those things but it has been a challenge, I'll be real honest.
What would you say is the biggest challenge you face as a Bank Travel Club manager?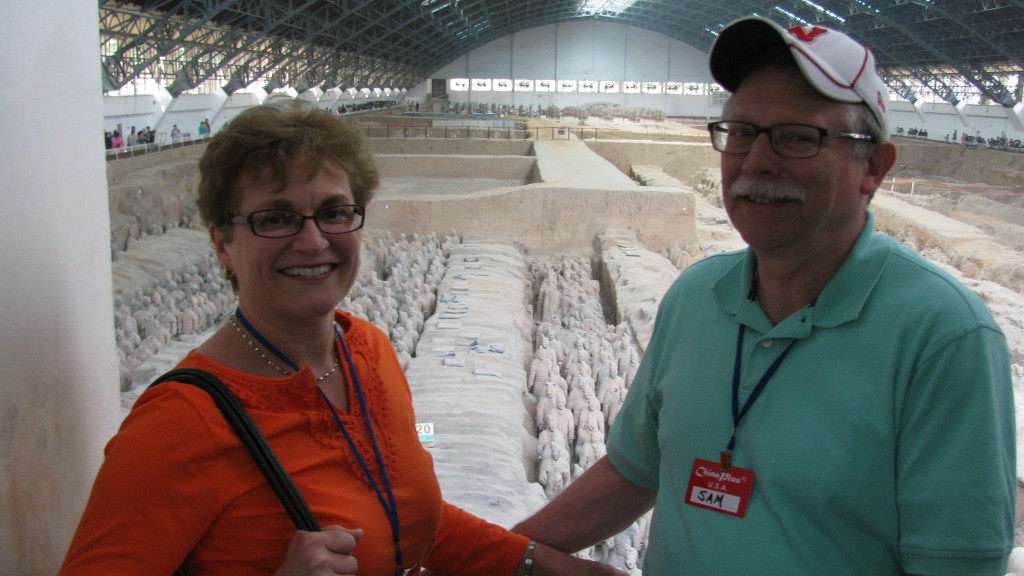 Balancing my time between family and work. It's a position that you never really get away from. So even if you're technically on vacation or you have a day off, as long as you have your phone there are always going to be issues that come up. We have 12 grandchildren, so we're involved with all of their lives. And then trying to maintain a calendar for AmeriClub that will appeal to as many of our members as possible and trying to balance that with home life, it is a big challenge.
You've been doing this for a few years now and you have a perspective of talking with other bank club directors about their programs. What do you see as the future for the market?
I think that we have to listen to what the researchers have said as far as the new groups that will be coming into these types of club programs. They want more free time rather than all the handholding that has been done in the past. They want to go to more exotic destinations. They want to do things where they feel they can have a positive imprint, like volunteering. I do see a different traveler even amongst our group. I can see a difference in regards to what they like. And I can see that as younger people become involved, they want more freedom to make their own decisions, more choices.
I even see this with one of our sons who is in his 40s. He sees what we do on these group trips and he says: "Wow, you get to go into all of these wonderful venues. The tickets are already taken care of; you get prime seats. People can ride on the motorcoach and they don't have any worries in the world." He says, "That is really the way to go, isn't it?" Because before he thought there's no way I'm going to do anything like that!
We need to let people know that there are a lot of positive things about bank travel clubs. This isn't just for "old people." There are a lot of things that are good for busy young people as well.
This is how the bank clubs are going to have to evolve.
Connect with Julia Terwilleger
Phone:
(
660) 665-7703