Look no further than these tempting confectioneries, bakeries and coffee shops of Indiana, which are sure to satisfy any sweet tooth among your group
This trail is a delight to the senses with plenty of variety for everyone in your group. Sample handmade candies and baked goods, delectable chocolate and scrumptious cookies all across the state. The Sweet Temptations™ Culinary Trail, created by the Indiana Foodways Alliance, highlights some of the best Indiana confectioneries.
Southern Indiana
Your dessert journey begins in Schimpff's Confectionery (A) in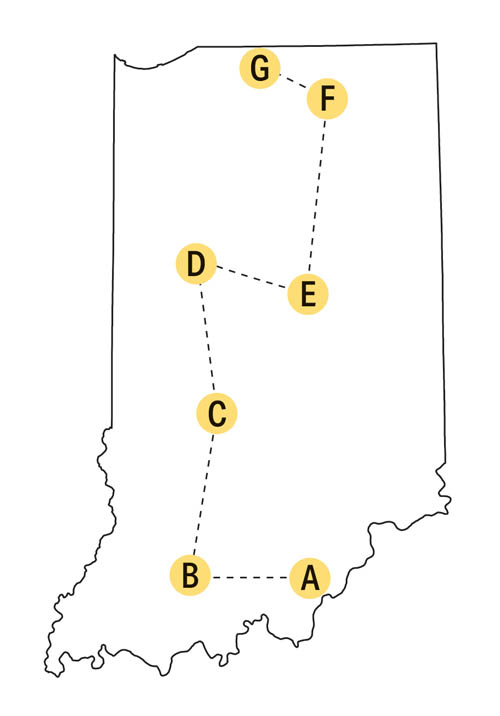 Jeffersonville. This old-fashioned candy store and museum has been creating its signature hard candy since 1891 and offers demonstrations of its signature cinnamon red hots, which are a boiled concoction of sugar, corn syrup, red coloring and cinnamon oil. Guests can also enjoy ice cream floats and sundaes served from a 1950s-style soda fountain. Continue to Chocolate Bliss & Kitchen Essentials (B) in Jasper, which is stocked with delicious fudge, jelly beans, chocolate bars and gourmet coffees. The store also offers homemade cooking oils, colorful serving utensils and a variety of jams to bring back home.
Indianapolis Region Confectioneries
Serving hand-dipped ice cream and hand-crafted candy for over 100 years, Martinsville Candy Kitchen (C) offers groups a glimpse into the creation of its signature candy canes. Owner John Badger can talk about the store's rich history during a candy cane pour, which combines syrup, peppermint and food coloring to create over 20 varieties of the holiday classic. Groups can later tour the retail area to purchase indulgent peanut butter fudge, cinnamon logs or cherry cordial bark. One of the oldest operating soda fountains in Indiana, McCord Candies (D) in Lafayette has been one of the state's most popular confectioneries since 1912. Step under the candy cane-colored awning and step into a 1950s soda fountain that serves sundaes, sodas and shakes. Candies made on-site that are available for purchase include strawberry licorice, chocolate milk balls and Purdue University-themed gift boxes.
An ever-popular pick among locals and visitors alike, Rosie's Place (E) in Carmel offers a creative menu that changes daily and seasonally. Rosie's Place promotes local products from Indiana farms and uses no artificial ingredients so visitors know they're getting the freshest in sweets and treats. Be sure to try the famous Ooey Gooey Butter Cookies, which come in original, chocolate, chocolate peanut butter and monthly seasonal flavors.
Northern Indiana
Yoder's Red Barn Shoppes in Shipshewana is an extensive shopping complex with Amish furniture and books for sale, but head to the barn's loft for delectable hot drinks and desserts at Red Bud Gourmet Coffee & Tea (F). Groups can purchase over 200 flavors of loose leaf teas and purchase savory chocolate, Amish-style apple dumplings and sweet coffee creations. Conclude your tour at the South Bend Chocolate Company (G). Groups can tour the 58,000-square-foot production facility (to learn how cocoa is blended with milk and other sweeteners) and chocolate museum (which includes a 1,300-year-old Mayan chocolate pot).
For even more group travel itineraries SUBSCRIBE FOR FREE to our newsletter.