A city of sun, sand, and palm-fringed oceanfront vistas, Miami has always been a hotspot for the winter-weary, but today this sizzling metropolis at the tip of Florida is hot-hot-hot in a whole new way. More than a magnet for beach-goers, the most Latin city in the U.S. attracts travelers looking for nightlife, decadent dining and a multi-cultural vibe. Hip, edgy and a bit hedonistic, it's more about lifestyles, less about sightseeing. There's no better place to people-watch.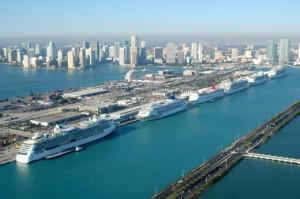 Things are never static in Miami, an ever-changing city quick to embrace the latest trends. Downtown construction continues despite the current economy, and new urban pioneers are transforming once declining neighborhoods into arts-oriented districts. If you haven't been to Miami in a while, you might not recognize the place.
Considered the gateway to the Americas, Miami has a definite Spanish accent. In fact, more than half its residents have Hispanic origins, the majority with Cuban roots, thanks to the influx of immigrants that fled from Fidel Castro's Cuba in the early 1960s. Other Spanish speakers seeking freedom and economic opportunity have come from places like Colombia, Nicaragua, Chile, Venezuela and Puerto Rico, lending Miami a rich diversity tinged with a salsa beat.
Of particular interest to cruise travelers, Miami is the main jumping-off point for tropical getaways to the Caribbean and Bahamas. The country's leading cruise port sees four million passengers annually, and more mega-ships berth at the Port of Miami than anywhere. Miami is literally the "berth" place of the modern U.S. cruise industry, which got its start there in the late 1960s. The city serves as headquarters for companies like Carnival Cruise Lines, Celebrity Cruises, Norwegian Cruise Line, and Royal Caribbean International. Few dispute the title "Cruise Capital of the World."
Seven state-of-the-art cruise ship terminals are located on Dodge Island, just over the bridge from downtown. For passengers arriving at Miami International Airport, the eight-mile taxi ride to "Cruise Ship Row" takes about 15 minutes.
The downtown skyline, overlooking Biscayne Bay, shimmers with sleek office towers and condominiums that dwarf streetside cafes, small lunch counters and other Cuban-run businesses. Cruise passengers staying at hotels like the InterContinental and Four Seasons can easily navigate downtown on the free Metromover, a monorail that encircles 28 blocks and stops near every point of interest.
Downtown attractions include the Historical Museum of South Florida and Miami Art Museum, but the most popular daytime spot is Bayside Marketplace. Convenient to the port, this color-splashed shopping center with live entertainment, 100-plus shops, and 14 restaurants and bars (including a huge Hard Rock Cafe) has been described as part Disney, part international bazaar. The yacht-filled waterfront provides a stunning setting.
American Airlines Arena, adjacent to Bayside Marketplace, is home to big-name concerts and basketball's Miami Heat. The arena's Bongos Cuban Cafe, started by Gloria Estefan, is one of downtown's top nightclubs.
Take a virtual trip to Cuba's capital by visiting Little Havana, a small neighborhood on the edge of downtown. First settled by refugees from Cuba's Communist revolution, it's the heart of Miami's Hispanic community. Along Calle Ocho (Eighth Street), the main thoroughfare, you'll see Cuban coffee shops, tropical fruit stands, machete-wielding coconut vendors and little cigar factories that still employ hand rollers. Old men in guayabera shirts play dominoes in Domino Park.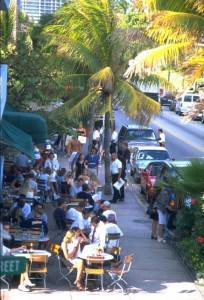 Some 20 miles of beachfront is the city's chief draw, and the epicenter is South Beach, a hyper-trendy, rather eccentric neighborhood at the southern end of Miami Beach, a manmade barrier island connected by causeways to Miami proper. Life buzzes 24 hours a day on Ocean Drive, a magnet for celebrities, fashion models and anyone who wants to show off a buff, tanned body. Pulsing clubs, A-list eateries, chic boutiques, and fancy cars abound on this Atlantic promenade often used as a backdrop for commercial photo shoots. Drink in the scene at a sidewalk cafe or lay out your towel at Lummus Park Beach, the place to be seen. Ocean Drive epitomizes what's been termed the "American Riviera," a sexy chunk of real estate that has captured the world's imagination since the TV show "Miami Vice" first filmed on location in 1984.
Miami Beach in the early 20th century had established itself as a winter playground for the rich. During its heyday from the 1930s through early '60s, it flourished as a favorite of honeymooners and a haven for seniors fleeing the snowy North. Arthur Godfrey and Jackie Gleason, two icons of early TV, extolled the virtues of Miami Beach on their shows, and it became a stomping ground for Hollywood's Rat Pack. Mammoth hotels like the Fontainebleau and Eden Roc (reborn and better than ever) symbolized the glamour of the era.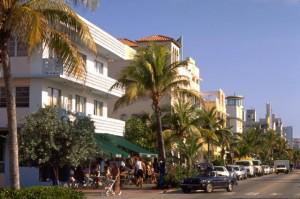 After two or three decades of decline, downtrodden South Beach saw a dramatic comeback in the late 1980s and '90s, thanks to its rediscovery by the arts community, fashion industry and historic preservationists. Today more than 800 buildings from the '20s, '30s, and '40s make up the world's largest concentration of Art Deco architecture. Saved from the wrecking ball, restored hotels and apartment buildings, many on the National Register of Historic Places, create pastel backdrops for Ocean Drive and parallel Collins and Washington avenues. Painted in pink, peach, periwinkle and turquoise, these protected landmarks—with their whimsical curves, streamlined designs and geometric patterns–now house restaurants, clubs and boutique hotels. The Miami Design Preservation League offers walking tours of this ice cream-colored outdoor museum.
Visitors to South Beach also make a beeline to Lincoln Road Mall, second only to Ocean Drive in star quality. The seven-block mall, an upscale shopping district during the glory days of Miami Beach and pedestrianized in the 1960s, bustles with designer boutiques, chain stores, art galleries and coffeehouses.
The island of Key Biscayne, a wealthy enclave just a few miles from downtown, is less developed than South Beach and boasts beaches that continually rank in the nation's top 10. Undulating sandbars on enormously wide Crandon Park Beach not only calm the surf but also make great places to perch and play. At the southern end of the key, Bill Baggs Cape Florida State Park is home to quiet beaches, boardwalks across the dunes, and the 1845 Cape Florida Lighthouse.
Three of Miami's top commercial sights are animal kingdoms. Jungle Island, a classic South Florida attraction, abounds with parrots, macaws, and other exotic birds, plus alligators, penguins and even a lion-tiger hybrid. Spread across 19 tropical acres on Watson Island, just off the causeway connecting downtown Miami and South Beach, the 75-year-old park (formerly known as Parrot Jungle at a different location) is most famous for its bird shows. Want to see a roller-skating cockatoo or bicycling parrot? Lakeside Cafe overlooks a sea of pink flamingoes on Flamingo Lake.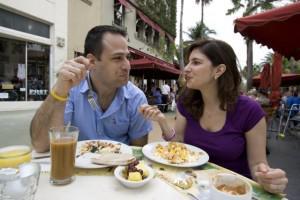 Miami Metrozoo, where animals roam cageless on islands surrounded by moats, ranks as one of the best zoos in the nation. Crowd pleasers include a giraffe-feeding station, camel rides and Wings of Asia aviary. A simulated Amazon rainforest features 600 animals, from jaguars and toucans to anacondas and giant river otters.
Marine mammals steal the show at Miami Seaquarium, a tourist standby since the TV show "Flipper" was filmed there in the 1960s. Though not as impressive as SeaWorld Orlando, the park, located on Virginia Key, provides a solid lineup with shows starring Lolita the killer whale, Flipper the dolphin, and Salty the sea lion. A special option allows guests to don a wetsuit and interact with dolphins.
Among Miami's historical treasures, Vizcaya Museum & Gardens in the village of Coconut Grove reigns supreme. An opulent Gilded Age mansion built in 1916 as a winter retreat for Chicago industrialist James Deering (co-founder of International Harvester), Vizcaya is an Italian Renaissance-style villa lavishly furnished with a priceless collection of European art and antiques. Lush, formal gardens with statuary and splashing fountains front Biscayne Bay.
The good life also takes center stage in Coral Gables, a fashionable part of Greater Miami with smart shops and gracious Mediterranean-style homes tucked along streets shaded by oaks, banyans, and royal poinciana trees. Called "The City Beautiful," Coral Gables was carefully laid out in the 1920s for America's elite. A focal point is the Biltmore Hotel, a Spanish-style estate that attracted the rich and famous during the Jazz Age. Built in 1926, this bastion of Old World gentility features large, Moorish-style rooms and a copper-clad tower modeled after the Giralda bell tower in the cathedral of Seville, Spain. The Biltmore's Sunday champagne brunch is a local legend. A National Historic Landmark, the posh resort boasts an 18-hole championship golf course and the largest hotel swimming pool in the continental United States.
Another Coral Gables landmark is also a swimming pool. Fed by natural springs, the Venetian Pool, with architectural touches resembling an Italian waterfront village, was built in 1924 from a coral rock quarry. Just as movie stars Esther Williams and Johnny Weissmuller did back in the 1930s, guests at this free-form municipal pool can swim in and out of caves and under stone bridges and waterfalls.
Fairchild Tropical Botanic Garden in Coral Gables showcases exotic plants from around the world. Offering vistas of meadows and palm-lined lakes, the 83-acre estate has a conservatory with ferns, orchids, and rare plants from the Amazon. A tropical fruit pavilion protects cacao, coffee and breadfruit trees. Walking and tram tours are available.
The heady combination of tropical splendor, Latin rhythms and urban chic defines today's Miami. Easy-going and energetic at the same time, this cosmopolitan crossroads beckons cruise passengers to linger and soak it all in.