Top-notch attractions showcase slices of yesteryear
With all that's going on in the world these days, sometimes it's comforting to go back in time and commune with the past. Iowa abounds with places where your group can do just that. Here are some museums, historic houses and communities that provide a peek at the way things used to be.
The town of West Branch in Eastern Iowa celebrates a man who went from humble beginnings to being elected America's 31st president. At the Herbert Hoover Presidential Library and Museum, visitors learn not only about the White House years (1929-1931) but Hoover's work as a mining engineer, U.S. commerce secretary and administrator of relief programs to feed Europeans over the course of two world wars. The adjacent National Park Service site contains several buildings from Hoover's youth, including the tiny cottage where he was born in 1874 and Quaker meetinghouse where he worshipped. Herbert and First Lady Lou Hoover are buried near the museum.

Celebrity hounds thirsting for a little Hollywood glamour will find it at the
John Wayne Birthplace and Museum
in Winterset, about 45 minutes southwest of Des Moines. The largest exhibit of artifacts devoted to the actor, best known for his Westerns, features original movie posters, one of Duke's last customized automobiles, and film wardrobe items and props, including the eye patch that Rooster Cogburn wore to Oscar glory in True Grit. In seats originally from Grauman's Chinese Theatre in Hollywood, you can watch a documentary on Wayne's career. Adjacent to the museum (which opened in 2015) is the modest four-room home where he was born Marion Robert Morrison in 1907.
For another dose of entertainment nostalgia, tour the
Surf Ballroom
in Clear Lake. Known for its place in rock and roll history, it hosted Big Bands in the 1940s and was where in 1959 that Buddy Holly, J.P. "the Big Bopper" Richardson and Richie Valens played their final concert just hours before a plane crash north of Clear Lake ended their lives. A record player spindle sculpture honors the trio at Three Stars Plaza in a nearby park.
Some of Iowa's historical attractions revolve around the European ethnic groups that settled the state in the 1800s. The Dutchflavored town of
Pella
offers a virtual trip to Holland, with gabled buildings, places to shop for Delftware and other Dutch imports, and plenty of tulips in April and May. Pella Historical Village comprises two dozen artifact-filled buildings, including a working windmill, country store, log cabin, blacksmith shop and wooden shoe workshop.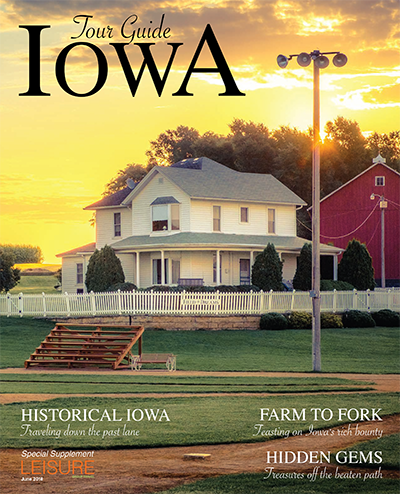 Kalona Historical Village
, a collection of museums and restored buildings spotlighting Amish and Mennonite culture, occupies a block in the heart of Kalona, 80 miles east of Pella. It consists of an 1879 rail depot, Mennonite museum, quilt galleries, one-room schoolhouse and other reminders of days gone by. The 90-minute "Amish By-Ways Tour" into the countryside sheds light on the largest Amish population west of the Mississippi.
Racks full of traditional crafts and foods produced by Amish families in the Bloomfield area, from baskets and quilts to jams and candy, greet visitors to the
Amish Country Store and Southern Iowa Welcome Center
in Lamoni, near the Missouri border. Also on site are a Maid-Rite Diner, an Iowa institution known for its loose meat sandwiches, and a one-room schoolhouse.
Another religious group with origins in German-speaking Europe established the Amana Colonies, a communal society that lasted until 1932. Located 30 miles north of Kalona, the tourist-friendly
Amana Colonies
are made up of seven closely united villages. The popular village of Amana is home to artisan shops, a winery, German restaurants and the three-building Amana Heritage Museum, which shows a video about the settlement's history.
French Icarian Village
, a living history museum under development just outside of the southwestern Iowa town of Corning, tells the story of a utopian colony established by immigrants from France in 1852. The museum can arrange a group lunch in the 1878 communal dining hall and visits to the cemetery and 1860 schoolhouse. Future plans call for vineyards, orchards and gardens along with replicas of log cabins, barns and other buildings.
In the Czech Village District of Cedar Rapids, the
National Czech & Slovak Museum
looks at another ethnic group that arrived in Iowa from the Old World. The nation's foremost institution for the preservation of Czech and Slovak history and culture displays folk art and costumes, glass and ceramics, military artifacts and other items. A restored house reflects the lifestyle of immigrants.
Living History Farms
, an open-air museum near Des Moines, is a 500-acre showplace of rural life with interpreters in period dress recreating daily routines of early Iowans. Visit the 1700 Ioway Indian Farm, 1850 Pioneer Farm, 1875 Town of Walnut, 1900 Horse- Powered Farm and modern Exhibit Center.
Tractors played a key role in the development of the Midwest as an agricultural powerhouse, and the history of their design and manufacturing is on display at the
John Deere Tractor & Engine Museum
in Waterloo. The museum, which opened in late 2014 on the site of the first very first John Deere tractor factory, traces the company's growth over time and engages guests through rare artifacts and interactive features. The gift shop has John Deere apparel, toys and collectibles.
For another look at America's industrial heritage, visit the
Union Pacific Railroad Museum
in Council Bluffs, once the fifth largest rail center in the U.S. Housed in a 1903 Carnegie library, it chronicles the history of the Union Pacific company, from the building of its first transcontinental railroad to modern-day operations. Highlights include an exhibit featuring video-game technology and one on the heyday of passenger rail travel.
In Dubuque, Iowa's oldest city, the restored 1934 dredge boat
William M. Black
preserves another chapter in transportation history. The National Historic Landmark, one of the few surviving steam-powered dredges, is open for tours as part of the 10-acre riverfront campus of the National Mississippi River Museum & Aquarium.
In Central Iowa, pioneer history comes alive at the
Fort Museum & Frontier Village
in Fort Dodge. Collections of military, pioneer and Native American artifacts are displayed in 18 original and replica buildings, including a livery stable, drugstore, jail and 1850s fort.
More military history awaits at the
Sullivan Brothers Iowa Veterans Museum
in Waterloo. Covering conflicts from the Civil War to the present, it is named after the five Waterloo brothers who died aboard a Navy cruiser in World War II. Filled with interactive exhibits, the shrine to veterans is part of the Grout Museum District, which includes the Grout Museum of History & Science, Bluedorn Science Imaginarium and Rensselaer Russell House Museum. The latter, an 1861 Victorian brick mansion restored to the 1890s, was the showplace of the community and features an 1889 Steinway grand piano.
Among Iowa's other historic house museums is the 1885
W.A. McHenry House
in Denison. Noted for its gingerbread architecture, beautiful woodwork, parquet floors and stained-glass windows, it contains four floors of local artifacts, including the Oscar of hometown girl Donna Reed.
The historic house most associated with Iowa is just steps from the
American Gothic House Center
, a tourist attraction in Eldon, a town of 1,700 southwest of Iowa City. You can pose in front of the actual 1881 white frame house that Iowa artist Grant Wood chose for his American Gothic, a painting that depicts a farmer and his spinster daughter. In nearby
Albia
, old house lovers and antique hounds will find plenty of Victorian charm in the 92-building district listed on the National Register of Historic Places.
For groups wishing to travel in the past lane, Iowa offers a bounty of attractions that preserves its proud heritage.