Minnesota's historic mansions have a story to tell.
Maywood Mansion
Rochester
Historic Mayowood Mansion is the former home of Dr. Charles H. Mayo, co-founder of the world-renowned Mayo Clinic in Rochester. Dr. Mayo and his wife Edith built Mayowood in 1911, extending the estate of more than 3,000 acres that included a man-made lake, greenhouses and several working farms. The 38-room home has most of its original furnishings and is decorated with artwork from around the world.
Plummer House
Rochester
The Plummer House, an English Tudor mansion, is the former home of Henry S. Plummer, a member of the Mayo Clinic staff. The five-story house contains 49 rooms and occupies 11 acres that include beautiful gardens and a water tower. Innovative features of the house included a central vacuum system, an underground sprinkler system, inter-communications system, security system, dumbwaiter, electricity and gas lighting, the first gas furnace in the city, garage door openers, heated pool, water tower and many others.
In 1901, Dr. Mayo asked Dr. Plummer to join the Mayo Clinic staff. This relationship lasted for the next 35 years. Dr. Plummer is given credit for many innovative ideas that were implemented during his tenure. Among the most outstanding was his invention of the pneumatic tube, the communication system and record keeping system.
Hubbard House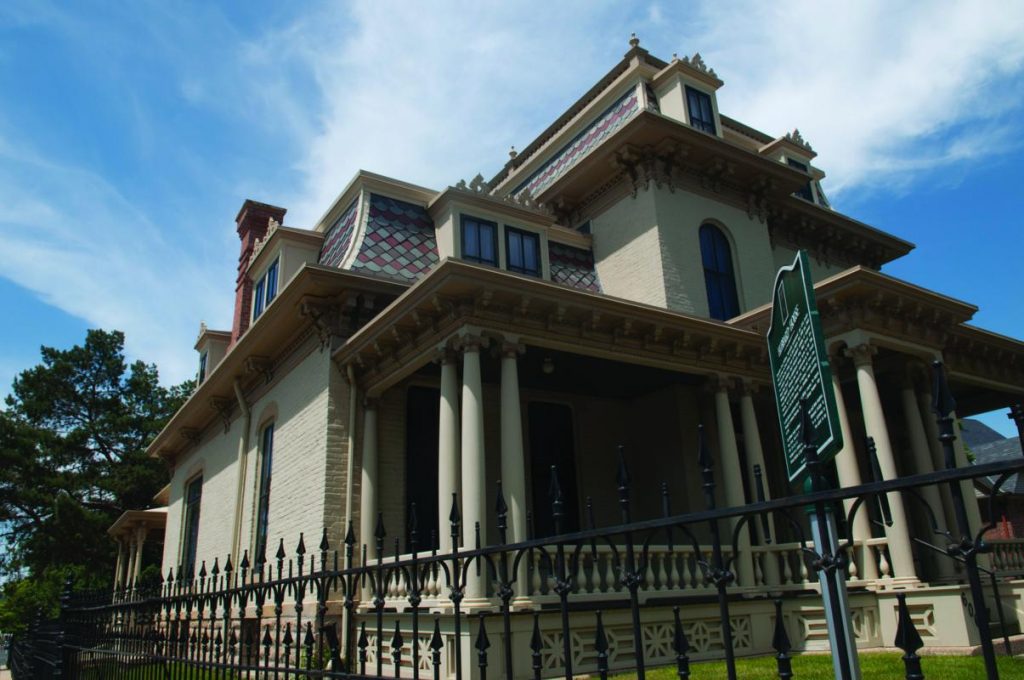 Mankato
The R. D. Hubbard House, a French Second Empire home built in 1871, has been restored to its 1905 appearance. It features Tiffany lamps, silk wall coverings, cherry woodwork and three marble fi replaces. The grounds contain the Palmer Centennial Gardens and a carriage house with a variety of carriages and other antique vehicles. Hubbard was a prominent Mankato businessman who founded Hubbard Milling, which produced Mother Hubbard flour.
Glensheen Mansion
Duluth
This magnificent 39-room mansion and estate offers a rare view of the early 20th-century life of one of Minnesota's most wealthy and influential families. Built between 1905 and 1908 for Chester and Clara Congdon, Glensheen is an architectural and decorative arts masterpiece telling the story of the Northland's mining history. Explore the Congdon estate, which includes over 12 acres of formal gardens, vegetable gardens, trails and a boathouse with pier on Lake Superior.
Hormel Historic Home
Austin
The former home of George A. Hormel, the founder of Hormel Foods, is listed in the National Register of Historic Places. Built in 1871, the Greek Revival home features a unique children's bedroom and honeycomb-designed ceilings. The adjoining Peace Garden will conjure memories of your grandmother's garden with its varieties of old-fashioned flowers. Groups of 10 or more can schedule a guided tour. Catered meals and events can accommodate up to 200 guests in the attached banquet hall.
Le Duc Mansion
Hastings
The home was built between 1862 and 1866 by William Gates LeDuc and his wife Mary near the Vermillion River. The LeDucs were prominent early settlers of Minnesota and played significant roles in the state's growth from a territory to a state. Reservations are accepted for special events and group tours.
Dinehart-Holt House
Slayton
This beautiful Victorian home was built in 1891, the same year as the original Murray County Courthouse. Christopher Dinehart was so impressed with the courthouse's architect, Frank Thayer of Mankato, that he hired Thayer to design a home for him. Dinehart was one of the founders of the State Bank of Slayton and later became its president. The Dineharts owned much farmland in the county and raised sheep, hogs and Jersey cattle. Flora Dinehart owned the fi rst piano in the county, and the community would gather once a week to enjoy music. The Dineharts' open-hearted hospitality was a well-known characteristic of the home.