Great museums, architecture and a quaint downtown shopping and food scene will keep your group happy and active
One of a Kind History
Pony Express riders traveled a 2,000-mile trail carrying saddlebags of mail departing St. Joseph and connecting Sacramento to the west. During the 18-month existence of the Pony Express, only one mailbag was lost. The Pony Express National Museum tells the story through Permanent Exhibits, a Travel the Trail through Photos exhibit and the Hall of Riders. There's a large community room available for catered lunches and dinners. The Pony School is on the same property and displays what one-room schooling was all about. A school marm is available for guided tours of the Pony School.
Just two blocks away is the Patee House Museum and Jesse James Home. Built as a luxury hotel in 1858 by John Patee, this National Historic Landmark has a diverse history. As a hotel, it had the latest amenities and became the headquarters for the Pony Express in 1860. It became the Provost Marshal's Office for the Union Army during the Civil War with the ballroom functioning as a courtroom for arrested confederates. The hotel was eventually sold and used as the Patee Female College, but sold again and used as a hotel. The hotel closed under financial difficulties in December 1882 and was purchased in 1886 operating as a garment factory until 1950.
Today, it's a must-see for visitors. The museum features three floors of exhibits, including inside an 1860 train engine and 1877 Railroad depot, the vintage "Wild Thing" carousel you can ride. Take a walk on the Streets of Old St. Jo and in the 20 exhibits see if you can find what doesn't belong. It's 25 cents to play and you could win a prize. There's a wing with Western art by George Warfel. There are a stagecoach, cars, trucks and fire trucks, wagons, buggies and carriages and much more. It's a step back in time filled with memories. The 3rd floor has been remodeled to look as if it were again an 1800s hotel. An elevator services all three levels.
On the same site as the Patee House Museum you'll find the house of the outlaw Jesse James. It was here he was shot and killed April 3, 1882 at the age of 34. James had been an outlaw half of his life. There was a $10,000 reward and that was enough to encourage fellow gang member Bob Ford to do the deed. The legendary bullet hole is still in the wall. The museum house has artifacts from Jesse and brother Frank and the Ford brothers' lives.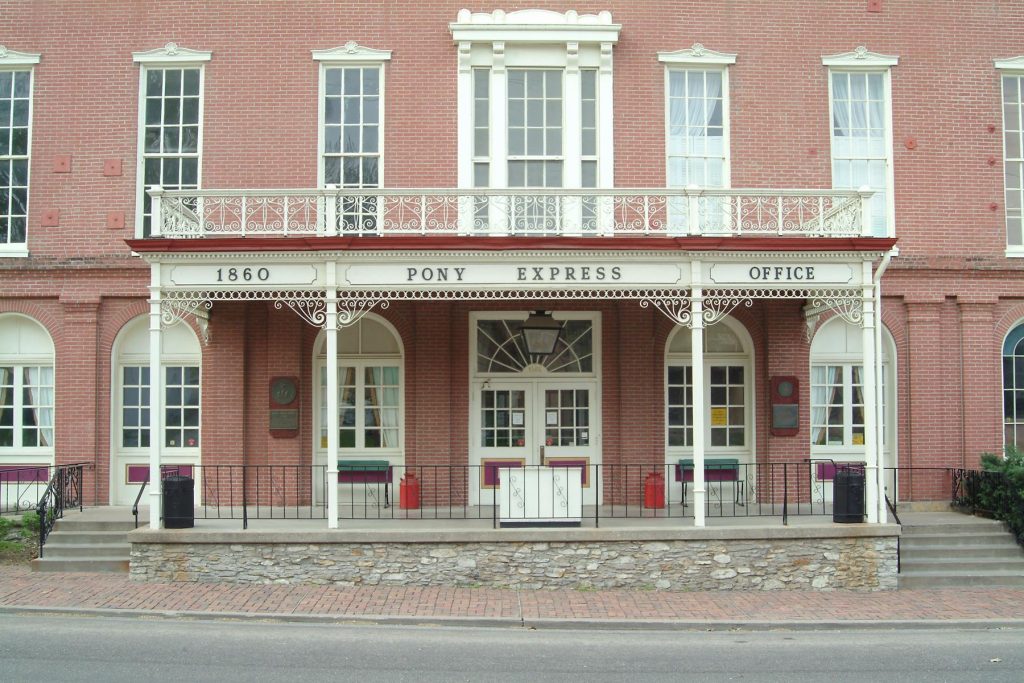 St. Joseph's stature as a gateway to the west is further enhanced at the Robidoux Row Museum. St. Joseph founder Joseph Robidoux built the back-to-back one-room apartments to completion in the 1850s. The original purpose of the apartments was to allow families who purchased lots from Robidoux rent-free while their homes were built. Later, travelers going west stayed while waiting for their wagon to be ferried across the Missouri River. The reconstructed interior unit is small and only accommodates a small group.
The St. Joseph Museum is at once history and art. The History Galleries feature special exhibits, including WWI St. Joseph: Reflections on Community and Conflict. Like everywhere else, World War I altered St. Joseph. See the hardships residents faced and the challenges of making ends meet. Lines and Legacies: The Harry L. George Collection has grown to more than 4,000 Native American treasures since first coming to the museum in the 1940s.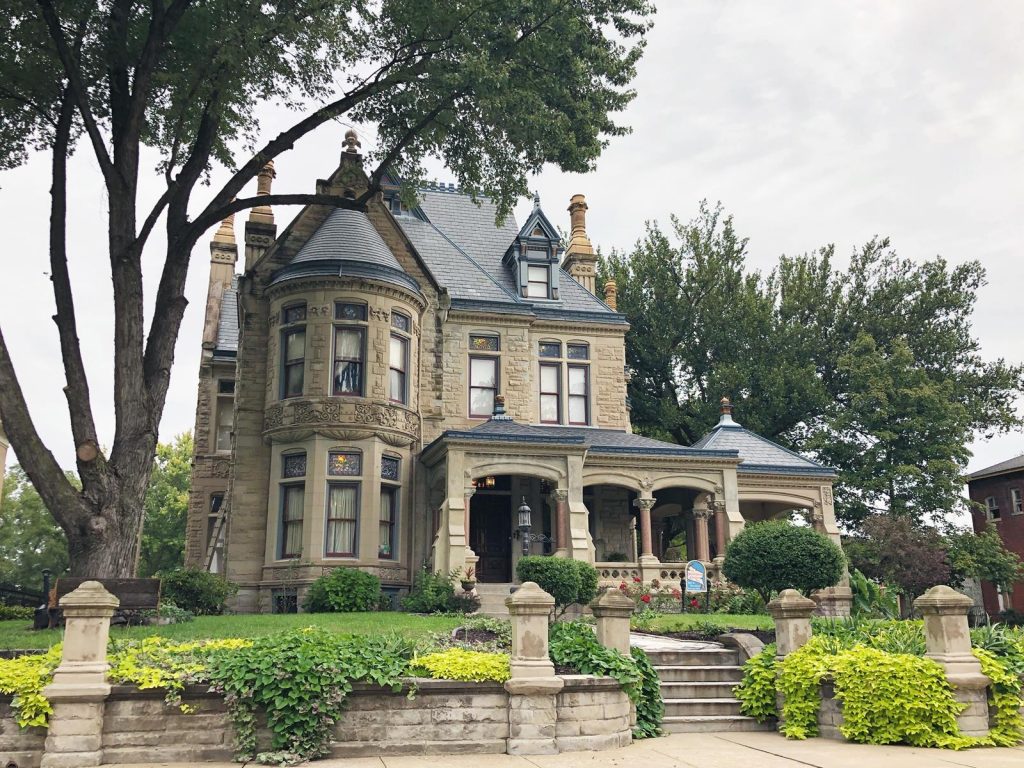 History of another nature is explored at the Glore Psychiatric Museum. The museum has been recognized as "one of the 50 most unusual museums in the country" and numerous other accolades. The original State Lunatic Asylum opened in November of 1874. The museum chronicles the state hospital's 145 years and centuries of mental health treatment. On display are relic treatment equipment and surgical tools, furnishings and nurses uniforms. Patient artwork and notes provide an in-depth look into their condition.
St. Joe's Art & Architecture
The Albrecht –Kemper Museum of Art collection of more than 3,000 18th, 19th and 20th century works is one of the finest in the Midwest. Stunning portraits and landscapes done in a variety of media by artists such as William Verelst, George Wesley Bellows and George Catlin grace the walls. A Mary Cassatt pastel Mother Looking Down Embracing Both of Her Children is a version of a painting hanging in the White House. There are always current exhibits to expand the experience. Guided tours of the permanent collection and special exhibitions can be arranged at no additional cost. Arrangements can be made for catered events from 10-200.
Wyeth-Tootle Mansion
The interior of this architectural masterpiece features ornate woodwork and stained-glass windows with the full opulence and wealth of St. Joseph in the late 19th century. The first floor has been restored to much of its Victorian grandeur. There are some wonderful exhibits on display, also. Confluence: The Great Flood of 1993 tells the story of the flooding of the St. Joseph area and the residents' remembrances during the trying summer of 1993. On the 2nd floor is Intersections: Of Time and buildings, which is housed in three rooms. The exhibit explores St. Joseph's history, art, humanities and architecture and role of preserving all.
---
[optin-monster slug="gwlt6tkszeyna9yzckex"]
---
The architect of Wyeth-Tootle Mansion was E. J. Eckel, who was born in France and studied his talent in Paris. Delayed in St. Joseph, he decided to stay after experiencing the post-Civil War boom. He went on to develop 75 percent of the public and private buildings. His firm was responsible for the German-American Bank Building, the Downtown Branch of the St. Joseph Public Library system, the Corby Building (St. Joseph's tallest), First Presbyterian Church and Sunday School, the News-Press Building, Central High School and the City Hall. A step-on guide can be booked for a nominal hourly rate for a windshield tour.
There's Still More
Located on the campus of Missouri Western State University, the Walter Cronkite Memorial pays tribute to St. Joseph's native son. Aspects of his life are on display from his childhood to the time on the anchor desk to his passion for NASA's Space program. Cronkite's story is told through interactive kiosks, photographs and a multimedia performance highlighting his legendary journalism career. Have your photograph taken at his desk in a replica of Cronkite's CBS newsroom.
While on campus make note it was the past summer training facility of the 2020 Super Bowl Champions, the Kansas City Chiefs.
The Remington Nature Center of St. Joseph has numerous displays providing education and interpretation of nature and conservation as it pertains to the Missouri River and Northwest Missouri. Displays of animal habitats include a beaver dam, a beehive and 7,000-gallon native fish aquarium. Paved walking trails with interpretive signage around the nature center have natural habitats for birds and animals, prairie and wildflower areas.
The St. Jo Frontier Casino features more than 370 of your favorite slot and video poker machines. If table games are more your style, St. Jo Frontier Casino features a variety Blackjack, craps and Mississippi Stud. Full menu dining has replaced the buffet for virus protocol. There's two bar & grills onboard and great entertainment on the weekends.
Downtown Shopping and Entertainment
There's plenty happening in downtown St. Joseph. Check out the dozen one-of-a-kind shops. With 11 vendors, you'll find something you just really need at Black Kat Salvage. Felix Street Gourmet encourages you to take your taste buds on a journey without going to far.  If shopping isn't your thing you can stroll about looking at the multiple murals on the outside of 6 buildings. One even extends across multiple buildings.  Or enjoy the many whimsical sculptures on the Sculpture walk.
Missouri Theater is a renovated 1927 Paramount Studios Movie Palace with plush seating, an ornate chandelier and astounding beauty. The price of the silent movie that evening was 25 cents. Silent movies are long gone, replaced by a local theater group, national performers and arts programs. The Missouri Theater was placed on the National Register of Historic Places in 1979.
The Ruby Theater complex opened in 2018 and is home to the Robidoux Resident Theatre, which has been entertainment St. Joseph for more than 40-years. The 12,000 square foot performing arts center S crown jewel is the 300-seat Ruby Theater. A full schedule of musicals, comedy and drama are presented.
A Taste of St. Joseph
The Fredrick Inn Steakhouse has been a local's favorite since 1980. Groups have discovered the great food and service that makes the Fredrick Inn a St. Joseph staple. The lunch menu features salads, sandwiches and homemade selections. For dinner regardless of your menu selections there's a soup and salad bar included. Regardless when you visit you're going to love the homemade rolls and desserts.
JC Wyatt House offers private dining for small groups in an 1891 historic home. The three-course menu is wonderful, the service outstanding and the décor is beautiful. The JC Wyatt House is a Certificate of Excellence Winner 2014-2020 on Tripadvisor.
Bandana's Barbeque wood smoker operates 24 hours a day preparing Bandana's Southern Style BBQ pork, beef, chicken and ribs. Dry rubbed and cooked sauceless your meal is hand-cut straight from the smoker. Groups are certainly welcome.
Boudreaux's Louisiana Seafood & Steaks is all about Cajun cooking, including awesome gumbo, three selections of Jambalaya, Shrimp prepared as you like and just about everything else you'd find on an extensive Louisiana menu. The vibrant restaurant is located in a converted warehouse and has rooms with private seating for 24 – 34 guests.