Group Guide to Museums in 2020
Whether your group is looking to be surrounded by famous works of art, time travel through history or be amazed by one-of-a-kind aquarium exhibits, these museums have something that will appeal to each traveler. They very likely will be the star of your itinerary.
Charles Hosmer Morse Museum of American Art
Winter Park, Florida
The Morse Museum in Winter Park, Florida, houses the world's most comprehensive collection of works by Louis Comfort Tiffany (1848-1933), including the artist and designer's jewelry, pottery, paintings, art glass, leaded-glass lamps and windows, and his chapel interior from the 1893 World's Columbian Exposition in Chicago. The museum's holdings also include American art pottery, late 19th-and early-20th century American paintings, graphics, and decorative art.
In 2011, the Morse Museum opened a wing to exhibit its collection of art and architectural objects from Tiffany's celebrated Long Island home, Laurelton Hall, the largest repository of these materials anywhere. The Laurelton Hall galleries provide 6,000 square feet of additional public exhibition space and houses Tiffany pieces that are not his commercial works, but his most personal and cherished pieces, those that were part of his own collection. They are his ideal works and they are indicative of his "quest of beauty" and no other collection in the world can claim this embodiment of Tiffany's influential vision of American art and design.
In 2019, the Morse Museum opened three new shows, Iridescence—A Celebration, Stories from the Archives—Louis Comfort Tiffany and His Studios, and Rare and Remarkable—Art Pottery of Louis Comfort Tiffany. In all three shows, new acquisitions—never-before-seen—are on display for the very first time. These pieces include Tiffany vases and an oil-on-panel study that when X-rayed was shown to be a painting on top of a study of another Tiffany painting.
Docent-led tours can be arranged for groups of 10 or more Tuesday through Sunday during regular museum hours. Reservations are required at least two weeks in advance. For prearranged tour groups, the rate is $4 per person (General fees are $6 for adults, $5 for seniors age 60 and older, $1 for students and free for children younger than 12).
Website: morsemuseum.org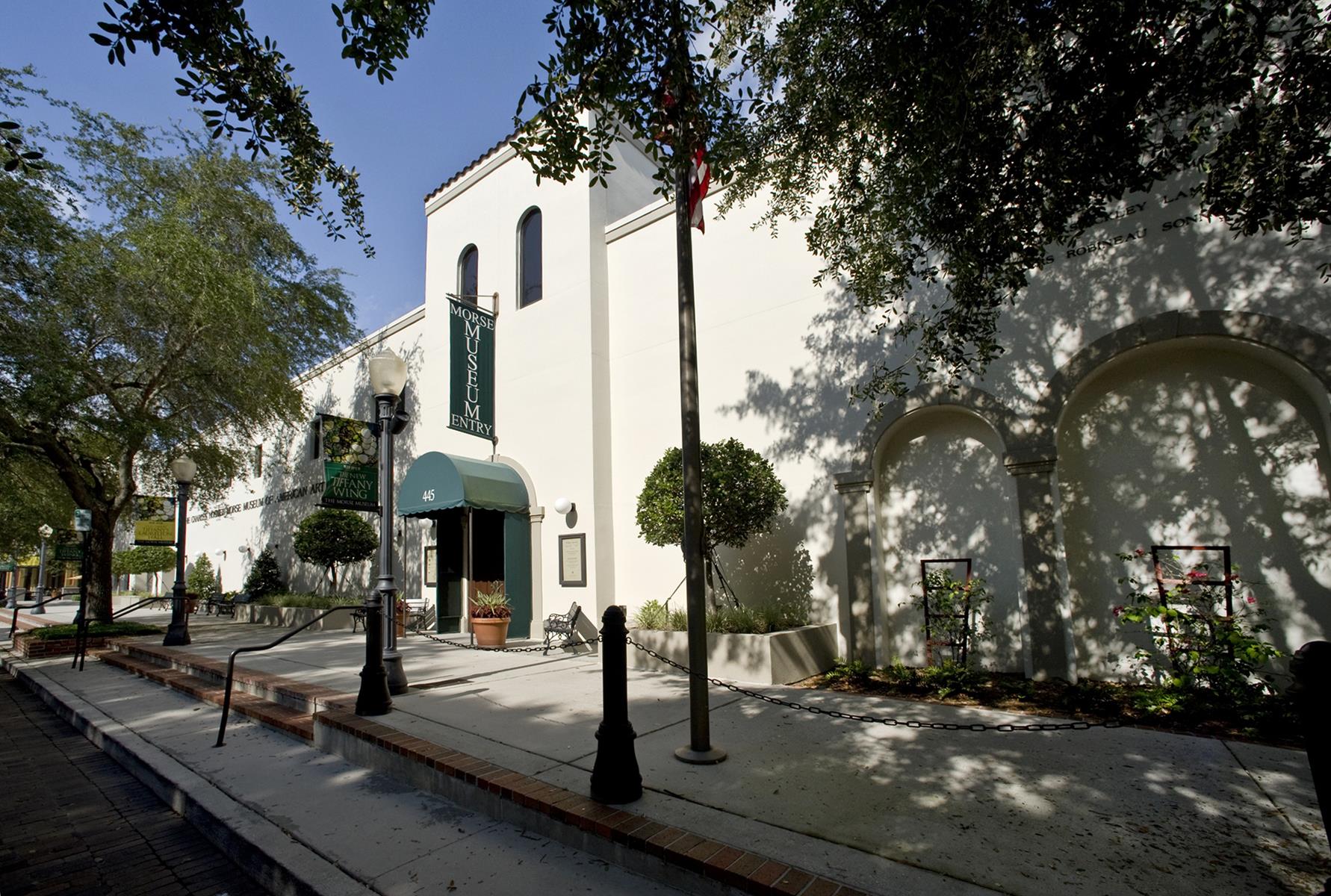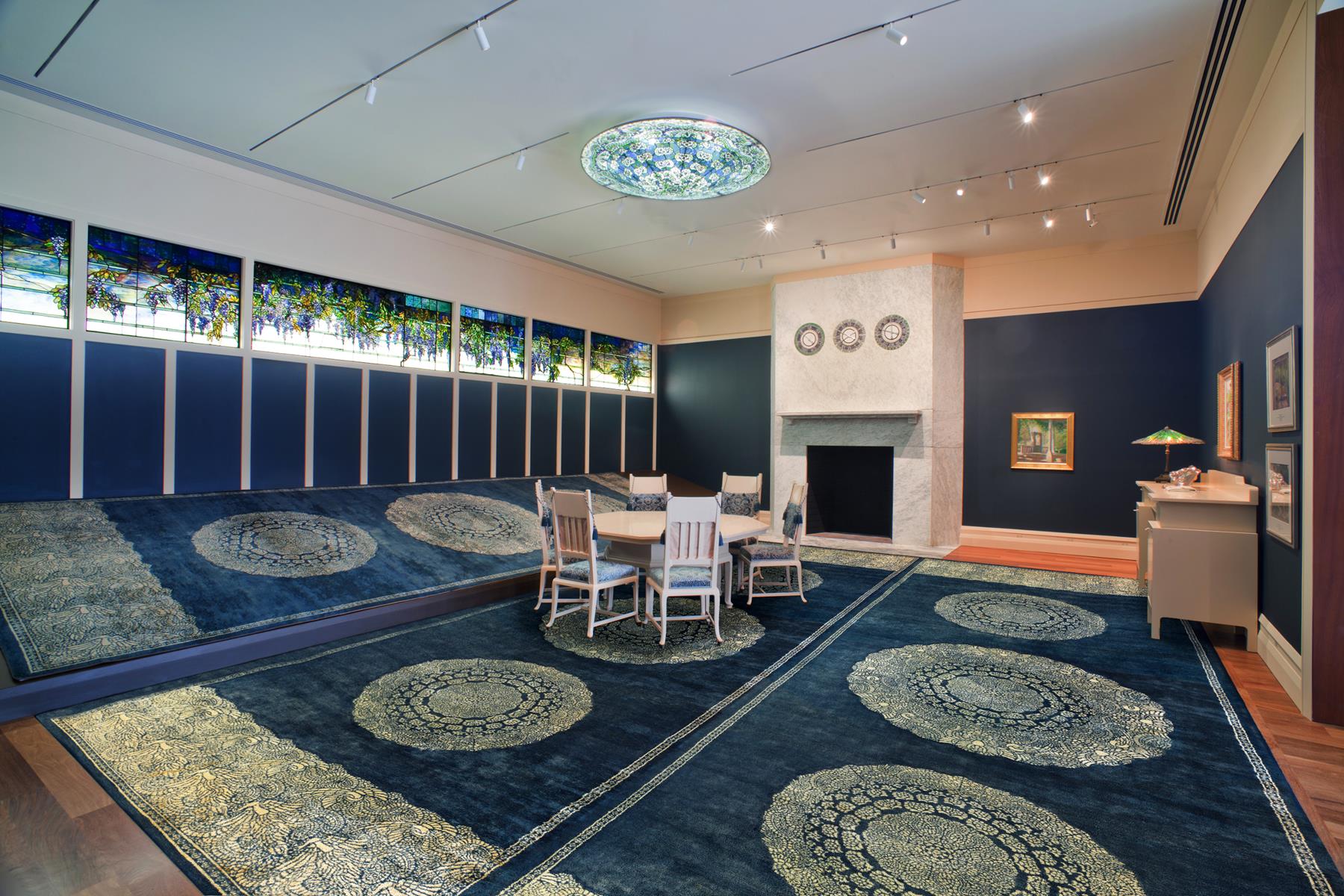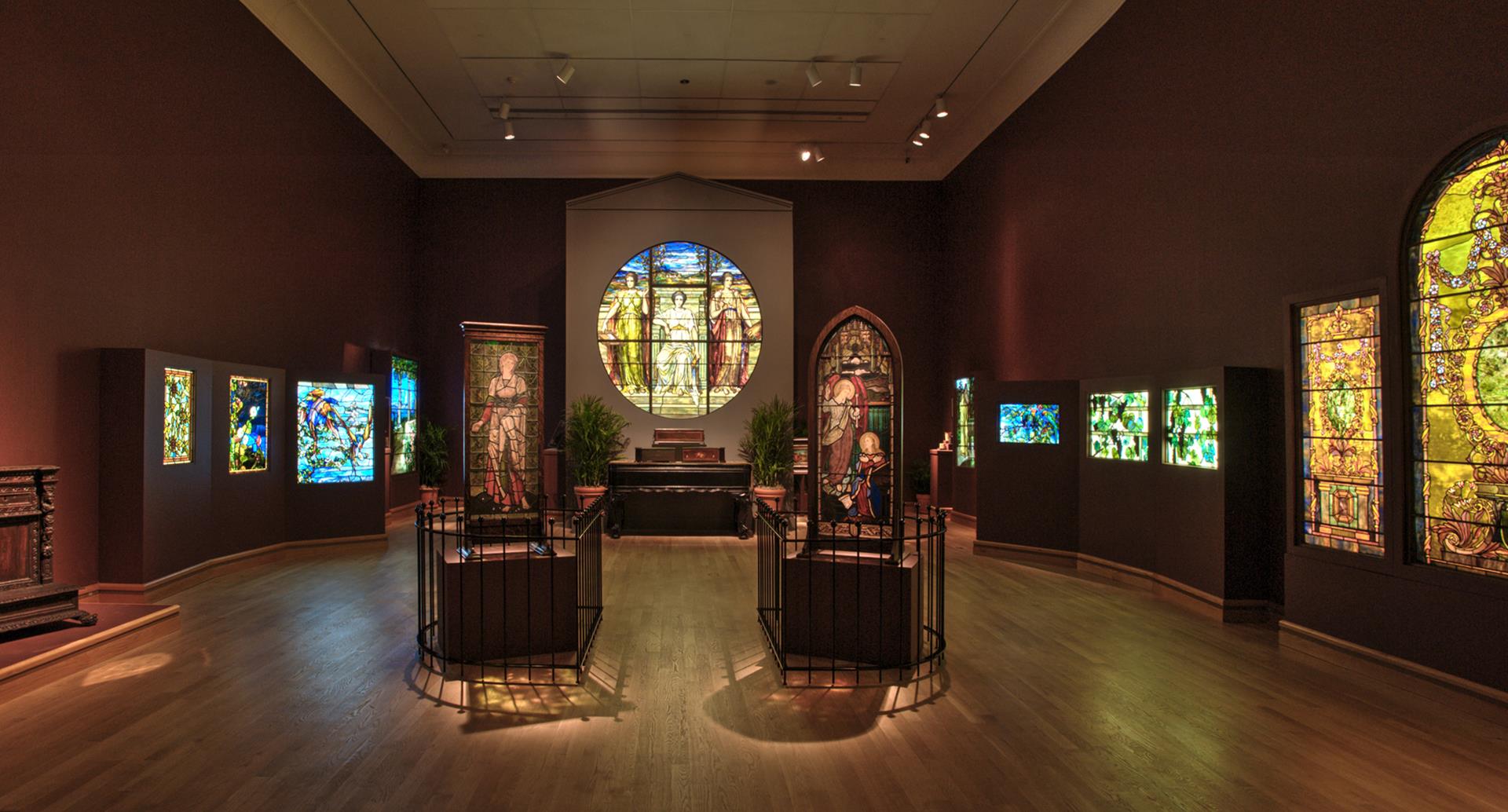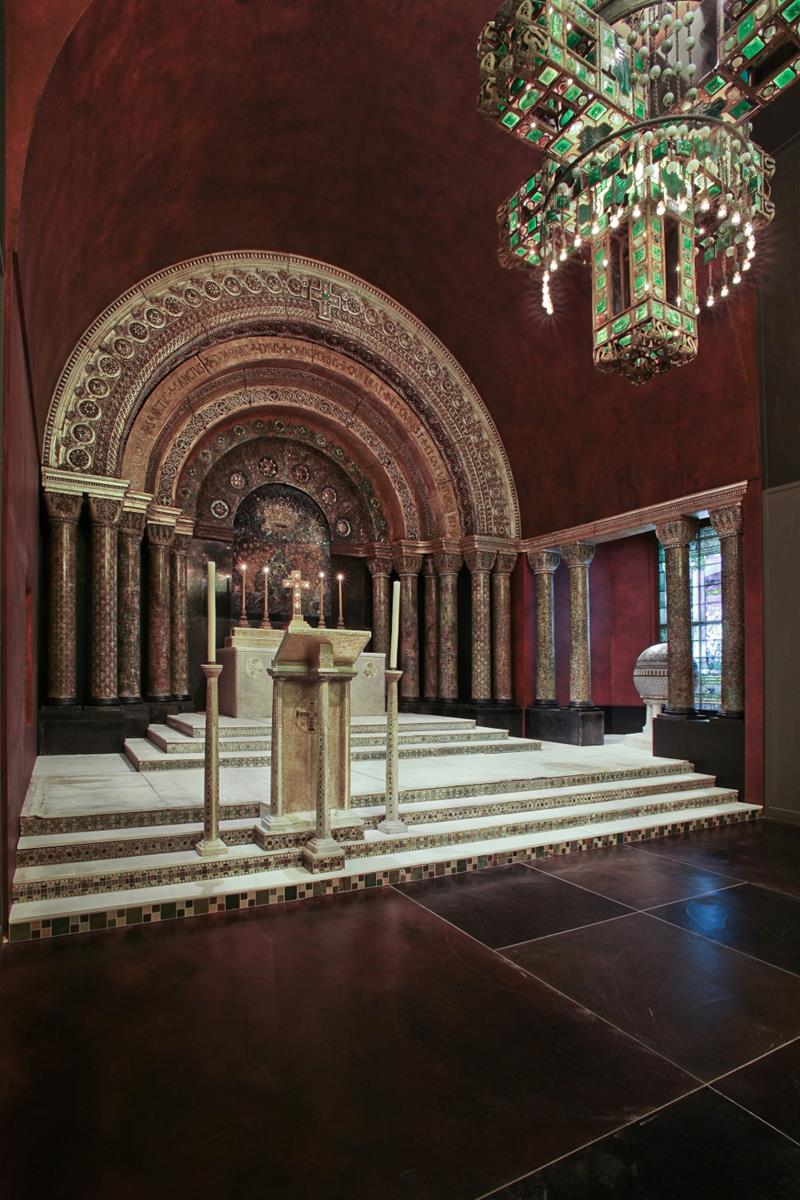 [optin-monster-shortcode id="rpmkmreebyygnalb0qvp"]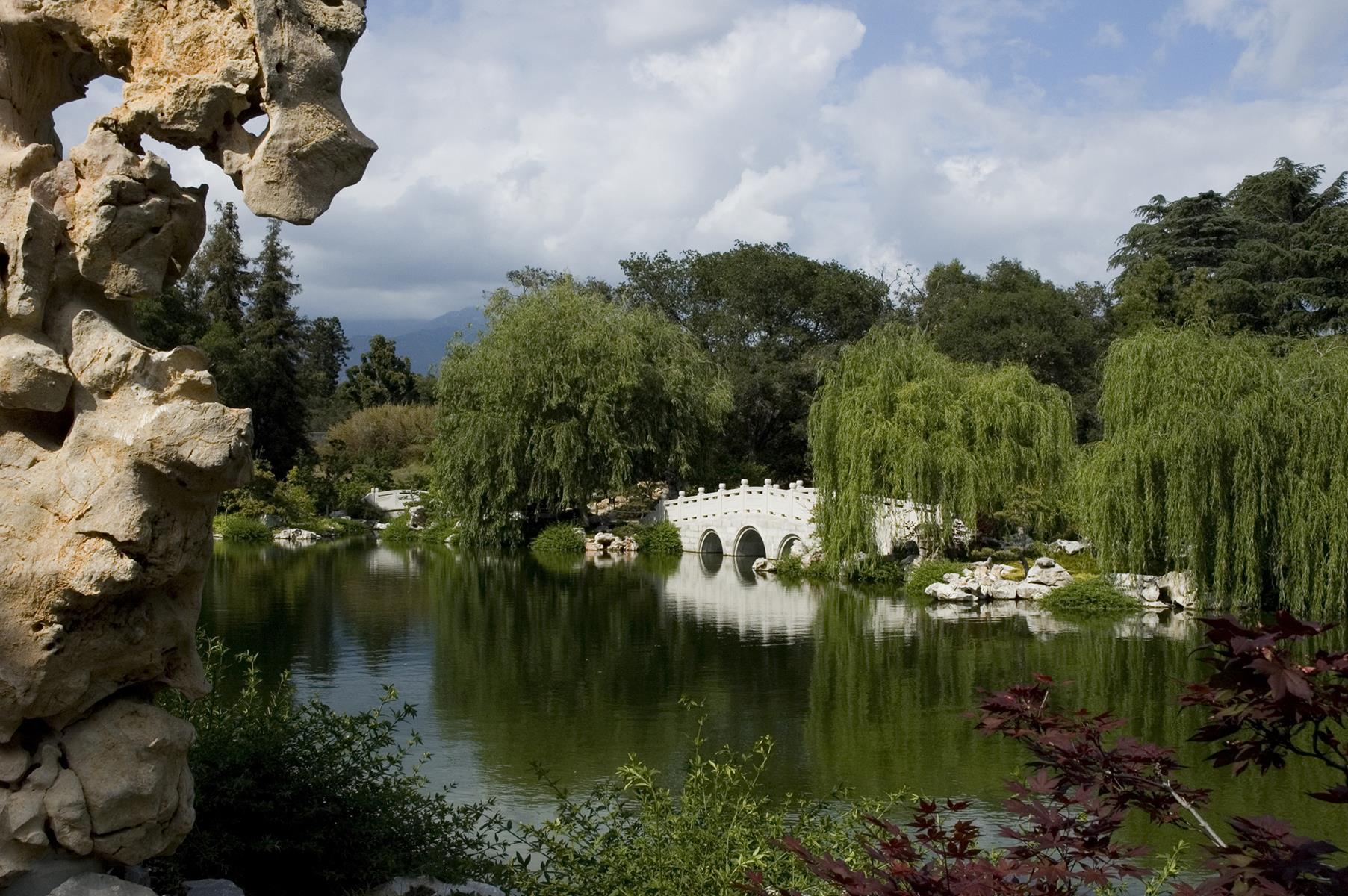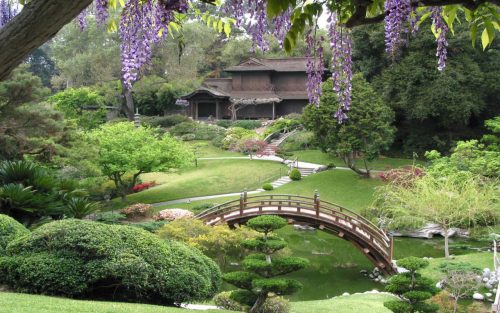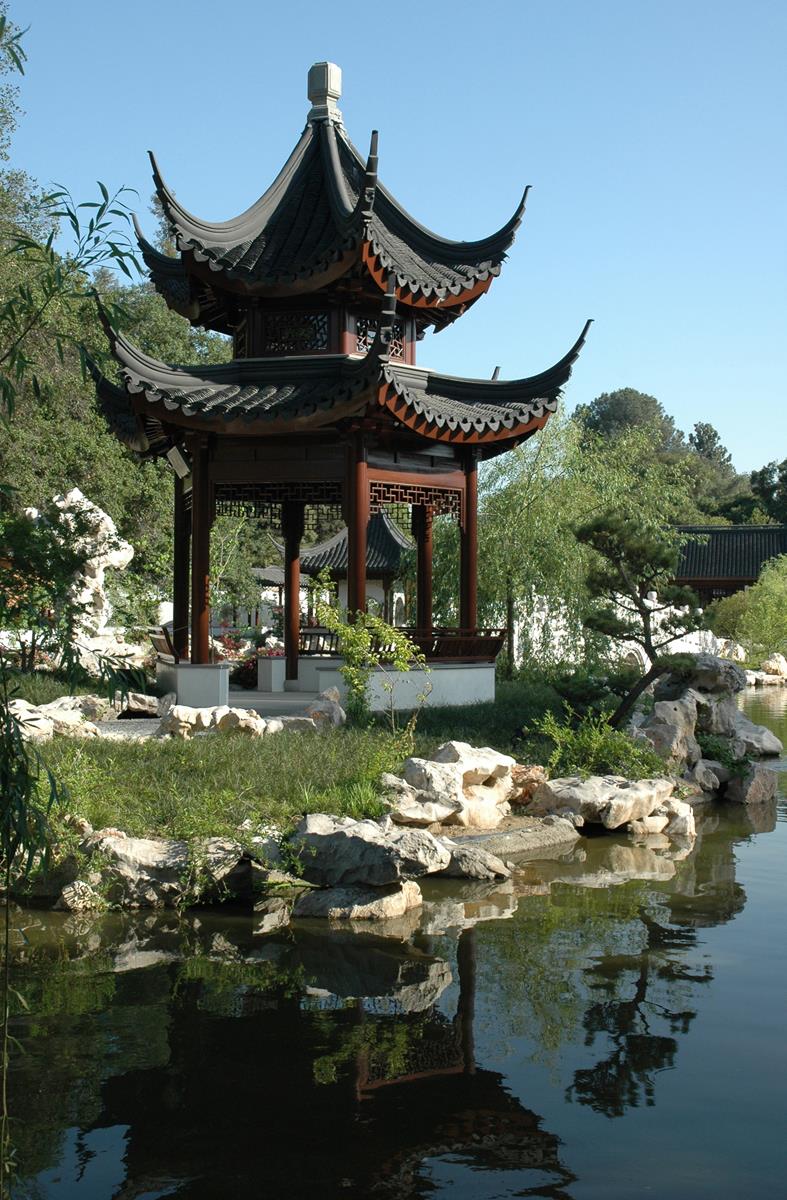 Huntington Library
San Marino, California
What began in 1919 as Henry Huntington's pursuit of his interests in reading, horticulture and the arts blossomed into one of the most varied museums in the United States. The Huntington hosts more than 750,000 visitors each year from the United States and around the world, who come to enjoy the gardens and galleries, conduct research, and learn from the collections. 
Encompassing about 120 acres, the botanical gardens feature 16 stunning themed gardens and includes some 15,000 different varieties of plants.
In addition to its gardens, The Huntington has significant holdings of botanical living collections including  orchids, camellias, cycads, and bonsai, examples of which may be found throughout the grounds. These core collections are being preserved, expanded, studied and promoted for public appreciation, and support many areas of botanical research including conservation and cryopreservation. The collections also serve as the foundation of The Huntington's educational programming, including botanical lectures, gardening workshops and demonstrations and plant sales. 
The Huntington Library is one of the world's great independent research libraries with more than 11 million items spanning the 11th to 21st centuries. Only a small portion of the vast collection is on display at any one time; ongoing exhibitions, Remarkable Works, Remarkable Times in the Main Exhibition Hall, and Beautiful Science: Ideas that Changed the World in the Dibner Hall of the History of Science. Temporary themed exhibitions are presented in the smaller West Hall. In the library you'll find rare works like Gutenberg's Bible, which was the first book printed with movable type in the West. The Huntington copy is one of 12 surviving copies printed on vellum, and one of three such copies in the United States. The Huntington will celebrate the centennial of its founding, opening eight acres of new features in The Huntington's Chinese Garden beginning May 30, 2020.
Tickets may be purchased onsite at the time of your visit, or online. General admission includes entrance to all exhibitions, galleries, and gardens.
Website: huntington.org
[optin-monster-shortcode id="wx4siocijwtsnrrubogs"]
National WWI Museum and Memorial
Kansas City, Missouri
The National WWI Museum and Memorial is America's leading institution dedicated to remembering, interpreting and understanding the Great War and its enduring impacts on the global community. The Museum and Memorial holds the most comprehensive collection of World War I objects and documents in the world and has been ranked among the top five museums in the nation by Yelp as well as the No. 1 attraction in Kansas City by TripAdvisor.
The Museum and Memorial takes visitors of all ages on an epic journey through a transformative period and shares deeply personal stories of courage, honor, patriotism and sacrifice. Designated by Congress as America's official World War I Museum and Memorial and located in downtown Kansas City, MO., the National WWI Museum and Memorial inspires thought, dialogue and learning to make the experiences of the Great War era meaningful and relevant for present and future generations.
The Main Gallery of the National WWI Museum and Memorial holds the permanent exhibition, The World War, 1914-1919. Through original objects and documents, video, recreated trenches and interactive tables, the Main Gallery shares a comprehensive history of the First World War with visitors. Among the collections in the Main Gallery are a French-made Renault FT-17 tank, a walk-through crater that illustrates the effects when a farmhouse is struck by a 17-inch howitzer shell, and life-size trenches, which offer ground-level views into six different trench scenes.
Current exhibitions are housed in Memory Hall and Exhibit Hall, Ellis Gallery and the Wylie Gallery, a state-of-the-art special exhibition space that opened in 2018. These exhibitions tell stories about WWI, often drawing from the Museum and Memorial's archives of more than 330,000 objects and documents.
Special rates are available for groups of 15 or larger when booked in advance.
Website: theworldwar.org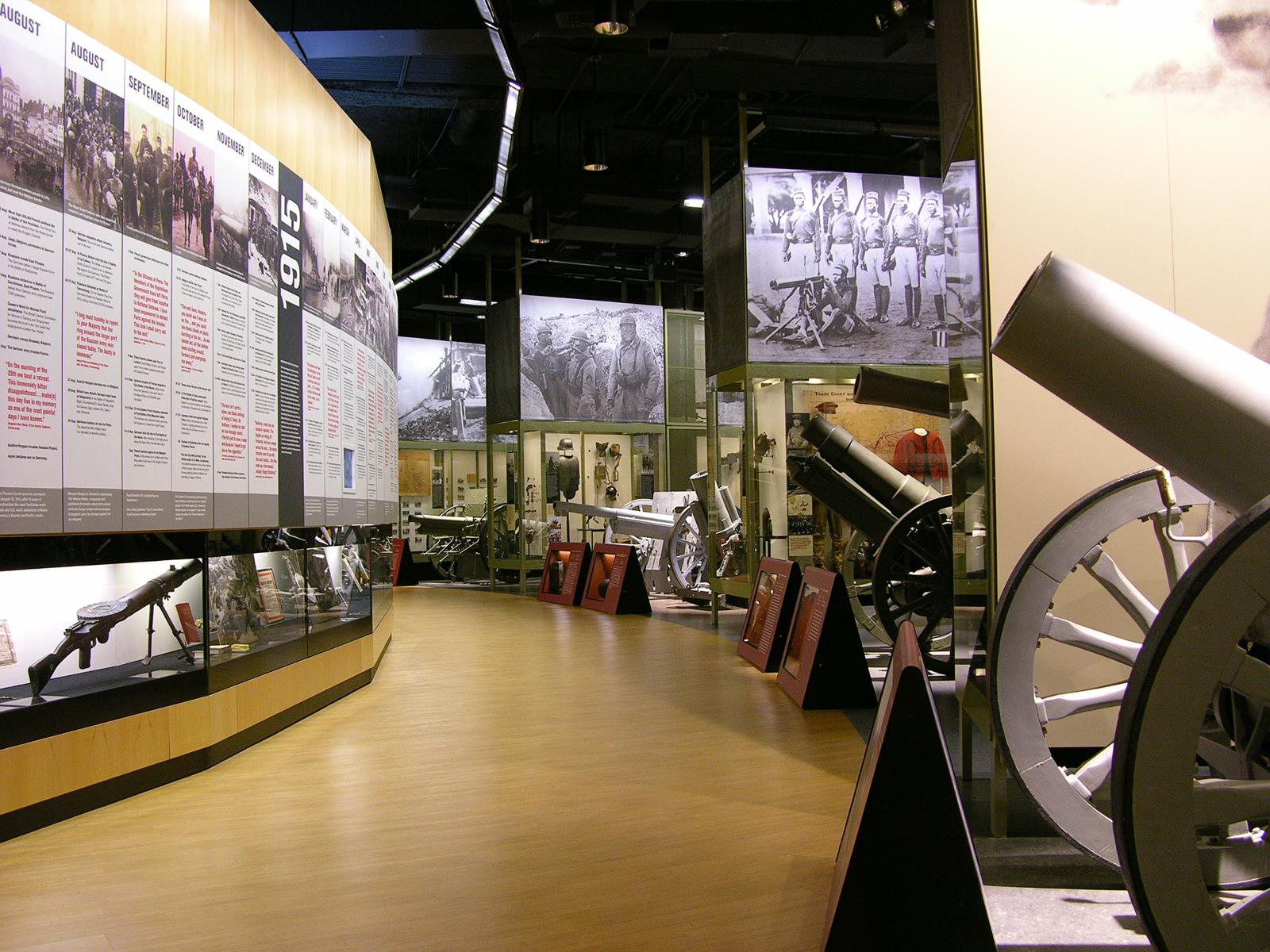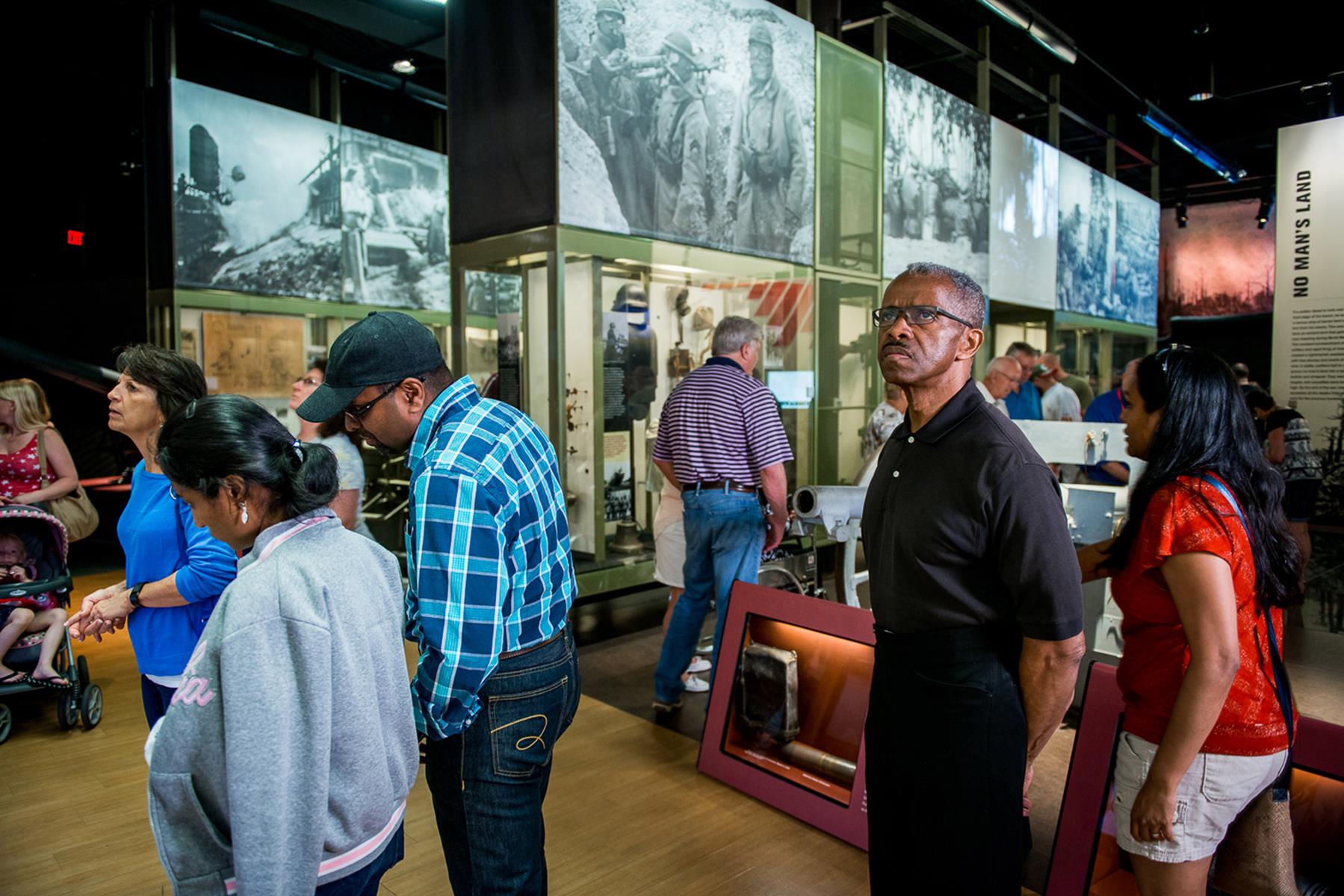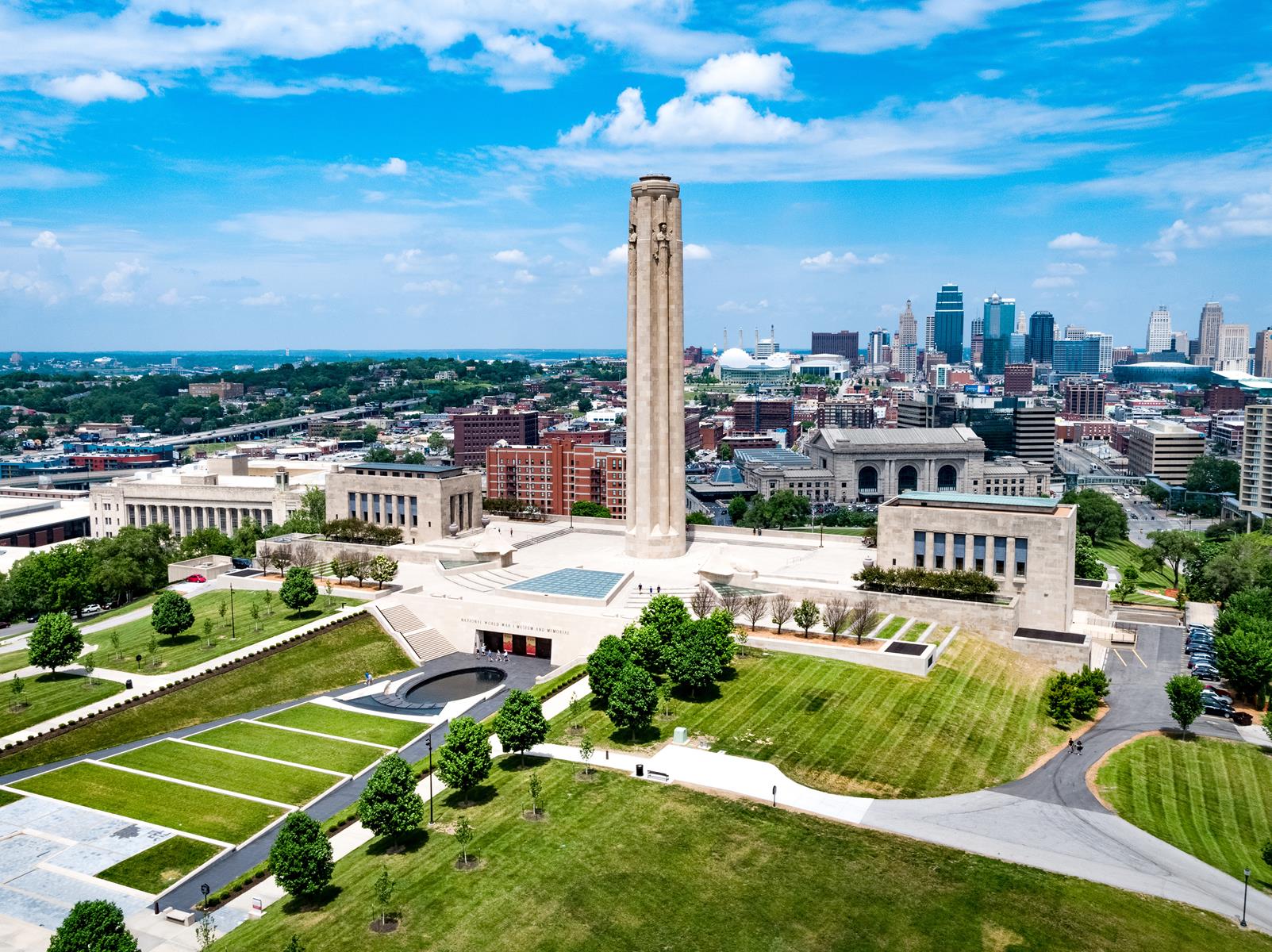 [optin-monster-shortcode id="zadfboccgknqdvin4xji"]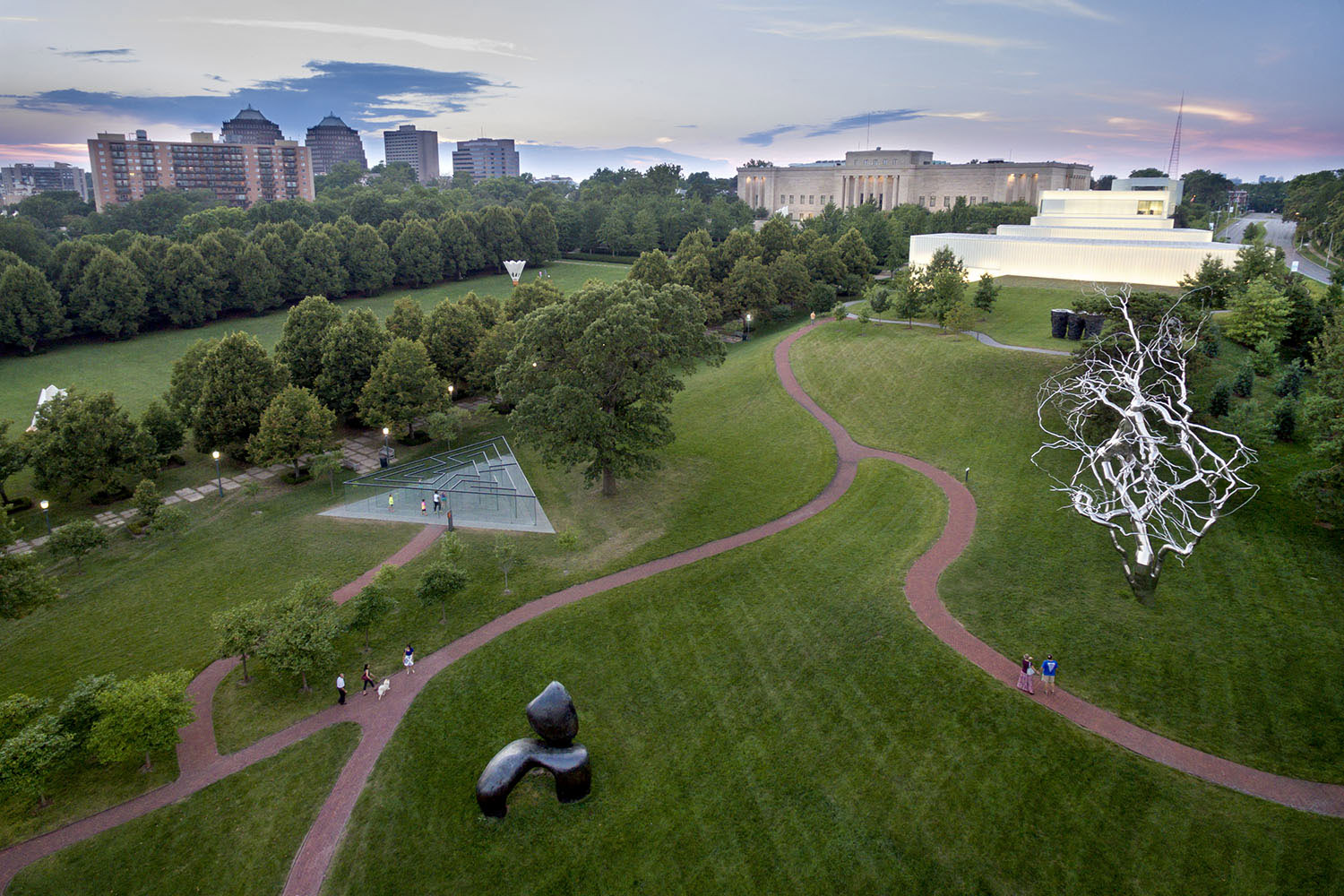 The Nelson-Atkins Museum of Art
Kansas City, Missouri
From ancient Egyptian burial objects to Monet's Water Lilies, Nelson-Atkins Museum of Art showcases art from across time and cultures. The museum is located in the heart of Kansas City, three blocks east of the Country Club Plaza, which creates the perfect opportunity to combine shopping and art in one day.
With free general admission, visitors are welcomed warmly and invited to explore at their own pace, or as part of any number of tours offered each day. In the original Nelson-Atkins Building, they will discover a world-class Chinese collection, American and Native American art, and paintings from the Renaissance to Impressionism. Not to miss: Caravaggio's Saint John the Baptist in the Wilderness.
In the contemporary Bloch Building, visitors find contemporary art, photography galleries, and African art, as well as the serene Noguchi Court. Outside, in the Donald J. Hall Sculpture Park, guests can walk pathways lined with trees, flowers, benches, and modern sculpture. The perfect setting for selfies!
Each year, the museum also presents special focus exhibitions and ticketed exhibitions. In 2020, featured shows are Queen Nefertari: Ancient Egypt, on view through March 29, and American Art Deco: Designing for the People, 1918—1939, on view from Oct. 30, 2020 to Feb. 14, 2021. Tickets to exhibitions are $18, but groups of 10 or more receive discounted $14 tickets. Children 12 and under are always free. The museum offers a robust schedule of tours, and groups of 12 or more are asked to schedule tours three weeks in advance: www. nelson-atkins.org/tours.
When it's time to relax, guests have many options. Lunch is available in the Italian courtyard-style Rozzelle Court Restaurant. Coffee and snacks are served in the coffee shop in Bloch Building. Unique, artsy items are available at the Museum Store. And new to the museum: the Tivoli Theater, showing the best of independent, foreign, and art-related films.
Website: nelson-atkins.org
[optin-monster-shortcode id="i2b4mhqsqom82f1y1d11″]
Phillip and Patricia Frost Museum of Science
Miami, Florida
Located in downtown Miami's Maurice A. Ferré Park, the Phillip and Patricia Frost Museum of Science (Frost Science) is a leading science museum dedicated to sharing the power of science, sparking wonder and investigation, and fueling innovation for the future. Sitting on four acres, the 250,000-square-foot museum divides into four buildings: The Frost Planetarium, Aquarium and the North and West Wings. At Frost Science, visitors can explore the world of science, technology, engineering and math in an experiential setting with interactive exhibitions and unique shows.
A Mirror Maze: Numbers in Nature is a new interactive and immersive exhibition at the Frost Science, on view until April 12, 2020. This special exhibition exposes and explains the mathematical patterns that abound in the natural world. The centerpiece of A Mirror Maze is an elaborate mirror maze where guests can lose themselves in a seemingly infinite repeating pattern of mirrors. This arrangement of symmetry and tessellation provides an introduction to patterns and how math surrounds us every day. Dead ends are scattered throughout the maze, and hidden within the experience is a small secret room, rewarding guests with bonus puzzles and artifacts.
Another highlight is the museum's MeLaB exhibition which has been re-envisioned and enhanced. MeLaB provides a memorable opportunity for guests to connect with the exhibition's focus on health and well-being. It features new interactive experiences including Crush the Calories, an action-packed game that encourages movement and a Health Lab, where guests can step into the shoes of a health scientist and conduct experiments. The exhibition also features an art installation focused on mental health that reacts to your facial expressions.
Frost Science's group rates are: Adults $24.00; Youth (ages 3-11) $17.00. This includes one planetarium show. Standard rates are: Adults $29.95; Youth (ages 3-11) $20.95. This includes one planetarium show. Children (2 and under): Free. 
Website: frostscience.org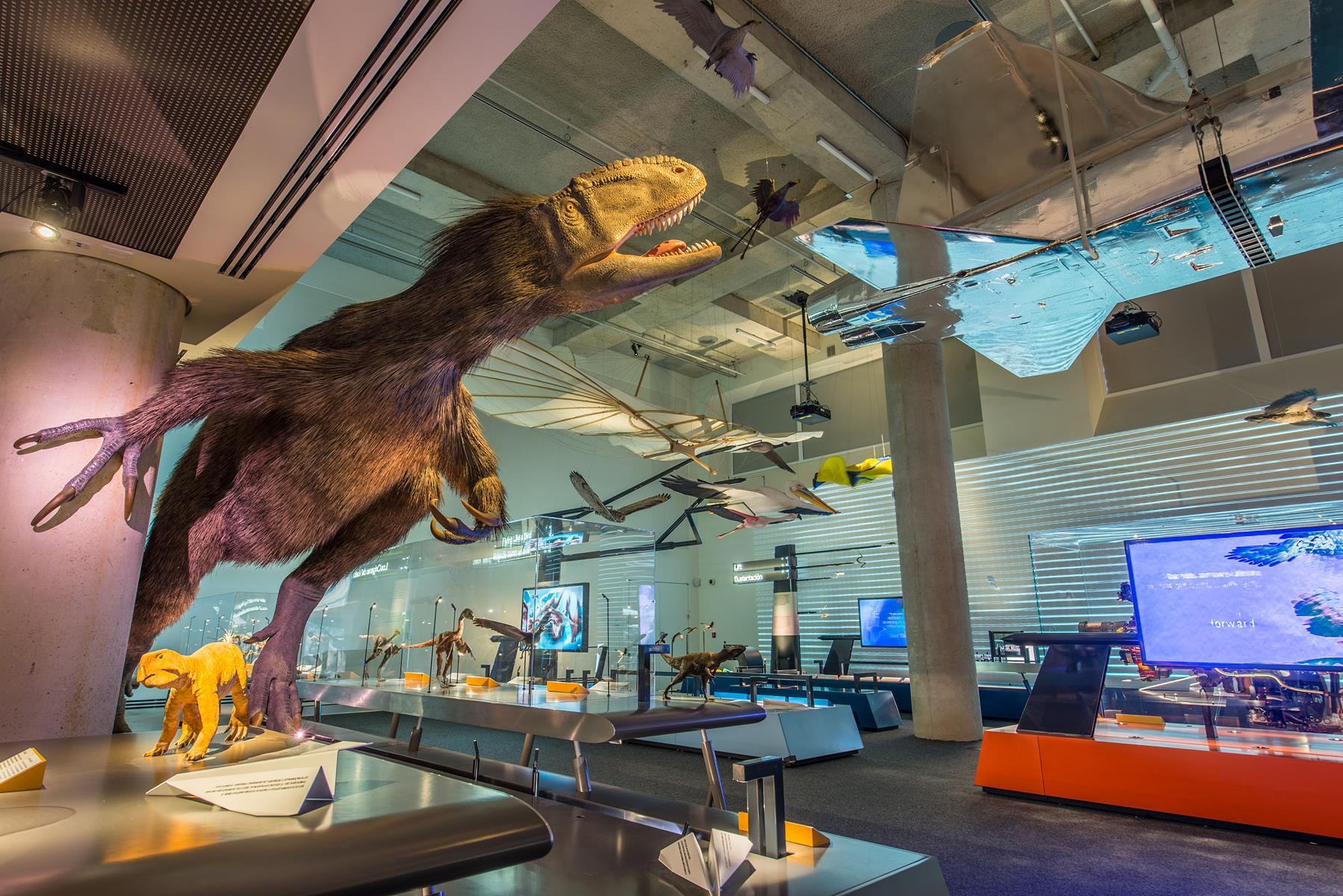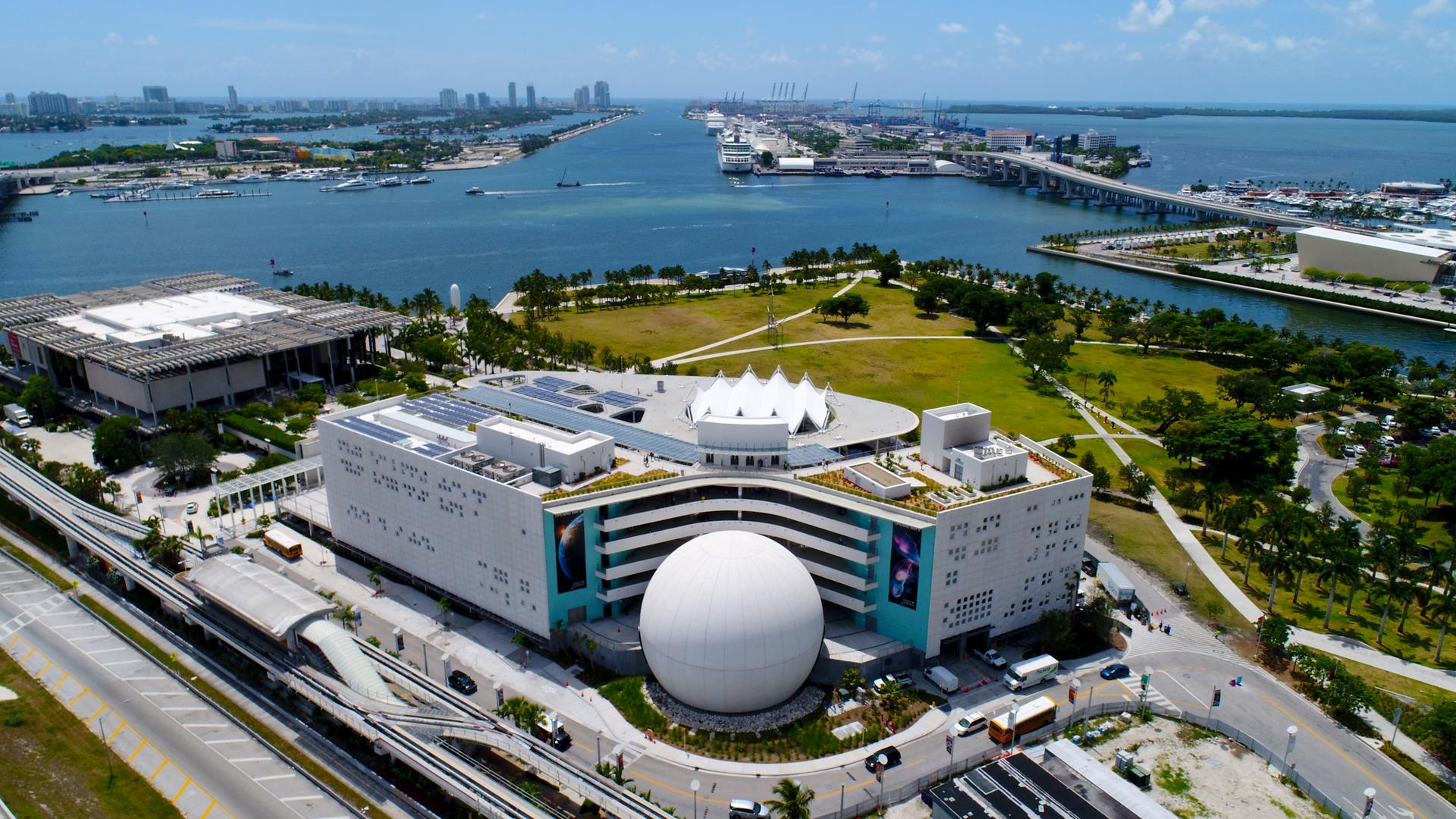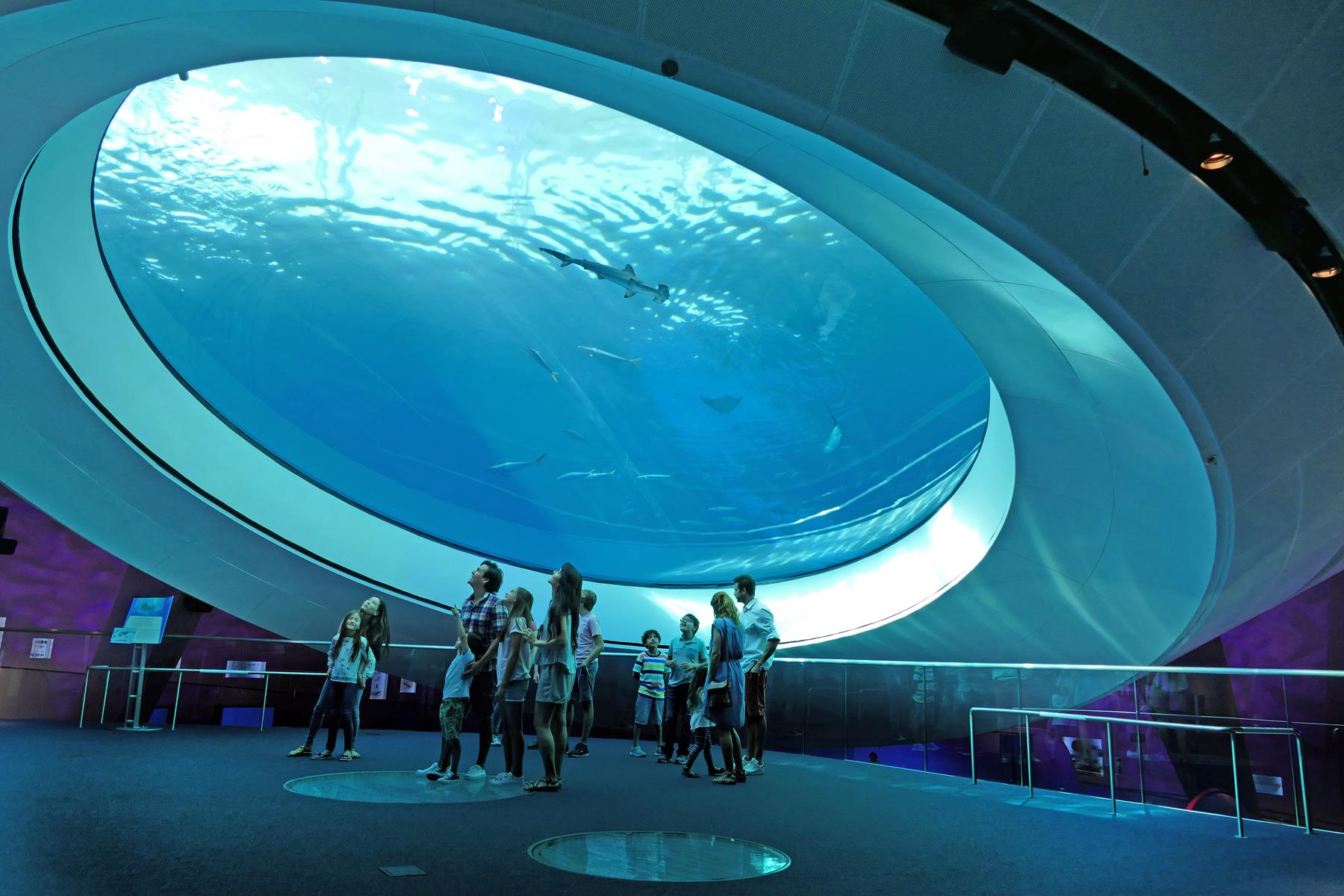 [optin-monster-shortcode id="uyqxdvp3xr6zgirk4gqu"]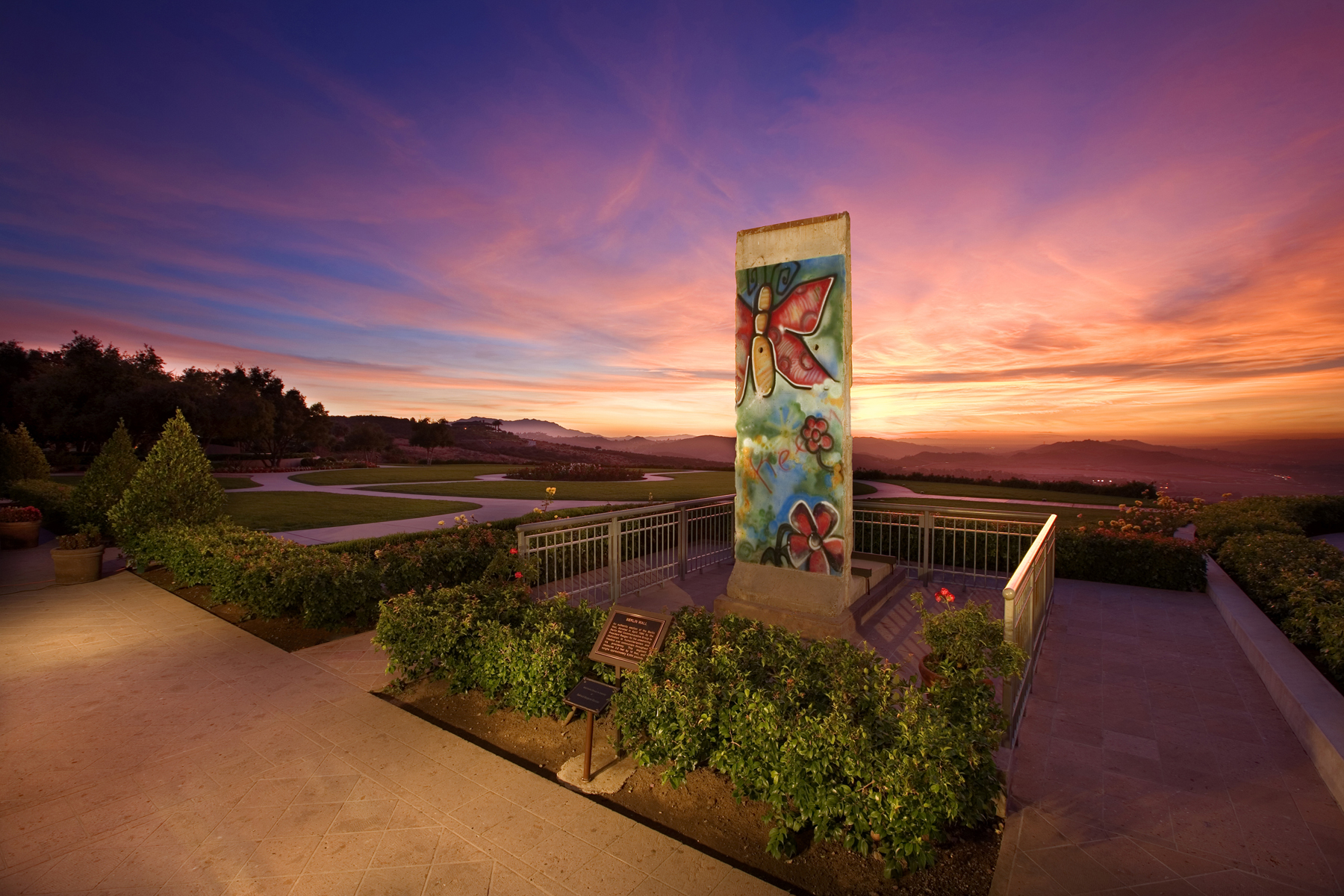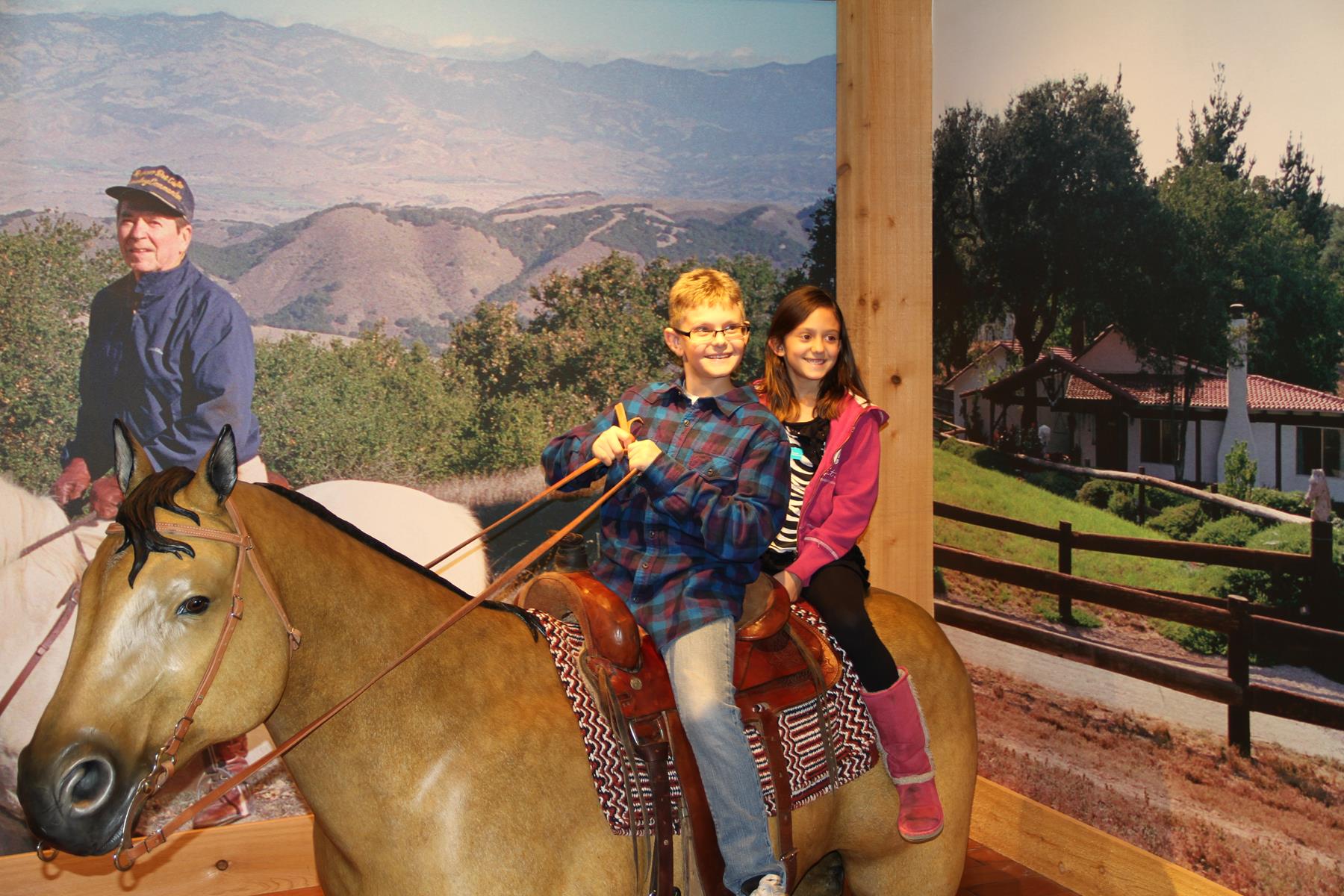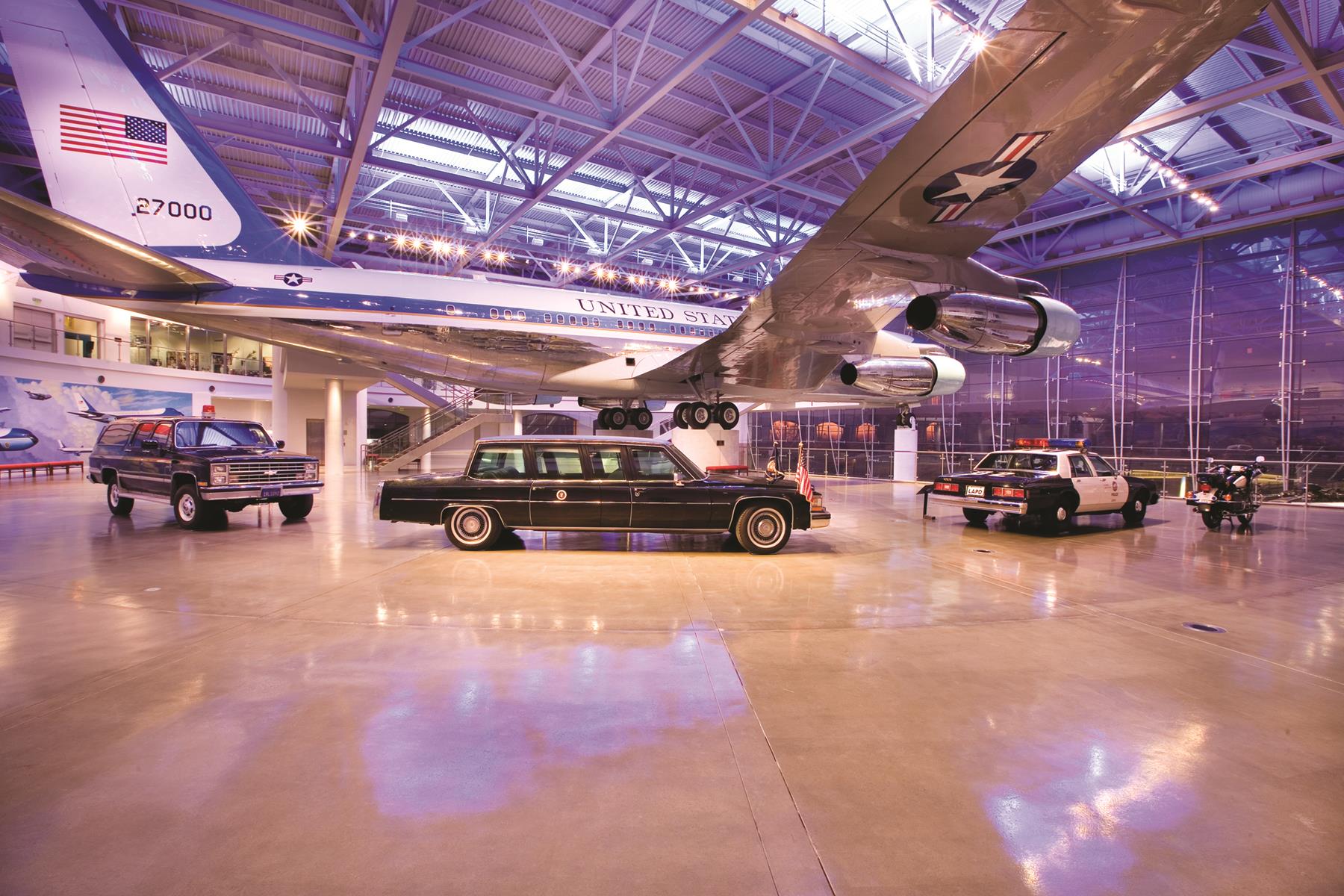 Ronald Reagan Presidential Library and Museum
Simi Valley, California
In a storied career that spanned more than five decades, Ronald Reagan inspired Americans to achieve more than they imagined. His legacy thrives at The Ronald Reagan Presidential Library & Museum where events and exhibits rediscover his values, actions and spirit of determination.
This is the only place in California where you can tour an Air Force One airplane (which served seven U.S. presidents) and a Marine One helicopter (which served President Lyndon B. Johnson). In 2019, the museum added a F-117 Stealth Fighter guests can view in awe, and it also opened a gallery featuring a stunningly realistic hologram of President Reagan in three different scenarios, in the Oval Office, at Rancho del Cielo, and on the Whistlestop Train Tour during his 1984 campaign. Twice a year, the museum presents traveling exhibitions that entertain and educate visitors. Past exhibits have included the Vatican, Pompeii, the Titanic and Abraham Lincoln. From May to October, the museum will feature an exhibit called: "FBI: From Al Capone to Al Qaeda."
The museum features two on-site restaurants – a full-service café and grab-and-go pub. Tour group meals are available for pre-order, including barbeque buffets under the wings of Air Force One. The library and museum is open year-round from 10 a.m. to 5 p.m., and is closed only on Thanksgiving Day, Christmas Day and New Year's Day. Groups can self-guide or can buy an upgraded ticket to either enjoy an audio tour (featuring over 50 stops in the main galleries in President and Mrs. Reagan's voices plus an additional 10 to 20 stops in temporary galleries) or have a docent-led tour. Groups of 25 or more that book together receive $5 off per ticket.
Website: reaganfoundation.org/library-museum/
[optin-monster-shortcode id="mdoshoa3mllrfmi6gydn"]
The Mob Museum
Las Vegas, Nevada
The Mob Museum in downtown Las Vegas offers a bold and authentic view of organized crime from vintage Las Vegas to the back alleys of American cities and—increasingly—across the borders and networks of the entire world. Explore the real stories and actual events of Mob history through interactive exhibits and one-of-a-kind Mob and law enforcement artifacts found inside its restored 1933 former courthouse and post office building located just minutes from Fremont Street.
Recently, the Museum launched several experiences and exhibits including The Underground—an immersive Prohibition history exhibit complete with a working speakeasy and distillery. Other additions include Organized Crime Today, an interactive Crime Lab Experience and Firearm Training Experience, which places guests in the shoes of law enforcement officers and exposes them to the types of training exercises officers undergo to be prepared for use-of-force situations.
In addition to its four floors of exhibit space, the Museum provides an array of special offerings designed to enhance group visits, including engaging field trips, the interactive Crime Lab and private guided tours for guests who want a narrated, interactive history of the exhibits. The Mob Museum offers audio tours in English, Spanish, Mandarin, Portuguese, German, Italian and French. Other unique activities include Mob Mystery, a new team-building activity where groups must work together to prevent a crime from being committed, and a distillery tour and tasting in which guests have the chance to explore The Underground. Special rates are available for groups of 10 or more.
Since opening in 2012, The Mob Museum has accumulated numerous accolades, including being named one of TripAdvisor's "Top 25 U.S. Museums," one of Las Vegas Weekly's "Twenty Greatest Attractions in Las Vegas History," USA Today's "Best Museum in Nevada" and one of its "12 Can't Miss U.S. Museum Exhibits."
Website: themobmuseum.org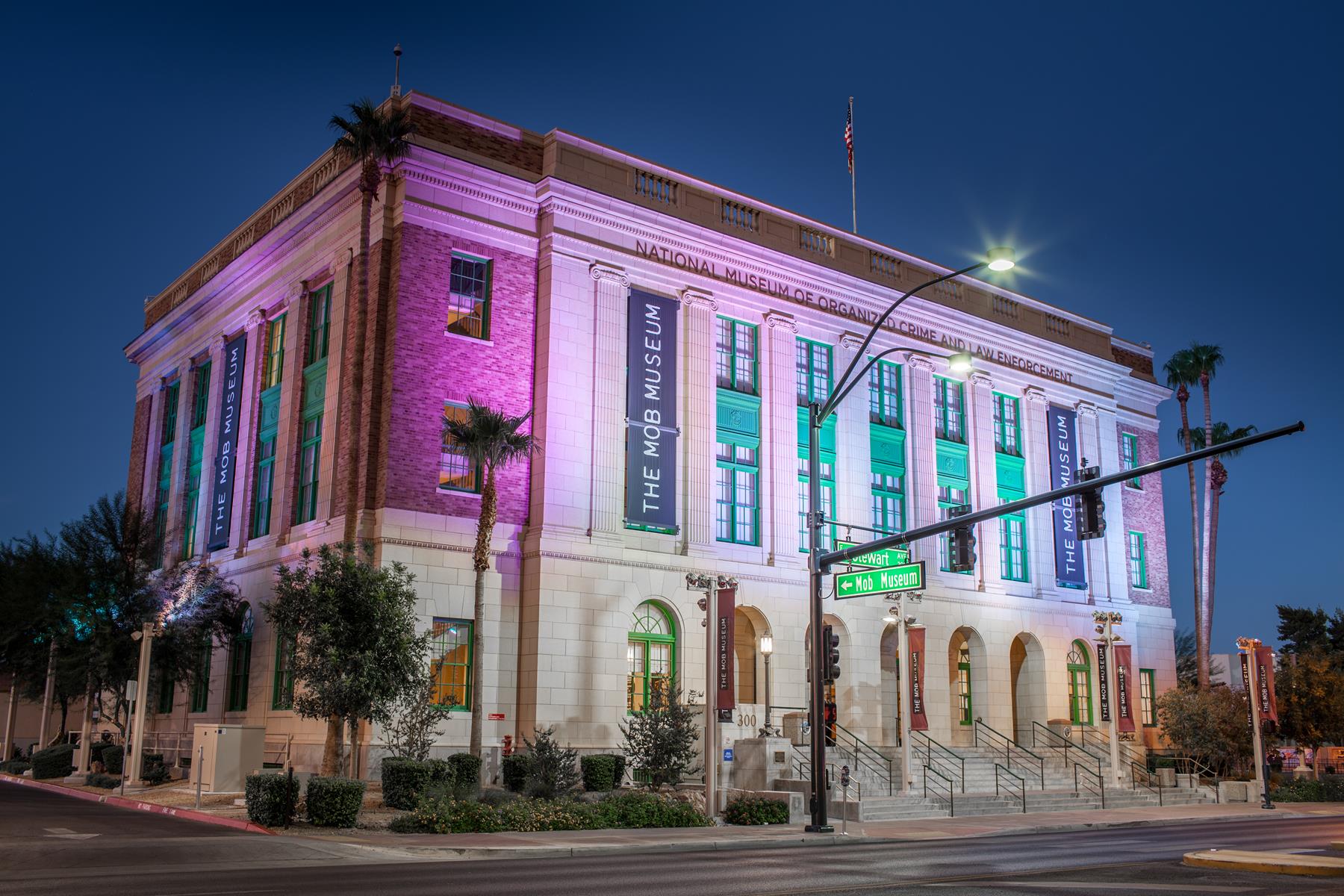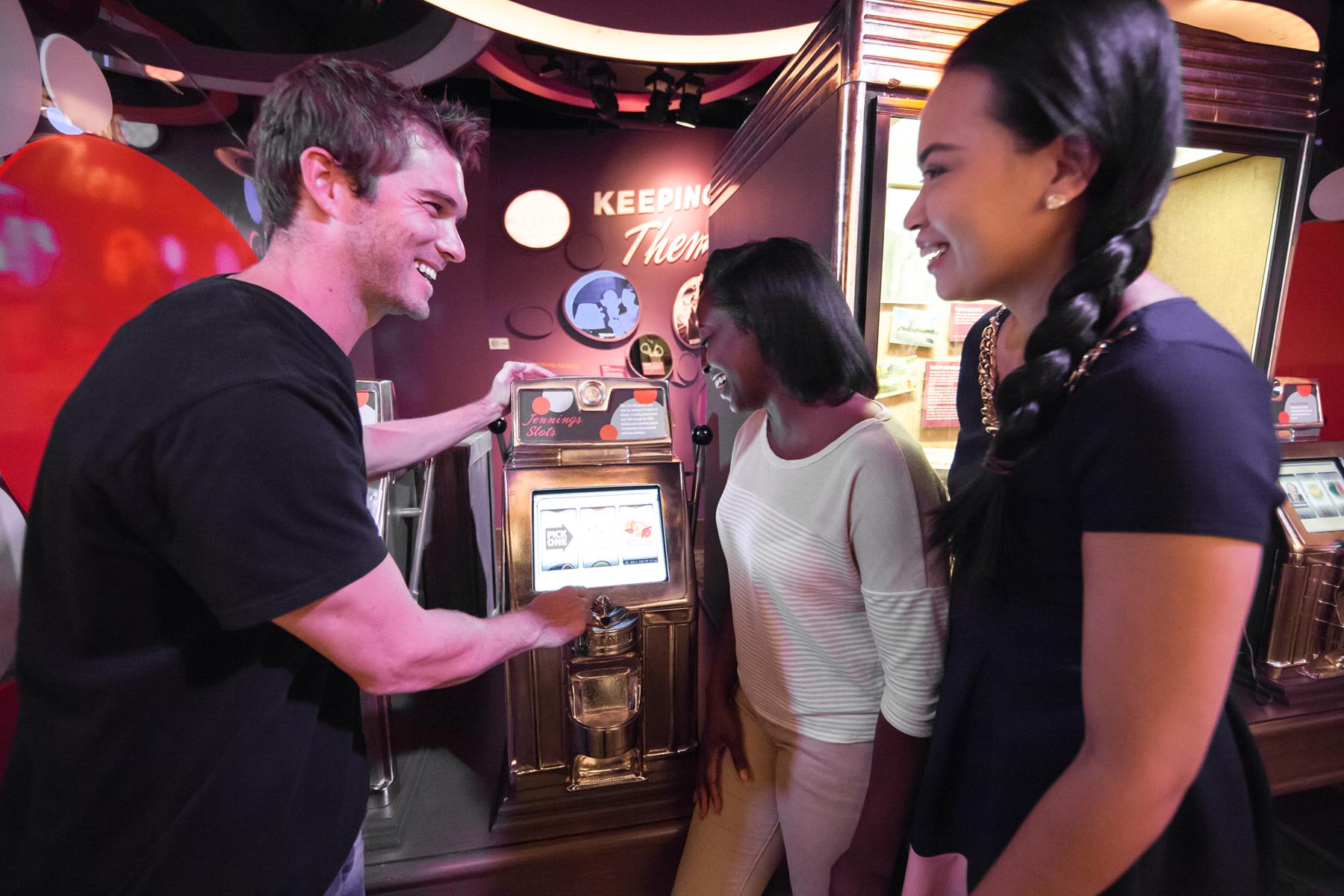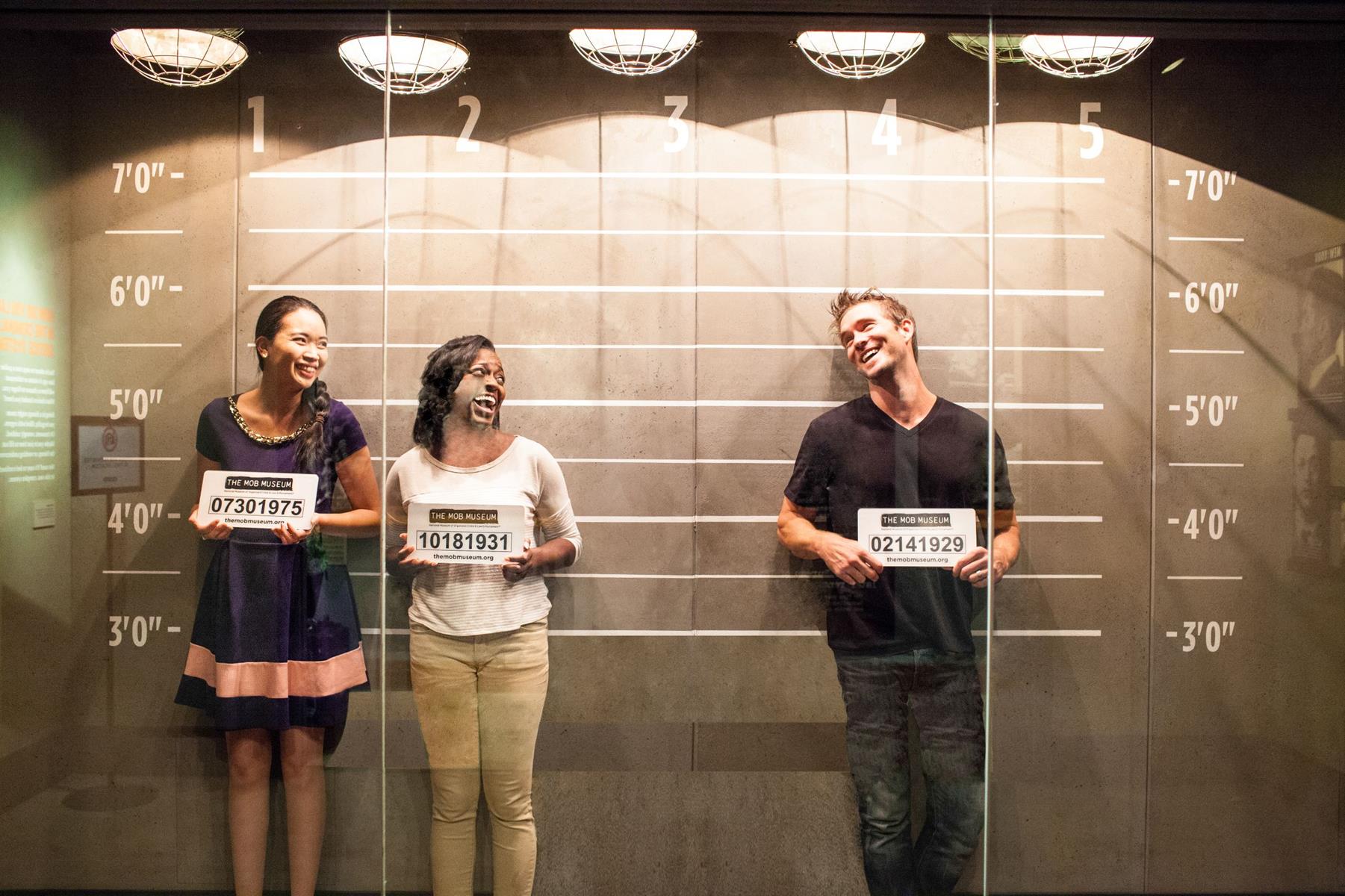 [optin-monster-shortcode id="k9hbjyag6d2nvye2tfcv"]