Grand County, Colorado is a grand destination with Old West flavor etched into mountains, ranches and shops
Grand County, Colorado means majestic mountains, fast-running trout streams, an Old West flavor and a wide variety of sports activities that attract groups of all sizes and interests throughout much of the year.
Located just about 67 miles from metropolitan Denver, and just 90 miles from Denver's International Airport, Grand County boasts some of the most "weather-reliable" ski slopes in the nation, with up to 400 inches of snow annually.
With the popular Ski Train running again to Winter Park from Denver, thousands of skiers—both individuals and ski clubs—have an easy, relaxed way to reach the slopes. Last year 18,000 tickets were sold for the train, which operates over 56 miles of trackage and runs through 29 tunnels before reaching Winter Park. The famous 6.2-mile-long Moffat Tunnel built in the late 1920s brings skiers—or anyone who wants to experience the white powder—right to the doorstep of Winter Park Resort.
Steve Hulbert, manager of public relations for Winter Park Resort, which is owned by the City of Denver, says, "We see about one million visitors each ski season here, and from Christmas through March the resort is completely full. It's easily one of the top 10 ski areas in the country."
The 76-year-old Winter Park Resort has 550 rooms, and offers skiing, tubing, ice skating, snowshoeing, snowcat tours, a chairlift ride, a mountain slide, miniature golfing, a maze and rock climbing wall. It also features an array of restaurants and cafes, sport shops, gift shops and a mercantile with groceries and other day-to-day items, and free transportation to the town of Winter Park, which is located just two miles away and with even more dining and shopping options.
The resort is essentially a small self-contained city that provides convenience to those residents who may not have a car. Groups arriving by car, train or bus have many essential amenities readily available.
Early Group Encounters in Grand County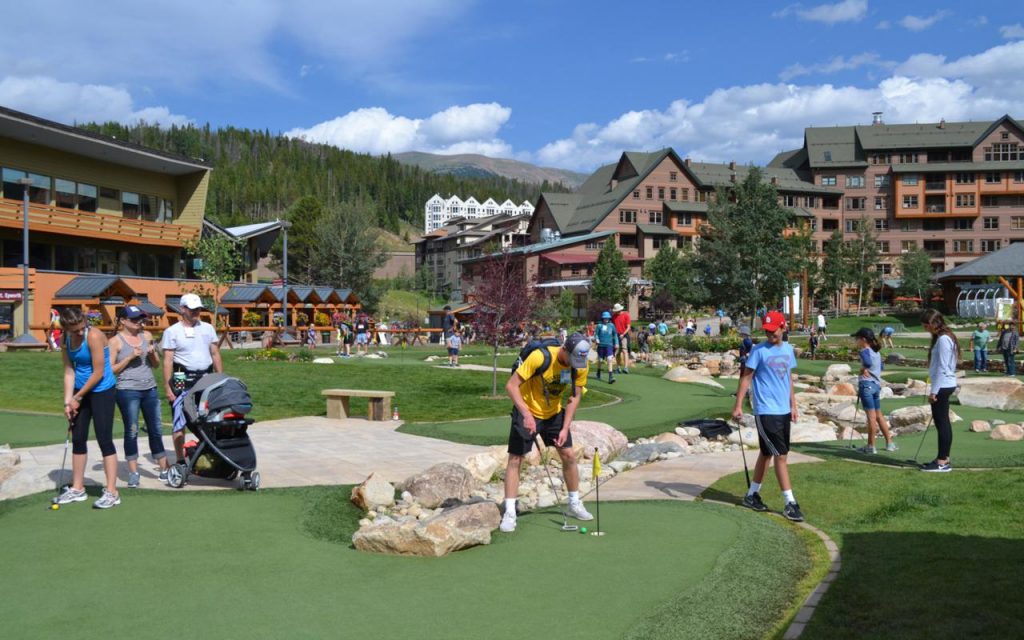 Grand County has been a mecca for large and small visiting groups since the 1890s, from church ski groups to weddings to larger special group events. The Ski for Light program for the blind and visually impaired (consisting of 250 people) has been coming to the area every couple of years since the early 1990s.
"There's something for everyone," says Dede Fay, sales manager for the Grand County Tourism Board. "From casual family reunions and weddings to down-to-business corporate retreats, you can't find a better destination."
With a large number of dude ranches, resort-style hotels, condominium units, bed and breakfasts, and camping facilities, the county has room for group meetings from five to 500. Many of the ranches offer special group packages.
One especially intriguing ranch is Devil's Thumb Ranch Resort & Spa, a 6,000-acre playground nestled among rolling hills and rugged mountains between Fraser and Tabernash. The modern, upscale ranch features cross-country skiing, snowshoeing, horseback riding, wagon and sleigh rides, guided hikes, walking trails, tubing, ice skating, a zipline park, fly fishing, stand up paddleboarding, yoga, archery, swimming, mountain biking, an 18,000-square-foot spa and more. In 2015 and 2016 it won Colorado's Best Meetings & Events award and has picked up numerous other awards in the last few years.
The lodge is outfitted with Americana furnishings for a rustic,Western-style look. Besides 52 rooms in the main lodge and 31 rooms in the nearby High Lonesome Lodge, there are 15 ridgetop cabins, bunkhouse lodging and offsite accommodations.
The rear of the lodge looks upon the Indian Peaks mountain range, offering grandiose views of nearby forests and hills which guests can enjoy from their accommodations or from common areas of the lodge. The lodge's main restaurants—Heck's Tavern and the Ranch House Restaurant—have earned the Wine Spectator Best Award of Excellence and many other awards.
Also located in the area is the YMCA of the Rockies/Snow Mountain Ranch, Granby Ranch, Grand Lake Touring Center, CLazyU Ranch and Latigo Ranch. Area ranches offer everything from down-and-dirty cattle drives for guests to square dance dinners, and rustic cabins to elegant lodges. Most ranches offer a range of activities for groups such as horseback riding, tennis, golf, cross-country skiing, swimming, hayrides, river rafting, overnight pack trips and cookouts.
Four Bodies of Water
Groups with a sense of adventure will enjoy Grand County's main bodies of water—Grand Lake, Lake Granby, the Colorado River (with several sections designated Gold Medal Streams and Wild Trout Waters) and several large reservoirs.
There are more than 1,000 miles of streams, 1,000 acres of high-mountain lakes and 11,000 acres of reservoirs in the county. Along with fishing, power boating, kayaking, whitewater rafting, sail boarding and canoeing, there are winter water sports available such as ice fishing. The county also attracts groups for bird watching and photography, hiking and mountain climbing.
The local lodges and ranches offer many areas for cross-country skiing and snowshoeing, as well as hiking and biking trails. The area is also home to four snow tubing hills, including Fraser Hill, which is groomed, lighted and has a lift.
Rocky Mountain National Park
Nearby is picturesque Rocky Mountain National Park, and the west side is the "quiet side." The park is ranked as one of the 10 most visited national parks in the U.S., with 4 million visitors annually. Access through the park here is at Kawuneeche Visitors Center (open year-round), which experiences only a third of the traffic as on the eastern side of the park. Animals such as moose and elk tend to gather not far from the park road on this side, where mountain streams provide a refreshing drink.
In the park visitors can picnic, hike the Never Summer Ranch area, tour Holzworth historic site (a 1920s-era dude ranch), take a refreshing walk to Adams Falls, go camping at Timber Creek Campground or other park sites, or drive up Trail Ridge Road to the Alpine Visitors Center. There are educational bus tours in the park on the west side on certain dates.
Grand County also boasts two Colorado Headwaters Scenic and Historic Byways. One byway begins in Grand Lake and follows the Colorado River south through Granby, Hot Sulphur Springs, Parshall and Kremmling. The drive ends with a spectacular view of the rugged Upper Gore Canyon. Trail Ridge Road Scenic Byway runs through Rocky Mountain National Park and is the highest road in the U.S. It's famous for its sweeping vistas.
For golfers there are four distinctive mountain courses within 25 miles of one another, and all framed with superb mountain views.
Originally this area of the Rockies was settled by the Ute Indians, and the first wagon road was built over Berthoud Pass in 1861. For history groups, the county seat in Hot Sulphur Springs houses the Grand County Museum, which features the town's original courthouse, blacksmith shop, a 150-year-old ranch house and several antique railroad cars. The Cozens Ranch, near Fraser and Winter Park, served as a stage stop and post office and is now a museum. At the YMCA of the Rockies, the land there occupies acreage originally farmed by the early Just and Rowley families; a nature park and living museum have now been established on the land.
Grand County is able to accommodate groups that need meeting space with up to 122,500 square feet of conference area available, including small meeting rooms, banquet and meeting halls, and outdoor venues. Many large weddings use this space which typically provides a unique setting for the ceremony and after-wedding activities. Because of the drop-dead mountain views in the county, it's often quoted that "windowless conference rooms never made any sense to someone from there."
Typical Day-By-Day Schedule
A typical five-day schedule in Grand County might include the first day taking it easy and acclimating to the altitude, and maybe relaxing in the hot sulphur springs. The second day you can experience the Western flavor of the area, including a horseback ride and a rodeo. The third day try an outdoor adventure such as hiking or biking. Day four visit Rocky Mountain National Park and enjoy a picnic outdoors and then stroll along the boardwalk at Grand Lake. On day five go fishing at Williams Fork or Wolford Mountain reservoirs, and take in some whitewater rafting.
No matter what you plan, your group will want to spend some time at Grand Lake. It features the largest natural body of water in Colorado and has inspiring Mount Baldy as a backdrop. The high-altitude and beautiful Never Summer Range behind the lake typifies the scenery in this area.
The town of Grand Lake sports wood-planked boardwalks with 60 shops, Western-style restaurants (the Sage Brush is unique), a local ice cream stand, and friendly folks with smiles and cowboy hats. At the modern town waterfront, your group can board a flat-bottomed boat at Headwaters Marina for a captivating tour of the lake, complete with a knowledgeable guide who will explain the detailed history of the lakeside homes, and the residents.
Grand Lake Mountain Repertory in downtown celebrates its 50th year in 2017 and draws large crowds to such performances as Mamma Mia, West Side Story and Almost Heaven. The theater offers Broadway-caliber productions with professional company members in a state-of-the-art facility.
Also worth a visit is the Kauffman House Museum, a former stage coach stop and restored log hotel, built in 1892. The museum gives a glimpse onto the town's early days and its colorful characters.
Whether it's winter sports or summer activities your group is looking for, Grand County presents an expansive and colorful range of options that should meet most groups' expectations.
If You Go…
More Winter Park Resort information is available at winterparkresort.com or call 970-726-1564. In Grand Lake, information on the Western Riviera Lodge located right on the lake is available at westernriv.com or call 970-627-3580. Information about Grand County is available at visitgrandcounty.com.