A Montana road trip showcases the best of the West
If you've come to western Montana for jaw-dropping vistas, you'd be in the right place, for the mountains, lakes, rivers and wide-open spaces typify what it means to be in Big Sky Country. Throw in watchable wildlife, outdoor adventure activities, pioneer heritage and Indian lore—along with a slice or two of huckleberry pie—and you've got a pretty special part of the world.
The trip from Glacier National Park, which hugs the U.S.-Canada border, to Yellowstone National Park takes in a broad swath of territory that mirrors the true spirit of the American West. There are almost too many highlights to count.
Any group tour to this neck of the woods has to include Glacier National Park, called the "Crown of the Continent." Its jagged peaks, deep gorges, waterfalls and high alpine meadows are altogether stunning. There are 37 named glaciers and 762 lakes. The park's Going-to-the-Sun Road, a 50-mile engineering marvel that stretches between West Glacier and St. Mary, features many scenic overlooks, cresting the Continental Divide at 6,646 feet at Logan Pass. The National Park Service operates a free shuttle service on the iconic road from July through Labor Day, with stops at the must-see sights, and guided tours are offered by the park's vintage Red Bus fleet that has been around since 1936. Sun Tours provides the experience from the perspective of the Blackfeet Tribe. Narrow, winding and steep, Going-to-the-Sun Road can be challenging for anyone afraid of heights.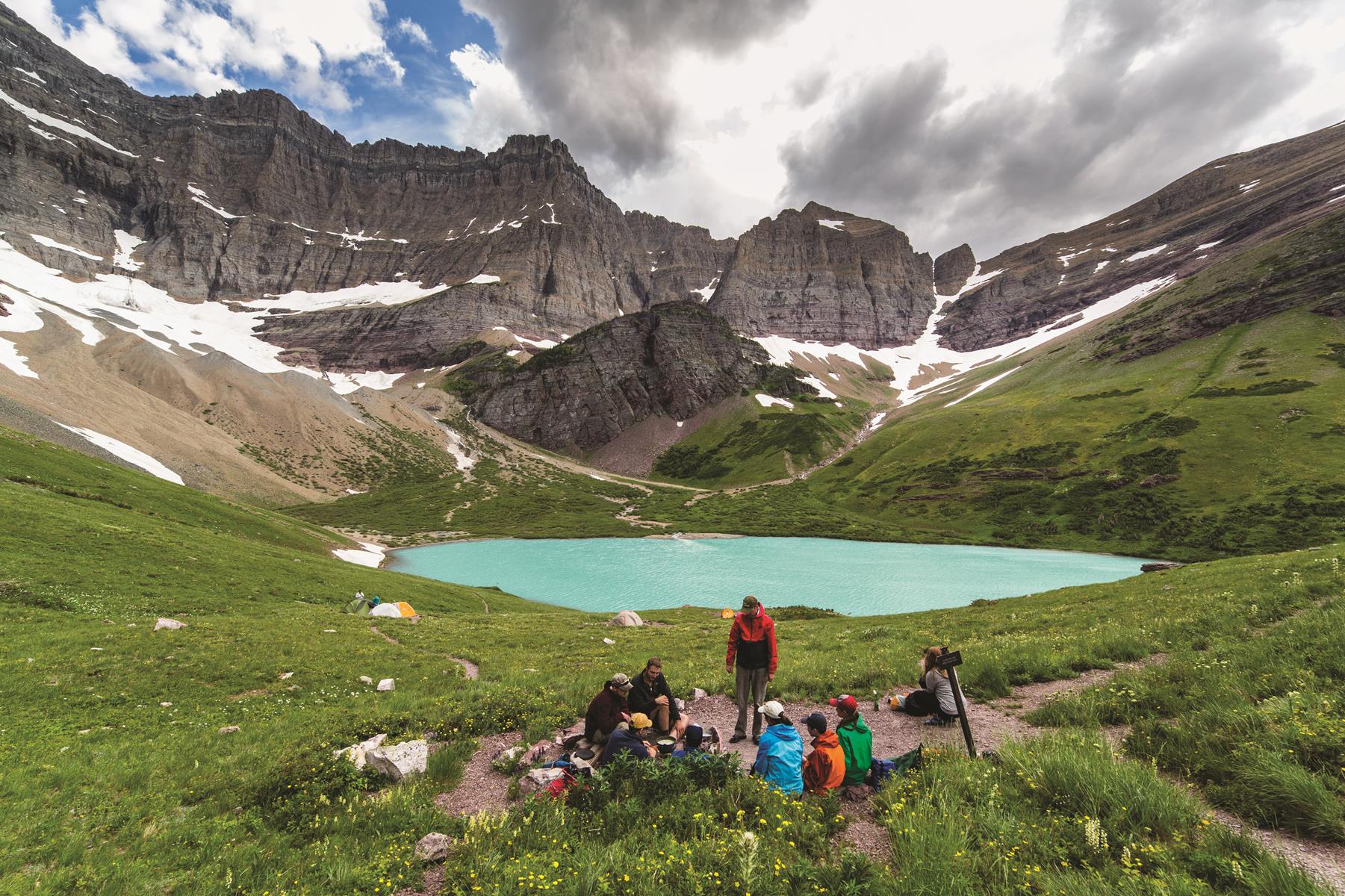 Boat cruises capture Glacier's majesty from a different point of view. Glacier Park Boat Company operates 45- to 90-minute lake excursions from four lodges; some trips include guided walks and hikes. St. Mary Lake, ringed by dense forests and soaring, snow-crested peaks, is considered the most picturesque. Outside the park, private outfitters offer whitewater rafting and calm float trips on the Middle Fork of the Flathead River, which borders the park.
Digital Edition Sponsored by
Montana's Glacier Country is home to delightful towns like Whitefish, famed for one of the West's great ski destinations— Whitefish Mountain Resort. Located 25 minutes from Glacier National Park, Whitefish abounds with group activities, including boat cruises from the Lodge at Whitefish Lake and scenic lift rides at Whitefish Mountain Resort. Or consider horseback riding and wagon rides followed by a cookout at Bar W Ranch. Central Avenue is lined with boutiques, art galleries, coffeehouses and restaurants.
South of Whitefish is Kalispell, where shoppers make a beeline to the galleries and one-of-a-kind emporiums along Main Street in the historic downtown district. A town treasure is the 26-room Conrad Mansion Museum, once the abode of a wealthy entrepreneur who carved a niche for himself in the Montana Territory in the late 1800s. Innovative features of the home include a freight elevator, a dumbwaiter, a unique barrel-shaped pass through connecting the kitchen and dining room, built-in fire hoses on each level, and a communication system with an electric call box, intercom and even a speaking tube.
Not far from Kalispell lies a huge body of water that sometimes flies under the radar when people think of Montana, yet Flathead Lake is a recreational magnet and its 185-mile shoreline is dotted with inviting towns. At 27 miles long and 15 miles wide, it is the largest natural freshwater lake west of the Mississippi. At the northern end, where the Swan River flows into the lake, Bigfork makes a great launching point for exploring the area. Earning a place in the book 100 Best Small Art Towns in America by John Villani, the charming town boasts world-class art galleries and Broadwaycaliber performances at the Bigfork Summer Playhouse. The theater this past summer presented shows like Catch Me If You Can, Oklahoma! and Seussical the Musical.
Polson, at the southern end of Flathead Lake, has its own summer theatrical offerings, with shows staged by the Port Polson Players in a 1938 log theater on the lake. Sightseeing and dinner cruises are available from Kwataqnuk Flathead Lake Resort & Casino. The lake has multiple islands, the biggest being Wild Horse Island, home to bighorn sheep and a few elusive wild horses. Surrounding the lake are the snowcapped Mission Mountains, grasslands with grazing cattle and orchards that produce the famous Flathead Lake cherries. Besides scheduled cruises, boats can be chartered by groups, with Wild Horse Island a popular destination for hiking and picnicking.
Polson's most surprising—and engaging attraction—is the Miracle of America Museum. It's an indoor/outdoor treasure chest of Americana with an eclectic collection of antiques, from small things like watches, doorknobs, sheet music and political campaign buttons to classic autos and motorcycles, military vehicles, tractors, a horse-drawn hearse, even a Vietnam-era fighter plane. Put a quarter in the 1914 violano—a violin-piano machine—and be serenaded. The Pioneer Village in back has authentically restored buildings from the area, including an 1890s sod-roofed log cabin, a general store, gas station, old-time dentist's and doctor's offices, and a 1912 school. Offering a walk down memory lane, this fascinating museum has something for every interest.
Polson and much of the area between Flathead Lake and Missoula are on Flathead Indian Reservation land. In Charlo, the Ninepipes Museum of Early Montana spotlights local Native American history and pioneer life through old photographs, artifacts and life-size dioramas, and has an impressive gift shop with quality Indian art.
Ninepipes Lodge, next door to the museum, houses Allentown Restaurant, whose picture windows afford idyllic views of a pond backed the Mission range. The breakfast menu includes huckleberry pancakes, and a shop between the lodge and museum makes huckleberry shakes. As travelers in Montana discover, huckleberries are harvested only in the wild. Prized as a local delicacy, they are not grown commercially. Souvenir stores sell everything from huckleberry jam to huckleberry barbecue sauce, and restaurants serve huckleberry pie.
The Flathead Reservation also encompasses the National Bison Range, a refuge established in 1908 by President Theodore Roosevelt to protect the West's declining bison population, which had been decimated by hunting. Fewer than 300 bison remained at the turn of the 20th century. Three driving trails through the grasslands afford opportunities for bison spotting, and some of the one-ton animals will even come right up to the roadside. Visitors, however, are cautioned to stay in their vehicles, as the animals are dangerous and can run 30 mph. Hiking is permitted only on designated trails. The range is home not only to 350-400 bison but pronghorn, deer and elk as well.
Missoula, a prime air gateway to western Montana, is the state's second-largest city with a population of just over 75,000 and a definite college-town feel. The University of Montana campus contributes to the hip vibe and rich cultural life. Higgins Avenue and surrounding downtown streets offer a bounty of shops, eateries, brewpubs, music clubs and public art. Fanciers of things old make a beeline to the Montana Antique Mall on Railroad Street. Crammed with treasures and trifles offered by more than 60 dealers, it occupies a brick building that operated as a hotel from the 1890s until the 1940s. Steps away from downtown is the Missoula Riverfront Trail, which meanders along both sides of the Clark Fork River. A recreational asset, the river attracts tubing enthusiasts on a hot summer day.
Deer Lodge, 80 miles southeast of Missoula via Interstate 90 and midway between Glacier and Yellowstone national parks, has a number of group-friendly attractions, including Historic Grant-Kohrs Ranch. Operated by the National Park Service as an 1880s working ranch, this former home of a cattle baron is a well-preserved slice of Western heritage. Other draws in Deer Lodge are the Old Montana Prison Complex, Montana Auto Museum and Frontier Montana Museum.
History lovers also flock to the 19th century mining town of Philipsburg, whose enchanting National Historic District is packed with fun shops, including an oldtime candy store and soda fountain. The Granite County Museum features a replica silver mine, and there's summer theater at Montana's oldest opera house. The area has several ruby and sapphire mines that allow digging for a fee. More mining-era history can be found in the historic districts of nearby Anaconda. And not far away is Butte, where the World Museum of Mining, on the grounds of the old Orphan Girl Mine, invites visitors to explore a mining camp and descend 100 feet into the earth on a 90-minute tour. Once known as the "richest hill on earth," Butte was a copper-producing powerhouse and abounds with architectural landmarks like the Copper King Mansion, the 1880s Victorian residence of William A. Clark, a U.S. senator and "copper king." The Butte Trolley Tour gives an overview of the town's history.
South of Butte, the neighboring towns of Virginia City (pop. 190) and Nevada City are true gems. Packed with historic buildings and artifacts, both are ghost towns that remain virtually unchanged from the boom days of the 1860s gold rush. The Alder Gulch Shortline Railroad offers a 1½-mile scenic train ride between Virginia City and Nevada City. Vaudeville shows and melodramas are staged at the Virginia City Opera House.
Bozeman, the air gateway to the Yellowstone region, is considered the adventure capital of the northern Rockies, with many opportunities for hiking, cycling and mountain biking. The town is filled with gear shops, coffee shops, brewpubs and art galleries. The Smithsonian-affiliated Museum of the Rockies, on the Montana State University campus, has an entire T. Rex skeleton and a recreation of a late-1800s Montana homestead.
Yellowstone, established in 1872 as the world's first national park, is massive and offers a wide range of scenic delights, from bison, bears and other wildlife to awesome waterfalls, 10,000-foot peaks and unique geothermal activity. Highlights include the Grand Canyon of the Yellowstone, the bubbling Mud Volcano area and Mammoth Hot Springs. The park boasts more than 15,000 active geysers and hydrothermal features. Old Faithful geyser, the star of the show, erupts at intervals of 40 to 126 minutes. While waiting for Old Faithful to blow, check out the A-framed Old Faithful Inn with its four-story foyer, the largest log structure in the world.
From glaciers to geysers, the splendors of western Montana epitomize America the beautiful.
By Randy Mink