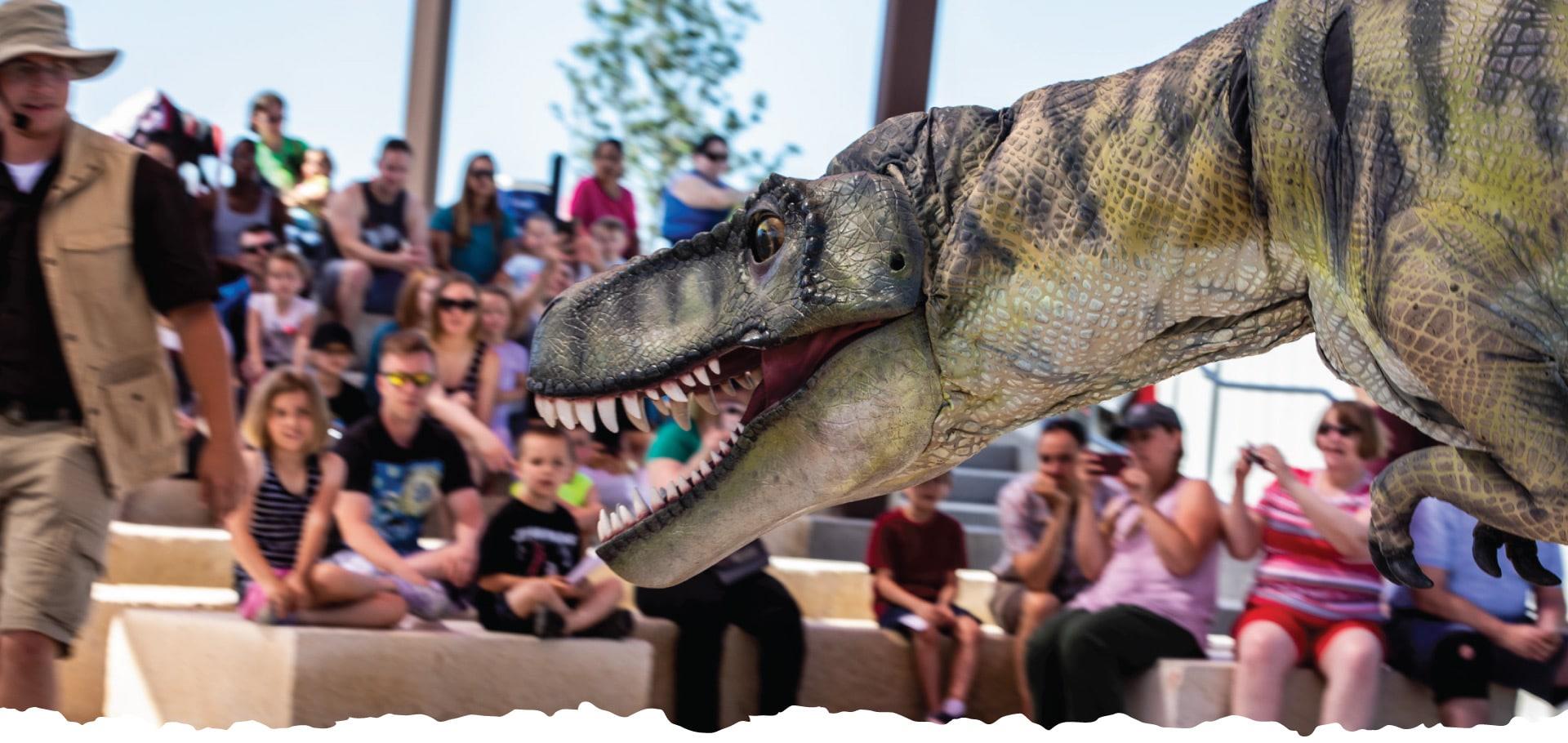 EXPLORE GROUP TRAVEL SUPPLIERS IN THE FRONTIER/MOUNTAIN WEST
WHAT TO DO
Cumbres & Toltec Scenic Railroad
5234 B Hwy. 285 Antonito, CO 81120
Corrine Williams
575-219-3302
www.cumbrestoltec.com/groups
An unforgettable 64-mile day trip that takes you through green meadows and desert landscapes is what this railroad is about. It takes you between the New Mexico and Colorado border with its canyon views. There are two options of cars available to you: a coach car or the deluxe parlor car. Both the car options offer a delicious lunch buffet with many food options for you to devour while you enjoy the beauty of your surroundings.
Durango & Silverton Narrow Gauge Railroad
479 Main Ave. Durango, CO 81301 
Group Sales
970-259-3372
www.durangotrain.com
Named "One of the World's Top Ten Most Exciting Train Rides," the Durango & Silverton Narrow Gauge Railroad in Durango, Colorado does not disappoint. Groups enjoy year-round rides on this over-130-year-old train that takes you through some of the state's most beautiful landscapes. While taking in picture-perfect scenes of mountains, waterfalls and animals, you will learn about the cowboys of the Old West and, depending on the package you choose, revel in wine experiences and holiday cheer.
Buffalo Bill Center of the West
720 Sheridan Ave. Cody, WY 82414
Debra Elwood
307-578-4114
www.centerofthewest.org/visit/group-sales
Explore the Buffalo Bill Center of the West on your next group trip to Cody, Wyoming. Visitors will be engulfed in history as they tour various museums featuring national parks, Native American settlements and firearm manufacturing. Discover the diverse geography of Yellowstone National Park through life-like dioramas and contemplate artistry that embodies the spirit of the Wild West. Several exhibitions will take you back to Native American settlements, where you'll encounter models of their homes and restored objects
WHERE TO GO
Colorado Springs CVB
515 S. Cascade Ave. Colorado Springs, CO 80903
Floy Kennedy
719-685-7635
www.visitcos.com
If you are looking for a place to have fun, then Colorado Springs is the place for you. Explore the beauty of the Broadmore Seven Falls or go hiking on the Manitou Incline. For people who want to become one with nature, Colorado Springs is one of the best places to visit. North Cheyenne Cañon Park is one of the best places that you can visit in the winter months.
Lincoln CVB
3 Landmark Centre, 1128 Lincoln Mall, Suite 100 Lincoln, NE 68508
Kelsey Meyer
402-436-2310
www.lincoln.org
Commonly known as the best-kept secret in the Midwest, Lincoln is a destination that is sure to exceed your expectations. Visitors from around the world fall in love with Lincoln's small-town charm with big city amenities. "Lincoln offers the true Nebraskan experience that groups are sure to find unique and enjoy," according to Kelsey Meyer, Lincoln Convention and Visitors Bureau Sales Development Manager.
Whether your stay is one day, one week or longer, the tours in Lincoln put together for you will keep you quite entertained. Lincoln offers a wide variety of experiences and world class attractions. See them today!
Sioux Falls CVB
200 N. Phillips Ave., Suite 102 Sioux Falls, SD 57104
Jackie Wentworth
605-373-2028
www.visitsiouxfalls.com/tours-are-here
Sioux Falls is the perfect getaway for people who want to escape their busy life and want to explore the scenic beauty of the United States. Visit the Falls Park, a picturesque location with natural waterfalls or explore the Great Plains Zoo to explore the wildlife that is indigenous to the region. If you want to check out something unique, the Butterfly House & Aquarium is a fantastic place to visit.
WHERE TO STAY
YMCA of the Rockies
Estes Park, CO & Winter Park, CO
Group Sales
888-777-9622
www.ymcarockies.org
YMCA of the Rockies offers groups a spectacular backdrop to rejuvenate, reconnect and relish in the beauty of nature and wilderness. Its two locations—Estes Park and Snow Mountain Ranch—are situated along the Continental Divide and Rocky Mountain National Park, and both are filled with scenic valleys, streams, majestic forests and wildlife. Lodging is affordable and groups can rent cabins or vacation homes to experience an authentic Rockies getaway. The Y is ideal for vacations, reunions, spiritual retreats and adventure-minded groups.
Wind River Hotel & Casino
10269 Hwy. 789 Riverton, WY 82501
Barbara Smith
Group Sales Phone        
www.windriverhotelcasino.com
It is the largest casino in the vicinity of Wyoming. With 90 rooms in its hotel, it has the capacity for people looking to stay at the hotel and make some winnings in the casino. Spots like Yellowstone National Park are just within driving distance from the Wind River Hotel and Casino. You can even rent conference spaces if you have a work weekends with your colleagues.
STATES OF THE FRONTIER/MOUNTAIN WEST – SUMMARIES
Carve out new adventures in the Frontier/Mountain West region
Colorado
DENVER—Elitch Gardens will debut Meow Wolf's Kaleidoscape for the 2019 season. Riders who journey on Meow Wolf's Kaleidoscape will be transported with otherworldly motion, deep sound, wild color and interactive moments that create an immersive world around you. This intriguing attraction will be the first artist-driven dark ride the world has ever seen.
COLORADO SPRINGS—The U.S. Olympic Museum and Hall of Fame is set to open in 2019 and will house the artifacts and media that honor American Olympic athletes. Highlights will include the history of the Olympics and Paralympics, a state-of-the-art theater and a broadcast studio.
Idaho
BOISE—Nearby Bogus Basin Ski Resort has opened a new Glade Runner alpine mountain coaster. More than 4,000 feet of track carries riders at 25 miles per hour at top speed while rising to almost 40 feet in the air. Additional planned improvements include a ropes course, a canopy tour, summer tubing, a large amphitheater and bike skills area.
Jaialdi, the international Basque festival hosted every five years in Boise, will return in July 2020. Boise will host a week of events celebrating the Basque culture when visitors can experience Basque sports, food, wine, history and dancing.
Kansas
WICHITA—The new Original Pizza Hut Museum tells the story of the world-famous pizza chain started by two Wichita State University students. Inside, visitors can watch old Pizza Hut commercials and sit at an original Pizza Hut table under a vintage Pizza Hut stained glass lamp.
Thirty life-size animatronic dinosaurs will roam the new Field Station Dinosaurs theme park in the Wichita suburb of Derby. Visitors to the 14-acre dino domain can dig for fossils, walk the paths beside the life-like giants, learn about dinosaurs unique to Kansas and play a themed miniature golf course.
Exploration Place, the state's signature science museum, has unveiled the new "Design Build Fly" exhibition that gives visitors a hands-on look at how airplanes are designed, built and flown.
BAXTER – The new Decades of Wheels museum is a tribute to beloved cars and motorcycles throughout history. It sits on Route 66 and is dedicated to the preservation of the history of the iconic highway and the golden age of automotive history. A private collection of over 300 vehicles will be kept on a rotation of 30 at a time.
Montana
BIG SKY—Big Sky Resort, America's second-largest ski experience by area, has completed its 10-year renovation. New chairs include the Challenger Lift (a high-speed triple with conveyor loading) and the Ramcharger 8 (a heated bubble chair billed as the "most technologically advanced lift ever built"). The resort is also developing the Big Sky Town Center, a downtown area that will include shopping and gourmet dining experiences.
Nebraska
OMAHA – Omaha plans to invest $290 million in its downtown convention district along the city's riverfront. Features of the 90-acre revitalization project include a substantial sprawling green space in the middle of downtown with a performance pavilion, botanical gardens, cascading waterfalls, park-side cafes, a sculpture garden, a water cove and a promenade that leads to cantilever overlooks suspended over the river. Construction is expected to begin in 2019 and be completed in 2022.
South Dakota
SIOUX FALLS – The new Arc of Dreams, a massive stainless-steel sculpture that will span the Big Sioux River in Sioux Falls, will be installed this spring. A 15-foot gap at the center towers 70 feet above the river and represents the leap of faith visionaries take to make their dreams come true. The Arc serves as a capstone for the renowned Sculpture Walk, which features 58 new sculptures installed every May. The largest annual exhibit of public art sculptures in the country is free.
Utah
ALTA—The long-awaited opening of Snowpine Lodge at Alta is slated for January 2019. The new resort, timed with the opening of the adjacent Snowpine ski lift, will become the first ski-in/ski-out luxury resort in town. Two convenient dining options will offer guests a choice between sophisticated and casual. Swen's Restaurant will feature an open-kitchen display with floor-to-ceiling windows serving globally-inspired, regionally-sourced American cuisine paired with a curated selection of wines and beers, while he Gulch Pub is a more casual eatery with a full-service bar offering comfort foods and craft cocktails.
Wyoming
LANDER—The third of its kind in the United States and the only one located on a Native American reservation, the new Wind River Wild Horse Sanctuary offers visitors an opportunity to see more than 100 wild mustangs up close on a private tour. The sanctuary's visitor center has an interpretive display that showcases the importance of horses in the culture and tradition of Wyoming's First Nations as well as a history of wild horses in North America.