Downtown Nashville is set to open this existing new complex on March 4th.
The South's most exciting new development of the year opens this March in Nashville, and tour planners from across the U.S. will want to be onboard. Occupying prime real estate in the bullseye of downtown, Fifth + Broadway promises to re-energize the heart of Music City and electrify the tourism scene. It's no secret that travelers like to shop and dine, and that's what Fifth + Broadway is all about. Happily for tour groups, the complex offers an ambitious program for the travel trade.
One of the largest and most transformational mixed-use developments in the history of Nashville, Fifth + Broadway couldn't be a more centrally located place to live, work and play. The city block, encompassing 6.2 acres that was once home to the city's convention center, is right across from Ryman Auditorium and Bridgestone Arena and at the end of Lower Broadway's neon row of honky-tonks. Also nearby are attractions like the Country Music Hall of Fame and Johnny Cash Museum.
In addition to retail, dining, office and residential components, Fifth + Broadway boasts its own cultural anchor, the long-awaited National Museum of African American Music (NMAAM), which opens January 30. Seven interactive galleries equipped with state-of-the-art technology tell the story of black music, touching on more than 50 genres and styles, including spirituals, blues, jazz, gospel, R&B and hip hop.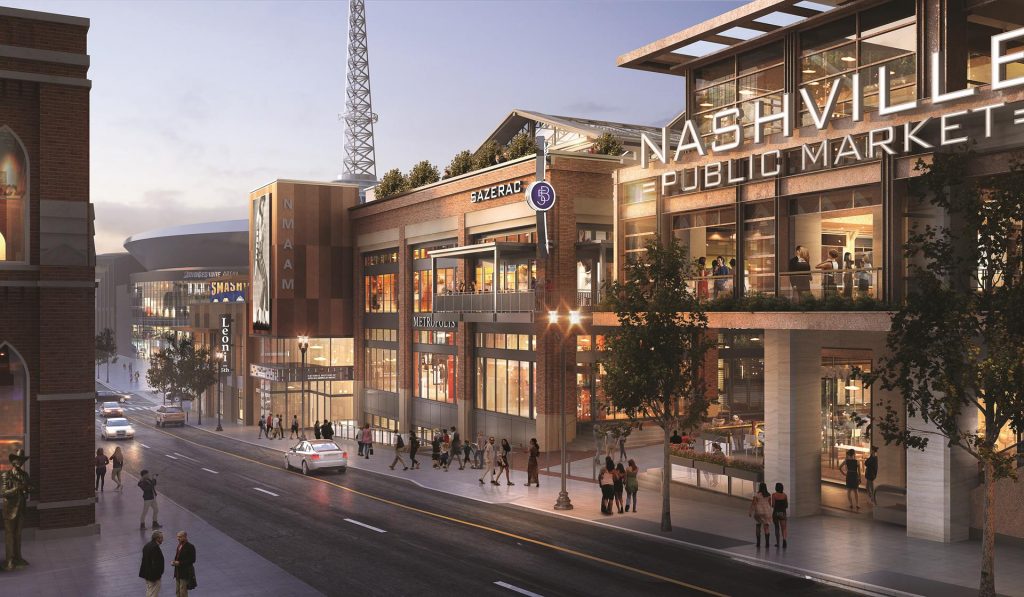 "Nashville has evolved into a hub for fashion designers, making Fifth + Broadway a shopping mecca with an array of national retailers and eclectic shops," said Carolyn Feimster, travel & tourism manager for the complex. Stores are clustered around an open-air street that will feature a variety of shopping experiences, from global brands to local artisans and designers.
Music City's dining landscape will be enhanced by Fifth + Broadway's 112,000 square feet of space devoted to "a culinary experience that will include everything from signature restaurants, downtown diners, rustic farm-to-table bistros, cafes and lounges," Feimster said.
The multi-level Assembly Food Hall, with indoor and outdoor communal tables, will feature more than 20 eateries offering casual dining and takeaway foods. Represented will be Nashville favorites like Coco's Dolce & Cafe, Coco's Pasta Bar, Prince's Hot Chicken, Edley's BBQ, DeSano Pizzeria and The Pharmacy Burger. Asian specialties (Chinese, Japanese, Indian and Thai) will be dished up as well. The featured venue at Fifth + Broadway will be the Rooftop Dining Terrace and Entertainment Deck, which will overlook Ryman Auditorium, Bridgestone Arena and Lower Broadway.
Holding up to 2,000 people, the terrace will be "the place to see and be seen in Nashville," Feimster said. "In fact, it will be the perfect venue for groups to hold their welcome reception upon their arrival in Nashville."
Feimster can assist travel professionals with itinerary planning, package development, dining discounts and private events for groups.
She can arrange for travel trade members to give their clients a complimentary FASHION + FOOD + FUN Visitor Pass, which includes various offers, amenities and discounts. Meet + greets, project tours and pre-paid dining cards for each member of the group can be arranged.
[optin-monster slug="gzpryplqr4gersfh4lya"]