From the clean sparkling waters of Lake Michigan to the rich cultural heritage, Milwaukee has something for everyone. A multitude of exciting attractions, shopping, gardens, and several ethnic and cultural events await you. Weekly ethnic festivals like Polish Fest, German Fest and Irish Fest have been named Top 100 Events by the American Bus Association. Old World charm mixed with New World vigor – This is Milwaukee!
4 Unique Experience on This Trip
[list line="no" style="style1″]
Basilica of St. Josaphat
Grohmann Museum
Milwaukee Zoo
The Fireside Dinner Theatre
[/list]
Duration: 3 Days
Available: Year-round
This Itinerary is Ideal For: Adults Over 21
Itinerary Details
---
Day 1:
9:00 AM // THE DOMES
10:30 AM // BASILICA OF ST. JOSAPHAT
11:00 AM // PABST MANSION
12:30 PM // MADER'S GERMAN RESTAURANT
1:00 PM // SHOPPING ON OLD WORLD THIRD STREET
2:30 PM // GROHMANN MUSEUM
4:00 PM // GREAT LAKES DISTILLERY
5:30 PM // POTAWATOMI HOTEL & CASINO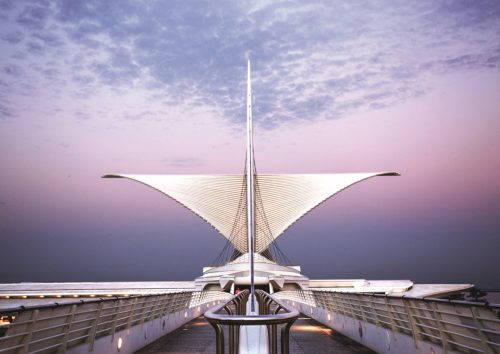 Begin your visit to Milwaukee enjoying the beautiful gardens found within Mitchell Park Horticultural Conservatory – "The Domes," the world's only colloidal glass houses. The three Domes – a Tropical Rainforest, a Desert and the changing "Show" Dome – are home to flowers and plants from around the world. Each Dome is almost half-a-football-field-wide by seven stories tall. Twenty wildlife species including tropical finches, lizards, frogs, toads, fish and turtles call the Domes their home. Afterward, marvel at the stories and beauty of the Basilica of St. Josaphat.
Make your way to the Pabst Mansion, the stately home of one of Milwaukee's beer barons, Frederick J. Pabst. Plan on having lunch at one of Milwaukee's oldest family restaurants, Mader's German Restaurant on Old World Third Street.
After lunch, take some time to shop on this quaint cobble-stoned street and experience the Wisconsin Cheese Mart, where you can shop for the largest selection of Wisconsin cheese in the world, and very nearby is Usinger's Famous Sausage featuring more than 75 varieties of sausage available at its charming turn-of-the-century store. Just across the street is the Spice House, nationally acclaimed for high-quality, hand-ground and -blended spices and seasonings.
Travel on to explore the largest collection of industrial art in the world at the Grohmann Museum "Man at Work Collection." View paintings and sculptures depicting man's human achievements throughout time: from farming, mining, construction, brewing, medical/dental and much more. If weather permits, enjoy a beautiful view of the city from the rooftop sculpture garden.
Stop in at Great Lakes Distillery, Wisconsin's first operating distillery since the Prohibition era. Take time to tour and sample the award-winning spirits. Check into your hotel. This evening enjoy dinner and gaming at Potawatomi Hotel & Casino. Feel the energy and prepare yourself for big-time fun with a broad lineup of games like blackjack, craps, roulette, Let It Ride Bonus® Poker, bingo and over 3,100 slot machines. Potawatomi also offers a variety of dining options including Wild Earth Cucina Italiana, Dream Dance Steak, Locavore, RuYi and the Fire Pit Sports Bar & Grill.
Day 2:
9:00 AM // CITY TOUR
10:00 AM // MILWAUKEE ART MUSEUM – WINGS OPEN
11:30 AM // MILWAUKEE ZOO
1:00 PM // LUNCH ON MILWAUKEE STREET
2:30 PM // AFTERNOON CRUISE ON MILWAUKEE RIVER
4:00 PM // DINNER & A SHOW IN MILWAUKEE OR THE FIRESIDE DINNER THEATRE
Begin your adventure in Milwaukee today with seeing the sights and learning the history of Milwaukee with a city tour. Then watch the "wings" open on the Milwaukee Art Museum and experience a behind-the-scenes tour of the Milwaukee County Zoo. Recognized as one of the country's finest zoological attractions, the Zoo is a serene home to more than 2,275 mammals, birds, fish, amphibians and reptiles with more than 330 species.
Stop for lunch on Milwaukee Street, known for its eclectic restaurants. This afternoon enjoy a sightseeing cruise on the Milwaukee River and Lake Michigan. Take in dinner and a show at one of the many restaurants and theaters in Milwaukee or enjoy The Fireside Dinner Theatre in Fort Atkinson.
Day 3:
9:00 AM // FOREST HOME CEMETERY
Before departing for home, explore the Forest Home Cemetery. Take a guided tour to learn about the history of cemeteries in Milwaukee and Wisconsin. You'll hear about the beer barons – Pabst, Schlitz and Blatz; Alfred Lunt and Lynne Fontanne; General Billy Mitchell; and so many others.