Groups can ride the updated railway and enjoy stunning views from a reimagined visitor center
After three years and $100 million in renovations, the historic Pikes Peak Cog Railway has reopened to whisk visitors to one of America's most famous mountains. Visitors can also enjoy a state-of-the-art visitor center, updated onboard amenities and a restored depot as they climb the 14,115-foot peak.
"Recognized as the world's highest cog railroad, The Broadmoor Manitou and Pikes Peak Cog Railway is an important part of the heritage of the Western United States," says the railway's website. "Taking this journey is like walking the footsteps of history, and now the adventure is even more iconic and inspiring.
The railway first opened in 1891 after businessman Zalmon Simmons visited nearby Manitou Springs and bemoaned the arduous two-day trip by mule required to reach Pikes Peak. The track was constructed by laborers by hand, with only the assistance of pickaxes and mules, and the innovative cog-and-rack system allowed conductors to control speeds for downward descent. The railway was acquired by the nearby Broadmoor Hotel in 1925, and the result was a legacy of success. Over a century of incremental improvements brought diesel locomotives, electric vehicles and hydraulic-powered coaches to the tracks, but after 126 years of operation, the railway decided that major structural renovations were necessary safety reasons and for an ideal visitor experience.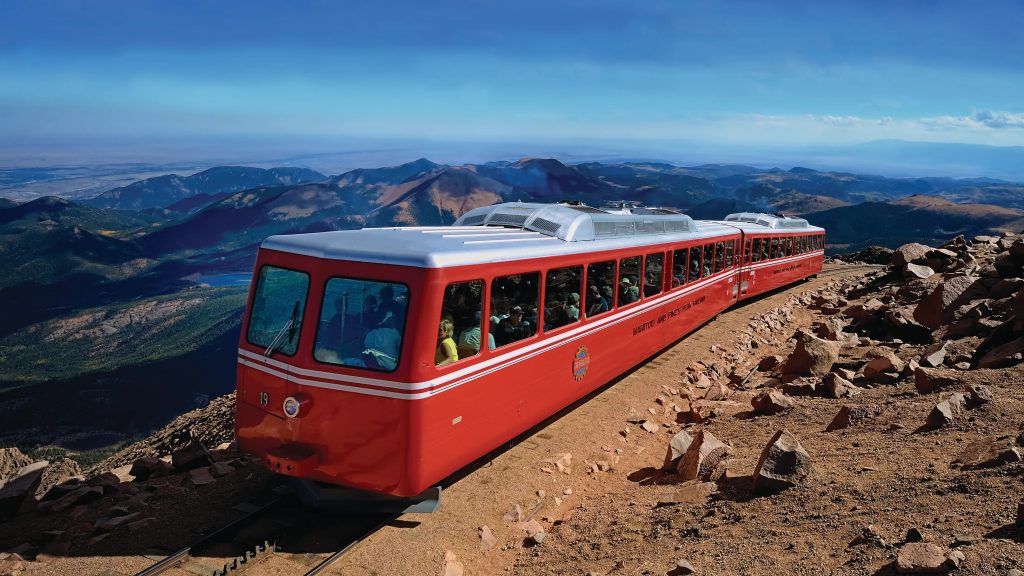 Groups will begin their adventure at the restored depot, which maintains its 19th century mining town design but has been refreshed with bright blue paint, a second train platform, an overhead walkway and remodeled bathroom and gift shop spaces. Next, board a new 214-foot-long aluminum train outfitted with upholstered, cushioned seating for the journey to Pikes Peak. The trains travel 10 miles per hour on a 70-minute single-cog rail trip that slowly winds up Rocky Mountain ridges. Passengers will travel through Pike National Forest to see cascading waterfalls, ancient quartz boulders and canopies of Colorado spruce. You'll also see plenty of wildlife, including elk, eagles and Colorado's iconic big horn sheep.
Once you've reached the famous summit of Pikes Peak, your group can admire the Collegiate and Sangre de Cristo mountain ranges and even spot the skyscrapers of downtown Denver on a clear day. You will also want to spend time in the new Pikes Peak Visitor Center, a beautiful space with design elements that echo the colors and textures of the mountain's granite. The state-of-the-art space was constructed with environmentally sustainable materials and passive design strategies that significantly reduce the building's energy needs. A highly insulated concrete shell retains heat, solar arrays supply electricity, and prefabricated rooms helped minimized fuel for transportation (even vacuum-sealed toilets reduce trips for water replenishment).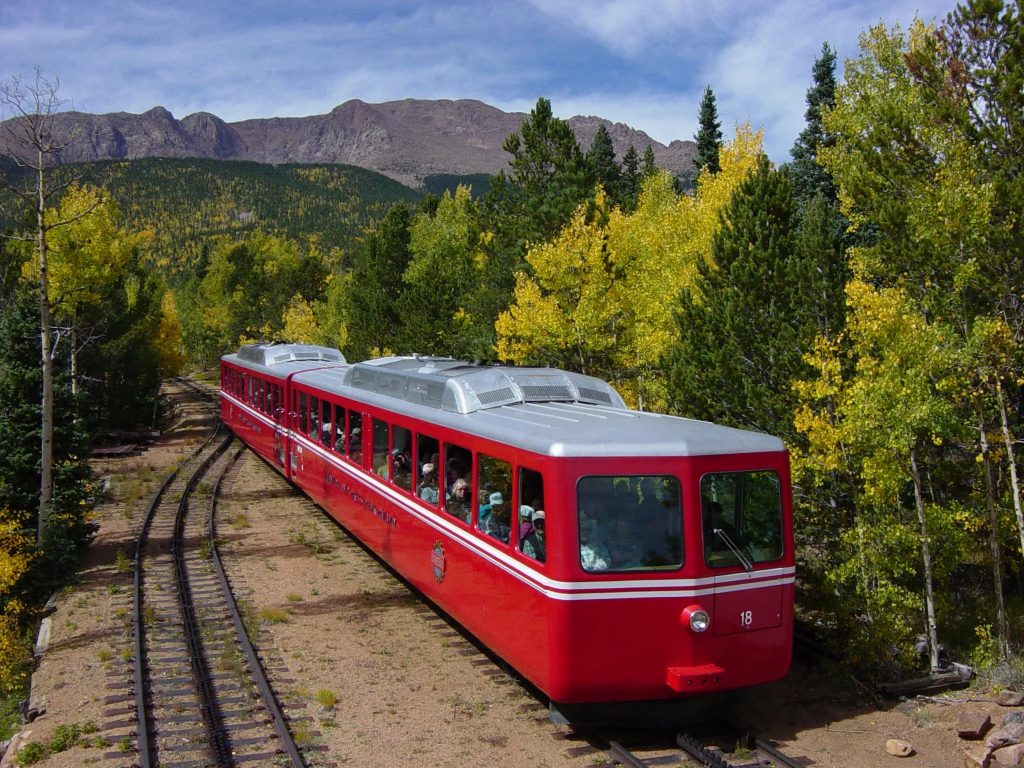 ADA-accessible and designed with catwalks and immense windows to maximize the beautiful views, the center educates visitors on the mountain's history, climate and conservations initiatives through interactive exhibit galleries and interpretive trails that circle the building. Visitors can download the Pikes Peak Summit Experience app to learn about the region's history and immerse themselves in the interactive interpretive space. Users can identify wildlife during a hike, collect "stickers" for stopping at various Colorado Springs locations and play trivia games to learn frontier history.
You can also pose for a photo on the immense roof decks that are sheltered from the winds by the building and provide panoramic views of the mountains. If your group is hungry, the new Pikes Peak Summit house offers delicious breakfast burritos, fresh sandwiches and pork green chile. You can also try the world-famous Pikes Peak donut, which is based on a 1916 recipe and specifically designed to be deep fried at the mountain's high altitude.
Group leaders should call ahead for a group reserved admission adult ticket of $63, and accommodations for group meals and tours can be made with advanced notice. This excludes departures between 9 a.m. and 1 p.m. For more group tour information, visit www.cograilway.com or call 719-685-5401.