The heart of Michigan's wine country features unique wineries and breweries. Quick day trips offer lush nature trails, gorgeous golf courses, museums on and off the water and the popular beach and harbor town of South Haven, with its iconic lighthouse and quaint downtown.
Duration: 3 Days
Available: Spring, Summer & Fall Months
This Itinerary is Ideal For: Adults over 21
---
Day 1
Afternoon: Start your day in the picturesque village of Paw Paw at Warner Vineyards, one of Michigan's oldest wineries. As the third generation of Warners, they look forward to welcoming you to one of their tasting rooms to sample the award-winning wines. Next, you can walk next door to St. Julians Winery. They are a winery dedicated to promoting the art of winemaking and offer free tours and tasting all year round. Located behind the wineries is the Paw Paw Brewing Company, offering a full menu highlighting the great beer produced on site as well as the varied produce available throughout the changing seasons of the Great Lakes State.
Evening: Before dinner, head to the Paw Paw Playhouse, which hosts a variety of events and shows such as theater, magic, comedy, concerts and more daily. Dinner this evening is at La Cantina, an establishment that serves excellent hand-crafted Italian food cooked by experienced chefs and served in a casual and fun atmosphere.
Day 2
Morning:
Begin the day by taking a short drive to Kalamazoo to visit The Gilmore Car Museum, an ideal place to visit where you can learn the history, heritage and social impact of the automobile.
Afternoon:
To switch gears and learn about flight, head to the nearby Air Zoo Aerospace & Science Museum, which features more than 50 rare and historic aircraft, amusement park-style rides, historical exhibits and educational activities.
It is a highly charged, multi-sensory atmosphere that goes beyond anything you've ever seen. Kitty Hawk Café, located on the upper level of the Air Zoo, is perfect for a quick snack or a delicious meal.
Evening:
Head to the Firekeepers Casino in Battle Creek. Come get your Vegas on in the casino of choice in Michigan, fun, friendly, vibrant and upscale. Stay for dinner and taste their amazing cuisine in seven restaurants to suit all tastes.
Day 3
Morning:
Take a little drive to South Haven to visit the Michigan Flywheelers Museum. Located on close to 80 beautiful acres that are dotted with wooded areas, colorful flower gardens and buildings that represent the 1920s era, you can take a step back into a time for an experience that is like none other. Next, take a relaxing walk and learn more about the history of the area, with the Harbor Walk. This tour starts at the South Beach Lighthouse and will run along the south side of the Black River, ending at the north pier head. Along the way, you'll be able to stop at the 21 Historical Markers and read about all facets of the historic past.
Afternoon:
Grab a catered lunch for a South Beach picnic at one of South Haven's many eateries. Julia's At The Pavilion and Phoenix Street Cafe both offer fresh food, a large vegetarian menu and homemade desserts every day. After lunch, stroll downtown to experience one of South Haven's many shops and boutiques. From clothing and art to antiques and jewelry, you're sure to find something for everyone. Stop at one of the coffee shops or bakeries for a hot beverage or cool drink and snack.
Evening:
Head out on the water by visiting The Michigan Maritime Museum. It is unique among museums because it offers nearly a half dozen different sailing and riverboat excursions on both historic and replica vessels.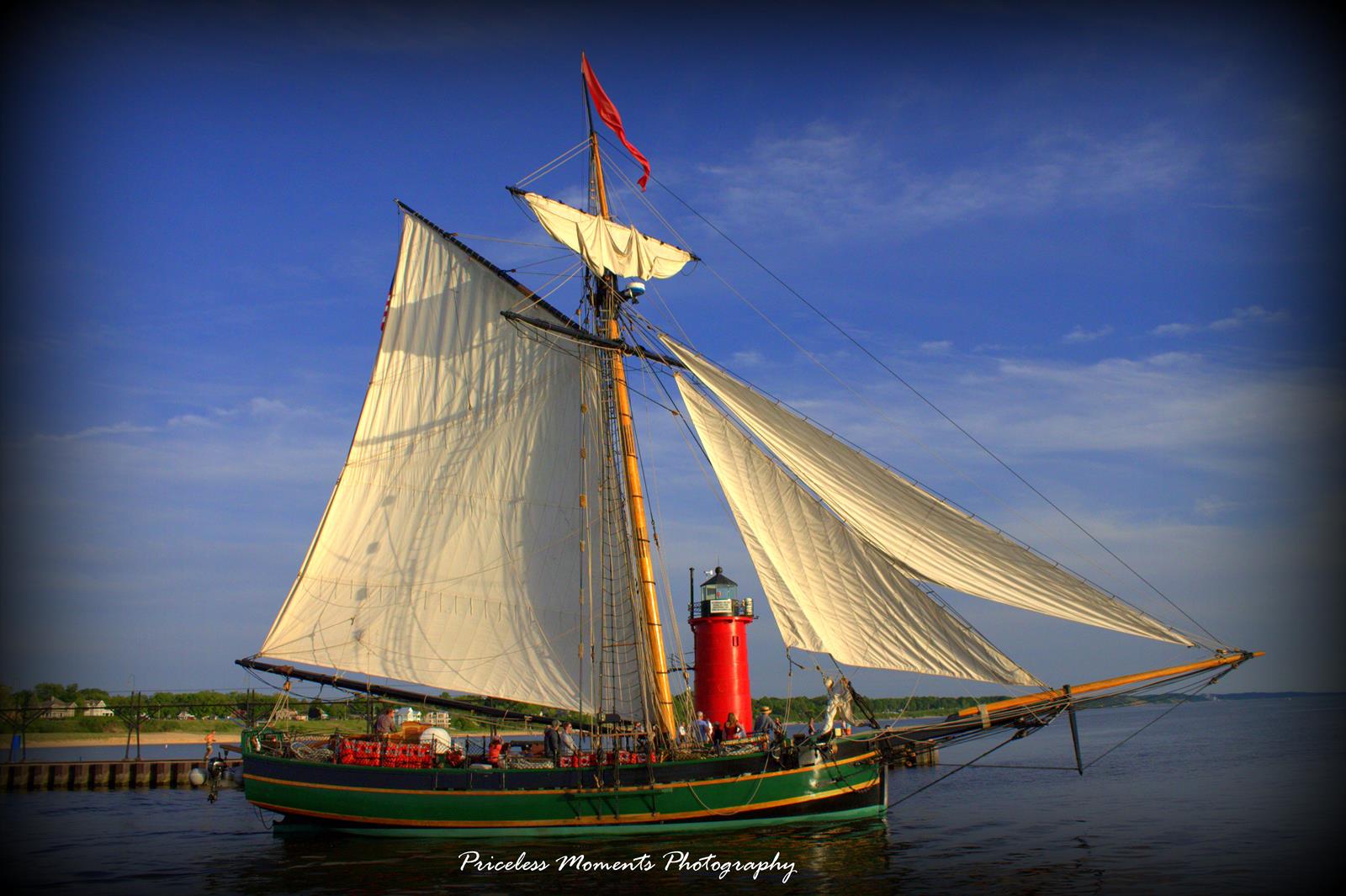 The museum offers a variety of engaging opportunities to visitors, including exhibits on Michigan maritime history, a center for the teaching of boat building and related maritime skills and a regionally renowned research library.