Penguins, glaciers and raw scenic beauty intrigue nature-minded travelers exploring the maze of mountain-backed passageways at the very tip of South America.
For most of us aboard the Stella Australis, reaching Cape Horn – the southernmost point of the Americas – and actually going ashore was a big reason for booking the four-night cruise out of Punta Arenas, Chile. But during the briefing in the Darwin Lounge the night before, the stuff warned that wind conditions and high surf occasionally prevent a landing in these tricky, sometimes treacherous waters. The crew, they told us, would go out in Zodiac inflatable craft early the next morning to assess the situation before giving the okay to land on Horn Island, a lonely outpost at the bottom of the world, the point where the Atlantic and Pacific oceans meet.
Happily, we got the go-ahead for our scheduled 7 a.m. Zodiac invasion and spent an hour on the little island, reveling in being able to set foot at the end of the earth despite fierce winds that made it seem a lot colder than 43 degrees. Horn is just one of many islands that make up the remote, windswept archipelago known as Tierra del Fuego, a bucket-list destination that calls out to adventure-hungry globetrotters.
This Patagonia, a largely untouched region of southernmost Chile and Argentina that's custom-made for nature fans. Bleak yet majestic, the scenery – fjords, bays, glaciers and snow-dusted peaks at the tail end of the Andes – reminds you of Alaska or Scandinavia. Antarctica is less than 600 miles away.
Operated by the Chilean cruise line Australis, the Stella Australis is an expedition ship that sails the sheltered passages of Tierra del Fuego between September and April (spring through fall in the Southern Hemisphere), offering three-, four- and seven-day cruises from Punta Arenas and Ushuaia, Argentina. The vessel has a passenger capacity of 210 but rarely carries more than 190, according to expedition leader Mauricio Alvarez, a native of Punta Arenas. He says Europeans comprise 60 percent of guests; another 30 percent are North Americans. Our December sailing carried 144 travelers representing 16 nationalities. For Zodiac shore excursions we divided into groups based on language. The ship, launched in 2010, has a Chilean crew of 63.
As for tour groups onboard, Alvarez says National Geographic does six trips a season and brings its own trip leader and study leader. Companies like Overseas Adventure Travel, Road Scholar, Smithsonian Odysseys, Vantage, Gate 1 and Grand Circle also book Stella Australis trips and may employ their own lecturers, thought Alvarez and his staff give excellent presentations as well. University alumni groups also include the cruise in their program offerings.
Asked what attracts people to the cruise, Alvarez says, "Ten years ago the big attraction was Cape Horn as a landmark, but with the new trend in learning trips, the focus these days is wildlife – penguins in particular. In fact, we've adopted the penguin as our logo because it's such a highlight." Seeing whales (at certain times of year) and glaciers, he adds, also is important to passengers, as is the history connected with early explorers like Ferdinand Magellan, Sir Francis Drake and Charles Darwin – names that pop up in guides' shipboard and on-shore commentaries.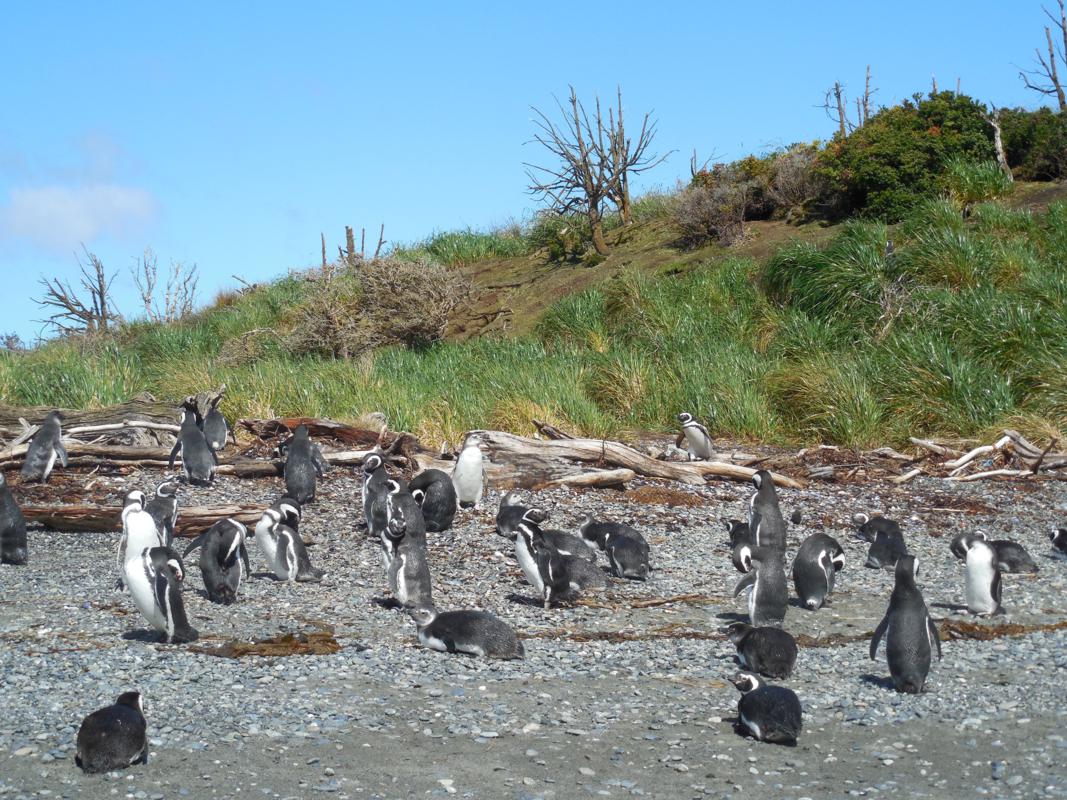 Seeing penguins was certainly a priory for me, and boy, did we see penguins – at one location anyway. We were giddy with delight as our sturdy inflatable approached the stony beach on Santa Cruz Island in Tucker Islets. Santa Cruz is a spring breeding ground for Magellanic penguins, one of 16 species of the flightless bird found only in the southern seas – and the most common kind in Patagonia. We couldn't leave the boat but had a field day taking photos of the clumsy, tuxedoed creatures preening and waddling about, just 10 or 12 feet from us. Our guide explained their nesting, mating and feeding habits as we snapped away. The one-hour Zodiac excursion also took us close to islets populated with rocky and king cormorants.
Gliding through Tierra del Fuego's labyrinth of islands at speeds no faster than 14 mph, we also got our glacier fix. At Pia Glacier on the Beagle Channel we hiked up a smooth rocky slope within several hundred feet of the wall of bluish ice backed by jagged peaks of the Darwin Range. Gazing out at our anchored ship, we feasted on panoramas of ice chunks floating in the fjord's milky green waters.
We saw Marinelli Glacier at our Ainsworth Bay stop at – Alberto de Agostini National Park, where we hiked through a sub-polar forest rarely visited by anyone but Stella Australis passengers. With temperatures in the mid-50s, there was no need for gloves or hats, though I did take out my poncho during a brief drizzle.
Until the completion of the Panama Canal in 1914, rounding Cape Horn was the roughest part of the well-traveled route between the Atlantic and Pacific. A signboard at the Naval Museum in Punta Arenas sums up the trepidation and exhilaration associated with reaching the tip of South America: "Rounding the Horn gave a man the craved status of 'real seaman' and the unquestionable right to be listened to everywhere with respect and awe."
Not only did weather conditions allow us to set foot on Cape Horn, but Mother Nature was kind enough to let us sail around the island afterwards, something that's not usually possible. However, it did involve some serious rocking and rolling on the Drake Passage, an infamous stretch familiar to those who have cruised to Antarctica.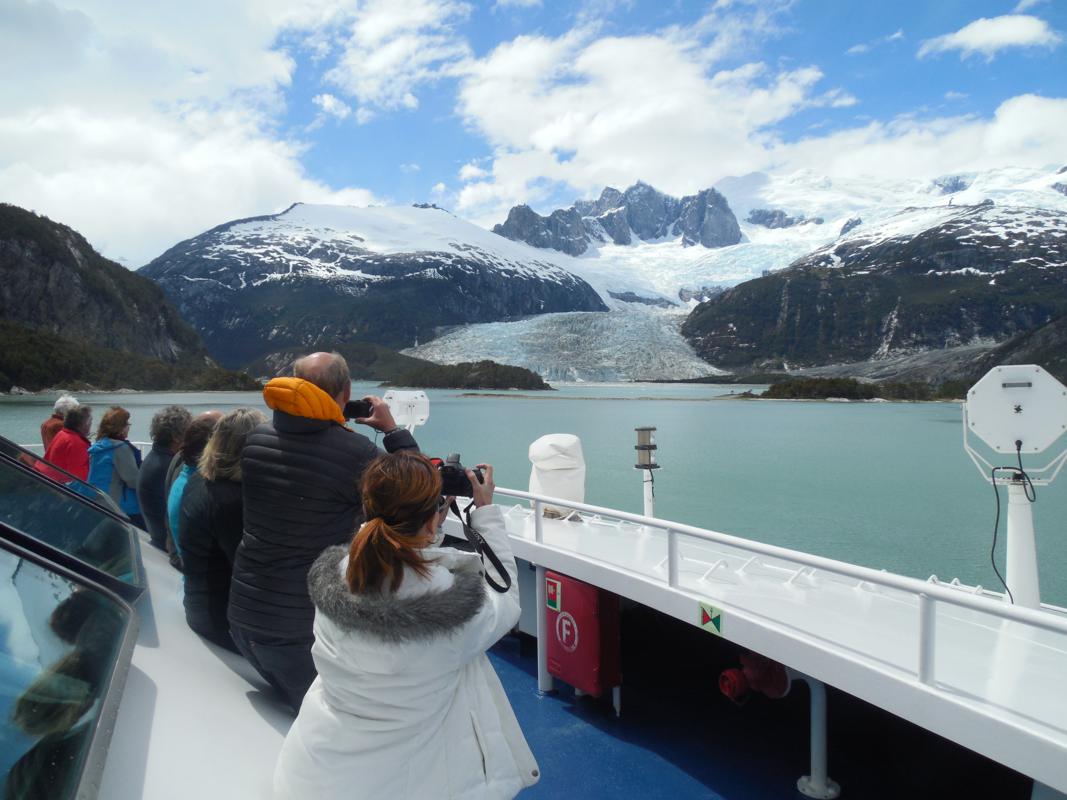 After the Zodiacs zipped us over to Horn Island, we walked 161 steps up a steep wooden stairway that snaked up the cliff and had time to check out the Cape Horn Monument, a metal sculpture that commemorates navigators who have lost their lives at sea. At the lighthouse some of us had a chance to chat with the Chilean naval officer who lives there with his wife and children.
My Patagonian adventure came to an end in Ushuaia, a city of 60,000 best known as the jumping-off point for Antarctica cruises. Though somewhat scruffy, it certainly commands a magical setting at the foot of snow covered mountains. I spent two days exploring the world's southernmost city, my first time in Argentina, and hope to return someday to launch another end-of-the-world experience, this time a voyage to Antarctica.
Australis recently sold the only other ship in its feet, the 136-passenger Via Australis, to Lindblad Expeditions but has plans to build a vessel similar to the Stella Austarlis. The new sister ship should be completed by the end of 2017. For more information, visit australis.com.