The charming ski destination, Whitefish Mountain Resort offers groups modern amenities and diverse terrain, while maintaining a small-town feel with cherished traditions.
When things change, they don't often stay the same. But, they have at Whitefish Mountain Resort. Since 1947, this Montana resort has managed to adapt to the changing winter sport scene, while maintaining its values of great guest service, a relaxed atmosphere and affordability. Throw in varying types of terrain, first-class amenities and stunning views of Glacier National Park, and this is a winter sport enthusiast's paradise. If you're planning a group ski trip, Whitefish Mountain Resort delivers an experience that will exceed expectations of everyone in your crew.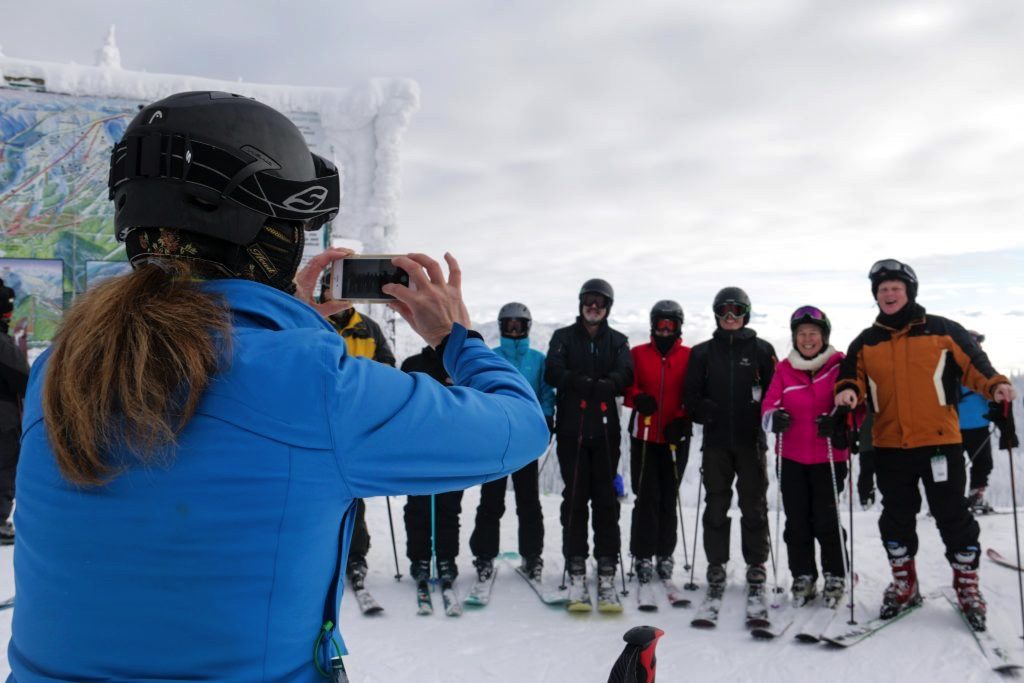 Mountain Stats
Trails and Terrain
3,000 acres
105 marked trails

12% beginner
40% intermediate
42% advanced
6% expert

12 chairlifts

3 high-speed detachable quads
7 fixed-grip
1 T-bar
1 carpet

Vast amounts of bowl and tree skiing
Longest run: 3.3 miles (Hell Fire)
5 terrain parks and a skier/boarder cross course
Snowfall and Temperatures
300 inch average seasonal snowfall
Average high 32 degrees F
Average low 17 degrees F
Elevation
Summit: 6,817 ft
Base: 4,464 ft
Vertical: 2,353 ft
Where can we stay at Whitefish Mountain Resort?
When it comes to accommodations, Whitefish offers a number of options to suit every group's needs. There are more than 200 on-mountain condos, mountain homes and hotel rooms available to rent. There is a wide range of condo choices, and many of them are ski-in/ski-out properties, which is why they tend to be the mainstay for most guests. Staying slopeside is super convenient for serious skiers and riders who don't want to waste any time reaching the slopes. Some great options in the mountain village are Morning Eagle Lodge and Kintla Lodge. Not only are they located right next to the mountain, they also provide a high-level of comfort and great amenities, such as fireplaces and hot tubs, so your group can relax in style after a long day carving powder.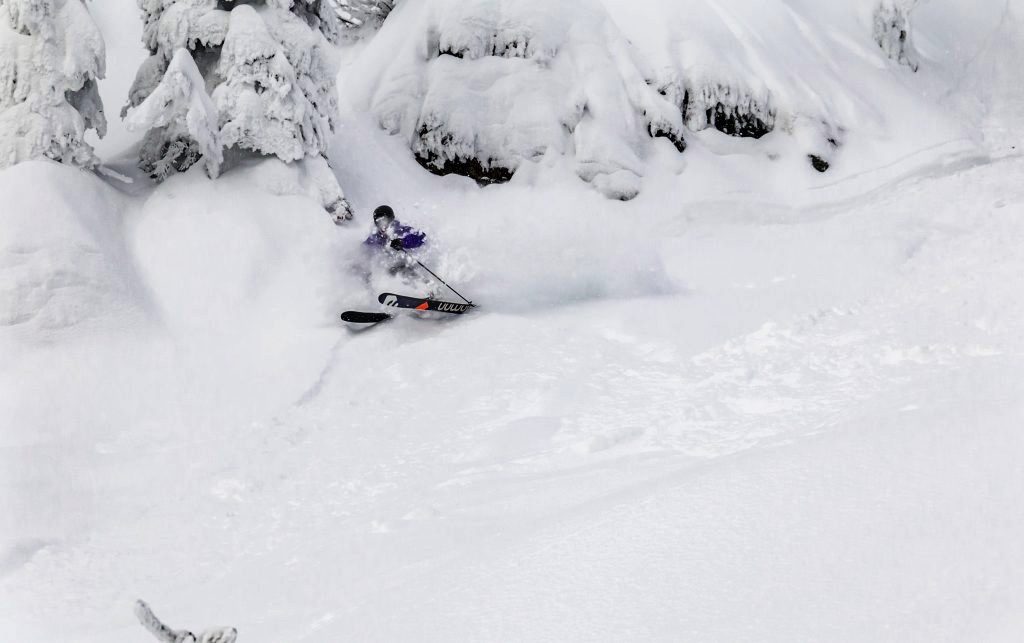 The Hibernation House, a 24-room hotel, offers straight-forward comfort perfect for those who are less concerned about where they'll be sleeping and more focused on their daytime activities. Another great lodging option is Morning Eagle Lodge, featuring deluxe condominiums just steps from the slopes.
Much of the nighttime action takes place in the town of Whitefish. If your group doesn't mind being a little further from the mountain, the town provides plenty of nice bed-and-breakfasts, hotels and motels.
What are some off-slope activities?
Let's face it, there may be a day or two during your group's stay at Whitefish where you want to take a break from the slopes—as hard as that may be to believe. For those who want to take part in other winter activities, Whitefish offers plenty to do. Enjoy a guided trek into Glacier National Park, where the woods are quiet and crowds are minimal in winter. Or, take part in an afternoon of dog sledding through Stillwater State Forest or sit back as you glide on a sleigh ride through the area, with a warm blanket and hot cocoa in tow.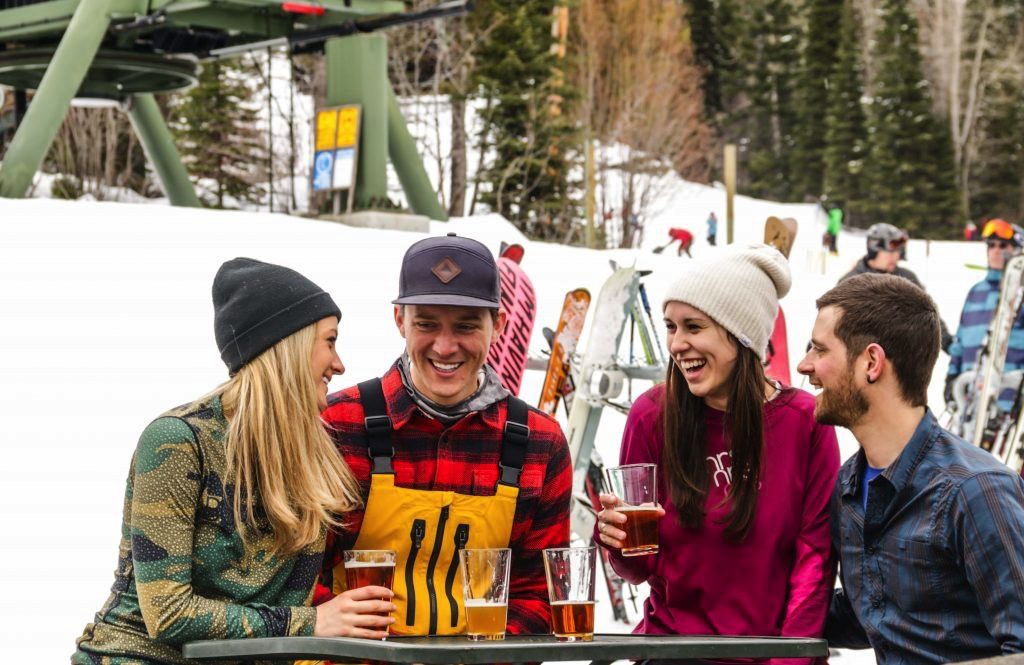 Sign up for a relaxing spa treatment or massage to ease those sore muscles before hitting the slopes once again. Whitefish is filled with various retail shops, specialty stores and boutiques for your group to peruse and pick up some souvenirs. You'll also find a variety of dining options around the mountain and in town, providing an array of cuisines to satisfy any palate.
Special Offers/Help for groups
Groups are encouraged at Whitefish Mountain Resort, and there are regular specials starting at $105/person in deluxe condos and $84/person in a value hotel, including lodging and lift ticket.
If you're in the market for a ski destination that offers deep snow, diverse terrain and choice hospitality, Whitefish Mountain Resort is the place for your winter group retreat.
How do we get to Whitefish Mountain Resort?
No matter where you're coming from, getting your group to Whitefish Mountain Resort is fairly easy by almost any mode of transportation. If you're flying, Glacier Park International Airport is just 19 miles from Whitefish. The airport is serviced daily with flights connecting from major cities all over the country including Seattle, Minneapolis, Denver, Salt Lake City and Chicago. Shuttle service and car rentals are available at the airport.
Coming in by rail? The historic Whitefish Depot is a major stop for Amtrak on the Empire Builder line. It arrives daily from places such as Seattle, Portland, Spokane, Chicago and Minneapolis.
If you're traveling by car, US-93 North or South will lead you right to downtown Whitefish, which is a four-mile drive to the resort. If you're staying in town, you can hop the SNOW (Shuttle Network of Whitefish) Bus Shuttle that goes to and from downtown to the resort, free of charge, day or night.