By Leigh Frost
Ruta del Spondylus, Ecuador: a place where you can awake to the thunder of the surf crashing outside your door and exotic, colorful birds singing their early morning songs. Do you long for leisurely strolls along an endless beach of silken sand, blissfully in the moment gathering sand dollars and seashells while watching the humpback whales breach and frolic just offshore?  Or maybe you crave the adventure of a trip into the nearby jungle to swing from zip-lines, and to explore ancient Inca ruins. Surfers come to catch one of the best breaks in South America, just 5 minutes away. Perhaps you want to be pampered with soothing spa treatments, and are looking for rejuvenation using holistic (yet ancient) natural healing techniques.
Welcome to Ecuador, a tranquil fishing village situated along the 14 mile "Ruta del Spondylus" (formerly known as the "Ruta del Sol"); One degree south of the Equator, along the Pacific Coast of Ecuador.
This is an adventurers' delight. This tropical paradise includes wild horses running on the beach, iguanas lounging about, and a multitude of grazing animals strolling along the roadside. Intrepid explorers will melt into this environment and need not pack much more than a bathing suit, cover-up, and sturdy hiking shoes.
Along the beach of Olón are a number of outdoor cabanita-style "restaurants" that offer heaping plates of daily fresh seafood prepared to your request (along with generous amounts of rice and fried plantains) and large beer for less than $5.00. Or if you desire, wait for the night fishing boats to return with their haul of 9" prawns to grill on your own barbie.
Be sure and include a day-trip jaunt to the nearby Isla de la Plata. One of the hidden gems of Ecuador, this is a small island off the coast of Puerto Lopez, and is often called the "poor man's Galapagos", and is also long been called "Silver Island." Some say the name derived from the fact that Sir Francis Drake buried his treasure there centuries ago.  Whatever the explanation, Isla de la Plata offers a great Galapagos-like experience for an affordable price. See Blue-footed boobies up close, the legendary Magnificent Frigates, and swim with the Galapagos turtles. Advanced snorkeling, spear fishing, and scuba trips are available as well. Isla de la Plata is one of those places in Ecuador where you can lose yourself in a landscape uniquely different from any on earth.
Nearby, in the hills of Olón is the Samai Holistic Center which offers a number of spa treatments, (including Aromatherapy and Shiatsu, Reflexology, Swedish and Acu-Pressure Massages, Acupuncture, Herbal Steam baths and rooms, Jacuzzi, pool, Feng Shui, and more). For those looking for a deeper experience, the Samai also offers Shamanic healing techniques through first-hand experience. Groups or individuals participate in sacred ceremonies which promote a transformational shift in self-awareness and personal growth. Additionally, presentations and workshops are available to continue a rejuvenation of the spirit.
If you tire of the peace and quiet in Olón, head on over to Montañita for its world-renowned surf break (peaking in December through March). Surfing lessons are available for those beginners who want to give it a go. This is a town that never sleeps, the party is always on, and the locals and visitors alike are friendly and laid-back.  Get comfortable; sip a mojito at one of the many international cafés and people watch. A diverse crowd from all over the world visit this town; musicians play along the streets, jugglers show off, and nightly fire-dancers entertain the many enthusiastic on-lookers. Montanita also offers a number of comfortable high-speed internet locations for those wanting to stay connected.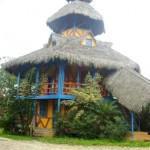 To reach this little slice of heaven, the nearest airport is in Guayaquil, EC, (about 2 hours away) which is the jumping off point for the Galapagos Islands. From Guayaquil airport, there are a number of transportation options to the coast. While on the beach, it's actually cheaper to rent a driver with car, than to rent a car itself. You can walk or take a cab to Montanita for less than 1.00. Ecuador is on the US Dollar system and you can get an excellent meal for 5.00 including drinks.
Location is within 1 degree of The Equator; perfect year round temperatures. Locals are genuine and friendly. Perfect for Galapagos, Guayaquil and Cuenca travelers. This is a tropical dream come true. For more information, please visit http://ecuafriendly.com