Downtown Cleveland has so much going for it that groups could spend a long weekend without ever leaving the city center.
Attractions and entertainment venues abound, and in the last few years the possibilities have expanded. The biggest news this year—the June debut of Horseshoe Cleveland, Ohio's first full-service casino. Open 24 hours a day, it occupies four floors of the former Higbee's department store in Terminal Tower, a landmark skyscraper on Public Square.
The 52-story tower anchors the Tower City District, one of several downtown districts. On my recent first trip to Cleveland, these divisions helped give me a handle on the city's layout. Happily, the districts are pretty much within walking distance of each other.
For me, Terminal Tower—perhaps because of its size alone—is the heart of downtown. Completed in 1934, the Art Deco masterpiece was the tallest building outside New York until 1967 and housed Cleveland Union Terminal, the city's main train station. The bowels of the building today are home to the Regional Transit Authority's light rail system.
Of most interest to tourists are the lower levels of Terminal Tower that contain shops, restaurants and an 11-screen cinema. Called Tower City Center, the complex has a food court with eateries like Nathan's Famous, McDonald's, Shanghai Joe's and Arthur Treacher's Fish & Chips.
The Hard Rock Cafe at Tower City serves the brand's signature burgers, fries and shakes, along with pastas and salads. For groups it offers a package that includes admission to the Rock and Roll Hall of Fame—Cleveland's top attraction. The restaurant has its own collection of rock music memorabilia, from a Rolling Stones guitar to Madonna's shoes and a pistol Elvis Presley bought for his bodyguard. Groups can eat in the main dining room or private room downstairs.
Tower City Center has classy stores, such as a Brooks Brothers that occupies the ornate confines of the former Union Trust Co. bank, with its big chandelier, marble columns, delicate brasswork and plasterwork ceiling. The Ritz-Carlton and Renaissance hotels also bring an upscale ambience to the center.
Terminal Tower's enclosed observation deck is open on weekends, but groups can reserve a visit at any time. A beacon on the Cleveland skyline, the top of the building is bathed in colored lights for holidays and special occasions.
The East 4th Street district, a block-long brick pedestrian street, is one of downtown's nightlife hubs. Hotspots include the House of Blues, Hilarities comedy club, Pickwick concert venue and celebrity chef Michael Symons' Lola. Corner Alley, an upscale bowling center with casual dining at 4th Street Bar & Grill, has 12 lanes accented by video walls, plus four more in the Millionaire's Row area for private groups. An anchor of the East 4th Street district, Corner Alley occupies the old Kresge's and McCrory dime stores on Euclid Avenue, a reminder that this was once a thriving shopping corridor. It's good to see that many other buildings on Euclid have been saved and converted to new stores, restaurants and hotels.
The Historic Warehouse District, close to East 4th and Tower City, is another afer-dark magnet. With upscale bars and restaurants, coffee houses, boutiques and loft apartments in the old commercial buildings, it's popular with the under-30 crowd.
Nearby, on the banks of the Cuyahoga River, is The Flats. The new Greater Cleveland Aquarium, located in an old power plant in the West Flats, opened in January and has become a major tourist attraction. Steps away, the Nautica Queen excursion boat offers lunch and dinner cruises on the river and Lake Erie. The outdoor Jacobs Pavilion at Nautica hosts concerts. A comedy club, nightclubs and restaurants also draw visitors. The Flats' east bank is being reinvented into a residential neighborhood mixed with shops, entertainment, a boardwalk, green space and an office tower. The upscale Aloft hotel could open as early as 2013. Also next year, Horseshoe Casino will have a branch in The Flats that will be connected by a bridge walkway to the main casino at Terminal Tower.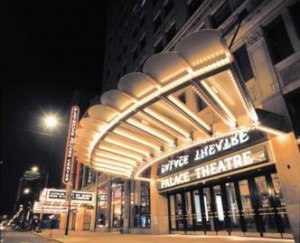 The Playhouse Square Theater District, centered around five restored theaters on or near Euclid, is the nation's largest performing arts center outside of New York City's Lincoln Center. On almost any night you can catch a Broadway show, Shakespeare play, concert, opera, ballet play or top comedian. The Great Lakes Theater Company and Cleveland Playhouse, among the top regional theater companies in the country, provide a wide variety of performances.
All five theaters—the Allen, Ohio, State, Palace and Hanna—were built between 1919 and 1921 as vaudeville, Broadway or movie theaters. They closed in the 1960s but were saved from the wrecking ball; renovations began in the '70s.
I enjoyed Great Lakes' production of Agatha Christie's The Mousetrap at the 550-seat Hanna Theatre, a jewel of a place decorated with marble, murals and gilded plasterwork relief. Instead of a bar in the lobby, there's one behind the last row of seats that stays open 90 minutes after the show. After Saturday matinee performances, guests can mingle with the cast and crew in the lounge (a gift of Tom Hanks, a Great lakes alumnus, and his wife, Rita Wilson). The theater's Playnotes program before the matinee provides an introduction to the content of the show, with remarks by the artistic director, show director or an actor. The Hanna can arrange a theater tour or group meal.
Great Lakes' 2012-2013 season at the Hanna and Ohio theatres includes such productions as Dickens' A Christmas Carol, Shakespeare's Much Ado About Nothing and the musical comedy Guys and Dolls. Upcoming Cleveland Playhouse offerings at the Allen Theatre include Lombardi, A Carol for Cleveland (a modern take on the Dickens classic) and Bell, Book and Candle.
Not far from Playhouse Square is the Historic Gateway District, home to Progressive Field (Cleveland Indians) and Quicken Loans Arena (Cleveland Cavaliers).
For many, the center of downtown Cleveland's universe is the North Coast Harbor District fronting Lake Erie. It's home to the Rock and Roll Hall of Fame and Museum, Great Lakes Science Center and Cleveland Browns Stadium.
With its seven floors of exhibits, the Rock and Roll Hall, a glass pyramid that has become a Cleveland landmark, deserves as much time as you can give it. Whether you're a fan of Elvis, the Beatles, Jimi Hendrix or Madonna, everyone remembers a certain era and gravitates to it. You can watch videos of your favorite performers, see their costumes and guitars, and listen to radio disc jockeys in various cities.
Highlights at the neighboring Great Lakes Science Center include the six-story Omnimax theater and NASA Glenn Visitor Center, which has more than 50 exhibits dedicated to aeronautics and space exploration. The center's Steamship William G. Mather, a restored Great Lakes freighter built in 1925, is moored on the lakefront and this year started hard-hat tours.
For information, visit the Positively Cleveland website.