Fans of the Fab Four can immerse themselves in Beatlemania on a visit to Liverpool, a historic port city that gleams with a revitalized downtown waterfront.
Most pop culture icons come and ago, but some seem to live forever. Take the Beatles, for instance. The band broke up in 1970, but 45 years later the Fab Four's songs are heard everywhere, and their legacy continues to be a huge tourist draw in Liverpool, their hometown in northwest England.
Decades after Paul McCartney, John Lennon, George Harrison and Ringo Starr took the music world by storm, their fans from the 1960s descend on Liverpool as if it were a religious pilgrimage site. I recall Beatlemania from my high school days, and though I wasn't totally wrapped up in it, recently made my way to Liverpool with Beatle sites at the top of my list.
The Magical Mystery Tour bus excursion and The Beatles Story museum attraction brought back memories and had me humming Beatles tunes for the next week. While I encountered plenty of nostalgia-hungry tourists of my generation, I was surprised to see so many young people eager to know about the mop-haired group that belted out "Twist and Shout" and "I Want to Hold Your Hand."
Most of those taking the self-guided audio tour of The Beatles Story the day I visited, in fact, were a third my age. The tour, which follows the boys from their humble beginnings in working-class Liverpool to fame and fortune, has 36 stops and features recorded comments from family members, fans, business associates and the Beatles themselves. Artifacts range from guitars to stage outfits.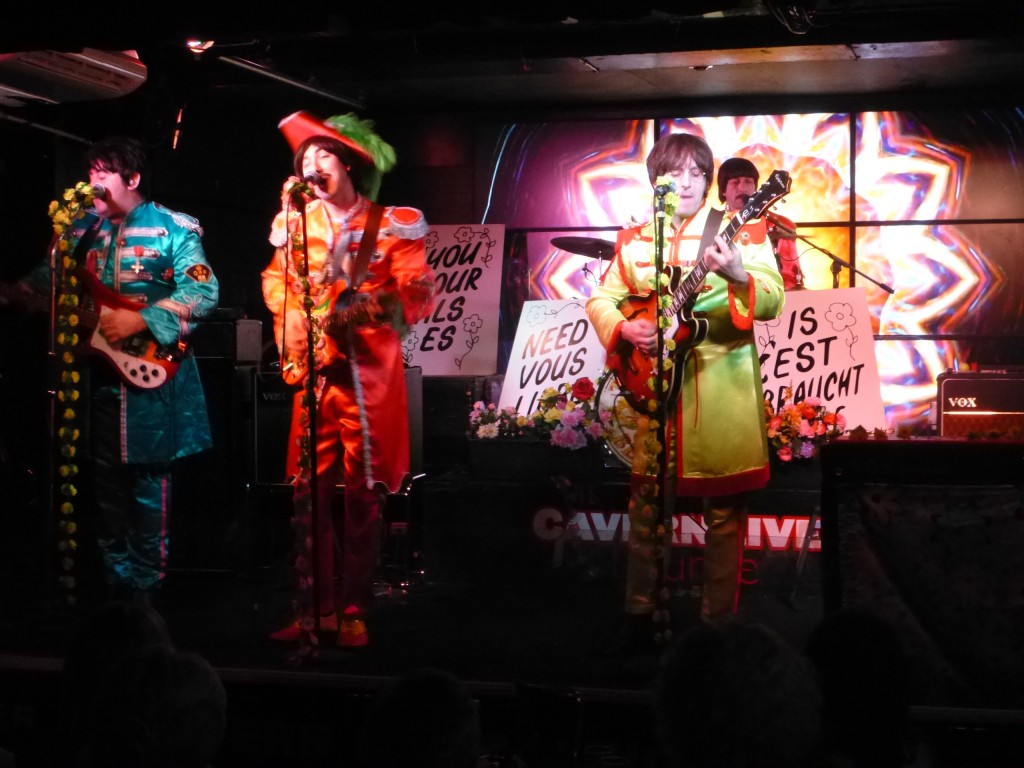 The exhibition includes black-and-white film clips of the Beatles and their adoring female fans, plus glimpses of their movies, like A Hard Day's Night, Help! and Yellow Submarine. I was especially interested in the retelling of their first American tour and how they captivated U.S. teens. When the four lads appeared for the first time on TV's Ed Sullivan Show in 1964, 40 percent of the country was watching.
Visitors to The Beatles Story also see a re-creation of the Cavern Club, the Liverpool nightspot where the group performed early in their careers. Though the club was demolished in 1973, it was rebuilt with the same bricks to the same dimensions at the same Mathew Street location. Today the Cavern Club, plays host to hundreds of bands, but tourists like me are most interested in the Beatles connection. I attended a Saturday night Beatles tribute show that featured Beatles impersonators who sang a string of hits – "Please Please Me," "Love Me Do," "Day Tripper" and "I Saw Her Standing There," to name a few.
Many older fans were singing along or mouthing the words. One group was celebrating a woman's 70th birthday. But most in the standing-room-only crowd were born long after the Beatles disbanded.
Music blares out of other bars on pedestrianized Mathew Street, the entertainment hotspot of central Liverpool. Nearby, statues of the Fab Four adorn the Hard Day's Night Hotel, the only Beatles-themed hotel. Its public areas are filled with Beatles memorabilia. Souvenir stores in the Cavern Quarter abound with Beatles items, from bobble heads to snow globes.
Adjacent to the Mathew Street corridor is Liverpool ONE, a 42-acre, car-free development that has revitalized downtown. To tell the truth, I wasn't expecting to find something so glitzy in this old port city. Outdoor escalators connect three levels of stores, which include familiar names like Disney, Toys R Us and Forever 21. Festivals enliven its plazas.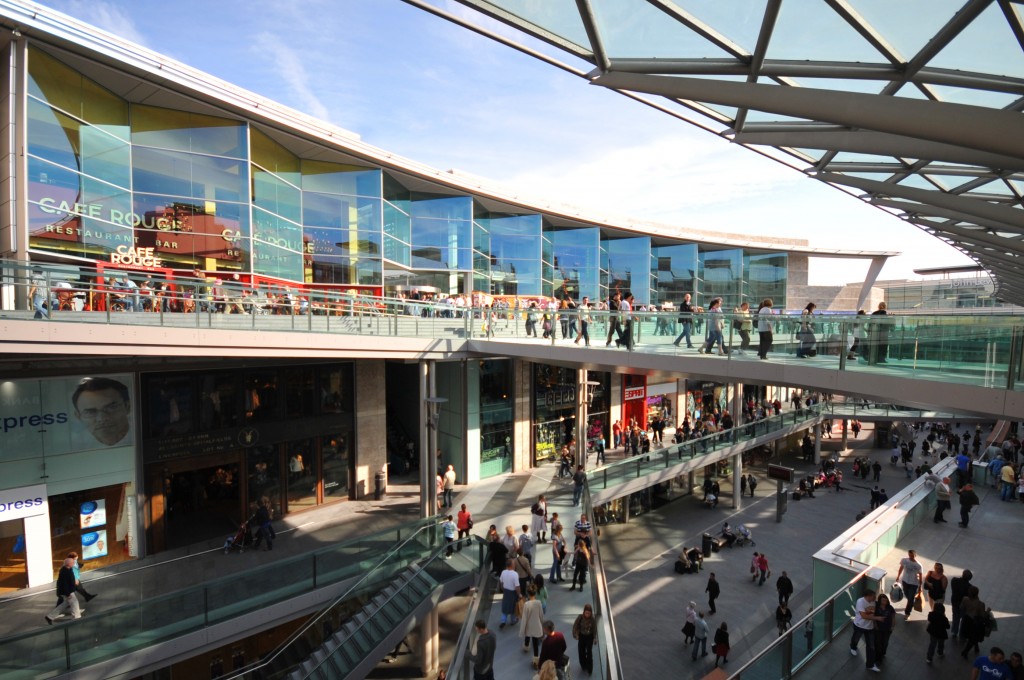 Liverpool ONE is right across the road from the spiffed-up Mersey River waterfront. Albert Dock, a nautically-themed collection of converted 19th century port buildings, houses museums, shops and eateries. The Beatles Story is one of its tenants. Also occupying the red-brick warehouses are the Merseyside Maritime Museum and International Slavery Museum.
For lunch one day, I visited the Pump House, the old pumping station at Albert Dock, and chowed down on steak and ale pie with mashed potatoes and peas. Dessert was also very British – sticky toffee pudding, a warm square of toffee-flavored sponge cake drizzled with toffee sauce and swimming in a bowl of custard sauce. For dinner I feasted on Indian cuisine at The Spice Lounge, an Albert Dock restaurant around the corner from The Beatles Story. The butter chicken – chunks of chicken bathed in a mild tomato gravy and served over rice – was a culinary highlight of my whole trip to England. If I had time for another Albert Dock restaurant, I would have chosen Circo and enjoyed circus acts with my meal.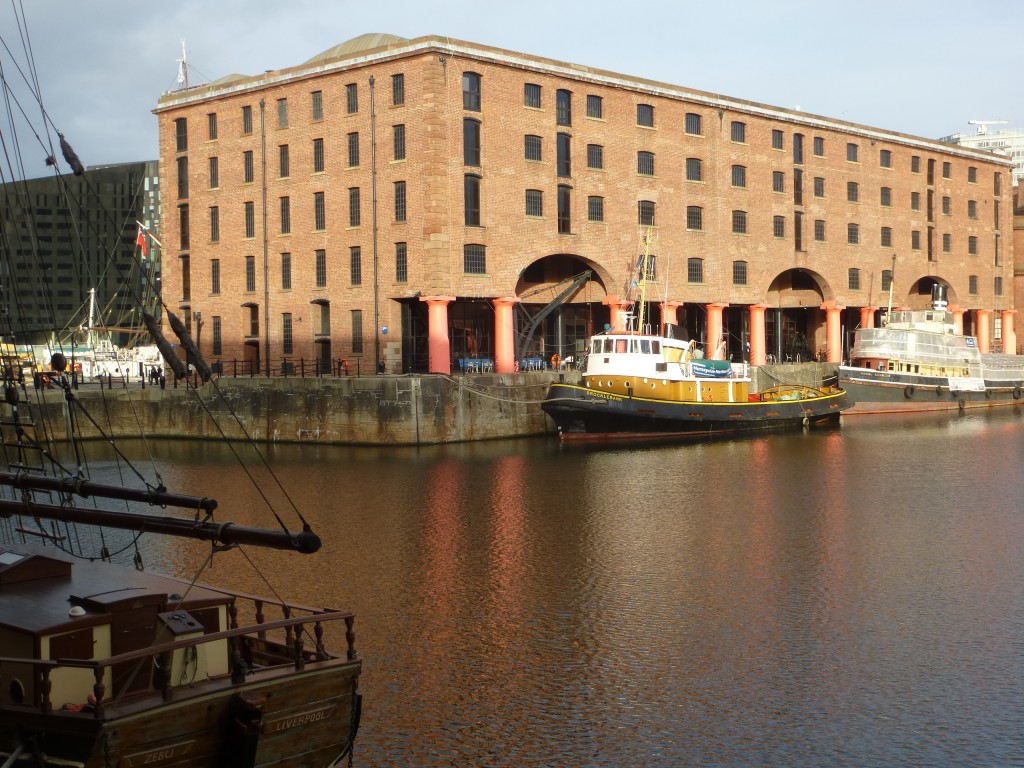 Also on the waterfront is the state-of-the-art Museum of Liverpool, a free-admission national museum that tells the story of Liverpool through interactive exhibits. Don't miss the immersive, 360-degree Beatles film. And there's a branch of The Beatles Story at Pier Head, the Mersey River ferry terminal. Now showing is the excellent GRAMMY Museum exhibition The British Invasion: How 1960s Beat Groups Conquered America. It showcases groups like the Rolling Stones and Dave Clark Five as well as the Beatles.
For a relaxing introduction to Liverpool, take a River Explorer Cruise aboard Mersey Ferries. The narrated 50-minute cruise begins and ends to the strains of "Ferry 'Cross the Mersey," the 1960s hit by another British pop group, Gerry and the Pacemakers.
Perhaps the highlight of my brief visit to Liverpool was the Magical Mystery Tour, a two-hour bus circuit that spotlights places where the Beatles spent their early days in working-class neighborhoods. Filled with revealing tidbits about their lives and how they met each other, the tour visits locations that inspired songs such as "Penny Lane" (a street) and "Strawberry Fields" (an orphanage). Besides those two spots, we had photo stops at Paul's family home (where John and Paul wrote 100 songs) and George's birthplace, a humble brick row house that's now a private residence. Paul's place is owned by the National Trust and open for tours.
Our guide pointed out the primary school that George and John attended, the church where John met Paul in 1959, John's house (a National Trust property) and massive Liverpool Cathedral, where Paul auditioned for the choir but didn't get accepted.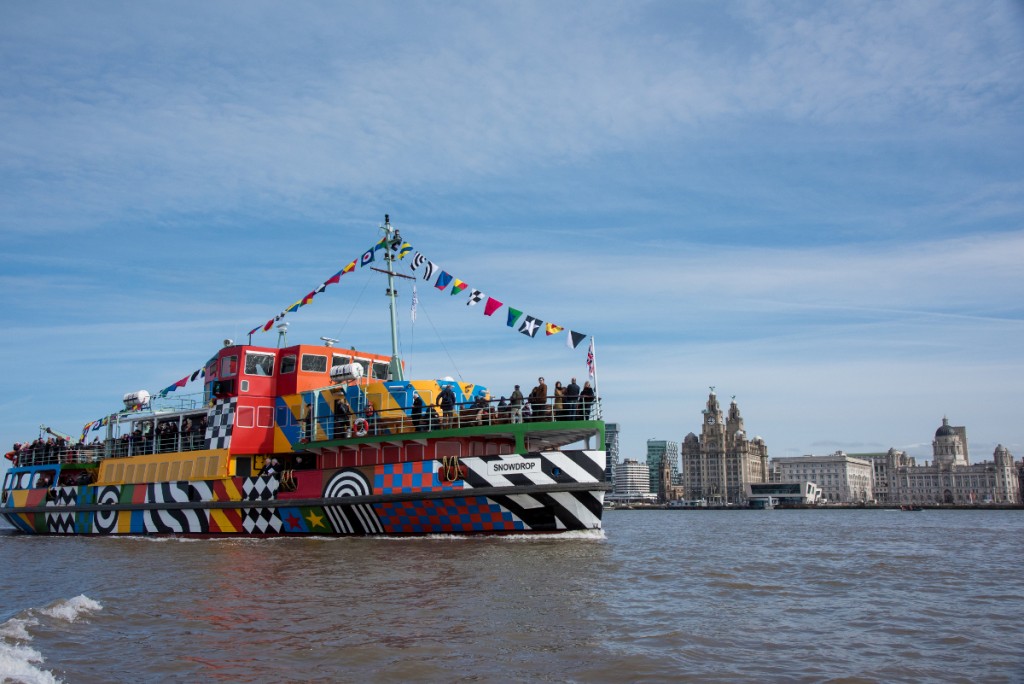 Beatles tunes were interspersed with the Magical Mystical Tour commentary. Passengers on the bus were all ages and from all over the world, including a group from Singapore.
For sheer pampering in Liverpool, I would recommend 2 Blackburne Terrace, a chic bed and breakfast inside an 1826 Georgian house that's been divided into six town homes. Run by Glenn Whitter, a former musician and interior designer, and his wife Sarah, a former teacher, it's an oasis of calm just a few blocks from Liverpool Cathedral and a 15-minute walk from the city center. Two of the four, high-ceilinged guest rooms overlook the church, the largest in England.
The word "plush" best describes 2 Blackburne Terrace. Think plush towels, plush bathrobes and thick-thick rugs. The deep tub and heated bathroom floor also will spoil you. My room, done in beige and blues, was decorated with original artwork, art objects (including a Chinese vase) and six framed black-and-white photos of the Cathedral. Waiting for me after a day of sightseeing was a special treat—a plate of macarons and a crystal decanter of sloe gin.
At breakfast, serenaded by classical music while seated at a gorgeous, purple lacquered table in a dining room with a built-in bookcase, I appreciated all the helpful tips Sarah gave for making the most of my time in Liverpool. Cocooned in such comfort, though, I didn't want to leave.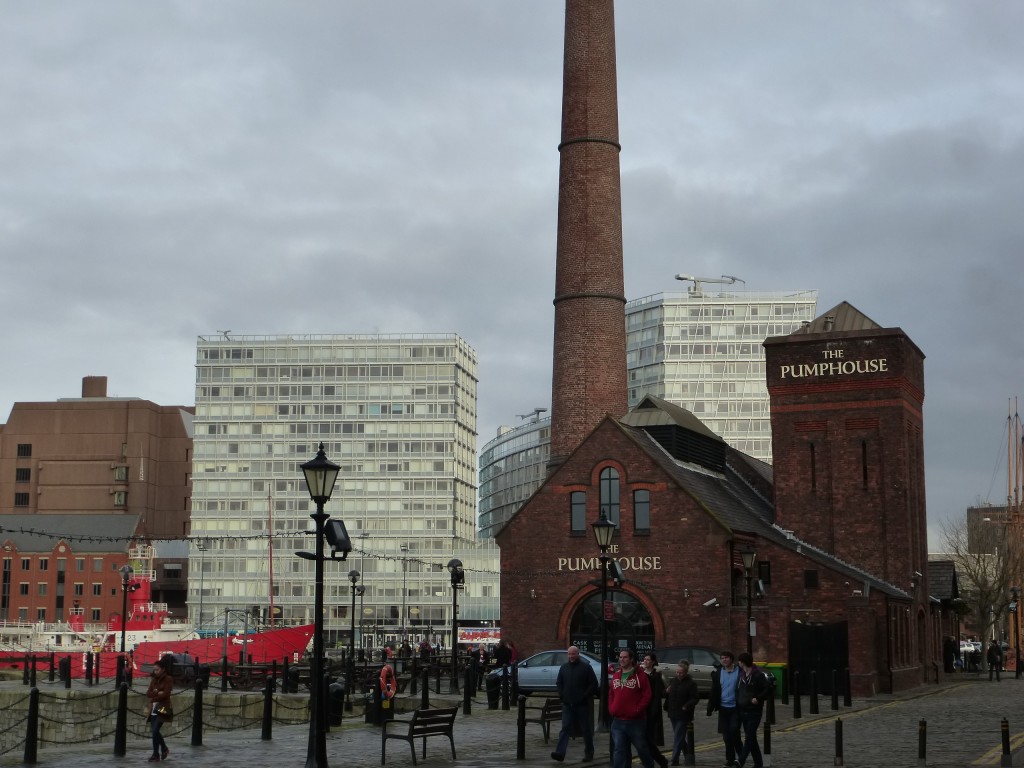 The Whitters can serve smoked salmon or kippers (smoked herring), but I chose a typical English breakfast of bacon, sausage, scrambled eggs, and baked beans with minced onions and tomatoes. That was after the yogurt course with plump blueberries and slices of kiwi and watermelon. For the toast I had many choices of spreads—from French lavender honey to passion fruit/lemon curd.
Touches of luxury also awaited me the next day at the sleek Epic Apart Hotel on Seel Street, just minutes from the city center. I had a whole apartment, complete with kitchen, living and dining areas, giant flat-screen TV. Contemporary in design and loaded with upscale amenities, Epic makes the ideal "home" in Liverpool. The friendly people at the front desk, staffed 24 hours a day, were attentive to my needs and had all the answers to my questions about getting around Liverpool. I appreciated their warmth and cheerfulness on the blustery, rainy day. After some soggy sightseeing, the hot chocolate packets I found in the kitchen really revved my spirits, and it was nice to relax on the comfy couch in front of the giant, flat-screen TV.
The kitchen had an oven, microwave, refrigerator and toaster, along with a full range of dishware and utensils. I also liked the oversized rain shower with dual shower heads and the premium towels. Bed linens were Egyptian cotton. Accommodations at Epic Apart Hotel range from studios to two-and three-bedroom apartments.
From the gritty to the luxurious, Liverpool provides a great look at English urban life outside of London.
For Liverpool tourist information, log on to visitliverpool.com. Also check out
VisitEngland's website, visitengland.com.