The Centennial State's protected areas offer millennia of history of plentiful outdoor activities.
Hovenweep National Monument 
The term "Hovenweep" is Ute/Paiute for "Deserted Valley," and this monument is just that. Hovenweep National Monument is composed of six villages built from A.D. 500 to A.D. 1300 and was once home to 2,500 people. Built by Ancestral Puebloans, the towers, dwellings and ceremonial structures reflect their skilled and beautiful masonry strong enough to withstand hundreds of years of wear.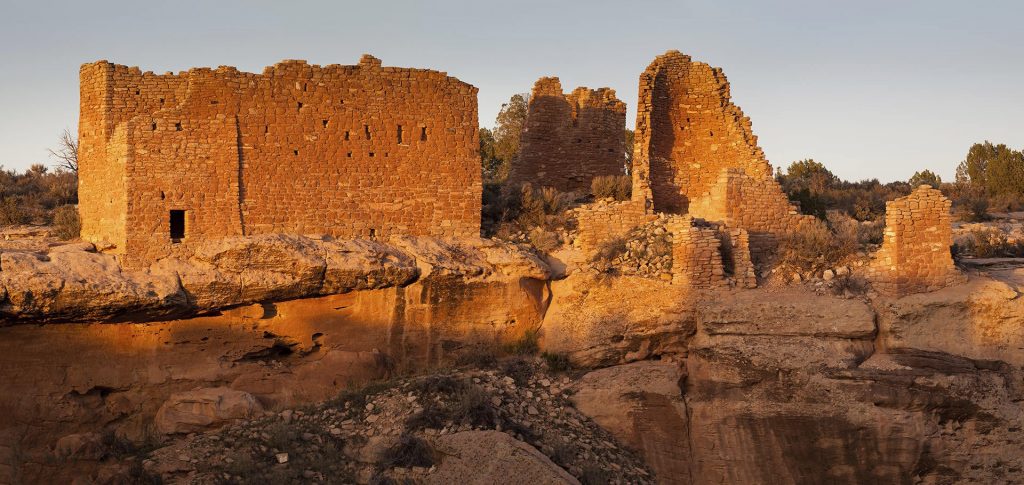 Visitors can take a short walk to the Square Tower Group Overlook to view the precariously placed ancient structures or hike the two-mile Square Tower Group Loop Trail to view nine of the park's standing structures. Hovenweep also prides itself in its minimal use of artificial light, reducing light pollution and making it a perfect place for stargazing.  Visitors can attend ranger-guided stargazing programs in the spring and summer or gaze freely from the visitor center parking lot or monument campgrounds.
Dinosaur National Monument
Stretching over both Utah and Colorado, the vast 210,000-acre Dinosaur National Monument has been inhabited by tribes for at least 10,000 years. At five different locations in the park, visitors can experience the cultural history of these tribes by viewing their petroglyph rock carvings on sandstone cliffs depicting humans, animals and abstract artistic designs.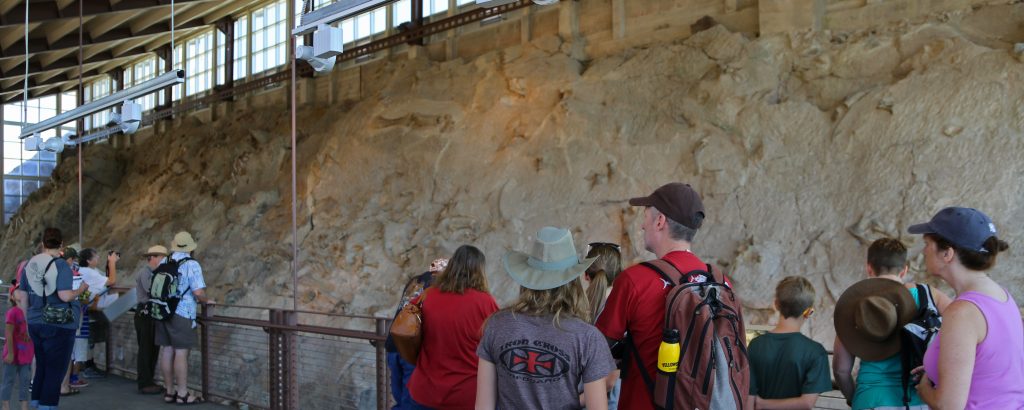 The monument's Quarry Exhibit Hall allows visitors to view a cliff face containing over 1,500 dinosaur bones and fossils and to touch 149 million-year-old fossils. Visitors also have the opportunity to learn about the fossils history through an 80-foot long mural exhibit. To see the expanse of the park and its Green and Yampa River canyons, visitors can also drive the 32-mile Harpers Corner Drive and stop at three picnic overlooks along the way. For a more immersive view of the canyons, groups can partake in guided rafting tours through Split River Canyon.
Chimney Rock National Monument 
Located at the southern edge of the San Juan Mountains in Southwestern Colorado, Chimney Rock National Monument is an ancient archaeological site that preserves 200 Ancestral Puebloan homes and ceremonial buildings. Among these structures are a 44-foot-wide circular ceremonial subterranean room called a Great Kiva, the Pit House, a multi-room dwelling and a Chacoan style Great House Pueblo.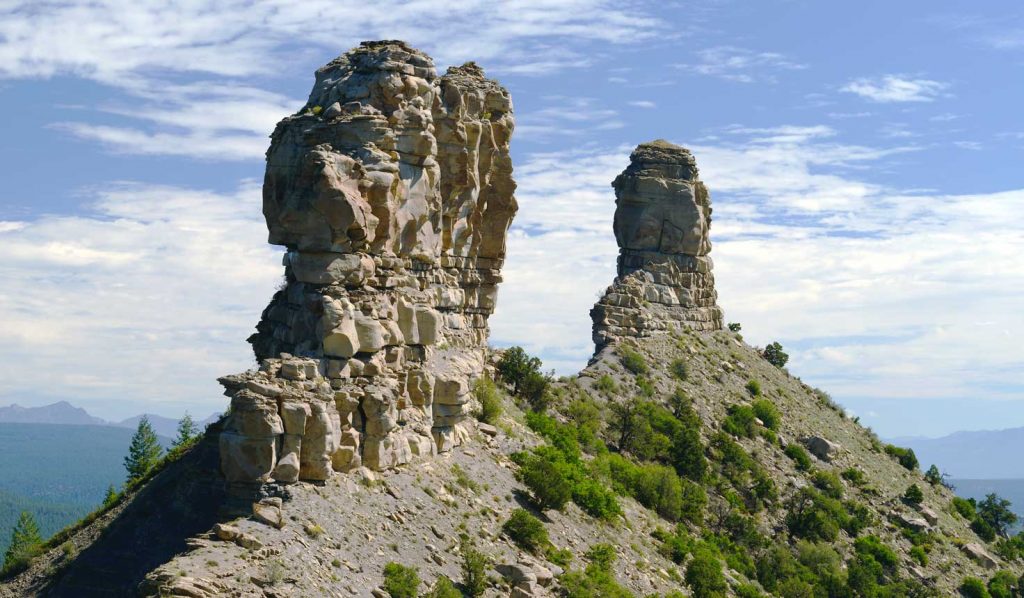 Visitors can walk the same thousand-year-old paths of the Ancestral Puebloans or, because the monument stands at 7,000 feet above sea level, take a half-mile hike to the top of Chimney Rock for a 360-degree view of both Colorado and New Mexico. The Chimney Rock Interpretive Association operates the monument's visitor center and conducts daily guided tours during the park's season (May 15 through September 30).
Yucca House National Monument 
One of the largest archeological sites in Southwestern Colorado, Yucca House National Monument preserves a Montezuma Valley Ancestral Pueblo site. The 34-acre monument has been untouched and un-excavated for over 800 years, and from A.D. 1150 to A.D. 1300, served as the community center for the Ancestral Puebloans. Built around a productive spring used for drinking, mud mortar and irrigating crops, the monument was once surrounded by farmland where people planted corn, beans and squash.
Entering the Yucca House, visitors will see the "West Complex" pueblo toward the base of Ute Mountain that includes roughly 600 rooms and over 100 kivas. To the east is the "Lower House," an L-shaped pueblo with eight first-story rooms and a great kiva. A trip to Yucca House National Monument allows visitors to experience what Ancestral Puebloan life may have been like hundreds of years ago.
Canyons of the Ancients National Monument
In its 176,000-acre expanse, Canyons of the Ancients National Monument contains over 6,355 sites depicting the past life of native cultures. Humans have used or inhabited the monument for 10,000 years for recreation, hunting, livestock grazing and energy development. Sites include agricultural fields, check dams, cliff dwellings, field houses, great kivas, petroglyphs, sweat lodges and villages.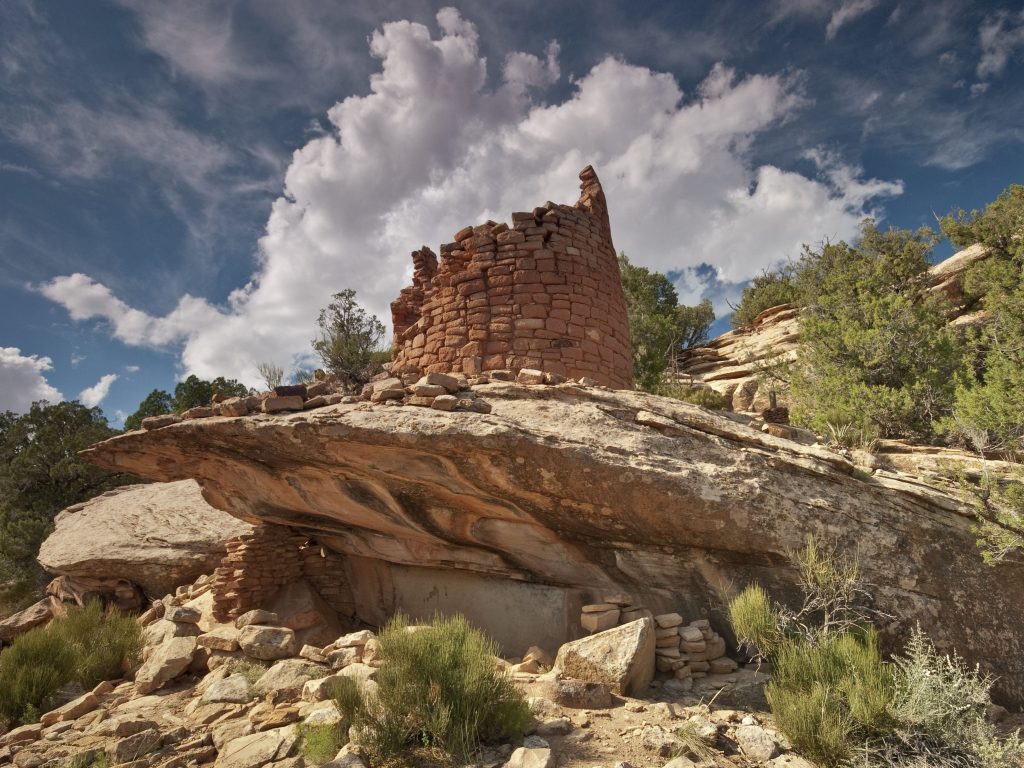 Visitors can drive to the monument's only developed recreation site, the Lowry Pueblo National Landmark, to see its standing walls, 40 rooms and eight kivas or drive to Painted Hand Pueblo, a standing tower with pictograph paintings. The monument also features the Canyons of the Ancients Visitor Center and Museum, a recognized archaeological museum of the Ancestral Puebloans and other Native Cultures. There, visitors can view permanent exhibits on local history and Ancestral Puebloan life, Native American cultures and archaeology, two 12th-century archaeological sites and a research collection of over three million artifacts and records from archaeological projects in Southwestern Colorado.
Browns Canyon National Monument 
Located in Chaffee County, Browns Canyon National Monument is home to granite cliffs, rock outcroppings and mountain vistas. Many of Colorado's most symbolic animal species inhabit Browns Canyon, including bighorn sheep, black bears, bobcats, coyotes, elk, gray foxes, mountain lions and mule deer. Within the 22,000-acre monument, there are also historical sites of prehistoric stone structures and rock shelters that reflect past life and culture in the area.
There are a plethora of hiking trails that enable visitors to see the monument, including the Hecla Junction Trailhead, a two-mile hike along the river, or the Aspen Ridge Trailhead, a two-and-a-half-mile hike through meadows, pines and aspen. For a more accessible view of the park, visitors can drive along Aspen Ridge Road in the fall to see the golden aspen leaves.