From mountains to sand dunes, Colorado National Parks offer a variety of unique experiences
Colorado is known as the Centennial State because it entered into statehood in 1876, 100 years after the signing of the Declaration of Independence. It also possesses an unofficial, more alliterative nickname, Colorful Colorado, which stems from its reputation as a scenic destination featuring spectacular byways, thousands of acres of forest and, most notably, magnificent national parks.
Colorado is the eighth-largest state in the Union (as measured by total area) and features four national parks, a number exceeded only by California (nine), Alaska (eight) and Utah (five). Given that each Colorado park boasts a diverse array of charming qualities, adventurous groups may be tempted to step foot in all four.
If so, they will have to carve out a healthy swath of time, considering the parks are hundreds of miles apart and are separated by mountainous terrain. That said, life is fleeting, and what better way to enjoy America's majesties than visiting as many parks as possible? Regardless of whether a group opts for one or all four, any trip to Colorado's national parks is a wondrous excursion.
Rocky Mountain National Park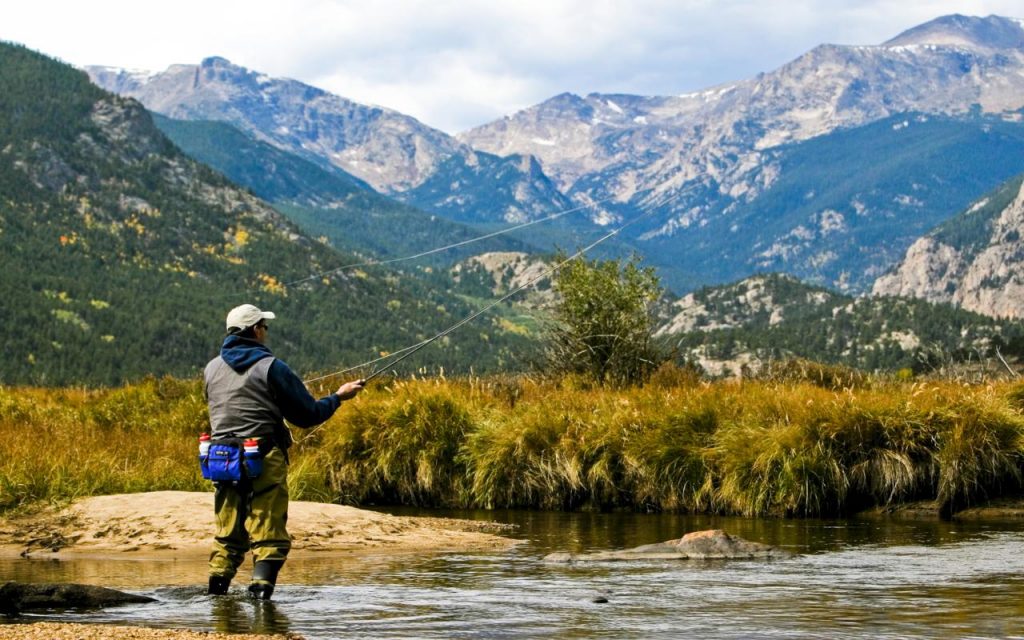 Located less than two hours north of Denver, Rocky Mountain National Park attracted more than 4.5 million visitors in 2016, making it the fourth-most popular national park in the country.
Established in 1915 and covering 265,873 acres, Rocky Mountain offers multiple reasons for its popularity, beginning with its sweeping vistas. It features 72 peaks that exceed 12,000 feet, with the highest being 14,259-foot Longs Peak. As the park's only crest higher than 14,000 feet, the flat-topped mountain summit is a prime spot for rock climbers. Longs Peak also has multiple trails for hikers and a glacier just above Chasm Lake, giving sightseers a dramatic view.
Bisected north to south by the Continental Divide, Rocky Mountain features lush green vegetation on its western side, while the eastern portion has the finest mountain views. The best way to see both sides is the historic 48-mile Trail Ridge Road, a winding stretch that reaches a height of 12,183 feet. Open from Memorial Day until late autumn, Trail Ridge Road is the highest continuous paved road in the country, giving parkgoers a look at snowcapped peaks, thick evergreen forests and ecosystems ranging from wetlands to treeless alpine tundra.
The park contains 450 miles of streams, 355 miles of hiking trails and 150 lakes, with one of the most popular destinations being Bear Lake, a scenic trailhead that sits at an elevation of 9,450 feet. Groups looking for more information about the park can consult with park rangers at visitor centers or the Wilderness Office. Rocky Mountain also offers free ranger-led events that include astronomy and evening programs.
Great Sand Dunes National Park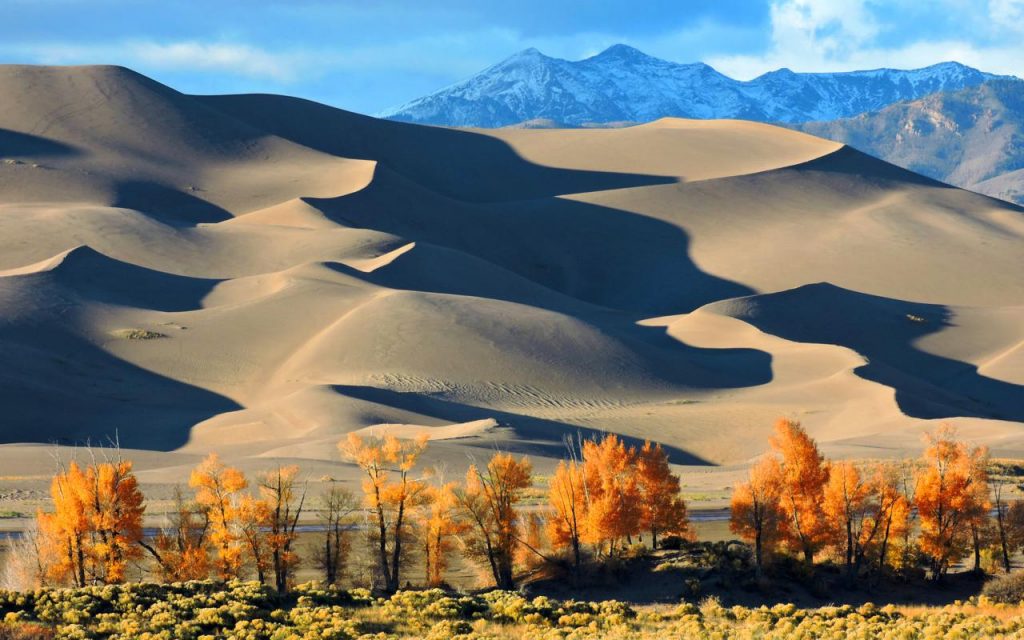 Home to the tallest sand dunes in North America, Great Sand Dunes is a visual marvel. Rising over 750 feet, the dunes were formed nearly 440,000 years ago by deposits of the ancient Rio Grande River. They encompass 20 square miles within the 150,000-acre park and are the heart of a diverse landscape of grasslands, shrublands, wetlands, old-growth forests and alpine lakes.
Open year-round, the park was created in 1932 and is situated across from San Luis Valley in south-central Colorado. It offers plenty of hiking opportunities as well as a four-wheel driving trail along the Medano Pass, an off-road that stretches 25 miles. Skiers and snow-boarders can sled down the sandy mountains while hikers can explore any portion of the 30-square-mile dunelands or one of the park's many forested trails.
Medano Creek is a seasonal stream that intrigues visitors with surges of water resembling ocean waves that transpire at various intervals, sometimes rising to as much as a foot in height. Groups hoping to better understand the park's environment can enjoy free ranger programs that are offered most days from late May through October. Among the many programs offered are Navajo arts and crafts demonstrations and art projects for all ages.
Mesa Verde National Park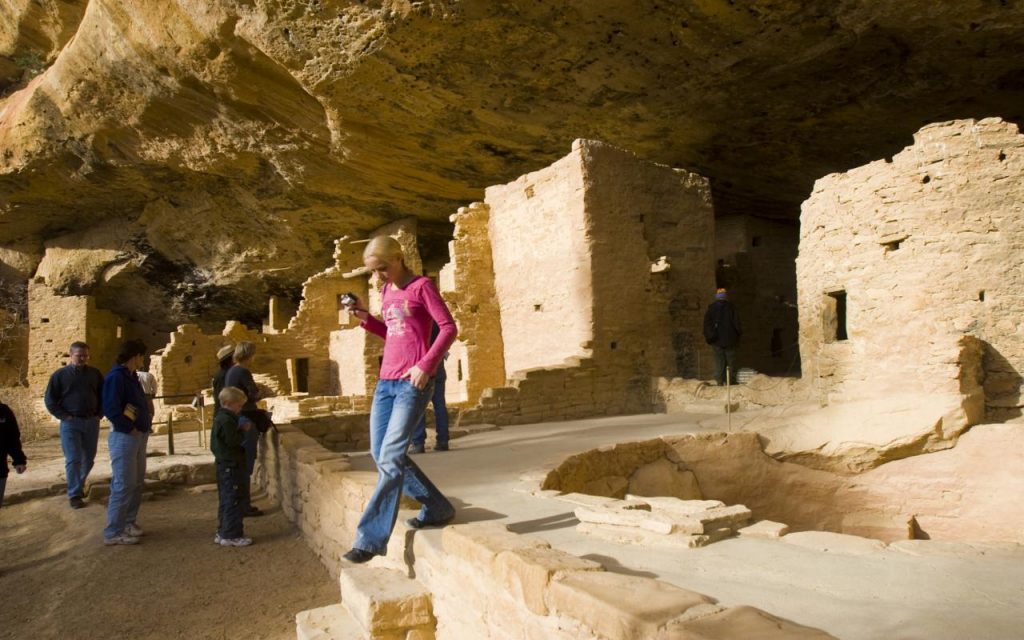 Mesa Verde, Spanish for green table, provides a fascinating view into the lives of the Ancestral Puebloans, an ancient Native American culture that lived there from A.D. 600 to 1300.
Established by President Theodore Roosevelt in 1906 and covering 52,485 acres, Mesa Verde is the largest archaeological preserve in the United States. The park protects more than 4,800 archaeological sites, including 600 cliff dwellings that fill cliff-rock alcoves rising about 2,000 feet above southwestern Colorado's Montezuma Valley.
Nestled securely into cliff walls, the exceptionally preserved adobe-constructed homes help document the existence of the Ancestral Puebloans, who lived in the dwellings for the last 75 to 100 years of their occupation of Mesa Verde.
The park is best known for Cliff Palace, considered the largest cliff dwelling in North America. Cliff Palace offers a one-hour walking tour featuring 150 rooms, 23 kivas (rooms used for religious rituals) and Balcony House, which contains numerous passages and tunnels. Cliff Palace and Balcony House can only be visited by taking a ranger-guided tour. Groups that embark on these tours must be capable of walking the trails, climbing ladders and negotiating steps independently. Mesa Verde also offers free ranger-led campfire talks every evening.
Black Canyon of the Gunnison National Park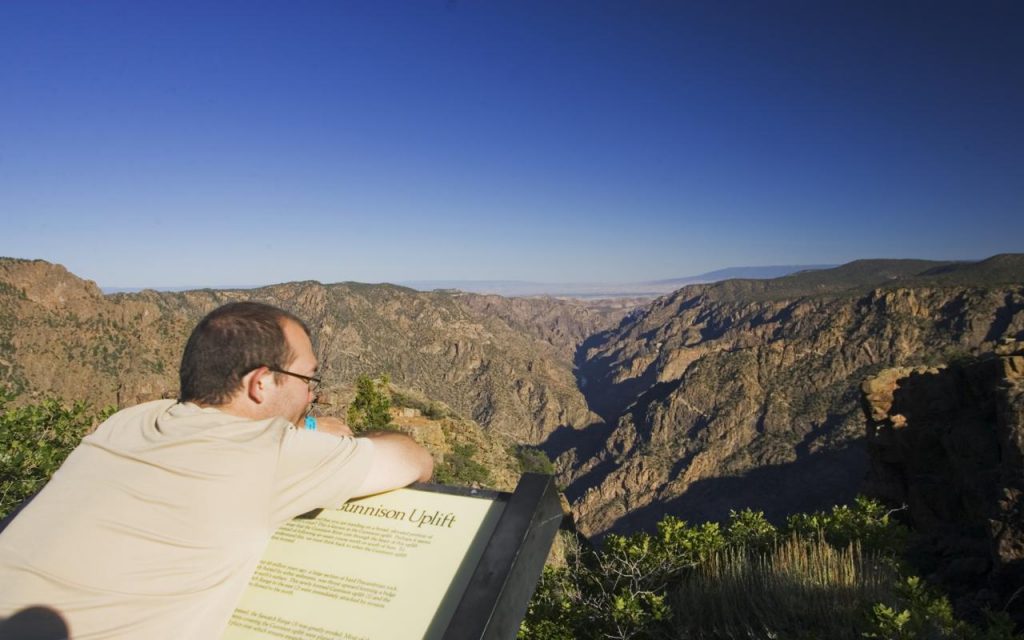 Named for its sheer walls of dark gray stone that reach up to 2,700 feet above the Gunnison River, Black Canyon is renowned for its striking scenery. Located in western Colorado, this 30,750-acre, 53-mile stretch of narrow gorge showcases millions of years of natural history with the rocks near the canyon's floor being nearly two billion years old.
The canyon contains some of the steepest cliffs in North America and its walls are composed of gneiss and schist rock, which appear black when shadowed. These shadows are a regular occurrence as parts of the park are so narrow that sunlight percolates to the bottom only at midday, with portions of the gorge receiving a scant 33 minutes of light per day.
The park is a popular site for rock climbing and river rafting but also offers the chance for casual hikes, wildlife viewing, fishing and horse-back riding. Among Black Canyon's most popular attractions are multiple scenic drives where visitors can enjoy overlooks of chasms, canyon walls and picturesque sunsets.
The park has a South Rim visitor center that is open every day of the year except for Thanksgiving and Christmas Day, and a North Rim ranger station that is open intermittently during the summer. Groups that wish to see nearby attractions can visit Crawford State Park (12 miles from Black Canyon), Gunnison Gorge National Conservation Area (near the park's east boundary) and Colorado National Monument (94 miles away).