Give your group a true Western experience, complete with cowboy entertainment and great grub
The chuckwagon is a symbol of the rugged individualism and pioneer spirit of the American frontier. Crews of cowhands lived in the open for months at a time, feeding and caring for young cowboys who were moving herds of cattle across the plains. These chuckwagons became the cowboys' home—for most, the only home they had. The chuckwagon and onboard cook supplied everything the cowboy needed, including meals, repairs to clothing and equipment, entertainment, medical help and moral support.
This romantic image of the West is alive and well today at chuckwagon dinner experiences from Wyoming to Texas. Each one is unique, but family-friendly entertainment and plenty of delicious food are constants throughout. Combining these entertaining attractions with the natural beauty of the West makes for a great itinerary. Here are some chuckwagon diners to consider.
Utah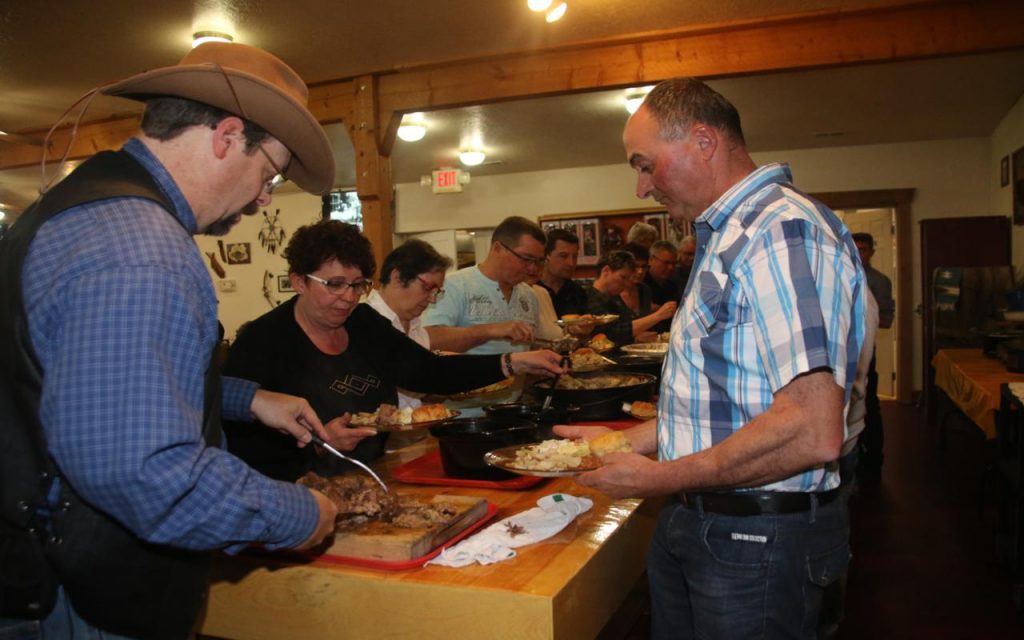 Groups visiting the Grand Canyon, Lake Powell, Bryce Canyon or Zion will want to plan a lunch or dinner stop at Chuckwagon Cookouts, located on the grounds of Little Hollywood Movie Museum in Kanab. In addition to the chuckwagon experience, guests get a little movie culture from the area known as "Little Hollywood." On site are original Western movie sets used in such films as Outlaw Josie Wales.
Chuckwagon Cookouts has offered food and fun for more than 20 years and since 2014 has given its traditional recipes healthy twists, using only coconut oil in preparing the potatoes, beans and cobbler, only gluten-free ingredients in the sauces and gravies, and only natural spices for the roast beef. The mouth-watering main course features Cedar River Farms Natural Beef, hand-rubbed with a blend of ground pepper, salt, onion powder, savory, garlic powder, chili, mustard and cayenne, then slow roasted in a romertopf clay pot and served with homemade BBQ sauce and au jus.
The Willow Creek Band performs classic American music during dinner, which is followed by "How the West was Lost," an audience participation show. (littlehollywoodmuseum.org/restaurant)
Arizona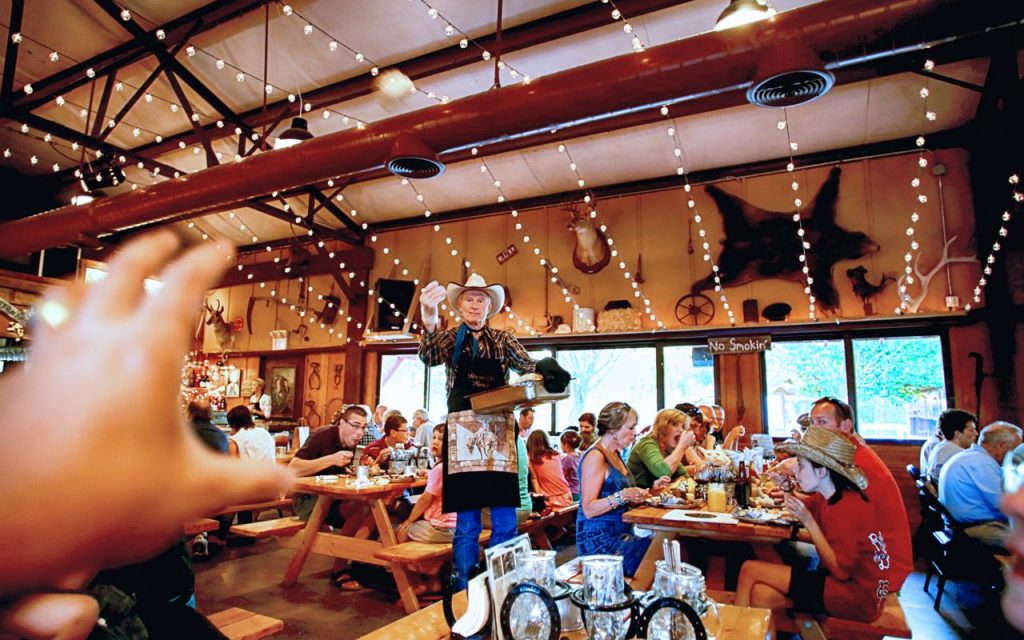 For tours going through Sedona, Cotton-wood or Prescott, Blazin' M Ranch is a must.(It's a perfect combination with the scenic Verde Canyon Railroad, just a few miles away). Upon arrival, belly up to the bar in the Western Saloon or enjoy authentic Western shopping in the village. Then the dinner bell rings and the feast begins – BBQ chicken and pork ribs with all the fixings, including baked potato, pinto beans, flying (tossed) biscuits and the signature prickly pear coleslaw. Caramel apple crisp a la mode is for dessert.
After dinner the Blazin' M Cowboys entertain with their musical talents, cowboy poetry and humor. Otis, named Cornville's most eligible bachelor since 1986, is a favorite as is the ranch's most infamous occupant, the Ghost Rider.
Blazin' M Ranch, located in Cottonwood, operates year-round, seven nights a week. (blazinm.com)
New Mexico
Scenic Ruidoso is home to Flying J Ranch, a tourist favorite. The Chuckwagon Suppers and Western Show was established in 1982, and hosts James and Cindy Hobbs have served and performed for over 750,000 guests.
A typical evening at the ranch begins with strolling through Bonita City, an Old West town filled with gift shops. There is a pistol shoot where you can try your luck with a real .45 caliber pistol, pony rides for kids, gold panning, a blacksmith shop and a chapel. Right before dinner a gunfight between Western wranglers breaks out in the center of town. Then it's off to the dining hall for a delicious meal of beef brisket and grilled chicken, followed by an action-packed show filled with world-champion yodeling, amazing harmonies, fancy fiddling, hilarious comedy, banjo playing and guitar picking.
The ranch is open from Monday through Saturday between Memorial Day and Labor Day, Saturdays only through mid-October.  (flyingjranch.com)
---
---
Colorado
Located just outside Rocky Mountain National Park, Lazy B Chuckwagon
and Western Show is an authentic Western heritage attraction with a longstanding tradition in the Estes Park community. The original Lazy B opened in the early 1960s and operated successfully for over 40 years before closing its doors in 2005. In May of 2017 the Lazy B's new home will be the Historic Elkhorn Lodge.
Inspired by the iconic movie cowboy, the Lazy B brings fresh energy to the solid traditions of the past. Wholesome family entertainment engages all ages through a two-hour journey of Western music from Bob Wills and Sons of the Pioneers to classic country favorites.
The show runs from Memorial Day weekend through Sept. 30, Tuesday through Saturday nights, with Sunday matinees. (lazybranchandwranglers.com)
Wyoming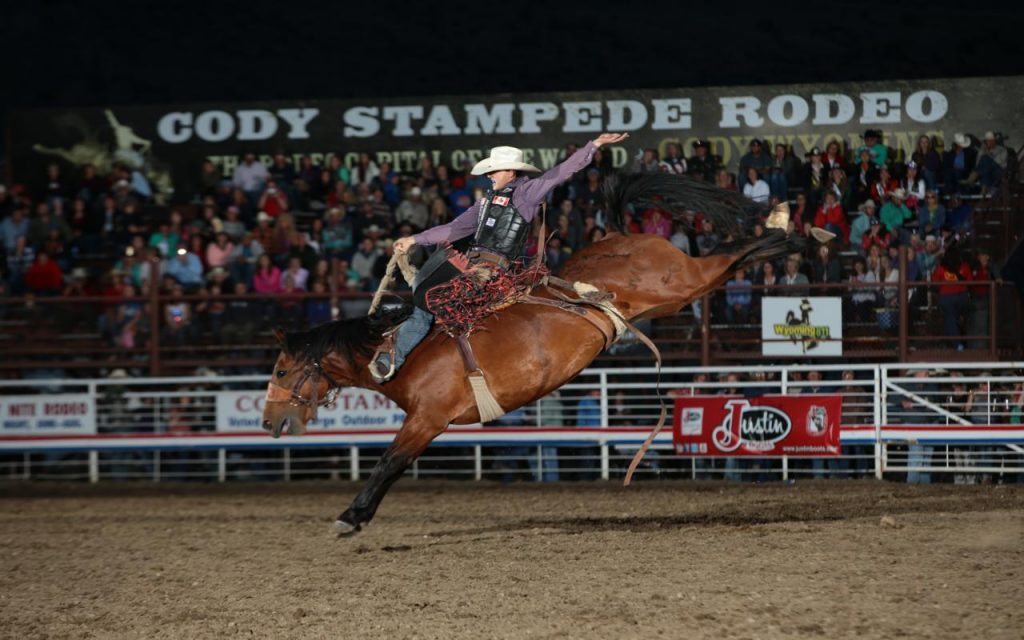 Groups can spend the morning touring Yellowstone National Park and enjoy the Cody Cattle Company dining/entertainment experience in the evening. An all-you-can-eat dinner buffet is served from 5:30 to 7:30 p.m. each evening. Ryan Martin and his Triple C Cowboys Band begin at 6:30, so groups can eat before or during the foot-stompin' show. The entertainment ends just in time to attend the Cody Nite Rodeo, which takes place every night from June through August.
The best value is the "Trifecta Ticket," which includes dinner, show and a ticket to the Cody Nite Rodeo at Stampede Park. Dinner/show and show-only tickets can also be purchased.
The Cody Cattle Company dinner/show is available June 1 through Sept. 23.
(thecodycattlecompany.com)
Texas
Situated along historic Route 66, Abilene has been home to Ball Ranch Chuckwagon Supper & Original Western Stage Show since 1983. Performed in a big red barn, this family-owned and -operated dinner theater offers a chuckwagon supper followed by a fast-paced Western show. True to the area, the meal consists of mesquite-cooked brisket, German sausage, boneless chicken breast, cowboy beans, potato salad, pickles, jalapeno peppers, hot biscuits and peach cobbler. Your group will be entertained by the Ball family, which has been singing together for over 25 years. The family has a tight, three-part harmony and a vast variety of songs, including some originals.
Ball Ranch Chuckwagon Supper & Original Western Stage Show operates on Saturday evenings from Memorial Day through Labor Day, with a special holiday show for groups in December. (theballranch.com)
Wherever your Western tour itinerary may take you, partake in a chuckwagon dinner theater and capture the spirit that enabled cattlemen to master incredible hardships as they helped shape a new nation. Happy trails to you…until we meet again.