Christmas in Switzerland means festive markets, religious traditions and winter fun for group trips visiting this charming Alpine country
For groups, Switzerland offers truly unique experiences that very few other countries can match. Its historic cities, impressive churches and legendary mountains, along with its diverse population, together form a compelling reason to visit. Winter in Switzerland becomes a wonderful time of rich traditions, good cheer, hearty foods, colorful Christmas markets and genuine friendliness. The Swiss take their holidays seriously, but in an unpretentious way. It's more about being with friends and family, enjoying a hot mulled drink and relaxing around a warm, cozy fire.
For travel information, visit MySwitzerland.com and for information on rail travel check out RailEurope.com.
Geneva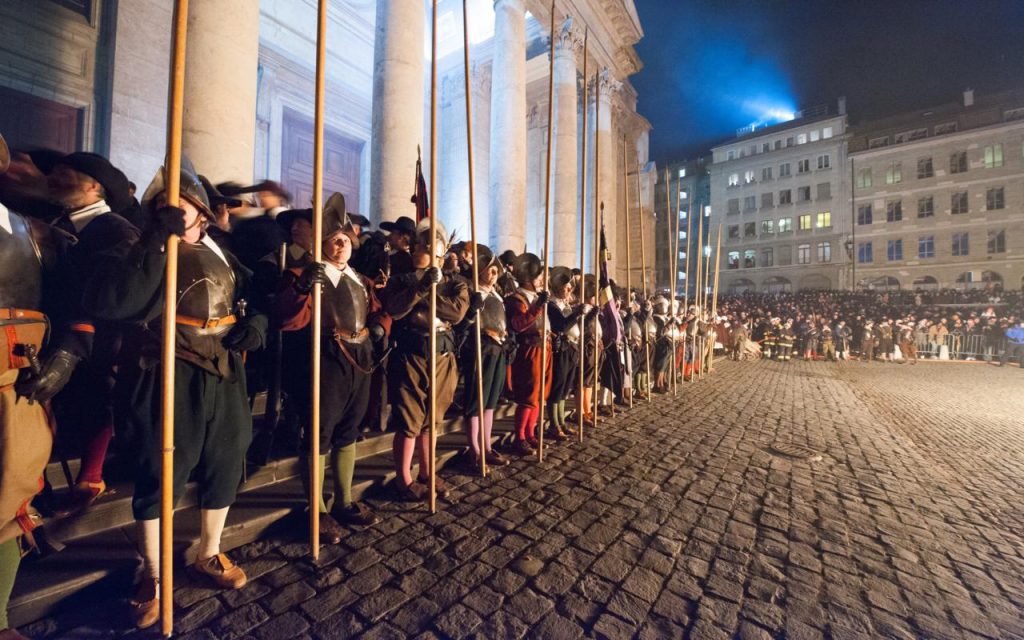 Called the "Protestant Rome," Geneva over the years has been impacted by the Reform Movement and John Calvin's influence. Located on beautiful Lake Geneva, with dramatic views of Mount Blanc, this city, with its long-standing humanitarian tradition and cosmopolitan flair, is the European headquarters of the United Nations and the Red Cross. It also is home to the International Museum of the Reformation, an interesting add-on to Geneva itineraries.
Christmas in Switzerland has a long history in Geneva. Winter celebrations in Geneva include the Escalade Festival, which has taken place for 400 years. Taking place in December, it remembers the unsuccessful 1602 attack by the Duke of Savoy and his soldiers to take over the city. The highlight is a torchlight parade beginning in the Old Town and featuring costumed characters who re-enact the dispersal of the king's troops.
A December tradition since 1935 is the Coupe de Noël, the world's largest open-water swimming competition. Around 2,000 swimmers register for this annual event, which is held in Lac Léman and begins at the Jardin Anglais. Geneva's winter spirit is also evident at a large ice skating rink at Parc des Bastions, a beautiful park in the city center that features the famed Reformation Wall.
For more information on Christmas festivities and planning for your visit, check out www.geneve.com.
Lucerne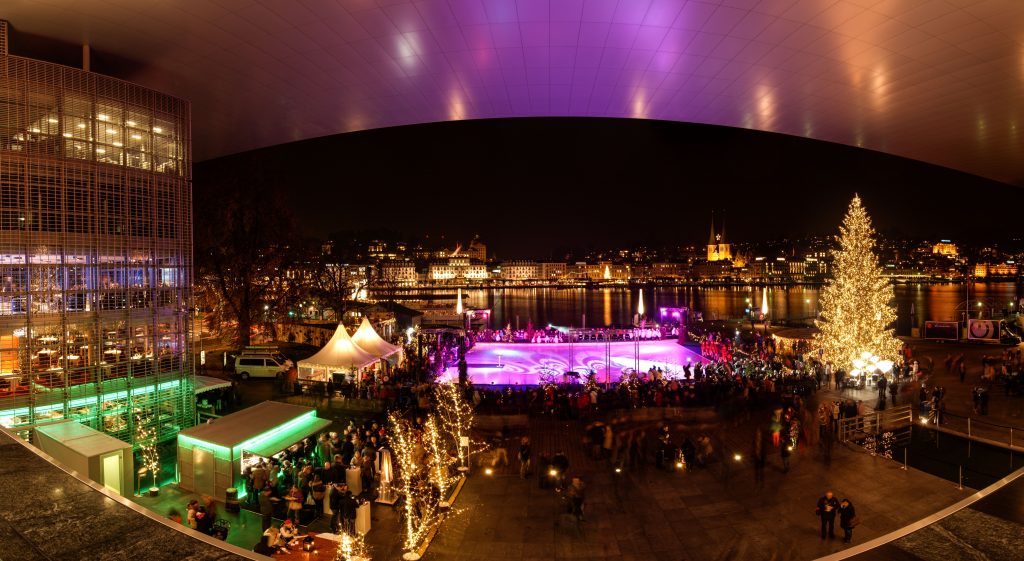 Lucerne, a centuries-old city on the shores of pretty Lake Lucerne, becomes a truly magical place at Christmastime. Snow on the rooftops, festive Christmas markets and sparkling lights gracing the main traffic bridge across the Reuss River transform the town into holiday mode. The look and feel of the town perfectly captures Christmas in Switzerland.
As Advent begins, Lucerne goes into high gear with a spectacular blaze of Christmas lights around the city. Adjacent to the lake there's the colorful Live On Ice skating rink, which continues through early January. Other top attractions include Christmas cruises on Lake Lucerne, a Father Christmas Procession accompanied by the Three Magi and the Holy Family, carol presentations in the Old Town at Christmas Eve, a theatrical Advent Calendar at the Lucerne Theater and special holiday concerts.
Tour groups and individuals can also partake in a unique overview of Christmas in Lucerne where leaders will explain the origins of Christmas and Father Christmas, how pine tree boughs relate to the season, hear important details about Lucerne's Christmas traditions and visit a life-size Nativity set. The meeting point is the Jesuit Church.
As many as 11 distinctive Christmas markets in Lucerne and the area will also be featured during the holidays. Hot mulled wine and roasted almonds, as well as many hand-made craft items, are offered at these intriguing markets. And on New Year's Eve, a giant fireworks display on the lake starts the New Year in Lucerne.
Start planning your visit at www.luzern.com/christmas.
Zurich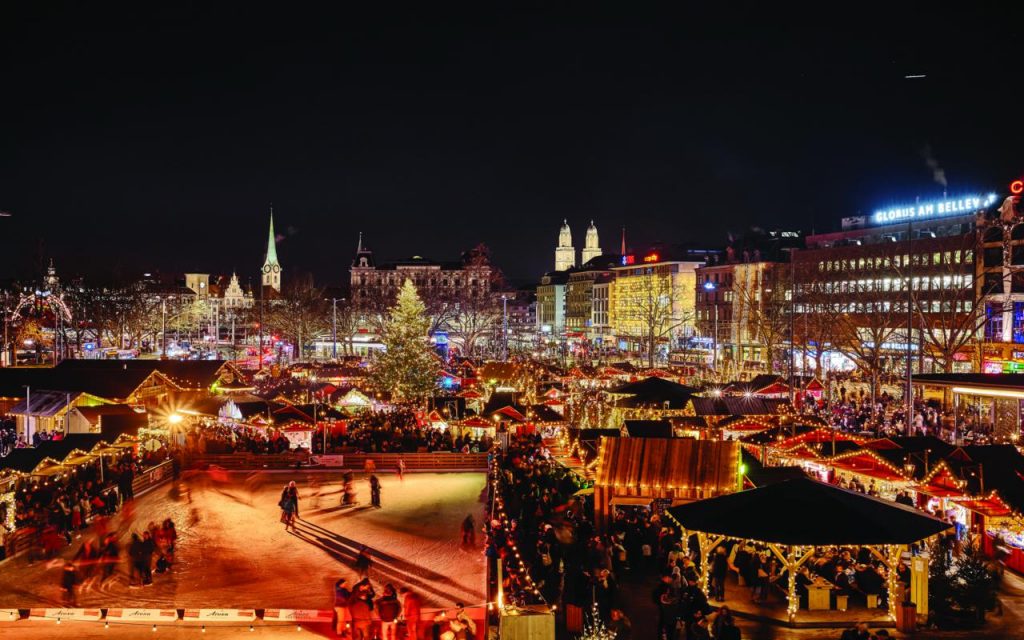 December is a special time in Zurich, when the 2,000-year Old Town is bathed in the warm glow of millions of Christmas lights, carols ring out throughout the city, and the sweet smell of cinnamon and hot mulled wine permeates the air. This, along with seven fabulous Christmas markets, extended shopping hours and more than 12,000 glittering lights on the famous Bahnhofstrasse alone, makes Zurich a must-see city during the holidays.
The colorful Christmas Market at the main train station is always a busy, bustling place during the holidays. The popular market, the largest covered market in Europe, is a top attraction, with a nearly 50-foot-high Christmas tree adorned with hundreds of shimmering Swarovski crystals. Another exceptional Christmas market, the oldest in Zurich, is located in Zurich's Old Town, the Niederdörfli.
Other Zurich holiday attractions include the Singing Christmas Tree at Werdühleplatz, the Märlitram that chauffeurs children around the city center while angels recite stories of Christmas, and three of beautiful ice skating rinks at the Opera House, in the courtyard of the Swiss National Museum and by the lake. Like fondue? Zurich's numerous quality restaurants serve up delicious cheese fondue, but you can find friendly "fondue parties" almost anywhere here during this season.
More Christmas in Switzerland fun comes with the Circus Conelli at the Bauschänzli town square, a Santa Claus parade, a winter swim event on the Limmat River, a foot race through the Old Town as well as the popular event Lichterschwimmen, with hundreds of floating candles on River Limmat—these are just a few of the other Zurich attractions that await visitors during this festive season.
For more information on Christmastime in Zurich, head to www.zuerich.com/christmas.
Basel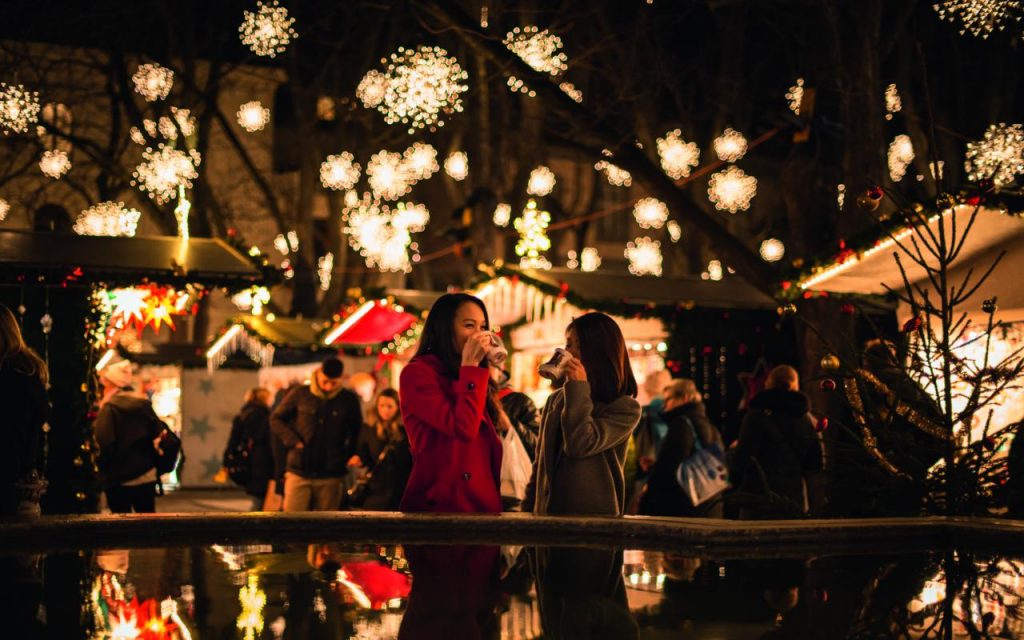 Basel is known as Switzerland's largest and most beautiful "Christmas City." Basel's main buildings and bridges are aglow with lights during the Christmas and New Year's holidays, and 100 decorated pine trees line Europe's longest Christmas Street.
Dazzling Christmas markets at Barfüsserplatz and Münsterplatz, with nearly 200 decorated traditional wooden stalls, offer a one-of-a-kind experience every day during the season. Both locations are in Basel's Old Town on beautiful squares, with Münsterplatz being next to the town's famous medieval Gothic Cathedral. Traders and artisans present their wares, from pottery to spices, wooden toys to decorations, as well as perfumes, candles and scarves. There are sweet gifts aplenty, including the renowned Basler Läckerli biscuits, and hungry shoppers can enjoy waffles, juicy sausages and a glass of hot mulled wine.
The city's shops are outfitted for the season. Johann Wanner, the "couturier of Christmas" has his famous shop in Basel's historic center, well worth a visit for its beautiful Christmas decorations, hand-blown glass ornaments and traditional wooden toys. Additionally, look for Salvation Army concerts, a special performance at the Puppet Theatre and a musical Advent at the Basel Theater.
A popular city tour explores specially-illuminated streets and squares, and relates stories about the region's most charming Advent customs.
Learn more about Basel Christmas adventures at www.basel.com/en/Christmas-in-Basel.
---
Looking for more great Switzerland travel inspiration? Download our Switzerland Tour Guide and be sure to subscribe for FREE to Leisure Group Travel.